3 Best Matte Boxes for still Photography Reviewed
I love creating free content full of tips for my readers, you. I don't accept paid sponsorships, my opinion is my own, but if you find my recommendations helpful and you end up buying something you like through one of my links, I could earn a commission at no extra cost to you.
Matte boxes are a great tool in the field when shooting video, but as a still photographer for stop motion animation, I often do shoots outside as well.
A matte box can be a great tool to get the lighting just right, even when doing photography.
That's why I 've tested and tried the best matte boxes for still photography in this article.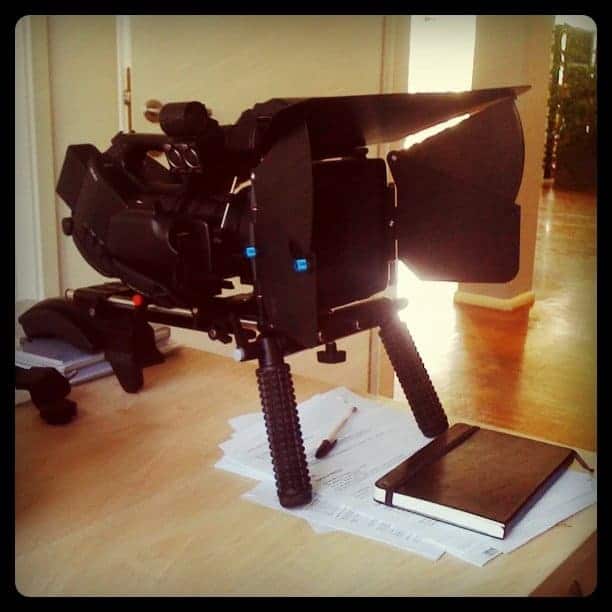 Best matte boxes for still photography reviewed
Well, the good ones are ridiculously expensive, and the more affordable ones are horribly built and sadly lack the features serious filmmakers need.
Camtree Camshade Matte Box
The price on the Camtree Camshade is between 100 and 200 euros. You might say to yourself: That's not really super affordable! But before you leave my blog in anger, let's take a step back and check out some of the other budget matte boxes on the market right now.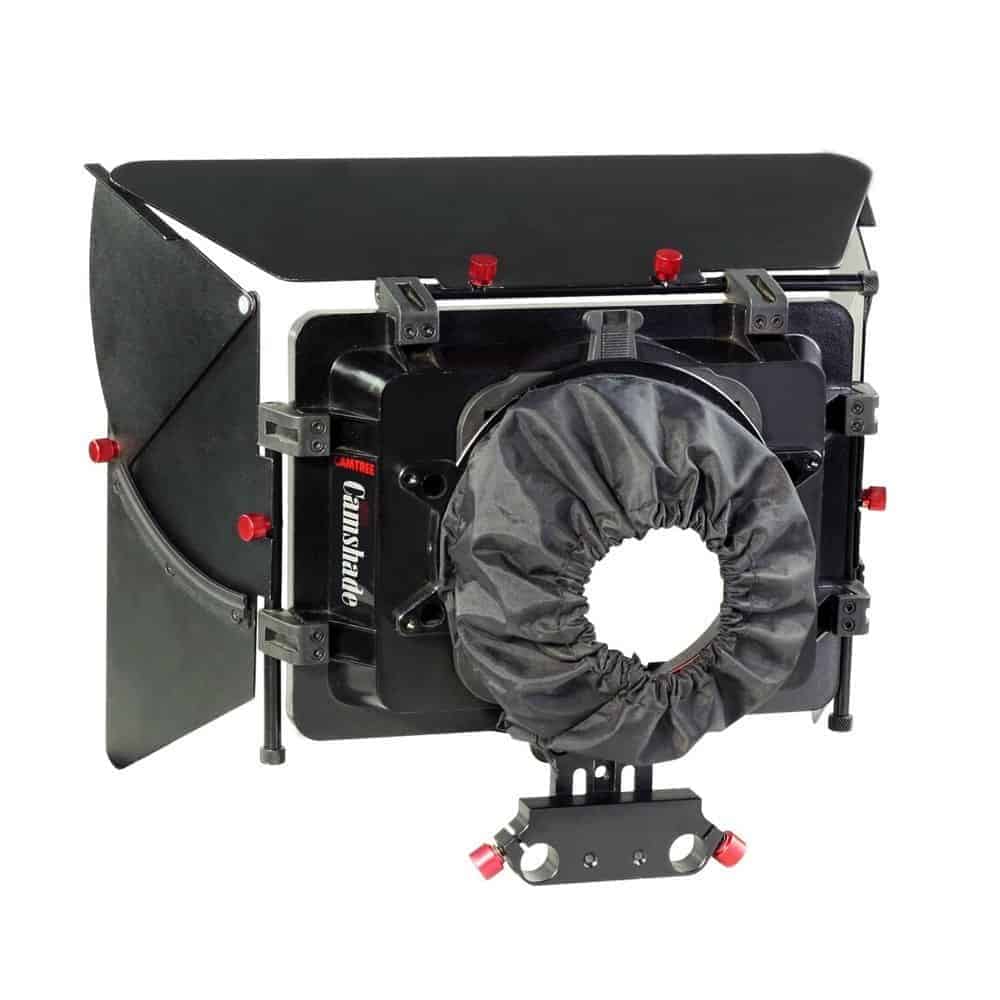 You have matte boxes from companies like Cavision that are a lot more affordable, but they're cheaply made and don't have a lot of features. Then there are several matte boxes that sit right around $400 and have some of the features of higher-end boxes, but they're mostly a mixture of cheap plastics and aren't exactly well made either.
That's where the Camtree excels. Not only is the build materials and construction top notch, but it's fully equipped and only a tad more expensive than its poorly built brethren.
Some of the features that got me excited about the Camtree are the fact that it has a swing-away arm that swings back more than 90 degrees, making lens changes even easier than with matte boxes that only swing out up to 90 degrees.
The Camshade is also height adjustable and the filter table which is rotatable is independent of the other filter stage meaning you can use a polarizer in addition to any gradient filter.
Getting started with your own stop motion storyboards
Subscribe to our newsletter and get your free download with three storyboards. Get started with bringing your stories alive!
We'll only use your email address for our newsletter and respect your privacy
This is certainly not possible with matte boxes that force you to rotate both filter steps at the same time. Plus, as a guy who likes shooting on a handheld, I can very easily carry the weight of my rig with this matte box.
A great option to check out.
Check the prices and availability here
Fotga DP500 Mark III matte box
The new FOTGA DP500 Mark III Matte box is a professional accessory designed universally for all DSLR and video camcorders and compatible with any industry standard 15mm rail system.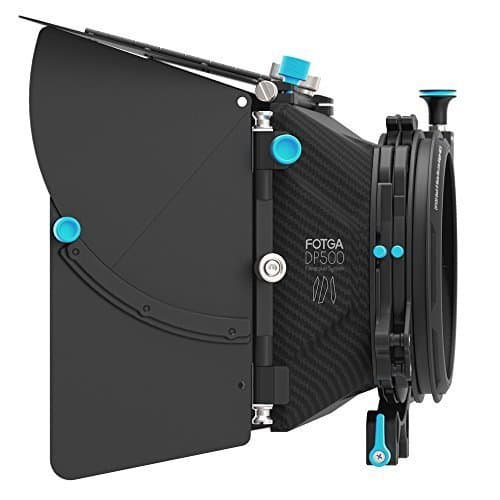 The matte box gives the user full light control and prevents glare and lens flare with its folding French flags and adjustable side wings.
It features a precision-engineered Swing-Away mechanism for quick lens changes. It also offers a way to use filters and one of the 360 ​​degree rotating filter bins and much more!
With competitive price, this matte box will be a good choice.
It is suitable for wide angle lenses on DV / HDV / Broadcast / 16mm / 35mm cameras and main cameras such as Sony A7 series, A7, A7R, A7S, A7II-A7II, A7RII, A7SII, Panasonic GH3 / GH4, Blackmagic BMPCC, Canon5DII / 5DIII and the new Canon 5DIV, Nikon D500 Camcorders, Blackmagic BMPC / URSA / URSA mini, Sony FS100 / FS700 / FS5 / FS7 / F55 / F5 / F3, RED SCARLET / EPIC / RAVEN / ONE, Kinefinity KineRAW / KineMAX
etc.
SunSmart DSLR Rig Movie Kit Shoulder Mount Rig w/ Matte Box
Stabilizing shoulder setup for shake-free shooting, individually adjustable to your personal height and mountable with Follow Focus for precise focus control.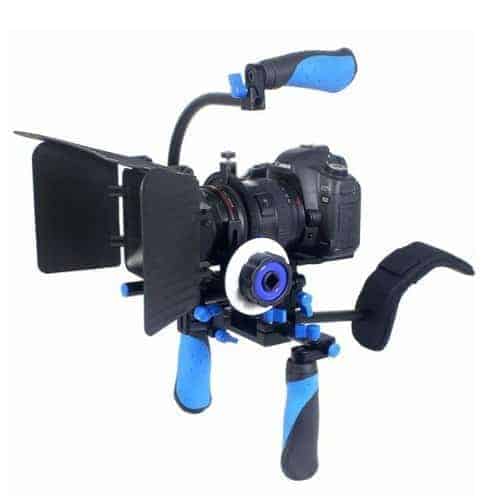 Heavy-duty aluminum and stainless steel construction. it could be mounted on a standard 1/4 threaded tripod, transforming your DSLR camera into a professional HD camcorder.
The gear drive can be mounted on either side for left or right hand use and the included handles and shoulder pad improve your comfort.
It's a little different than just a matte box, but a complete rig like this affordably gives you an entry-level shoulder camera kit that's great for beginners.
Check prices and availability here
Do you need a Matte Box for still photography?
Not all photography applications require a matte box. When in doubt, determine whether your rig will primarily be handheld or on a tripod. If there's a lot of camera shake, the flare-cutting capabilities of the matte box are reduced because you can't move the flaps continuously.
Also, if you're in control of your lighting situation, or don't need a filter other than an ND or UV, etc., a matte box can be more of a problem than it's worth.
Don't forget to also consider your lens choices. If your lens filter threads vary, you'll need different adapter rings for lens-mounted matte boxes.
If you're going to be using a lot of lenses, buy a rod-mount system instead.
Still confused about whether you need a matte box?
Rule of thumb: Ultimately, most people avoid matte boxes for reasons of size, weight, and cost. If none of these bother you and you have very specific uses for them, use a matte box. It's worth it.
But whatever you do, don't come up with a matte box to show off your impressive rig. A plastic poorly made and impractical matte box will not fool anyone.
What to look for in a good Matte Box
Here is a list of things to look out for:
Build quality, preferably of metal construction.
Quality of the 'moving parts'. If you can, test it out extensively.
As light as possible.
It must have movable flaps (barn doors) – on all four sides.
It should have the ability to hold multiple filters, rotatable if possible.
It should be able to take many wire gauges.
If you have a matte box that ticks all the boxes above, it's a winner.
Matte boxes may look like complicated pieces of material, but there's nothing difficult about it really. Once you know which filters you need, how many you want to stack and which lenses you are going to use, you can narrow your choices quite easily.
Hi, I'm Kim, a mom and a stop-motion enthusiast with a background in media creation and web development. I've got a huge passion for drawing and animation, and now I'm diving headfirst into the stop-motion world. With my blog, I'm sharing my learnings with you guys.