Compact Flash vs SD memory card for your camera
I love creating free content full of tips for my readers, you. I don't accept paid sponsorships, my opinion is my own, but if you find my recommendations helpful and you end up buying something you like through one of my links, I could earn a commission at no extra cost to you.
Most photo and video cameras use memory cards. CF or Compact Flash cards are popular with professionals, but SD or Secure Digital cards have grown in popularity in recent years.
While it won't be the number one priority when choosing a new camera, it's helpful to know the pros and cons of each system a little better.

In this post we'll cover:
Compact Flash (CF) Specifications
This system was once the standard for higher-end DSLR cameras. The speed of reading and writing was faster, and the design feels durable and sturdy.
Some cards are also more resistant to higher temperatures, which can be a solution in professional situations. Nowadays, development has almost come to a standstill, and XQD cards are the successors of the CF system.
What's on the card?
Here you can see how much capacity the card has, it varies between 2GB and 512GB. With 4K video, it fills up quickly, so take more than enough capacity, especially with longer recordings.
This is the maximum read speed. In practice, these speeds are hardly achieved and the speed is not constant.
The UDMA rating indicates the throughput specifications of the card, from 16.7 MB/s for UDMA 1 to 167 MB/s for UDMA 7.
This is the card's minimum write speed, which is especially important for videographers who need a guaranteed constant speed.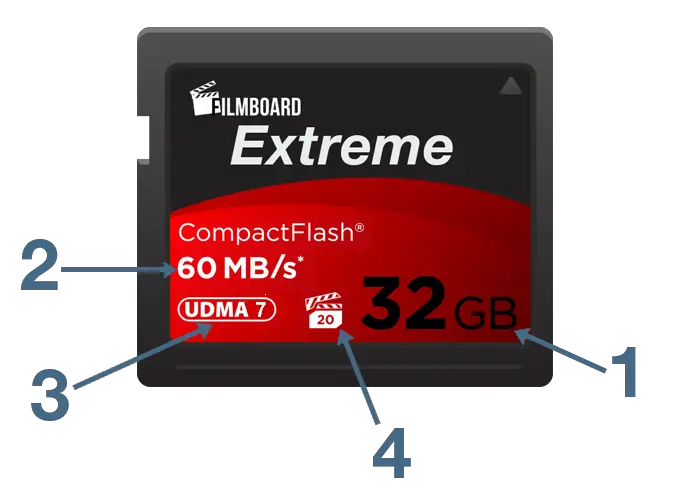 Secure Digital (SD) Specifications
SD cards became popular so quickly that over time they surpassed CF in both storage capacity and speed.
Standard SD cards are limited by a FAT16 system, the successor SDHC works with FAT32 which allows you to record larger files, and SDXC has the exFAT system.
SDHC goes up to 32GB and SDXC even goes up to 2TB of capacity.
With 312MB/s, the speed specifications of UHS-II cards are almost twice as fast as that of CF cards. MicroSD cards are also available in the above three variants and may work with an adapter.
The system is "backwards compatible", SD can be read with an SDXC reader, it doesn't work the other way around.
What's on the card?
This is the storage capacity of the card, from 2GB for an SD card to a maximum of 2TB for an SDXC card.
The maximum reading speed that you will rarely if ever achieve in practice.
The card type, keep in mind that the systems are only "backwards compatible", an SDXC card cannot be read in a standard SD device.
This is the card's minimum write speed, which is especially important for videographers who need a guaranteed constant speed. UHS class 3 does not go below 30 MB/s, class 1 does not go below 10 MB/s.
The UHS value indicates the maximum read speed. Cards without UHS go up to 25 MB/s, UHS-1 goes up to 104 MB/s and UHS-2 has a maximum of 312 MB/s. Please note that the card reader must also support this value.
This is the predecessor of UHS but many camera manufacturers still use this designation. Class 10 is the maximum with 10 MB/s and class 4 guarantees 4 MB/s.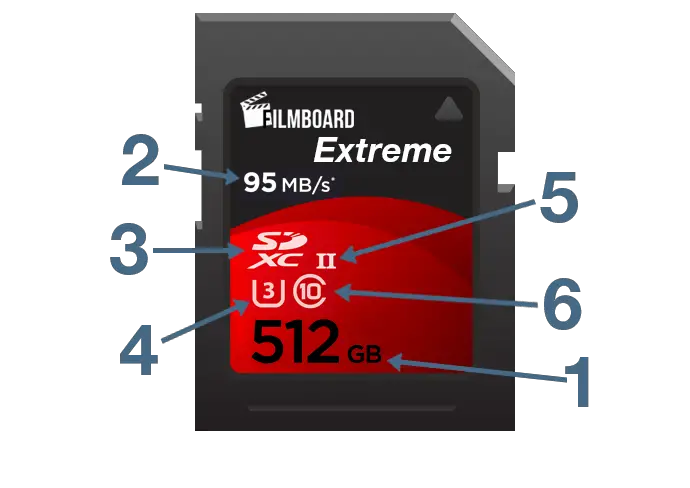 SD cards have one small but useful advantage because of the small switch to protect the card from erasure. Whatever type of card you use, you can never have enough!
Getting started with your own stop motion storyboards
Subscribe to our newsletter and get your free download with three storyboards. Get started with bringing your stories alive!
We'll only use your email address for our newsletter and respect your privacy
Hi, I'm Kim, a mom and a stop-motion enthusiast with a background in media creation and web development. I've got a huge passion for drawing and animation, and now I'm diving headfirst into the stop-motion world. With my blog, I'm sharing my learnings with you guys.