HDMI: What Is It And When Do You Use It?
I love creating free content full of tips for my readers, you. I don't accept paid sponsorships, my opinion is my own, but if you find my recommendations helpful and you end up buying something you like through one of my links, I could earn a commission at no extra cost to you.
High-Definition Multimedia Interface (HDMI) is a digital audio/video interface used to connect consumer electronics such as TVs and gaming consoles.
HDMI cables are capable of transmitting audio and video signals up to 4K resolution with support for 3D video, Audio Return Channel, and HDCP.
HDMI is an evolution of its predecessors VGA, DVI and S-Video cables and is rapidly becoming the most popular connection method for digital devices.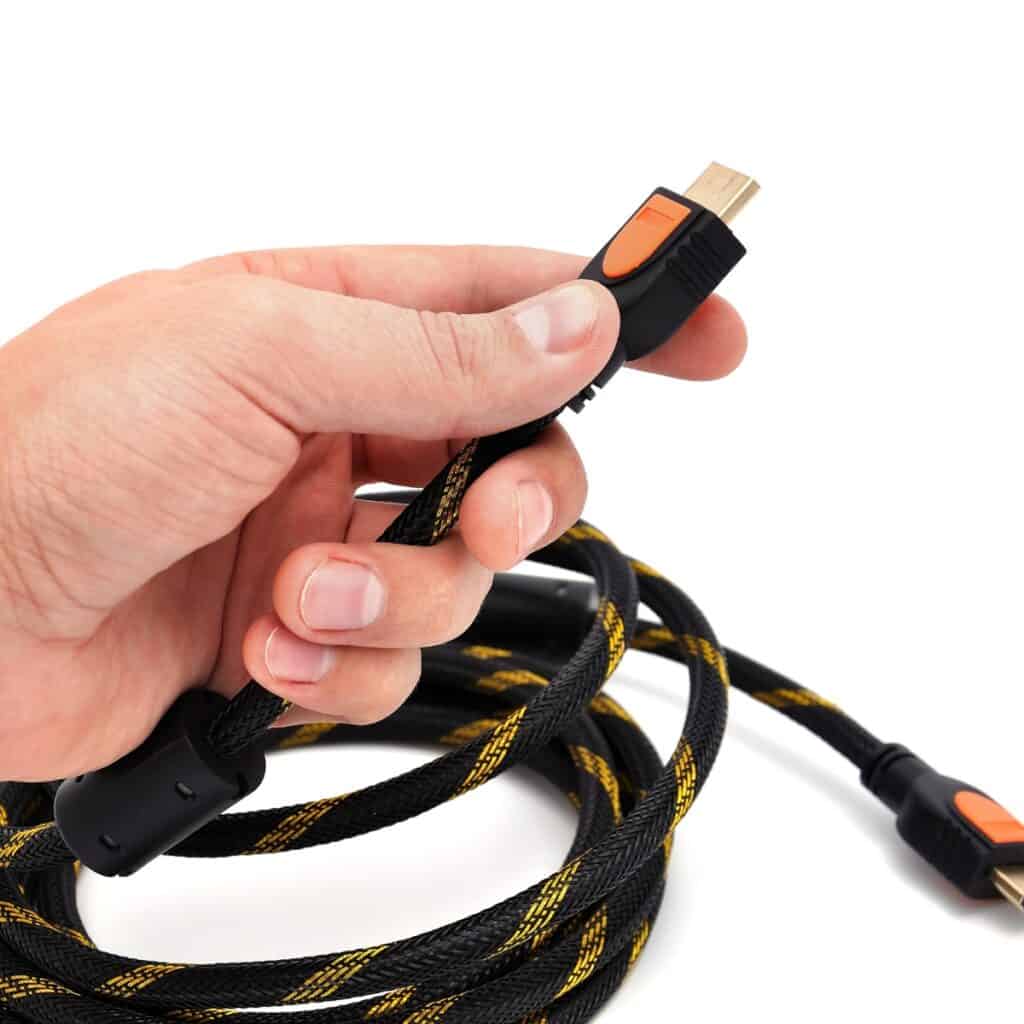 Definition of HDMI
HDMI (High-Definition Multimedia Interface) is a proprietary audio/video interface for transmitting uncompressed video data and compressed or uncompressed digital audio data from an HDMI-compliant source device, such as a display controller, to a compatible computer monitor, video projector, digital television, or digital audio device. HDMI is a digital replacement for analog video standards.

HDMI devices optionally support content protection systems and hence some models of computer systems can be configured to accept only protected playback of certain kinds of digital media. While not all HDMI cables support content protection protocol, newer models are equipped with copy protection compliance. Some HDMI ports can also be used in conjunction with the DVI (Digital Video Interface) protocol and cable for use on PC screens or for connecting older TV equipment and providing access to high definition programs. Other types of HDMI connectors and cables are available for direct connection between various types of hardware such as cameras and home theater components.

Overall, an HDMI port is a connection point that offers an expanded audio/video space compared to its predecessors. The signals transmitted through this type of connector are stable because of the robust construction which allows it to work well over extended periods without interference from external objects or environmental factors. The connector has become the de facto standard in many consumer markets where it provides high picture and sound quality when viewing HD content such as television shows or movies on digital devices including receivers, TVs, laptops, gaming consoles and Blu-Ray players.
History of HDMI
High-Definition Multimedia Interface (HDMI) is an audio-visual interface for digital equipment. HDMI was first released in 2002 as part of the digital connectivity standard for audiovisual equipment. It allows unidirectional transfer of audio and video signals from a source device, such as a set-top box, Blu-ray player or personal computer, to a compatible audio and/or video signal receiver, such as a television or projector.

HDMI was designed and developed by 10 different companies including Hitachi, Panasonic, Philips and Toshiba. The choice of these 10 companies was motivated by the fact that they were the main industry players at the time when HDMI was developed. This eventually led to its stability due to industry-wide adoption.

The first version of HDMI, v1.0, only supported HDTV resolution up to 1080i maxing out at 5 Gbps throughput speeds on a single cable link connection. However, with each new version that has been released during its lifespan (there have been 8 major versions as of 2019), speed has increased significantly with cables now supporting 18 Gbps throughput speeds for 4K resolution content among other improvements like support for advanced sound formats including Dolby Atmos and DTS:X object based surround sound systems.
Types of HDMI
HDMI (High-Definition Multimedia Interface) is the current standard for digital video and audio connections used in home theaters and other digital devices. There are a few different types of HDMI available, including Standard, High Speed, and Ultra High Speed. Different types of HDMI provide varying levels of performance. Each type is suitable for different needs and applications, so let's take a closer look.
Type A
HDMI Type A is the most common version of the HDMI interface, and most devices that use it feature 19 pins. This type of HDMI has the capability to support a video resolution of 1080p and all digital audio standards, including Dolby TrueHD and DTS-HD Master Audio. It also supports audio return channel (ARC) technology, which allows the device or console connected to it to send audio data upstream via HDMI back to an A/V receiver or soundbar, eliminating the need for other cables.

Type A is also backward-compatible with earlier versions of HDMI—including 1080i, 720p, 576i and 480p—that are no longer used on modern devices. Since Type A utilizes 19 pins, it is physically larger than other HDMI types that require fewer pin connections but have a comparable feature set.
Type B
Type B HDMI cables are a slightly larger version of Type A, offering increased bandwidth and reduced susceptibility to signal interference. This type of cable is primarily used in more advanced audio/video applications, such as those requiring multiple interactive streams of HDMI data.

Type B cables are ideal for applications that require a resolution over 1080p and beyond, such as 4K-resolution displays, connecting HD home theater units, monitors with multiple interactive streams, broadcast studios with multichannel audio/video feeds (such as 3D content), or even connecting HDTV-compatible video gaming systems with 3D projection displays.

Type B cables are also used in any application that requires an extremely long cable length extension — typically for home theatre setups where the equipment extends beyond normal HDMI reach — this eliminates the need to purchase multiple shorter cables or implement bulky signal boosters for audio/video applications.

Though Type B's offer many performance benefits over Type A, their larger size makes them more expensive and much harder to find in store; however they can easily be purchased online from various electronics suppliers.
Type C
HDMI Type C is the latest version of the HDMI (High-Definition Multimedia Interface) standard. It was released in September 2016 and is now considered the go-to connection for high-definition video and audio signals.
It supports uncompressed video resolution up to 4K at 60Hz, and even higher resolutions such as 8K at 30Hz. It also supports Dolby Vision HDR, the most advanced type of High Dynamic Range (HDR).
In addition, it supports bandwidths of up to 48 Gbps—twice that of HDMI 2.0a—enabling features such as high frame rate (HFR) and variable refresh rate (VRR). And finally, it supports audio Return Channel functionality, enabling TV audio to be sent from a display device back to an external audio system with just one cable.
Type D
HDMI type D cables are the smallest variant of HDMI cables and are primarily used to connect portable devices such as smartphones, tablets, digital cameras, and laptop computers to HDTVs and other video displays. Also known as 'micro' HDMI or 'mini' HDMI, these cables are roughly half the size of a standard HDMI cable and feature very small 19 pin connectors. Common examples of Type D cables would include those used to connect smartphones to HDTVs or MacBook laptops to projectors. As with other types of HDMI cables, Type D supports high-bandwidth digital video and audio signals, meaning it is capable of transmitting a full 1080p HD video signal along with multi-channel audio for surround sound systems.
Getting started with your own stop motion storyboards
Subscribe to our newsletter and get your free download with three storyboards. Get started with bringing your stories alive!
We'll only use your email address for our newsletter and respect your privacy
Type E
HDMI Type E is an unreleased variant of the HDMI interface intended for automotive applications. It is not found on consumer products but has been adopted as a common connector type in cars and other vehicles due to its size and durability. HDMI Type E was originally meant to combine audio and video together in one cable, but that functionality has since been dropped.

Type E connectors are the smallest of all the available HDMI types, measuring just 11.5mm x 14.2mm x 1.3mm in size with a 9-pin configuration — five pins pairwise (one transmit each way, plus either ground or power) plus four connects sharing data each way. They are capable of transferring data up to 10Gbps and can handle ultra-high resolution video streams at up to 4K at 60Hz with YUV 4:4:4 colorsubsampling for frame perfect graphics accuracy, no color compression and no artifacts in fast motion scenes. They also include data integrity checking functions like link loss detection to prevent interruption of the stream or audio/video sync issues during playback or recording sessions.
HDMI Cables
HDMI cables are the best way to connect your devices to a TV or monitor. They provide high-quality audio and video without any latency issues. These cables are also very versatile, allowing you to connect a wide range of devices such as computers, gaming consoles, and Blu-ray players. HDMI cables are also becoming more and more commonplace, making them a great choice for many different applications. Let's dive into the details of HDMI cables and see why they are so popular.
Standard HDMI Cable
Standard HDMI cables provide the same features as HDMI 1.4 and are capable of carrying 4K/Ultra-HD video signals up to 60 Hz, 2160p and 3D video signals at up to 1080p. Standard HDMI cables also support the expanded color range of BT.2020 and Deep Color up to 16-bit (RGB or YCbCr) and Audio Return Channel (ARC) capabilities. Standard HDMI cable lengths are typically in the 3-foot to 10-foot range, with 6-foot lengths being the most common length for home theater installation.

Standard HDMI cables use a 19-pin connector and are usually stocked in your local home theater retailer, electronics store, big box stores, online retail stores, etc… Many of these retailers carry both in-store stock as well as website inventory – so check online for options if you're looking for a specific type or length not currently available in-store. NOTE: Check that the model number printed on the cable is actually "High Speed" – or that it is "HDMI Certified" if uncertain that it is an active High Speed cable.
High Speed HDMI Cable
High speed HDMI cables are the latest available option in the ongoing evolution of HDMI standards. With an increased transmission bandwidth, they enable support for resolutions up to 4K plus audio and HDR (High Dynamic Range) at double the speed. These cables also feature 3D video, deep color, and several advanced features not found in earlier versions. Depending on your TV or monitor, you may need a separate Hi-Speed/ Category 2 HDMI cable for certain features such as 120Hz refresh rate or 32 audio channels.

High speed HDMI cables support transfer speeds of 10.2 Gbps at their max rate and can handle up to 4K resolution at 60 frames per second (MHz). For even more intense displays like 240Hz with 16 bit color depth, the latest cables can handle up to 18Gbps. While these are the theoretical maximums that might not always be achieved in real world testing scenarios — it's still worth noting that these speeds alone eclipse those of most other HDMI cable types. To maximize usability and reliability, many manufacturers recommend choosing a high speed HDMI certified cable when shopping for your setup.
Ultra High Speed HDMI Cable
High Speed HDMI cables are the most commonly used cables in home entertainment systems today. They can easily support resolutions up to 1080p, but if you're looking for even better performance and want to take advantage of the latest 4K high-resolution content, then you will need an Ultra High Speed HDMI cable.

Ultra High Speed HDMI cables are certified to deliver dynamic 4K (2160p) resolutions at a high frame rate with added bandwidth levels of 48Gbps. They are also designed with a speed rating of 18Gbps and 24Gbps so that it can handle deeper color and post video processing without displaying artifacts or signal degradation. The Enhanced Audio Return Channel (eARC) will also allow for lossless audio formats like Dolby Atmos and DTS-X to be sent more efficiently through the television speakers.

These cables have a special in-wall flame rating certification which is optimal in situations where they must be safely installed through walls, ceilings or other tight areas that demand safe power cords. And many Ultra High Speed models are reinforced at the tips by plastic cord surrounds so they naturally resist bending while providing sharper picture quality over their life spans. Lastly, this type of connection is backwards compatible with all previous HDMI versions which adds added flexibility when setting up more complex home entertainment setups with A/V receivers, surround sound systems and various media devices like Blu-Ray players and streaming boxes.
Advantages of HDMI
HDMI (high-definition multimedia interface) is a multi-purpose digital interface that can be used to transmit both audio and video signals from a device to a screen or television. It is the most commonly used type of connection for home theater systems, streaming media devices, and modern gaming consoles. Essentially, it's a great way to get your device connected to a display. We'll discuss more of the advantages of HDMI here.
High Quality Video and Audio
One of the biggest advantages of HDMI technology is its ability to produce high-quality video and audio. HDMI supports a variety of formats, including 1080i, 720p, and 4K Ultra HD (UHD), making it the perfect choice for high-definition television sets. The technology can also support high-resolution images for computer monitors and projectors. Additionally, HDMI supports resolutions up to 2560×1600 for digital displays and 3840×2160 for video displays.

In addition to providing high-quality video resolution, HDMI offers multi-channel audio formats from DTS-HD and Dolby True HD audio options – making it a great choice for home theater systems. It also supports compressed audio formats like DTS Digital Surround, Dolby Digital Plus and Dolby TrueHD Lossless. These features provide crystal clear sound that's ideal for movies or playing games on your TV or monitor. With an increasing number of 4K display options on the market today, selecting or upgrading to an HDMI connection is the best way to ensure compatibility with future TVs equipped with these technologies.
Easy Plug and Play
HDMI (High Definition Multimedia Interface) is an evolution in audio/video connection technology. HDMI offers an all-digital interface that significantly improves the quality of your home audio and video equipment. It provides a single-cable, uncompressed connection solution between source and display devices such as DVD players, HDTVs, STBs (set-top boxes) and gaming consoles.

Integrating one comprehensive cable for both audio and video makes multi-media device connections much easier than ever before. With HDMI you don't need different cables for each device or worry about finding the correct inputs; all you need is plug and play!

Additionally, HDMI simplifies the connectivity of home theatre components through automatic detection capabilities and improved performance. The one cable solution solves issues related to difficulties connecting equipment, optimizing settings or finding compatible cables while providing an unprecedented interactive experience in digital entertainment.

All these benefits are wrapped up into a small cable that fits unobtrusively into many spaces in today's home entertainment systems; no more mess of wires around your television set!
Compatibility with Other Devices
HDMI is an acronym that stands for High Definition Multimedia Interface. It is a connector used to deliver digital signals between audio-visual devices such as computers, televisions, and gaming consoles. One of the most significant advantages of HDMI over other options such as the DVI standard or a VGA connection is compatibility with other devices.

HDMI connectors are designed to send a full signal from one device to another without requiring extra components or cables. This makes it easier for consumers to connect multiple devices together through their HDMI ports. HDMI cables are also available in different lengths and come in several different versions that support features like high speeds and video resolutions.

Another benefit of using HDMI is its ability to carry digital audio-video signals between different pieces of equipment without any signal degradation or loss of quality. With HDMI, you can get higher resolutions with more vibrant colors on your TV or monitor than would be possible with conventional cable connections like the ones used in older VGA displays. Finally, because it supports both analog and digital audio formats, you can use the same connection for both sound and video – something not possible with older standards like RCA connectors.
Conclusion
HDMI continues to evolve and develop based on new tech, and it's a powerful choice for internet streaming, media viewing and gaming. Content streamed or viewed via this technology is able to be seen in high definition with no loss of quality in the visuals. As such, it's a preferred connection type for a range of devices — portable consoles, televisions and smart home solutions.

Because of its versatile nature and the rapidly increasing number of devices using it as their standard connection type, HDMI will likely remain popular amongst consumers when making their home entertainment setups. Its popularity may increase over time as more technology companies utilize this form of connection or implement new versions such as USB-C DisplayPort Alt Mode compatibility. Ultimately, it is up to you to decide if this technology is right for your audio video needs. Taking some time to explore all your options can maximize the performance of your setup, now and into the future.
Hi, I'm Kim, a mom and a stop-motion enthusiast with a background in media creation and web development. I've got a huge passion for drawing and animation, and now I'm diving headfirst into the stop-motion world. With my blog, I'm sharing my learnings with you guys.