Palette gear video editing tool | review and use cases
I love creating free content full of tips for my readers, you. I don't accept paid sponsorships, my opinion is my own, but if you find my recommendations helpful and you end up buying something you like through one of my links, I could earn a commission at no extra cost to you.
The Palette Gear is a tool designed to provide editing control over a variety of software applications.
The kit consists of several modules that can be customized to adjust different settings, making the time it takes to perform operations faster than with a traditional keyboard and mouse.
You can buy the kit as big or as small as you want and it can also be expanded later.
Advantages:
Compatible with many applications
Offers a good level of customization
Additional modules available
Three different kit options
Cons:
Arcade-style buttons feel cheap
Sliding modules are not motorized
Hard to remember which function is assigned to which module in each profile
Not easily portable
View prices of different packages here
Key specs
Module System
Create custom profiles
Compatible with PC and Mac
USB 2.0
Color of module lighting can be customized
What is Palette Gear?
Unlike the recently revised Loupedeck editing console designed to be used exclusively with Adobe Lightroom, the Palette Gear has multiple uses and is compatible with many other Adobe applications, including Photoshop, Premiere Pro, and InDesign.
In addition, the Palette Gear can be used for gaming, to control audio applications such as iTunes and to navigate through a web browser such as Google Chrome.
Getting started with your own stop motion storyboards
Subscribe to our newsletter and get your free download with three storyboards. Get started with bringing your stories alive!
We'll only use your email address for our newsletter and respect your privacy
It's clearly a very versatile console, but for this review I tested it with Adobe Lightroom to find out how good it is for image editing and how it compares to the Loupedeck.
When you open the box, it becomes clear that this device is quite different from the Loupedeck.
Instead of placing sliders, knobs and buttons over a board, the palette consists of individual modules that are connected together via a strong magnetic closure.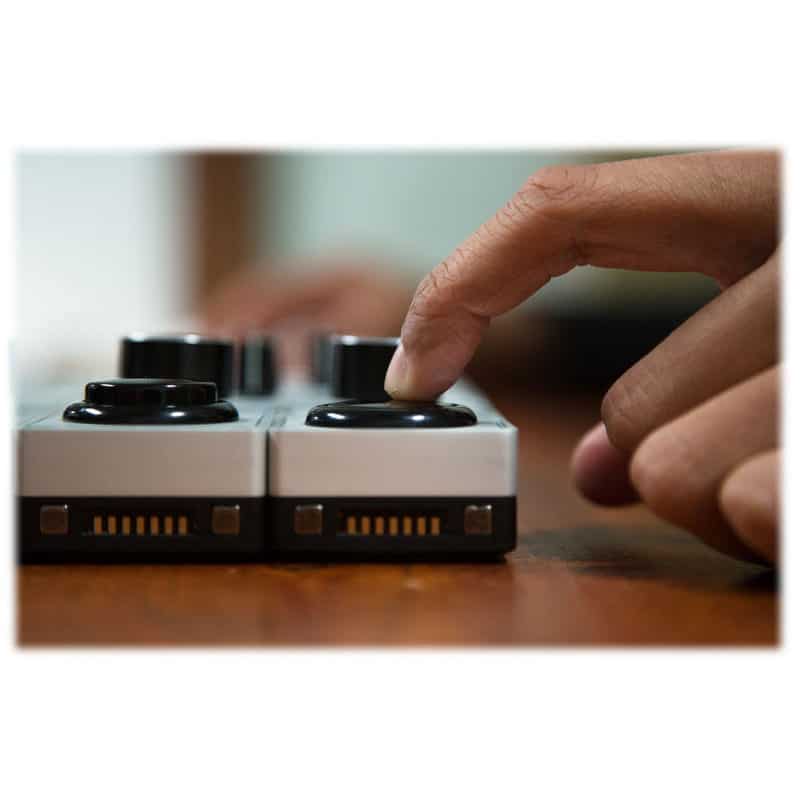 The number of modules you get will depend on the kit you choose.
The most basic kit for beginners comes with one core, two buttons, a dial, and a slider, while the expert kit provided for this review has one core, two buttons, three buttons, and two sliders.
The so-called 'core' describes the small square module that connects to the computer via USB. The other modules attach to this core.
First of all, you need to download the PaletteApp (version 2) software, which doesn't take long but does take some time to understand.
With so few buttons, dials, and sliders, it might seem a bit odd given the extensive photo editing controls like Lightroom and Photoshop, but this kit is all about creating multiple profiles and switching between palette profiles.
By assigning one of the button modules to move to the next profile, it is possible to cycle through different profiles that can be set up to control different things.
Confused?
For example, you can set up a profile to manage some of your most used settings in Lightroom's library module, and another profile for settings you regularly use in the development module.
Profiles can be renamed and are displayed below the application logo on the LCD panel for visual reference.
After selecting the profile type, which in my case was for Lightroom CC/6, I was given the option to customize modules for specific application functions as they were attached.
I ended up creating profiles for basic library controls, standard exposure corrections, advanced local adjustments, and one to apply noise reduction – although you can create up to 13 different profiles if you want.
The only problem with creating a lot of profiles is that you might forget which button, select and slider you assigned to which module in each profile, but if you work with it on a daily basis, this is probably less of an issue.
To get started quickly, some users may want to take advantage of the quick-start profiles or download a few that other users have added to the website's community page.
Palette Gear – Build and Design
The great thing about rearranging the modules is that you can experiment to find the best arrangement that suits your way of working.
Some users prefer to spread out the modules lengthwise and place the sliders vertically; others may prefer to group the modules one above the other and arrange the slider modules horizontally.
If you later decide that you want to rotate the settings of your module, you can do this very easily with the PalleteApp software.
Each module magnetically snaps into place with the next.
However, it is important to ensure that the magnetic pins are always connected to contacts on another module, otherwise it will not be recognized by the software.
If you try to move all the modules at once, you may see them unhooked and separated from each other and you'll have to rebuild your setup again.
That may be a disadvantage compared to a fixed board.
Applying some pressure on both sides as you pick it up will get around this problem. On the top face of each module is an illuminated border that can be set to different colors.
The idea of ​​this is to help you remember which function is assigned to which module in each profile, but for me this didn't really work well.
If you don't like the idea and find this more confusing than useful, the good news is that the module lighting can be turned off.
In terms of build quality, each module is made robust and rubberized on the underside, giving it a good grip on slippery surfaces.
The sliders are consistently smooth throughout their range and the dials turn effortlessly.
While the large plastic buttons do their job and are easy enough to find without looking at them, they are quite noisy to use.
Compared to the rotary knob and slide modules, the knob modules are not as sophisticated.
Palette gear – Achievements
When you first start using the Palette Gear, you'll find that there's a lot of trial and error involved as you try to focus on the features assigned to a specific module and profile.
I thought it was quite a steep learning curve; it took a few hours for me to start learning how to switch profiles using one of the button modules.
The time it takes to remember exactly what each module does in each profile takes even longer, so don't expect to become an expert overnight.
If the original functions you set for each module don't feel right, it takes a matter of seconds to get into the software and change them, provided you know what setting you want to give it to from the long list of options available of video editing (like these top ones) programs.
In use, the dials offer very precise control and there is the ability to quickly return sliders to their default settings by pressing them.
The sliding modules are rather more sensitive and require an element of delicacy to find the optimal setting.
Like the Loupedeck, Palette Gear automatically reveals the tab and sliders on the right side of the interface as it does several adjustments, making it important to manually move the slider.
When a tab is closed and a module is used to control a slider within that tab, it will open and display it on the screen – again saving you time with the cursor.
If, like me, you could do with a few extra modules to expand the kit and take over more functions in each profile, these are available separately.
If you're willing to pay more than the price of the expert kit and want a larger number of modules to start with, there's always this Professional kit.
It consists of one core, four buttons, six dials and four sliders, but it costs a pretty hefty amount compared to what you pay for the Expert kit.
Should I buy the Palette Gear?
If you plan to use the Palette Gear in multiple applications such as Lightroom, Photoshop, InDesign, and so on, this makes it a good choice.
Switching between different profiles becomes a second character over time, but the hardest part is remembering the functions you assign to which module as there is no visual reminder on the screen or on the core LCD panel until you make an adjustment to apply.
After a week of almost constant use, I slowly felt how I could make the difference between switching profiles and operating the modules with my left hand, while my right hand had the responsibility of controlling my graphics tablet and making local adjustments .
Build quality is excellent, apart from the rather cheap arcade-style buttons. Most people should be able to easily accommodate the size of the Expert kit next to a graphics tablet or mouse on their desk.
I chose to place Palette Gear on the left side of my keyboard with my graphics in front.
The only other thing to consider is the fact the slider modules are not motorized, which means they will always be in the same position as the previous image for the next image you edit.
For such functionality, you should look to a motorized editing console such as the Behringer BCF-2000.
Like the Loupedeck, the Palette Gear is going to improve your work speed and offers a high degree of customization that makes it suitable for many different ways of working.
The important thing is not to underestimate the time it takes to learn it to get the most out of it.
Judgment
The Palette Gear is a versatile device that has multiple functions in addition to editing images, putting an end to cramping in your mouse arm.
It takes some learning, but the workflow speed improvements are worth it.
With which software can I use the Palette gear?
The most comprehensive support has been developed by the Palette team for applications for Adobe Lightroom Classic, Photoshop CC and Premiere Pro.
Palette hooks deep into these applications to give you more control than a keyboard and with faster access than a mouse. But did you know that you can use Palette's tactile precision controls for other software as well?
How to set up Palette to control any software
Palette Gear can be used to control software by assigning hotkeys or hotkeys to the buttons and sliders.
There are a few ways to use the keyboard mode with Palette, depending on which module you select.
Here's a quick video on how to get started with Palette's keyboard mode:
Pro tip: Palette's multifunction dials can be assigned to 3 separate hotkeys:
1 for the right-hand bend
counterclockwise
and for pressing the rotary knob.
That's 3 functions in 1!
What other software does Palette support?
Recently, Palette Gear announced full support for Capture One for MacOS.
Other Adobe software like After Effects, Illustrator, InDesign, and Audition are also supported, along with apps like Google Chrome, Spotify, and more.
These apps don't require keyboard mode as the integrations go beyond just keyboard shortcuts.
However, you can always assign a favorite keyboard shortcut to a palette selector or button, even with fully supported software.
Does Palette support MIDI and music software such as DAWs?
Palette can also control any software you can attach a MIDI/CC message to, making it compatible with most Digital Audio Workstations (DAW), including Ableton Live, REAPER, Cubase, FL Studio, and Logic.
Palette buttons and dials support keyboard shortcuts, the buttons also support MIDI notes, and the dials and sliders support MIDI CC.
They are still developing MIDI support, so – for now – MIDI is still in beta.
Does Palette Gear work with other video editors?
How about other photo and video editors like FCPX, DaVinci Resolve, Sketch and Affinity Photo, or 3D software like Autodesk Maya, CINEMA 4D, Character Animator, AutoCAD, etc.
Although Palette is not yet fully integrated with these applications, you can use existing keyboard shortcuts with palette controls and buttons.
To see if Palette would be a good solution, we recommend that you first see which shortcuts are available and whether that is sufficient for what you want to achieve.
If there is an app that is not fully supported, you can start a discussion in the community forum and an SDK (software developer kit) is coming soon that will allow you to easily build or have integrations for any app built.
Hi, I'm Kim, a mom and a stop-motion enthusiast with a background in media creation and web development. I've got a huge passion for drawing and animation, and now I'm diving headfirst into the stop-motion world. With my blog, I'm sharing my learnings with you guys.