Vegas movie studio review: professional tools in your arsenal
I love creating free content full of tips for my readers, you. I don't accept paid sponsorships, my opinion is my own, but if you find my recommendations helpful and you end up buying something you like through one of my links, I could earn a commission at no extra cost to you.
Vegas movie studio is perfect for mastering the basics and gradually learning more about the techniques of video editing.
If you follow vegas pro's instructions in a logical way, you'll discover how professional filmmakers think when they're putting together footage.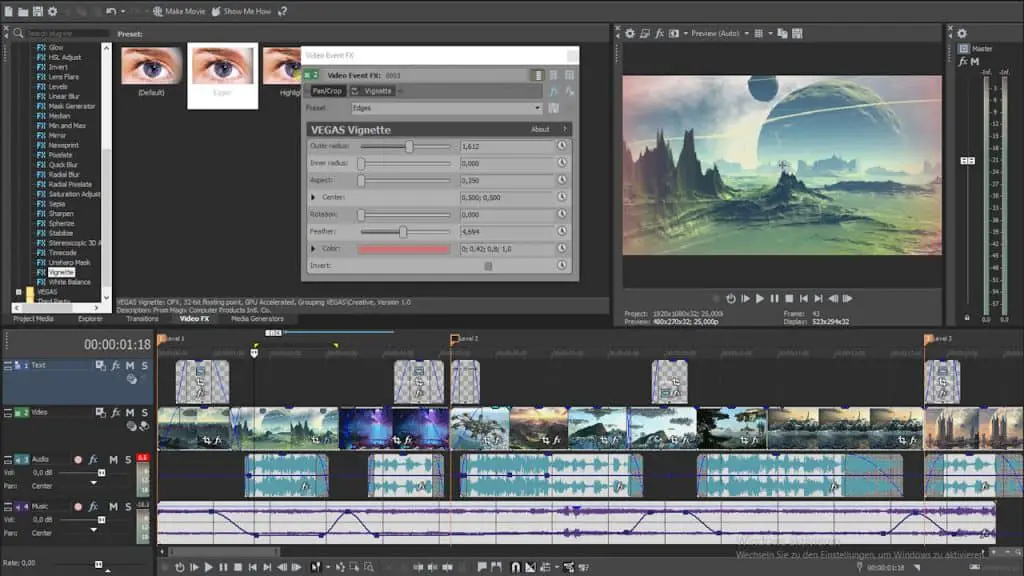 Show your friends how creative you are
Whether you're a beginner with no experience or a pro, everyone makes mistakes. Nothing is more frustrating for a video editor than minor stutters or errors appearing in his edited frames.
Below you can read in a nutshell some hints and tips on how to best use Sony Vegas and what the possibilities are of this software program. Above all, keep one thing in mind: don't lose heart.
Detecting and correcting errors in editing is part of the job of a video editor. The more often you encounter mistakes, the faster you can solve those shortcomings in the film.
The most important thing is that you are going to enjoy it. Once you have successfully built video movies, you can show them to friends and family. They will be amazed at what you have accomplished.
The vegas pro version ensures that your video is not inferior to a professional editor.
Interface Vegas movie studio 16 redesigned
Vegas movie studio 16 is the successor to the 15 version. Especially in terms of the user interface, also called UI, several changes have been made compared to its predecessor.
You can choose between two interfaces: the dark and the lighter version. The dark display was requested by the Vegas fans because the white image of the interface caused eye fatigue for many enthusiasts.
That is why the designers of this software version have opted for two options. The previous white display and the recent dark one. You can always switch back and forth.
Getting started with your own stop motion storyboards
Subscribe to our newsletter and get your free download with three storyboards. Get started with bringing your stories alive!
We'll only use your email address for our newsletter and respect your privacy
Each event on a timeline gets a header. This makes it a bit easier to search and find the different recordings while editing the video.
You will always see a new button that allows you to adjust the interface that best suits your preference.
This way you can strategically place the most used tools with those buttons, also called hamburger buttons, on your screen. You can then move the buttons that you need the least to the backplane.
In other words, the most visible buttons are also the most frequently used tools you need. It ensures that you can adjust the different tools of your personal preference to your liking.
The hamburger buttons can not only be used to function on the events of the timeline, but you can also place them elsewhere in the Video Preview window or the Trimmer window.
This way you can work very clearly. This innovative system from Sony Vegas allows you to display a range of buttons that you personally value.
Step by step guide to bring a project to a successful conclusion
The gadgets of that renewed interface are only a small part of the real work that comes your way.
Vegas pro offers a dashboard where you are gradually guided as a guide to the ultimate goal and destination.
The step-by-step guide, which is numbered by the way, gives you access to the most important tools available to sony vegas: inserting different media such as video and images, adding texts, using different effects and submitting different files to various online channels .
The Add Media Channels menu offers you the possibility to bring everything under one roof, which only benefits the user-friendliness. It also improves the speed of your project.
Numerous functions allow for a lot of creativity
The function for stringing together two independent events also makes it possible to make any adjustments if you want to revoke the decision made earlier.
A concrete example. You decide to split a particular clip, but later you come back to that decision and change your mind. Then you can select those clips and merge them again as one.
Another new tool worth trying is the instant frame freeze tool. A gadget that puts the action of your moving images in a mouse button.
You can reactivate it when you decide this yourself. In short, the software program has many tools that you can use to creatively capture family vacation memories or a wedding.
Finally, it supports the most modern file formats such as iPhone images or other multimedia.
Hi, I'm Kim, a mom and a stop-motion enthusiast with a background in media creation and web development. I've got a huge passion for drawing and animation, and now I'm diving headfirst into the stop-motion world. With my blog, I'm sharing my learnings with you guys.