Video Conversion Software: What Is It And When To Use It
I love creating free content full of tips for my readers, you. I don't accept paid sponsorships, my opinion is my own, but if you find my recommendations helpful and you end up buying something you like through one of my links, I could earn a commission at no extra cost to you.
Video conversion software can be incredibly useful when you want to convert videos from one file type to another. With the help of this software, you can easily convert videos from one format to another and make them compatible with various devices and platforms. This software can make video conversion hassle-free and efficient.
In this article, we'll be discussing what video conversion software is, how it works, and when you should use it.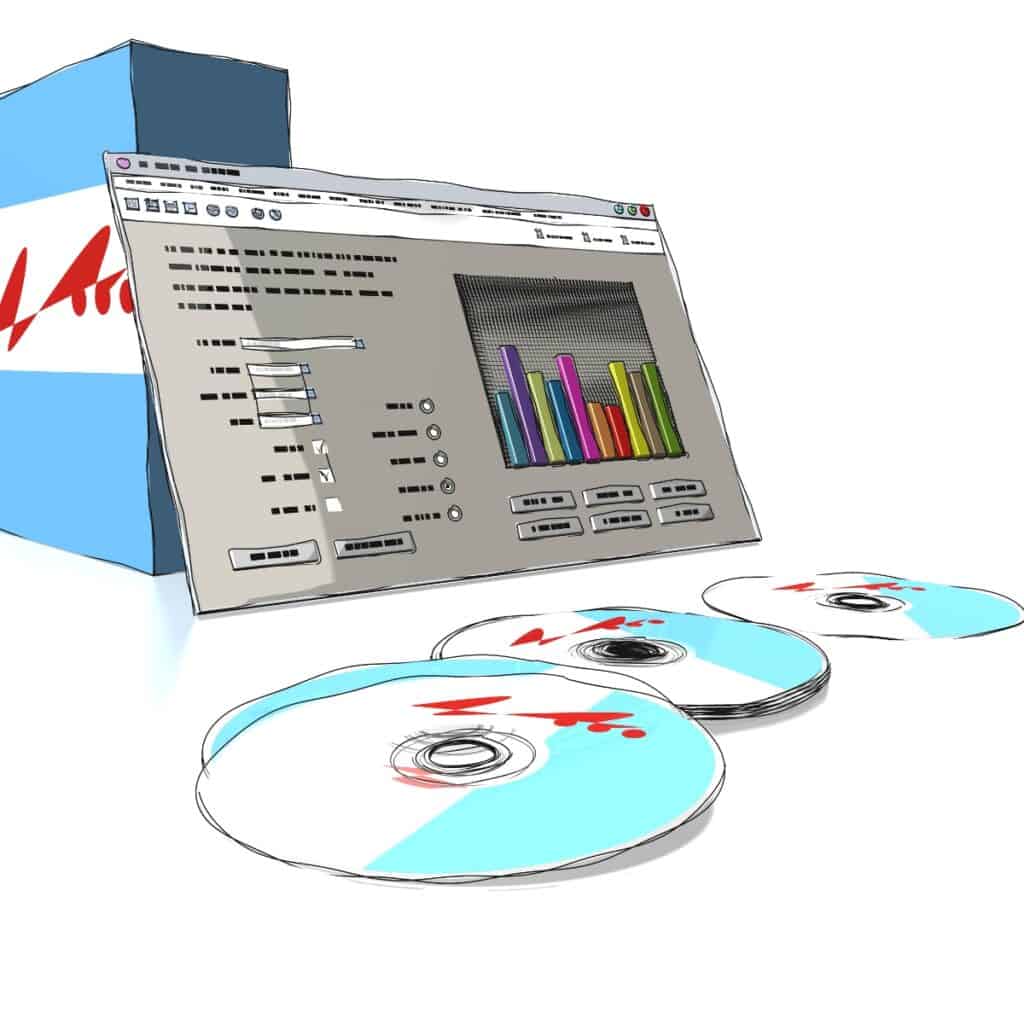 Definition of video conversion software
Video conversion software allows users to convert video and audio files from one format to another. It can be used to convert digital media from one format to another, such as converting a video from MPEG-2 (MPEG-2 Part 2) to MPEG-4 (MPEG-4 Part 10, H.264/HEVC AVC) or converting an audio file into an AIFF or WAV file.
It can also be used for various types of post production workflows such as upscaling, downscaling, color grading, encoding, or transcoding. Video conversion software is a powerful tool that is commonly used by professionals in the media and entertainment industry, enabling content creators and broadcasters to optimize their output for optimum quality at the lowest possible cost.
Benefits of using video conversion software
Video conversion software is an easy-to-use and efficient program that allows users to convert their videos into different formats. With a good video converter, you can quickly change the size, resolution, bit rate and format of a video in just a few clicks.
By using conversion software, you will be able to take advantage of high-quality viewing options such as streaming your favorite show on a tablet or watching movies in high definition on your television.
One of the biggest benefits of video conversion software is its speed. You can convert large files relatively quickly and efficiently compared to manual encoding methods. When it comes time to share videos with friends or family, you won't have to worry about sending large files as they will already be in a much smaller size thanks to the great compression technology built into many video converters today.
In addition to fast file compression and sharing capabilities, video conversion software offers users editing features such as cropping, trimming, splitting and adding effects like audio tracks or subtitles. Some programs even allow you to extract audio from videos with ease so that you can save the soundtrack for other projects.
Whether for professional or personal use, the versatility of a quality converter makes it an immensely useful tool for any user looking for top-tier results from their videos.
Types of Video Conversion Software
Video conversion software is used for converting videos from one format to another. It can be used for a variety of purposes, including transcoding videos for different uses, converting videos for different devices and platforms, and preparing videos for streaming or uploading. Let us take a look at the different types of video conversion software available and when they should be used.
Desktop Software
Desktop software packages are designed to be installed on a user's computer, as opposed to online programs that can be accessed via a web browser. Desktop video conversion packages offer the most comprehensive range of features and capabilities.
Users who are looking for advanced editing capabilities, or need a tool that's optimized for specific tasks or purposes should consider investing in a desktop package. The major advantage of desktop software is full control over the parameters and settings related to your video conversion. Most popular packages offer support for both Windows and Mac operating systems but this can vary depending on the vendor.
Some of the most popular types of desktop video converter software include:
Getting started with your own stop motion storyboards
Subscribe to our newsletter and get your free download with three storyboards. Get started with bringing your stories alive!
We'll only use your email address for our newsletter and respect your privacy
AVS Video Converter
Movavi Video Converter
Handbrake
iSkysoft Video Converter
Any Video Converter Ultimate
These packages offer support for an array of popular file formats, with features like batch processing, full customization options, adjustable bitrate and codec selections, multiple output profiles and audio/video editing tools. With so many features available it's wise to try out different options before committing to one particular piece of software.
Online Software
Online Video Conversion Software solutions provide users with the ability to convert videos to various different file formats quickly. These tools are typically free, easy to use and available through a browser window. Online tools don't require users to install any software, making them ideal solutions for those who are looking for a fast, straightforward way of converting videos files on the go.
The main drawback of online video processing services is that files are subject to size limitations, meaning that large-sized formats such as UHD 4K won't be supported. Nevertheless online conversion solutions offer adecquate solutions for simple video conversions or for when there's no time (or desire) to use a desktop version of the software. Popular examples of online conversion tools include Zamzar and CloudConvert.
Mobile Apps
Mobile apps are ideal for quick and simple video conversions and can be used in conjunction with desktop software or as a standalone solution. There are a few different types of mobile apps available that offer conversion support.
The first type is clip editing apps, which allow users to edit videos on their iOS or Android device before transferring the changes to their PC or Mac. Editing features are often limited on these apps, although they can be useful for removing unwanted clips and adjusting the frames.
The second type of conversion app is an all-in-one solution, such as Handbrake, which offers a variety of video conversions at little to no cost. All-in-one solutions typically offer standard file format conversions but may have other features such as HD support and preset options for devices like smartphones and tablets.
When to Use Video Conversion Software
Video conversion software is a type of program that can change the file format of a video so that it can be watched on different devices, browsers, or platforms. It is a useful tool to have especially if you want to post videos to various platforms or want to play on more than one device.
Let's explore more into the topic of when to use video conversion software and how it can help you:
When you need to convert a video to a different format
Most people are familiar with the concept of video conversion software, but a lot of people don't know what it is and when they should use it. To put it simply, video conversion software is a tool that allows you to convert videos into different formats. This can mean converting from one format to another (like AVCHD to MP4), or from a higher resolution to a lower one (like 4K to HD).
The number one reason you'll want to use video conversion software is for playback compatibility. Depending on the device, not all video files will be supported. For example, if you're trying to play an MKV file on an iPhone or iPad, the app won't support it and you'll need to convert the MKV file first. In this case, video conversion software can help you easily convert your files from their original format into one that is compatible with most devices.
Another important use-case for video conversion software is when converting large amounts of data quickly and in bulk. If you're dealing with hundreds of videos—or even thousands—you don't want spend hours manually converting each file; instead, you can take advantage of batch processing tools available in many programs that allow you to quickly convert many files at once.
When choosing a video conversion program for your needs, make sure it provides adequate support for all major formats like H264/MP4 and various types of audio tracks such as AAC and Dolby Digital Plus (E-AC3). Additionally, check whether special features such as virtualDub integration are available so you can edit raw files directly in the tool without any external programs needed.
When you want to edit your video
When you want to edit your video and make changes without having to record the footage again, you need to have a video conversion software. This will give you the flexibility of editing existing footage without affecting the quality and rendering capability of the new footage. It is especially useful for making complicated formatting changes because it can preserve all existing information within a video file and work off of that.
Video conversion software is also advantageous when working with a variety of formats or file types, as it allows you to convert any format into another, such as from .avi to .mp4 or vice versa. This makes it easy for individuals to edit their video content in any way they see fit. Additionally, it allows users to upload videos onto social media platforms, streaming services, and more – making it ideal for creating content for distribution and promoting engagement on a global scale.
Apart from editing features such as trimming, highlighting, adding audio tracks, changing resolution or bitrate settings etc., converting videos also helps with compressing large-sized files into smaller ones in order to store them while still preserving some image quality and resolution.
Ultimately, every user should determine their own unique needs before deciding on what video conversion software solution is best suited for them; this could range from simply wanting basic truncation capabilities to needing more complicated advanced editing functions like morphing effects or designing layered images over existing videos. No matter what kind of software is chosen for use though, users must always remember that one major benefit of such solutions is their ability to provide an optimal final result – allowing them greater flexibility when producing striking visuals.
When you need to compress a video
Using video conversion software comes in handy when you need to compress a large video file into a smaller file size. Lossless compression is often used for videos because it helps reduce the size without changing its content or quality. It's also useful for integrating various formats, as conversion software can help you convert different types of files such as AVI to MP4 and MKV to MOV.
This type of software can be used if you're experiencing problems while watching your favorite online video. An outdated codec may cause buffering issues, so converting the video into another format can help make it more accessible and playable on your device or media player.
Video conversion software also allows you to save a streaming video by downloading it onto your device, instead of relying on internet streaming services each time you want to watch it. After downloading, users can then convert the video into another format and watch it offline at their convenience. This is especially useful if you have limited data or slow connection speeds – with no need to wait for the entire file to buffer over the internet again, videos are much easier to watch offline once they have been converted with a reliable conversion application.
Conclusion
In conclusion, video conversion software can be a powerful tool for converting any type of digital video file into a different format. Whether it's for streaming purposes, archiving old clips, or even creating new videos from existing assets, video conversion software can provide the power and flexibility needed to accomplish most tasks.
Video conversion tools are highly accessible and easy to use. Most offer intuitive GUI interfaces for quick referencing and basic settings adjustment, as well as more advanced settings for advanced users wishing to fine-tune their videos. This means that anyone from a beginner to a professional can make use of these solutions without having to worry about the technical details behind digital video processing.
When it comes time to select the right video conversion software solution, it is important consider several factors including:
Price range
Features available versus needs or desired effects
Source formats accepted
Destination formats supported
Doing so will ensure you get the exact capabilities and options desired in an overall effective cost-per-use ratio that works best with your particular budget or work environment.
Hi, I'm Kim, a mom and a stop-motion enthusiast with a background in media creation and web development. I've got a huge passion for drawing and animation, and now I'm diving headfirst into the stop-motion world. With my blog, I'm sharing my learnings with you guys.