Best boompole for video, film & Youtube | top 3 rated
I love creating free content full of tips for my readers, you. I don't accept paid sponsorships, my opinion is my own, but if you find my recommendations helpful and you end up buying something you like through one of my links, I could earn a commission at no extra cost to you.
One of my favorite things to do while watching older movies and TV shows is to check out the technical aspects of the show.
Often I pay attention to learn something new or get inspiration for my own projects. Other than plot holes or bad costumes, one of the things I see most often is the microphone in the recording.
Sure, that means production was sloppy, but highlights the ubiquity of boompoles for audio in videos and movies.
For good sound quality, a boom-mounted microphone might also be the answer for you.
Best Boom Poles for Video, Audio, and YouTube Production Reviewed
But what are the best boom poles for video production? How can a pole help audio and video production?
Best Tested: Rode Boom Pole Microphone Boom Arm
Rode is a trusted and respected brand that is a favorite for serious audio recorders, be it for video, music or any other use. That trusted reputation continues with this 84-300cm tall aluminum Rode mast, which was easily one of the best telescoping poles I've tested.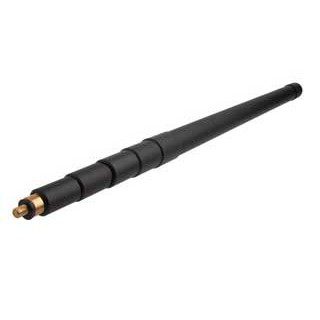 Right out of the box I could tell this unit was of high quality, which I have come to expect from all Rodes products. (All their products are designed and made in Australia).
The boompole itself is made from high quality machined aluminum with a soft foam handle and metal locking mechanisms.
In total, this pole weighs in at 2.4 lbs or 1.09 kilograms which is incredibly light for the range it has.
Getting started with your own stop motion storyboards
Subscribe to our newsletter and get your free download with three storyboards. Get started with bringing your stories alive!
We'll only use your email address for our newsletter and respect your privacy
Adorama uses the Red Boompole here in their video with tips and tricks for using these poles for your audio:
Even if you use a heavier mic on the end of this pole, it balances well and the removable foam grip increases comfort.
The pole telescopes into five sections and can be quickly adjusted as the sections are locked and unlocked using twist-lock rings.
As for mounting microphones, it has a standard 3/8″ screw connector and comes with an adapter to 5/8″ which was handy.
One thing to note is that the cord must be wrapped around the outside of the post, so being careful in your technique is essential to avoid unwanted noise from the cord hitting the post.
Overall, I was very pleased with this Red boom pool and I'm glad I paid it a little extra knowing it will continue to give me several years of constant use, so tested as the best.
Best Carbon Fiber Boom: Rode Boompole Pro
This boompole is actually a lot more expensive than all the other boom mics on this list. This is mainly because this is the only carbon fiber mast we decided to use. Rode is one of the industry standards for location sound equipment, and for good reason.
Carbon Fiber is lighter, just as strong and more expensive. It extends up to 3 metres, excellent for professional industrial work, and when fully extended, it weighs just 0.5kg. That's absurdly light.
The best aluminum pole of the same length on this list is almost double at 0.9 pounds. A kilo may not sound like much, but it really makes a difference if you keep the pole above your head all day.
The pole is hollowed out to accommodate an internal cable. Pretty much the only downside to this product besides the price is that it doesn't come with that internal XLR cable. Although you can buy a coiled XLR and pull it in quickly for relatively little money.
Rode is a very high quality company that provides excellent customer service. If there is something wrong with your product, they will quickly send you replacement parts at no cost even years after the fact. If you have the money and you want the best of the best, get the Carbon Fiber Rode Boompole Pro.
The only reason it is not above the Red Aluminum is the price difference.
Cheapest boom pole: Amazonbasics monopod
Okay, it says there it's a Monopod. This AmazonBasics 67 inch Monopod is essentially just a collapsible aluminum rod with a universal 1/4 inch thread on the tip. So how did it end up on this list?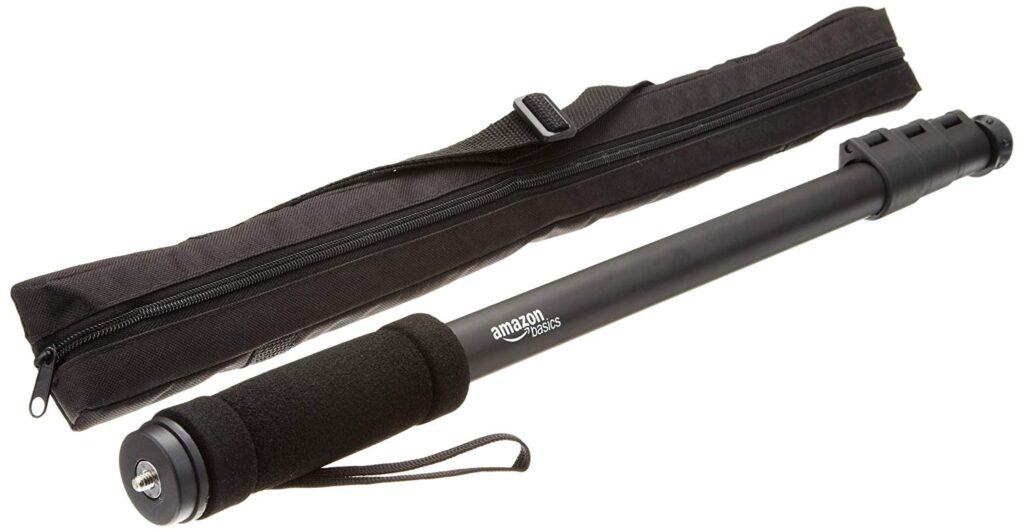 Well, many reviewers online have reported that this product forms a very useful microphone boom in no time. Okay, it doesn't have an XLR port, but it shouldn't hold you back.
It is not as durable and has a somewhat questionable robustness, but it is also the cheapest you can find and which you can still start with for your video recordings.
Despite this, many are satisfied with its construction and value for money. We are very impressed with all the AmazonBasics products we have tested so far and can easily recommend this one.
If you don't have much to spend, are also looking for a monopod, or just need something to hold your mic over your scene, the AmazonBasics 67-inch Monopod is definitely better than nothing and it comes with a carrying case too.
What functions should I look for when buying a boompole?
Depending on your requirements, you can give different factors more weight than others. But in general, if you're looking for the best tree for your needs, consider the following:
Maximum length of the boom's mast: Particularly long boom sticks are required in some use cases, for example as reporters in The Hague who are often far from ministers at press conferences
Tree Weight: This is an obvious choice for anyone holding a tall long pole over their head by hand. Even small weight differences can make a big difference in fatigue at the end of the day. Keep in mind that you have to add a microphone and sometimes a cable on top of the weight of the pole itself
Minimum length of the boom pole when collapsed: For travel or target purposes, you may want a boom pole that retracts to a minimum length
Internal XLR cable or external cable?
Traditionally, tree sticks have simply been an extendable pole held near the object by a sound mixer. But newer boom poles have internal coiled XLR cables that plug into your mic and have an XLR output at the bottom (you use your own XLR cable to connect to the sound mixer or camera).
Internal XLR cables are becoming more and more popular these days, which eliminates a fair amount of cable management and noise handling, allowing the user to focus more on capturing good sound.
Of course, there is also the possibility that an internal XLR cable will wear out over time, requiring a replacement (cheap poles with internal XLR may not offer the option to replace the cable, while more expensive brands sell replacement internal cable sets).
Is the XLR output on the bottom or side?
For poles with internal XLR cables, is the XLR output at the bottom of the pole exit at the bottom or from the side? Typically cheaper booms will top out at the bottom, which can be inconvenient if you want to let the bottom of the pole rest comfortably on the ground between turns.
More expensive booms often have a side exit for the XLR output, which can be more convenient.
What material is the boompole made of?
Cheaper tree poles are usually made of aluminum instead of carbon fiber or graphite. The more expensive pole poles are made of the latter two materials because they are lighter, which can make a big difference if you're holding a long pole for an extended period of time.
Another difference is that aluminum will dent, while carbon fiber/graphite can crack (although if you treat your gear extremely well it shouldn't be a problem either).
Pro sound mixers tend to swear by the lighter graphite or carbon fiber boom sticks and look down on aluminum which is cheap and heavy.
Hi, I'm Kim, a mom and a stop-motion enthusiast with a background in media creation and web development. I've got a huge passion for drawing and animation, and now I'm diving headfirst into the stop-motion world. With my blog, I'm sharing my learnings with you guys.