Microphone models: Types Of Microphones For Video Recording
I love creating free content full of tips for my readers, you. I don't accept paid sponsorships, my opinion is my own, but if you find my recommendations helpful and you end up buying something you like through one of my links, I could earn a commission at no extra cost to you.
When you're shooting video, one of the most important aspects is the audio. It's what your audience will pay attention to, after all. So it's important to get it right.
There are several types of microphones you can use to improve the audio quality of your video. This guide will cover the different types of microphones for your camera as well as their uses.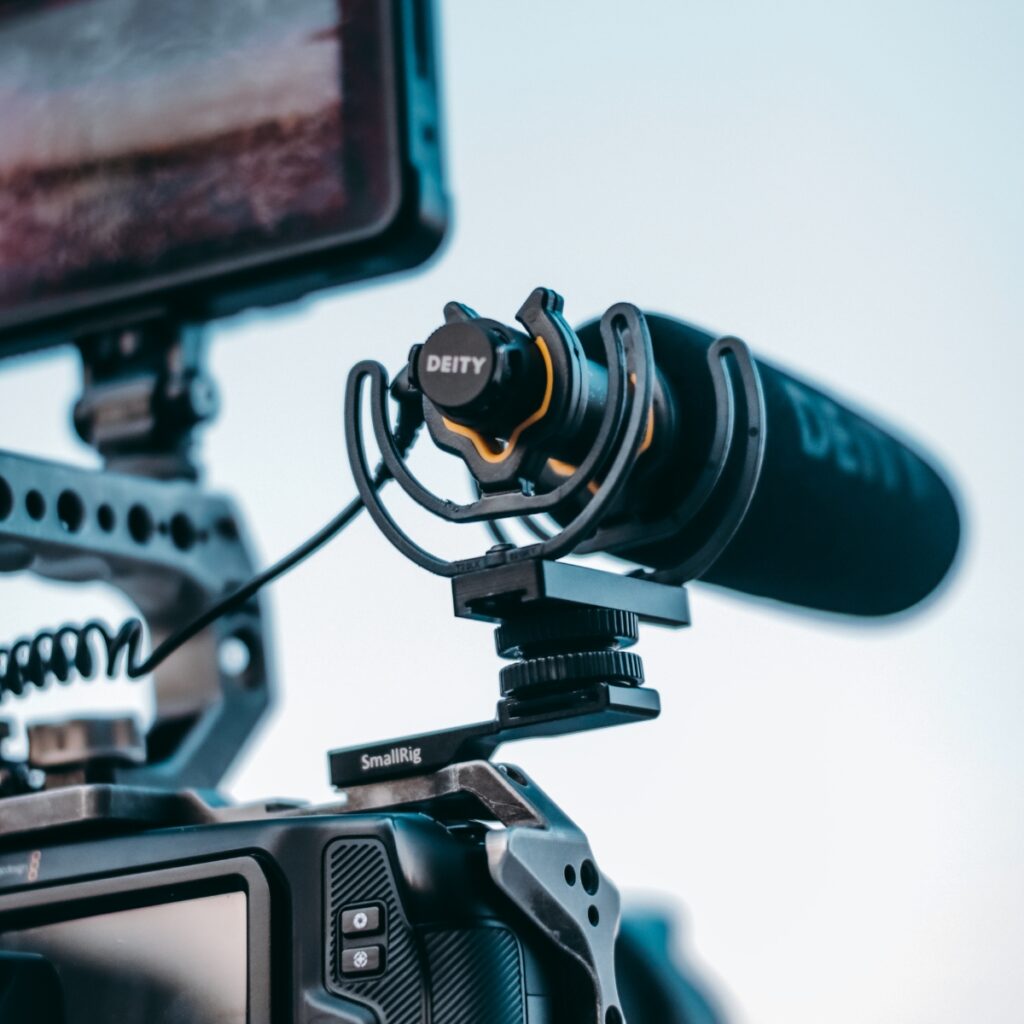 What Are the Different Types of Microphones and How to Use Them?
Dynamic Mics
Dynamic mics are like a spotlight – they pick up sound in the direction they're pointed, and a bit to either side, but not behind them. They're great for loud sources, and they're usually the cheapest option for studio work.
Condenser Microphones
If you're looking for high-quality studio mics for podcasts or voiceover work, you'll want to check out condenser mics. They're pricier than dynamic mics, but they deliver clearer audio recordings. Plus, they come with a variety of directional pickup patterns, like unidirectional, omnidirectional, and bidirectional.
Lavalier/Lapel Microphones
Lavalier mics are the perfect choice for filmmakers. They're small condenser mics that you can attach to on-screen talent, and they work wirelessly. The sound quality isn't perfect, but they're great for short films, interviews, or vlogs.
Shotgun Mics
Shotgun mics are the go-to mics for filmmakers. They come in a variety of pickup patterns, and they can be mounted in a variety of ways. Plus, they deliver high-quality audio without sacrificing sound quality.
So, you're looking for the right microphone for your project? Here's a quick rundown of the four most popular types:
Dynamic mics – great for loud sources and usually the cheapest option for studio work.
Condenser mics – pricier than dynamic mics, but they deliver clearer audio recordings and come with a variety of directional pickup patterns.
Lavalier mics – small condenser mics that you can attach to on-screen talent, and they work wirelessly. Perfect for short films, interviews, or vlogs.
Shotgun mics – come in a variety of pickup patterns, and they can be mounted in a variety of ways. Delivers high-quality audio without sacrificing sound quality.
So, there you have it! Now you know the different types of microphones and how to use them. So, get out there and start recording!
A Guide to Choosing the Right Microphone for Video Production
What is a Microphone?
A microphone is a device that converts sound waves into electrical signals. It's like a tiny little wizard that takes the sound from your mouth and turns it into something your computer can understand.
Why Do I Need a Microphone?
If you're recording video, you need a microphone to capture the audio. Without one, your video will be silent and that's not very entertaining. Plus, if you're recording in a noisy environment, a microphone can help filter out the background noise so your viewers can hear what you're saying.
Getting started with your own stop motion storyboards
Subscribe to our newsletter and get your free download with three storyboards. Get started with bringing your stories alive!
We'll only use your email address for our newsletter and respect your privacy
What Kind of Microphone Do I Need?
It depends on what you're recording. For example, if you're recording a podcast, you'll need a different type of microphone than if you're recording a live event. Here are some tips to help you choose the right microphone:
Get as close as possible to the source. If you're too far away, you'll pick up unwanted sounds.
Know the pickup pattern of the microphone. This is the shape of where it can and cannot hear.
Consider your needs, the subject, and the appropriate form factor.
Understanding Built-in Microphones
What are Built-in Microphones?
Built-in microphones are the mics that come with your camera. They're usually not the best quality, but that's ok! That's because they're usually quite far away from the source of the sound, so they pick up a lot of ambient noise and echoes from the room.
Why are Built-in Microphones Not the Best Quality?
When the mic is far away from the source, it picks up everything between the two. So instead of clean, clear voices, you may hear the voices buried in ambient noises or echoes from the room when you're recording. That's why built-in mics aren't the best quality.
Tips for Improving the Quality of Built-in Microphones
If you're stuck with a built-in mic, there are a few things you can do to improve the quality:
Move the mic closer to the source of the sound.
Use a foam windscreen to reduce wind noise.
Use a pop filter to reduce plosives.
Use a shock mount to reduce vibrations.
Use a directional mic to focus on the sound source.
Use a noise gate to reduce background noise.
Use a compressor to even out the sound.
Use a limiter to prevent distortion.
The Handy Handheld Mic
What is it?
You know those mics you see in concerts, or in the hands of a field reporter? Those are called handheld mics, or stick mics. They're portable, durable and designed for rough use in a variety of environments.
Where You'll See It
You'll see these mics in all sorts of places. If you want that newsy look, just put one in the talent's hands and bam! They're a reporter on the scene. Infomercials love to use them for street interviews, so they can get people's real opinions on the product. You'll also see them on stages, like awards ceremonies or comedy shows.
Other Uses
Handheld mics are also great for:
Sound effects gathering
Voice-overs
Hiding just out of frame for great audio
But you won't see them on indoor news sets or in sit-down interviews, where the mic should be invisible.
Bottom Line
Handheld mics are great for getting that newsy look, capturing real opinions in infomercials, or adding authenticity to a stage performance. Just don't use them for interviews where you want the mic to stay out of sight.
The Tiny Microphone That Could
What is a Lavalier Microphone?
A lavalier mic is a tiny microphone that's usually clipped to a shirt, jacket, or tie. It's so small that it often goes unnoticed, which is why it's a favorite for news anchors and interviewees. It comes in a variety of colors, including black, white, beige, and brown, so you can find one that matches your outfit.
Using a Lavalier Mic Outside
When using a lavalier mic outside, you'll need to add a windscreen to minimize wind noise. This will increase the size of the mic, but it's worth it for the better sound quality. You can also attach the mic under thin clothing like a shirt or blouse with a strip of gaffer's tape. This acts as a makeshift windscreen, and as long as there aren't multiple layers of clothing over the mic, it should sound great. Just make sure to check for clothes rustles before and during recording.
A Lavalier Trick
Here's a neat trick: use the body of the subject as a shield to block either wind or background noise. This way, the wind or distracting sounds will be behind the talent, and you'll get clearer sound with less editing work.
One Last Tip
Keep an eye on the mic clip! These things tend to go missing faster than your cell phone or TV remote, and they're essential for the mic to work. Plus, you can't just buy a replacement at the store.
What is a Shotgun Microphone?
What Does it Look Like?
Shotgun mics are long and cylindrical, like a tube of toothpaste that's been stretched out. They're usually perched atop a c-stand, boom pole, and boom pole holder, ready to record any sound that comes their way.
What Does it Do?
Shotgun mics are super directional, meaning they pick up sound from the front and reject sound from the sides and back. This makes them great for capturing clear audio without any background noise. Plus, they're out of the frame, so they won't distract viewers like a lav mic might.
When Should I Use a Shotgun Mic?
Shotgun mics are perfect for:
Independent filmmaking
Video studios
Documentary and corporate videos
On-the-fly interviews
Vlogging
What are the Best Shotgun Mics?
If you're looking for the best of the best, check out these shotgun mics:
Rode NTG3
Rode NTG2
Sennheiser MKE600
Sennheiser ME66/K6P
Rode VideoMic Pro On-board Microphone
What is a Parabolic Mic?
What it is
Parabolic mics are like the laser of the microphone world. They're big dishes with a mic placed at the focal point, like a satellite dish. This allows them to pick up sound from far away distances, like a football field away!
What it's Used For
Parabolic mics are great for:
Picking up voices, animal noises, and other sounds from far away
Grabbing a football huddle
Recording nature sounds
Surveillance
Reality TV audio
What it's Not Good For
Parabolic mics don't have the best low frequencies and clarity can be hard to achieve without careful aiming. So don't expect to use it for serious dialog pickup or voice-overs.
Conclusion
In conclusion, when it comes to choosing the right microphone for your camera, it's important to know what you're using it for. Whether you're a filmmaker, vlogger, or just a hobbyist, there are four main types of mics to consider: dynamic, condenser, lavalier/lapel, and shotgun mics. Each type has its own strengths and weaknesses, so it's important to do your research and find the one that fits your needs. And don't forget, PRACTICE MAKES PERFECT – so don't be afraid to get out there and start recording!
Hi, I'm Kim, a mom and a stop-motion enthusiast with a background in media creation and web development. I've got a huge passion for drawing and animation, and now I'm diving headfirst into the stop-motion world. With my blog, I'm sharing my learnings with you guys.