Best Camera Cranes Reviewed for those hard-to-reach shots
I love creating free content full of tips for my readers, you. I don't accept paid sponsorships, my opinion is my own, but if you find my recommendations helpful and you end up buying something you like through one of my links, I could earn a commission at no extra cost to you.
Getting the best professional image when filming or capturing a moment takes more than a traditional video camera, even if you're using one of the best on the market.
Using a camera crane or camera jib (along with crane and boom combinations) provides complete control while filming panoramic scenes without vibrations and decreasing the overall quality of what you're shooting.
Before you invest in one that's right for your filming needs, take a look at our top 10 picks and reviews of camera cranes and jibs at all price points so you can make an informed decision.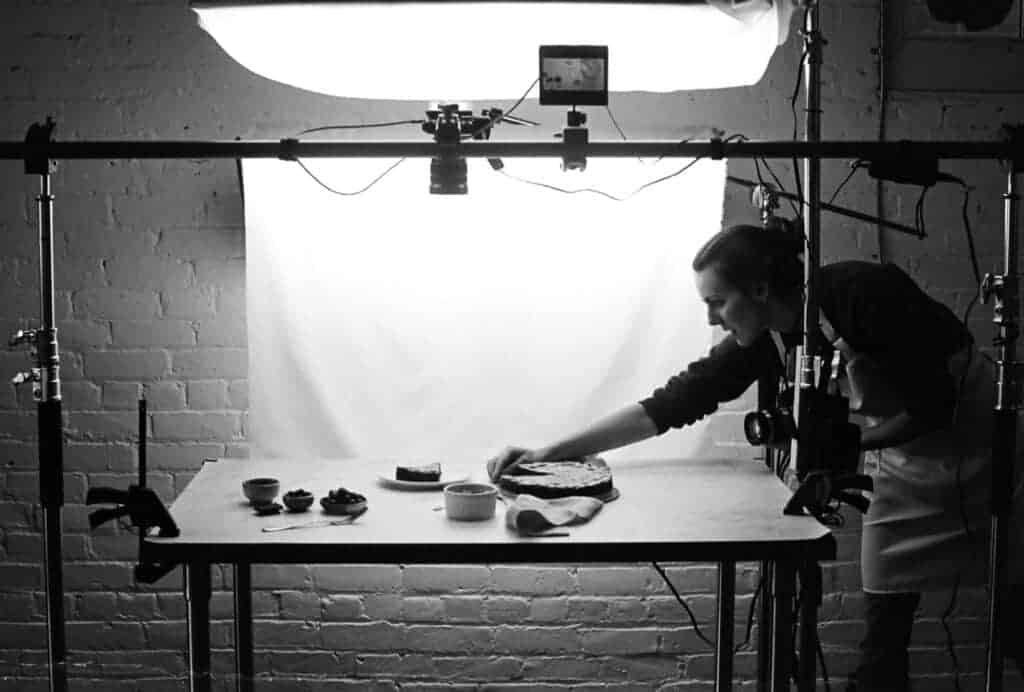 Choosing the very best camera crane boom was no easy task for us, although we specifically selected one that offers a wide range of features and benefits, while still getting the most bang for your buck.
A quick overview of the top picks before we dive deeper into the reviews:
Best camera cranes reviewed
Best Entry Level: Neewer Aluminum Jib Arm Camera Crane
Professional filmmaking on a budget has never been easier to get started than with the Neewer aluminum arm jibarm camera crane.
At a low price of less than €80, this jibarm camera crane is ideal for amateur or semi-professional filmmakers who want to take their skills to the next level.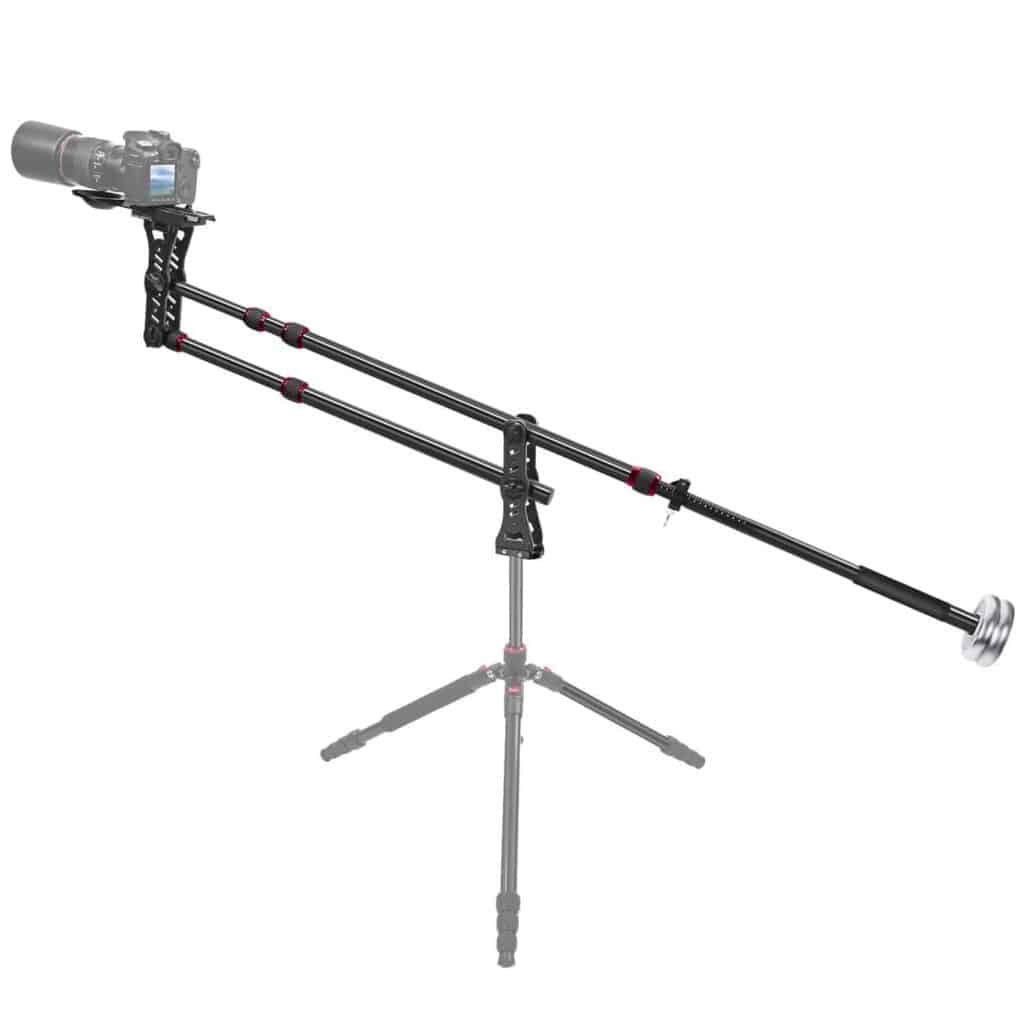 The Neewer-jibarm camera crane also comes with an included travel pouch, for ease of use on the go, and supports a hefty 8kg / 17.6lbs.
The Neewer Jib Arm Camera Crane with aluminum alloy features a multi-function ball head that works with both DSLR cameras and camcorders (suitable for both 75mm and 100mm hemisphere heads).
Getting started with your own stop motion storyboards
Subscribe to our newsletter and get your free download with three storyboards. Get started with bringing your stories alive!
We'll only use your email address for our newsletter and respect your privacy
This crane arm offers total stability thanks to its magnesium-aluminium alloy material, standard for the market, while also using CAM technology to provide strength and high rigidity.
A quick-release plate is also included in the price, so you can shoot and film quickly without lugging heavy accessories or equipment to get the job done.
Features included with the Neewer aluminum armature jibarm crane:
Pan-ballhead increases the versatility of the crane, allowing you to mount the crane arm on almost any tripod of your choice. With a pan ball head, you enjoy the ability to pan 360 degrees with both vertical and horizontal directional options
Optimal crane arm for both camcorder and DSLR shooting. The total length of the faucet is 177cm / 70″.
The crane supports up to 8kg / 17.6lbs, so you can use a variety of camcorders and DSLR cameras with ease.
Ideal for both professional shooting and outdoor photography / motion photography.
ProAm Orion DVC200 DSLR Video Camera Crane
The ProAm Orion offers a portable camera crane with features that allow professional and amateur videographers to do a lot of fun things.
Implement beautiful, dynamic motion shots with the ProAm Orion in minutes, as the jib crane itself only takes a few minutes for a complete setup.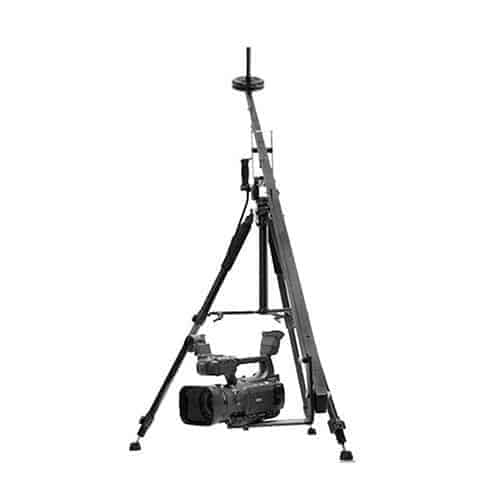 The ProAm comes fully pre-assembled, optimal for filmmakers who prefer a tool-less solution. ProAm Orion DVC200 works with both camcorders and DSLR cameras up to 3.6 pounds and offers vertical reach and lift of up to 11 feet, which is a bit less than other more affordable options on the market.
It extends a total of 5 feet from the tripod mount of your choice. Before investing in a ProAm USA Orion, make sure your cameras and recording devices weigh less than 3.6 pounds to avoid any issues while filming.
Features of the ProAm Orion DVC200:
Tripod for more strength and maximum stability
Uses 1-inch barbell weights as counterweights (not included with the camera crane itself)
Pre-assembled and without tools to start using the camera crane
Auto and manual tilt is possible with the Orion DVC200, so you can maintain a front-facing camera while moving the crane up and down for perfect motion shots
Best Value for Money: Kessler Pocket Jib Traveler
If you're in the market for a lightweight travel crane or just a sturdy camera crane, consider the Kessler Pocket Jib Traveler.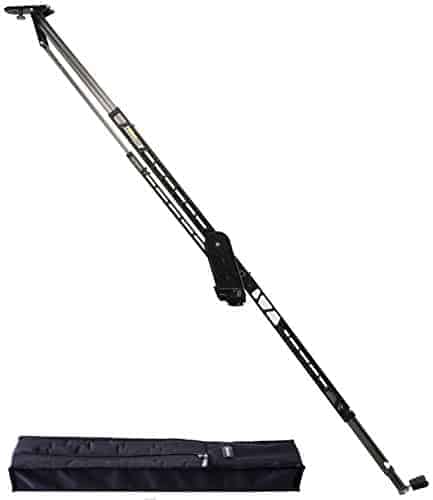 The Kessler Pocket Jib Traveler is ideal for filmmakers who travel frequently and change shots on a whim. Shoot quality wedding videos or create professional scenes with both horizontal and vertical action with the Pocket Jib Traveler.
Unfortunately, a travel case and additional counterweights that are optimal for the Kessler Pocket Jib Traveler are not included in the original cost of the jib, making this choice a slightly more expensive option, but a useful option for those looking for true portability.
The Kessler Pocket Jib Traveler is not made from lightweight carbon fiber, but still offers a lightweight and sturdy solution for anyone interested in a portable solution that delivers.
Due to a lack of specification information, it's unclear how much the maximum weight load is for the Kessler Pocket Jib Traveler, although it has received high marks from verified reviews on Amazon.
Key Features of the Kessler Pocket Jib Traveler:
No assembly required with this travel crane! The pocket jib traveler folds for travel and storage and only takes a few minutes to fully assemble for quick filming and when changing scenes or shooting locations
The Kessler pocket jib traveler is extremely light, weighing only 2.5 kilos in total
The jib traveler's folded length is 27″, with a total length of 72″
Overall, the Kessler Pocket Jib Traveler has 62.3″ vertical travel, allowing great freedom of movement when filming smaller projects that don't require extensive height options.
PROAIM 18ft Professional Jib Arm Stand
If you're looking for a camera jib that supports large DSLR cameras and recording devices, the PROAIM Professional jib crane might just be the way to go.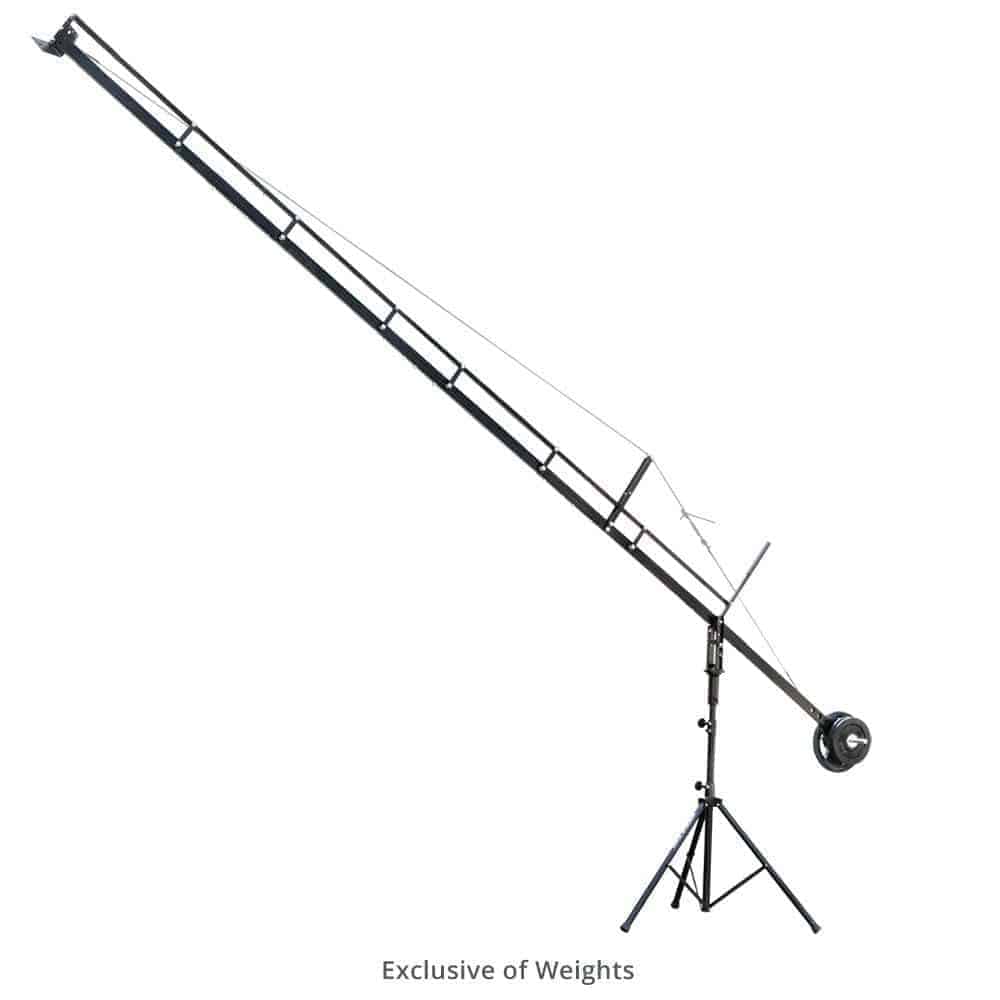 One of my favorite aspects of the PROAIM Professional Jib Crane is its ability to hold up to 15kg or 33lbs, removing the barrier of most cranes and jibs on the market today.
The PROAIM Alphabet kit includes a heavy duty tripod stand that is a minimum of 34 inches and a maximum of 60 inches wide. In addition, the crane arm itself extends a total of 18 feet, utilizing ribbed aluminum sections, which are 4 times stronger than a lightweight feel for high-speed movement.
With this crane arm you enjoy an included storage bag for protection when your rig is not in use.
Notable features of the PROAIM:
Impressive 15kg / 33lbs weight support for a wide variety of DSLR cameras and camcorders, ideal for filmmakers who want to film a wide variety of projects
100% customer satisfaction guarantee is also included with the PROAIM, which is extremely important when investing over €500 in a new rig
Large payload capacity of 176 lbs, perfect for professional shooters and filmmakers who prefer to work with a loaded and fully equipped jib crane
Compatible with the PROAIM Jr. Pan Tilt Head, for even more control over the horizontal and vertical movement of your crane arm
Things to consider when buying a camera crane
Before entering the camera cranes and jibs market, there are a few things to consider and keep in mind when shopping for your next investment.
Consider the type of project you want to film and whether you need a robust set-up (including a traditional crane), or if you're looking for a smaller, more flexible solution, such as a jib or a full travel set.
Prices
Prices vary widely on both cranes and jibs, ranging from less than $100 to over $1000. While it may be attractive to invest in a quality camera crane or jib setup, research the specs first and determine your needs beforehand so as not to overpay for equipment that doesn't offer the extra qualities or features you need.
In many cases, camera shakes are much cheaper than Hollywood faucets and still offer the flexibility and smooth control needed for high-quality movies. Let's just say you come a long way on budget.
Size
The size of your camera crane is paramount when determining a rig that is right for you. Since all camera crane arms and solutions are individual, you compare the total vertical and horizontal range while also taking into account the type of shots you are interested in.
Load capacity
One of the key features of research when investing in a camera jib or kit is the weight limit each solution offers.
Calculate the weight of your DSLR camera or camcorder, plus additional accessories and equipment you like to use for individual shots.
While some crane jib camera movements support up to 8 lbs, there are alternative professional solutions that offer a maximum load of much more.
Often a camera crane boom weighing between 8 and 44lbs is ideal for both portability and price point for almost all applications.
Portability
Are you planning to travel often with your crane or are you looking for a solid, robust solution? Portability is extremely important for research if you're looking for a lightweight camera jib that's easy to move and offers quick and easy setup.
Many available camera cranes and jibs are made from a traditional aluminum alloy, although it is possible to find even lighter options with cranes and booms made from a carbon fiber.
Research the assembly needed for each camera crane and jib you're interested in, along with whether the crane is sectioned and easy to disassemble for quick relocation and relocation.
While some camera crane solutions are tool-less and can be set up in minutes, while others (even on the more expensive scale) require more time and effort with every single shot.
Compare the total weight of the camera crane arms and whether or not it is possible to fold the crane into movable parts with an included carrying bag when portability is necessary for your work.
Conclusion
When shopping for a new camera crane or jib setup, there are plenty of factors to consider regarding your intended use of the crane or jib and the types of cinematography you want to pursue.
Which crane do you prefer for your film- and motion-intensive shots? We'd love to hear more about what works for you and why!
Hi, I'm Kim, a mom and a stop-motion enthusiast with a background in media creation and web development. I've got a huge passion for drawing and animation, and now I'm diving headfirst into the stop-motion world. With my blog, I'm sharing my learnings with you guys.