Best camera light kits for stop motion reviewed
I love creating free content full of tips for my readers, you. I don't accept paid sponsorships, my opinion is my own, but if you find my recommendations helpful and you end up buying something you like through one of my links, I could earn a commission at no extra cost to you.
Too many people who want to take better pictures make the mistake of focusing entirely on the camera alone. What about what's in front of the camera?
Regardless of what camera you have, if your subject isn't well lit, your stop motion images and videos just won't be right. Also, cameras are expensive, especially those with significantly better image quality.
A good light kit will make much more difference than getting a better camera ever will. That's why I've devoted this article to getting you the best lighting for your projects!
Check out this article about how to use the lights for your sets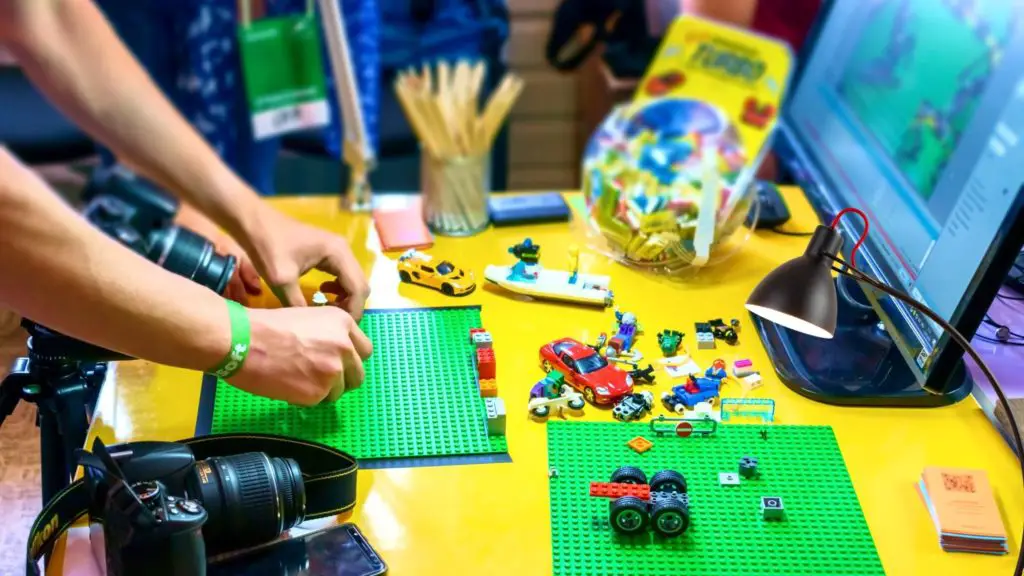 In other words, if you're properly lit with the right kit, you can shoot extremely high-quality videos and photos with even affordable or entry-level DSLRs.
If the lighting is right, even high quality videos can be shot with mobile phones. It's all about the light. With that in mind, the easiest way to go from good to great quality is to invest in a quality lighting kit.
These light packs have several features and benefits, but they all have one thing in common: their ability to dramatically improve photos.
For some, a robust lighting kit can make a huge difference in complex lighting situations with many elements, or for photographers with demanding expectations, such as wanting fewer adjustments in post-production.
One of the best ways to light your tabletop stop motion is with this budget set from Slow Dolphin. It isn't professional studio quality, but you get 4 lights to get the perfect setup and fill in any shadows so your production will actually look quite professional, but on a budget!
But there are a few more options that I want to take you through.
Getting started with your own stop motion storyboards
Subscribe to our newsletter and get your free download with three storyboards. Get started with bringing your stories alive!
We'll only use your email address for our newsletter and respect your privacy
Some of these kits include backgrounds. It all depends on your needs, but one thing you can be sure of, you can never have too much light.
Best stop motion light kits reviewed
Best budget lighting kit for tabletop stop motion: Slow Dolphin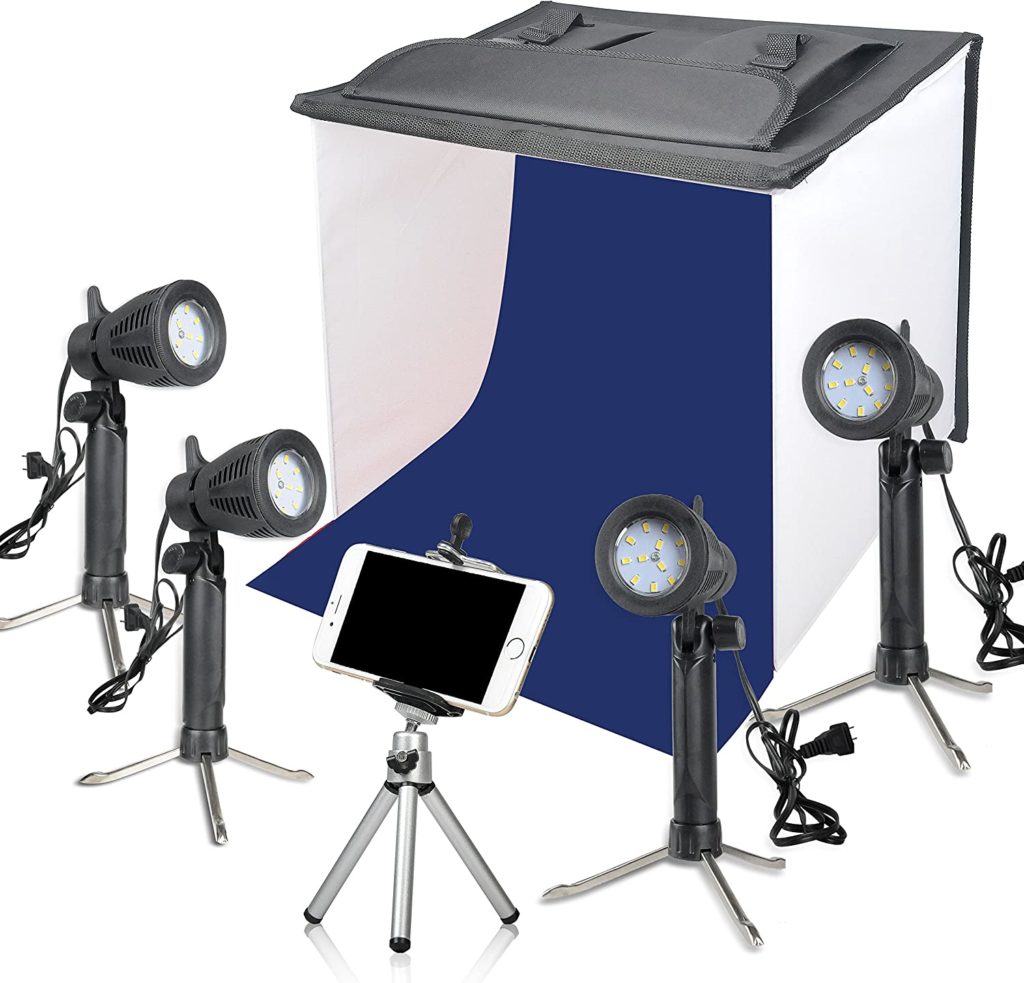 I know most of you will totally be doing this as a hobby or starting it as a hobby, and that's awesome. That's why I wanted to get this perfect budget option out of the way first.
It's got 4 LED lights with light filters included so you can play around with moods in your production as well.
These aren't the best filters mind you and there isn't any diffuser in this set, so getting the light just right will probably take some trial and error.
But with the 4 lights that sit on your table, you can overcome these obstacles and fill in any shadows one of the other lights may cast and get the background, as well as the subject well lit.
If you're looking for a more robust set for larger productions, please read on. But for the hobbyist, these will get you pretty far in great-looking animations.
Fovitec StudioPRO lighting set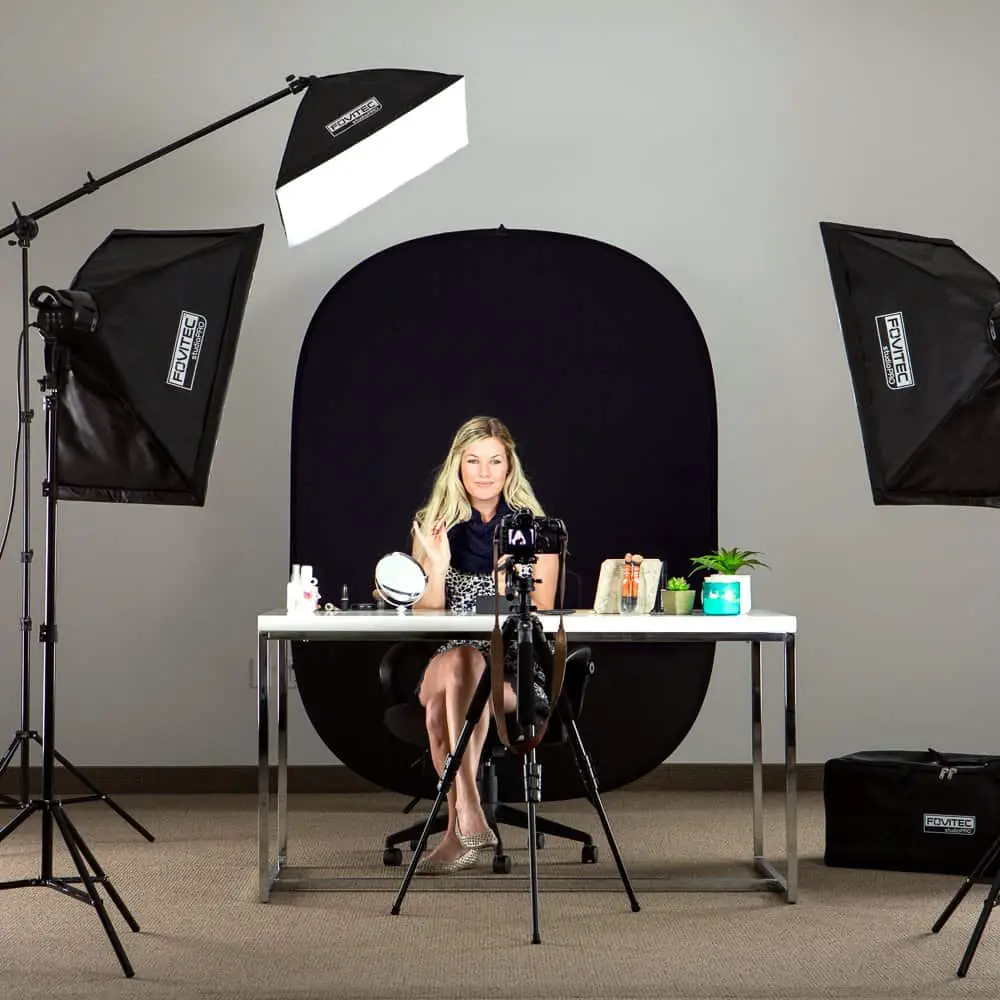 This is a professional kit that will not let you down. The Fovitec StudioPRO lighting kit offers solid build quality, powerful lighting and is acclaimed for its portability and versatility, delivering at every level.
A unique feature of this kit is that the lamps have different brightness. This is a big advantage for those who want to make fewer light adjustments in post-production.
The only drawback of this kit is its high price. It will certainly be overkill for many users, but for the price it's a good deal given the excellent light quality and overall robustness of the kit.
It is built to last.
Also watch this video from Science Studio on Youtube:
Advantages
Huge kit with solid build quality
Acclaimed for its portability and versatility
Energy efficient
Silver lining provides maximum light reflection
Cons
Some users had issues with durability
A few users struggled to put it together without instructions
One user had problems with a hole in his bag
Takes 30 minutes to set up
Most important features
Professional light set: main / keylamp, hairlight and brighter light for a complete portrait
Softbox Diffusion: This lamp socket for the softbox with 5 lamps is equipped with a detachable 43″ x 30.5 inner diffusion plate for more control over the light quality
Portrait Studio: the possibilities with this portrait lighting set are endless. Two softboxes that balance the light on each side of the lens to create depth between the lens and the background
Multiple ways to use: Whether for photo or video recording, it creates a more beautiful light. Enjoy professional equipment at starting prices
Use any camera: absolutely no camera is needed, sync is required, as a result it can be used with any camera like Canon, Nikon, Sony, Pentax, Olympus, etc.
Neewer backlight set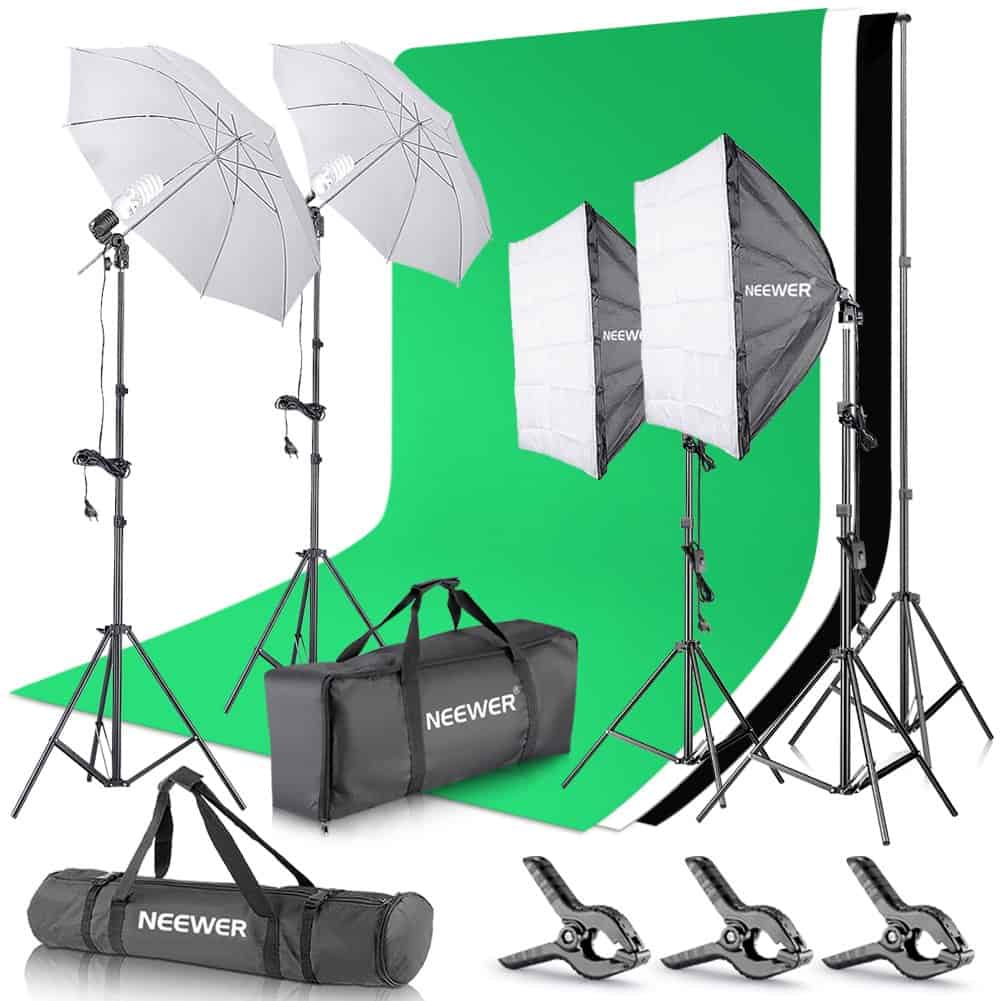 The Neewer Backlight Kit is high quality at an affordable price and includes soft boxes, light umbrellas and clips to make your photos and videos look the way you need them to.
The Neewer background lighting kit also lets you shoot with a variety of useful backgrounds: white, black and green. This is a great set for those looking for a complete set on a budget, but still want a professional look.
Advantages
Impressive overall quality for the price
Background is not high enough to use for very tall people (or it has to be seated)
Soft boxes give light an attractive appearance
Kit includes a wide variety of lighting options
Cons
Included wallpapers must be steamed before use; they come wrinkled from packaging
Some users had problems with bad lamps
Light is not that strong
Background stand is on the wafer thin side
Most important features
Set includes 4 x 31″ (7 feet) / 200 cm lamp tripod, 2x single headlamp holder + 4x 45 W CFL daylight lamp + 2x 33″ / 84 cm protection + 2 x 24 "x 24/60 x 60 cm Softbox + 1x / 6 x 9 ft Musline backdrop 1.8mx 2.8m musline (black, white & green), 6x backdrop terminals + 1 x 2.6m x 3m / 8.5Ft x 10ft backdrop support system + 1x for backdrop support system and carry case for continuous light kit.
Light Tripod: Solid safety with 3 levels of the tripod, for a firm, durable work quick lock.
24″ x 24/60 x 60 cm Softbox: Softbox diffuses the light and provides perfect even lighting, when you need the best shots. Connect to E27 socket, you can directly connect incandescent, fluorescent or slave it light flash.
6 x 9 ft Musline backdrop (black, white, green) + backdrop 1.8mx 2.8m musline clamps with 2.6mx 3m / 8.5Ft x 10ft backdrop support system: the backdrop set for TV, video production and digital photography.1x ideal provides stable light
Carrying Bag: Ideal for carrying umbrellas and other accessories.
Falcon Eyes Background System with Lighting 12x28W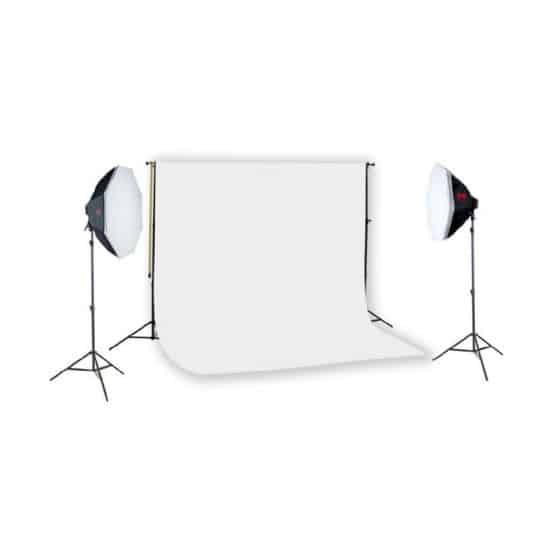 This is the kit one user said, "There's nothing better for the price." With Falcon Eyes Backlit Backlight System, with well-made softboxes and great portability, it offers an easy way to get that great white screen image from the comfort of your own studio.
An advantage this has over number two is the dimmable light (see below). It all comes down to what you need. Overall, the Neewer Backlight Kit will allow for more versatility of the types of lighting, while this kit will allow for more brightness settings.
Advantages
Softboxes are well made
Easy to assemble and store
Can deliver professional results
Cons
Lack of instructions made it difficult for some
Kit is made of plastic
Godox complete TL-4 Tricolor Continuous Light Kit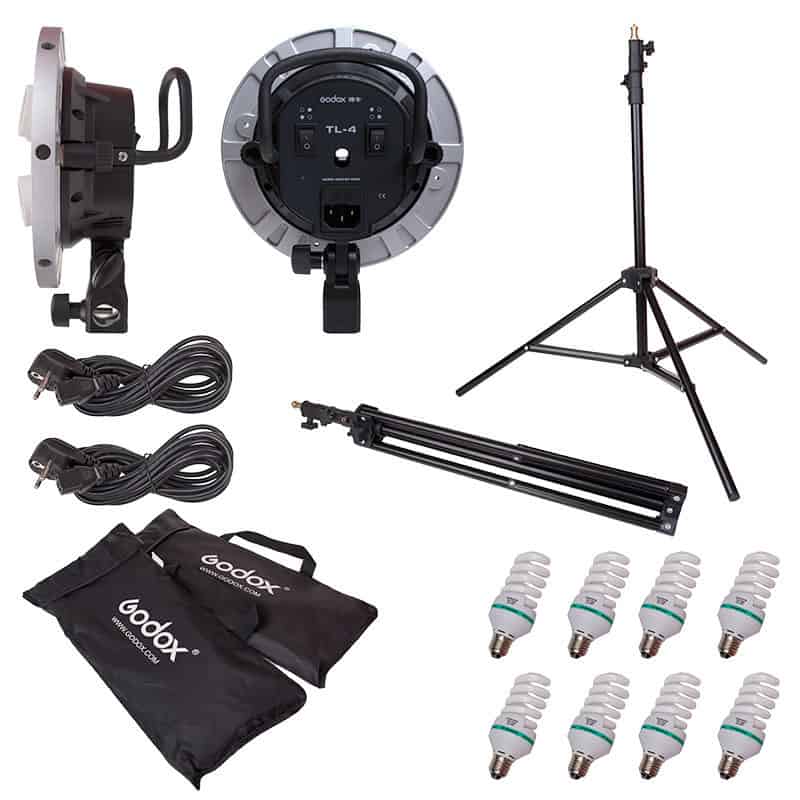 With some distinguishing features, the Godox portrait lighting kit offers users an alternative kit at a great price.
Convenient to carry and use anywhere. This is the kit to enlighten one's long friends. The set can be used to get more interesting light and positions on your subject.
This kit is hailed as easy to install and set up. For this price, it's a good deal with a lot of luminosity.
Advantages
Easy installation
Offers different looks with its tripod and lamps
Cons
Some users had issues with durability
Bulbs are not very bright compared to other products
StudioKing Daylight Set SB03 3x135W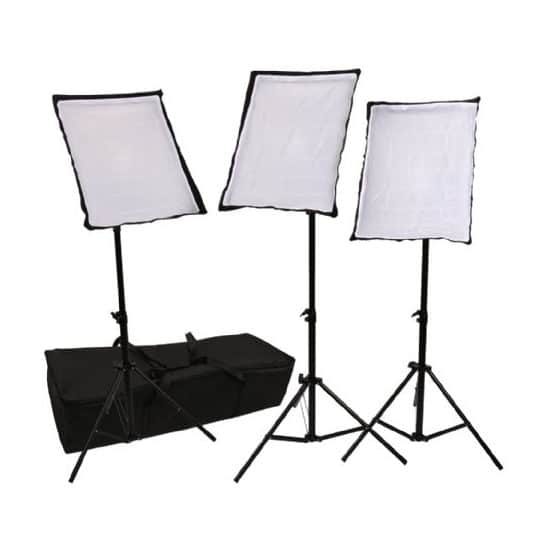 With three different lamps, the StudioKing is able to meet the needs of most users. It manages to mimic daylight for those natural looking photos and videos. Still, for users looking for a sleek, clear set-up, this is a very affordable, high-quality choice.
It's perfect for anyone trying to make a one-person vlog in bright daylight.
Advantages
Energy-saving lamps
Easy to set up and take down
Cons
A few users had problems with the lamps on delivery
Esddi Softbox lighting set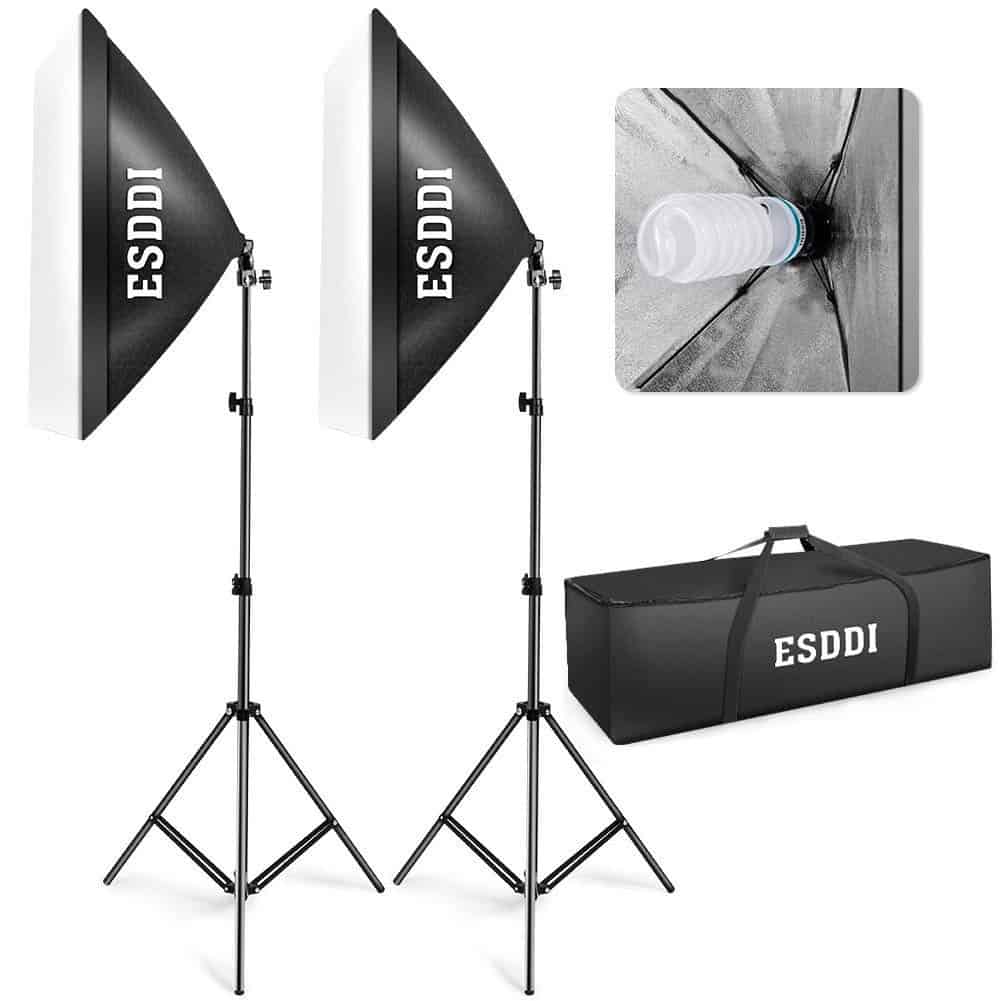 This Esddi kit is very similar to the kit above with a few caveats. It is not that soft and the stand is not that high quality. But this is the buy for you if you are really on a tight budget.
It still provides users with great lighting capability. While the lamps may not have dimmer switches, they are praised by users for having an excellent ability to flatter their subjects.
For the more budget-minded person who doesn't need a background, this is an excellent deal. Although, another annoyance is their short power cords. Make sure you can accommodate them with a power strip or an extension.
Advantages
The light quality is flattering
Ideal for beauty or fashion
Includes carrying case
The lights are bright, soft and natural
Cons
Short power cords
Light stands are on the cheap side
Carrying bag is not very durable
Extra weight is often needed to stabilize stands
Esddi kit for continuous lighting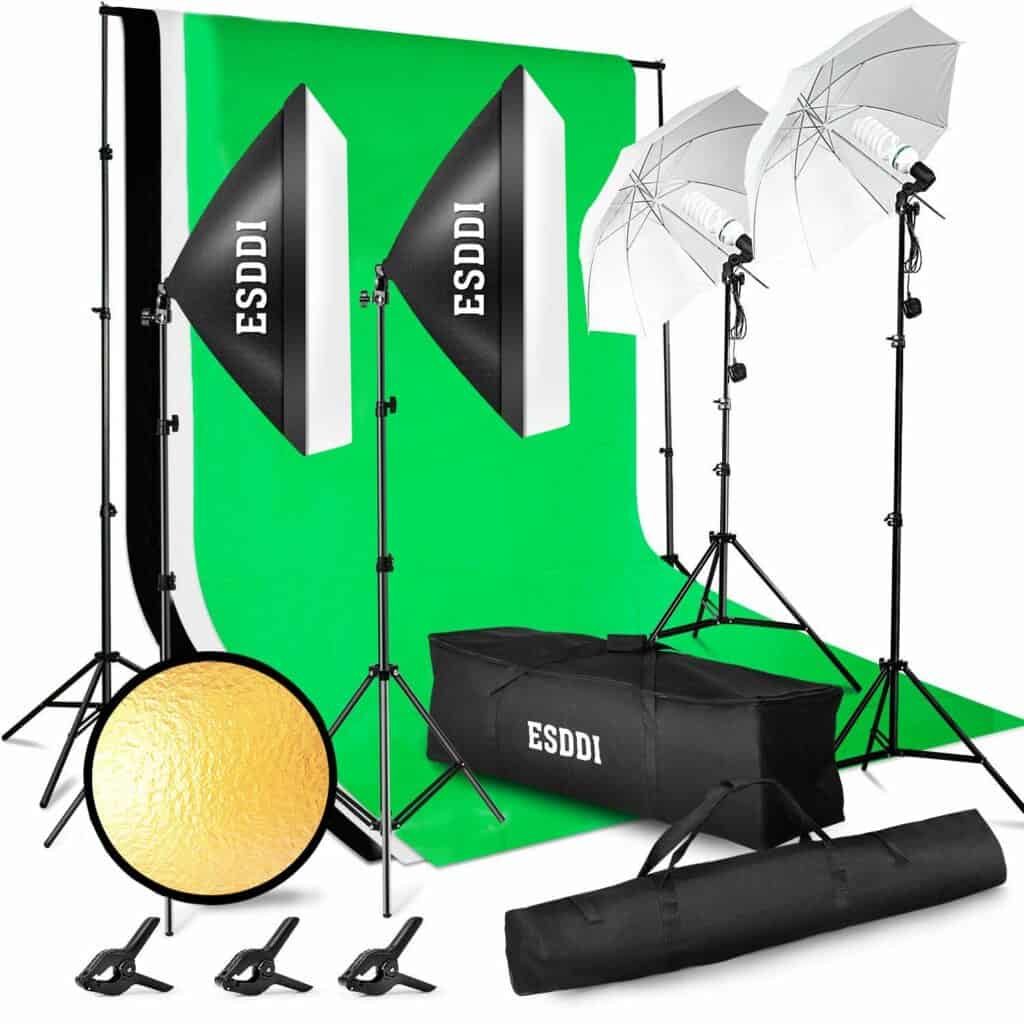 For those who need a clear background kit, Esddi is here to save you. These simple lighting sets provide users with a solution for those seeking light portraits au naturale, with or without a green screen (here's how to use one).
Unlike other kits, it has cords of good length and solid clarity (although some users found it to be insufficient, most were more than satisfied).
This kit offers a lot of lighting versatility for a very low price.
Advantages
Great lights for portraits
Described as a bargain
Cords have a good length
Cons
Background is on the thin side
Some users had problems with brightness
Carrying bag is not very durable
Most important features
Esddi Softbox Lighting Set 2 20″x28 Softbox Light Arm, Tripod, Min. 27 Inch (Maximum 80 Inch, With E27 Lamp Setting, Perfect For Portrait, Costume, Furniture, Ultimate Luminosity And Shadow Removal, Designed For Perfect Shooting
Three color background in green, white and black, cotton back, Note: There may be some wrinkles due to the packaging. Use an iron/steam iron to flatten it again. It is machine washable, although cold water is better
White umbrella reflector with 13 inch diameter in a professional Studio Photo Light Stand, compatible with most major photo equipment, such as reflector umbrella, soft box, background
Stop motion light kits buying guide
What should you look for when buying light kits for your stop motion productions?
Whether it's a small garage project or a full-blown media production, you'll want to make sure you get every aspect of your scene in the right light.
That means avoiding shadows (you don't want them, although you can use shadows to your advantage as well, and even more easily with the right lighting) and getting the background as well as the foreground well lit, maybe even add some contrast in the mix as well.
There are a few factors to consider when selecting lighting for your stop motion animation. First, you'll want to make sure the light is bright enough to illuminate your subject matter. Second, you'll want to select a light source that will minimize shadow and glare. And finally, you'll want to choose a light that won't produce too much heat, which can be a problem when working with delicate materials like clay.
When it comes to brightness, you'll want to make sure the light is bright enough to adequately illuminate your subject matter. However, you don't want the light to be so bright that it washes out the color of your subject matter. For this reason, it's often best to use a diffused light source, such as an overhead fluorescent light, rather than a direct light source, such as a spotlight.
When it comes to minimizing shadow and glare, you'll want to select a light source that is positioned so that it doesn't create any strong shadows. You'll also want to make sure the light source is positioned so that it doesn't create any glare on your subject matter. One way to achieve this is to use a softbox, which is a type of light diffuser that helps to distribute the light evenly.
Finally, you'll want to make sure the light source doesn't produce too much heat. This can be a problem with some types of light bulbs, such as incandescent bulbs. If you're using an incandescent bulb, make sure it is positioned so that it doesn't shine directly on your subject matter. Alternatively, you can use a different type of light bulb, such as a LED light bulb, which doesn't produce as much heat.
Why do you need at least 3 lights for stop motion?
Stop motion animation generally requires a lot of light because it is necessary to illuminate the subject matter as well as the background. Additionally, stop motion animation often uses small objects, which can cast shadows easily. To avoid these problems, it is often best to use at least three lights: one to illuminate the subject matter, one to illuminate the background, and one to fill in any shadows.
Conclusion
There you have it. Lighting your stop motion scenes is not that different from photography lighting, but you want to make sure you get the background as well as the characters in front.
With these choices, you'll be able to light everything for those perfect scenes.
Hi, I'm Kim, a mom and a stop-motion enthusiast with a background in media creation and web development. I've got a huge passion for drawing and animation, and now I'm diving headfirst into the stop-motion world. With my blog, I'm sharing my learnings with you guys.