4 Best DSLR camera cages for photography reviewed
I love creating free content full of tips for my readers, you. I don't accept paid sponsorships, my opinion is my own, but if you find my recommendations helpful and you end up buying something you like through one of my links, I could earn a commission at no extra cost to you.
Consider these camera cages to maximize your photography production.
When building your rig for a photo shoot, you may not have that much space.
Instead of making decisions about how to downsize or omit external monitors for more audio recording equipment space or vice versa, why not maximize your workspace with the help of a camera housing?
A good camera housing can provide not only more space, but also better maneuverability, improved stability and more mounting options.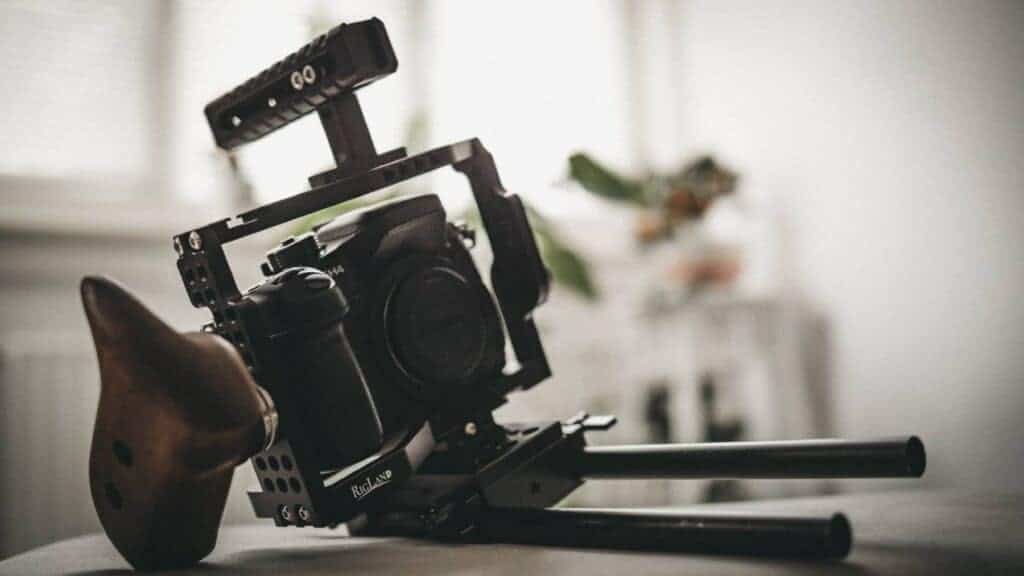 Best camera cages reviewed
Let's explore five different options that, depending on your camera, are well worth the investment.
Best price/quality: SMALLRIG VersaFrame
The best camera needs to maximize your setup – SMALLRIG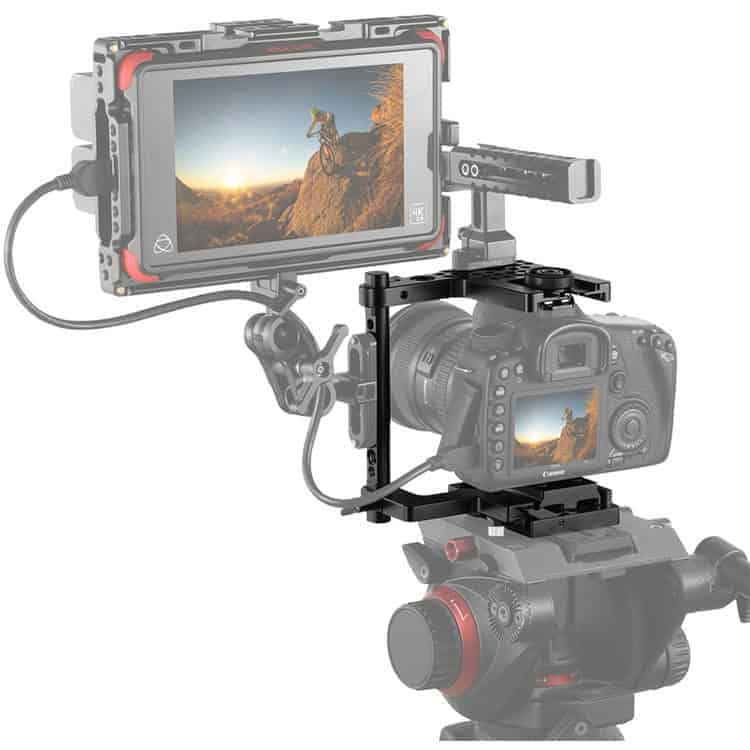 Lightweight and compatible with the vast majority of DSLR cameras (FYI: SmallRig offers many other camera-specific rigs too), the SmallRig VersaFrame is an affordable, simple and versatile option for many of your camera mounting brackets.
The non-invasive design still allows you to access every part of your DSLR camera to adjust settings or work with the viewfinder, along with your standard range of bars, short and long arm options and hot shoe connections.
Sebastiaan ter Burg also uses a Smallrig setup for interviews and B-roll:
Getting started with your own stop motion storyboards
Subscribe to our newsletter and get your free download with three storyboards. Get started with bringing your stories alive!
We'll only use your email address for our newsletter and respect your privacy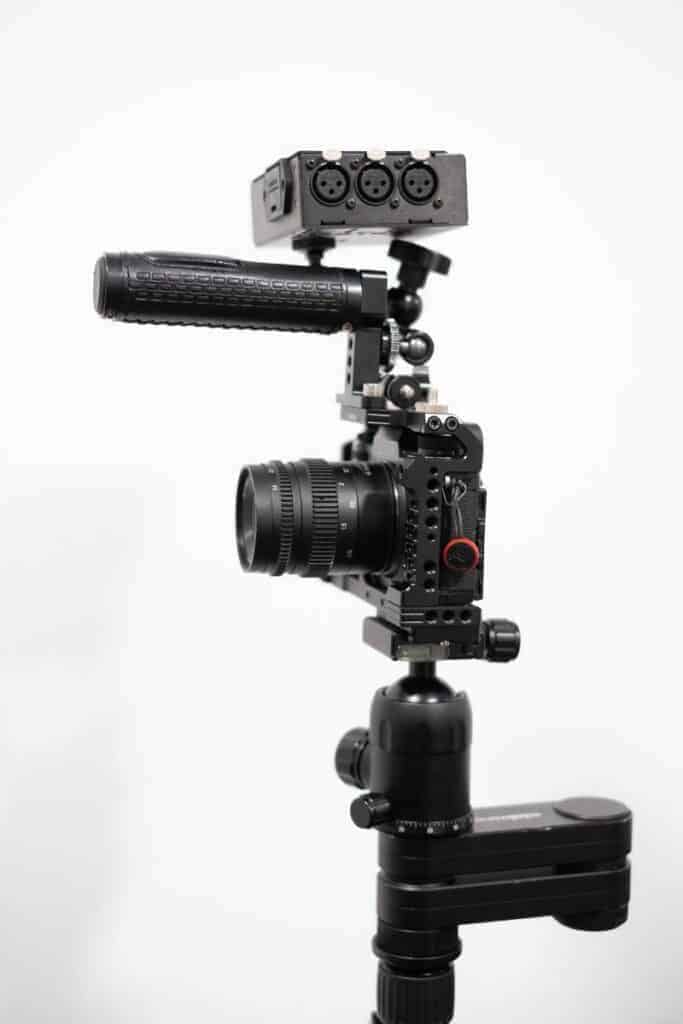 This image is from the original work Fujifilm X-T2 rig by Sebastiaan ter Burg on Flickr under cc.
Most Versatile: Wooden camera cage kit
The best camera cage kit to maximize your rig – wooden camera.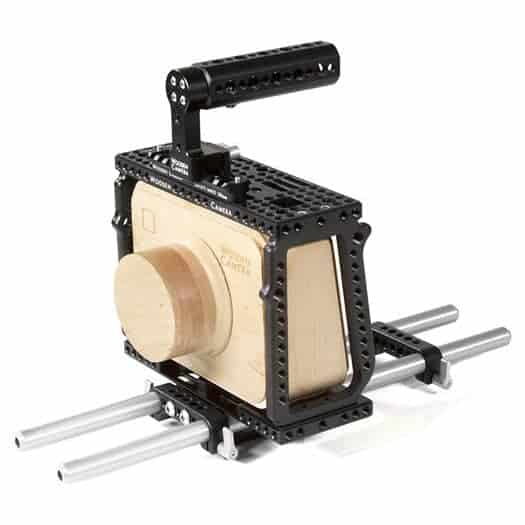 Designed by a married couple in Dallas, Texas. Wooden Camera's camera-specific cage products offer a new refinement of technology.
With a wide variety of shoulder mounts, rigs and other camera mounting devices, the wooden camera cages are high quality, durable and tailored to the needs of a modern filmmaker.
If you want to make the investment, you can go for one of the quick cage models from the brand:
Price: varies per camera
Here's an overview of one of Wooden Camera's DSLR quickcages models.
Best for Professionals: TILTA Cage
The best camera cages to maximize your rig – TILTA cage
We presented the TILTA ES-T17-A for the SONY α7 series, which has a great reputation among Sony videographers, but TILTA offers camera holders and cages for all levels of cameras to ARRI and RED buildouts.
With add-ons like the stylish and comfortable wooden handle to go along with all the mountable bells and whistles you'd expect, the stainless steel construction is worth the higher price tag for its quality.
Best Budget: Camvate Video cage
The professional camera body is made of hard anodized aluminum for durability, not only protects your camera, but also offers a lot of mounting choice.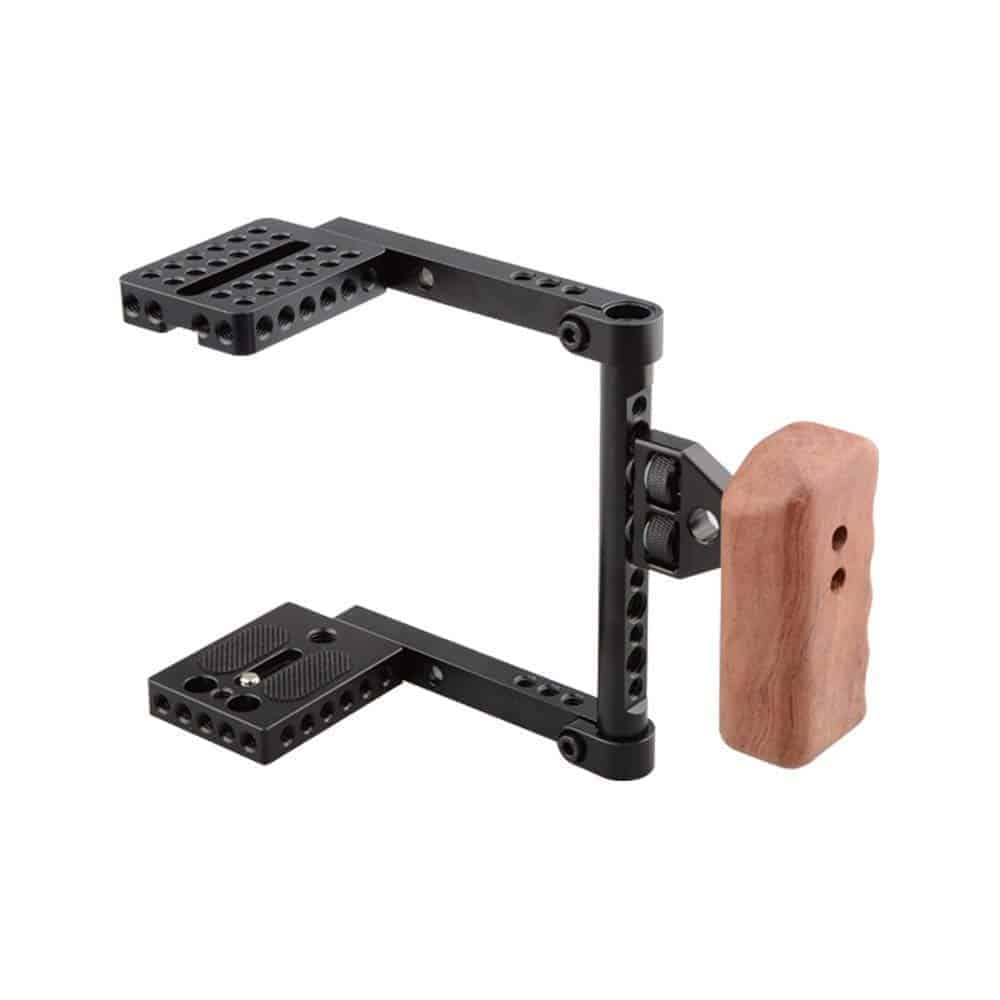 The wooden handle is fitted to the left hand and ergonomically designed for a comfortable grip.
It is designed to work with Canon 60D, 70D, 80D, 50D, 40D, 30D, 6D, 7D, 7D Mark11.5D Mark11.5D Mark111.5DS, 5DSR; Nikon D800, D7000, D7100, D7200, D300S, D610, DF; Sony A99. Net Weight: 410g Package Included:
1 x base plate
1 x top plate
1 x M12-145mm side tube
1 x M12-125mm side bar
1 x Wooden Handle with Aluminum Connector
2 x 106mm arm
What to look for when buying a camera cage for photography?
When you're looking for a camera cage for photography, there are a few things you'll want to keep in mind.
First, consider the type of photography you'll be doing. If you're primarily shooting video, you'll want a cage that offers plenty of mounting options for accessories like lights and microphones.
If you're mostly taking still photos as I do with stop motion hero though, you'll want a cage that gives you easy access to all of your camera's controls.
You'll also want to think about the size and weight of your camera. A larger, heavier camera will need a sturdier cage than a smaller one.
And if you plan on traveling with your camera, you'll want a cage that's easy to pack and transport.
Finally, take a look at the price. Camera cages can range from relatively inexpensive to quite pricey, so it's important to find one that fits your budget.
With these factors in mind, you're sure to find the perfect camera cage for your photography needs.
Hi, I'm Kim, a mom and a stop-motion enthusiast with a background in media creation and web development. I've got a huge passion for drawing and animation, and now I'm diving headfirst into the stop-motion world. With my blog, I'm sharing my learnings with you guys.