Best Handheld Camera Stabilizers Reviewed for DSLR & Mirrorless
I love creating free content full of tips for my readers, you. I don't accept paid sponsorships, my opinion is my own, but if you find my recommendations helpful and you end up buying something you like through one of my links, I could earn a commission at no extra cost to you.
I think you'll agree when I say, It's VERY hard to keep the camera still and get a non-shaky, smooth video. Or not?
Then I heard about camera stabilizers or handheld stabilizers, but the problem is: there are so many options available to choose from.
This is when I did extensive research and tried out some of the best stabilizers and gimbals to find out which one is the best.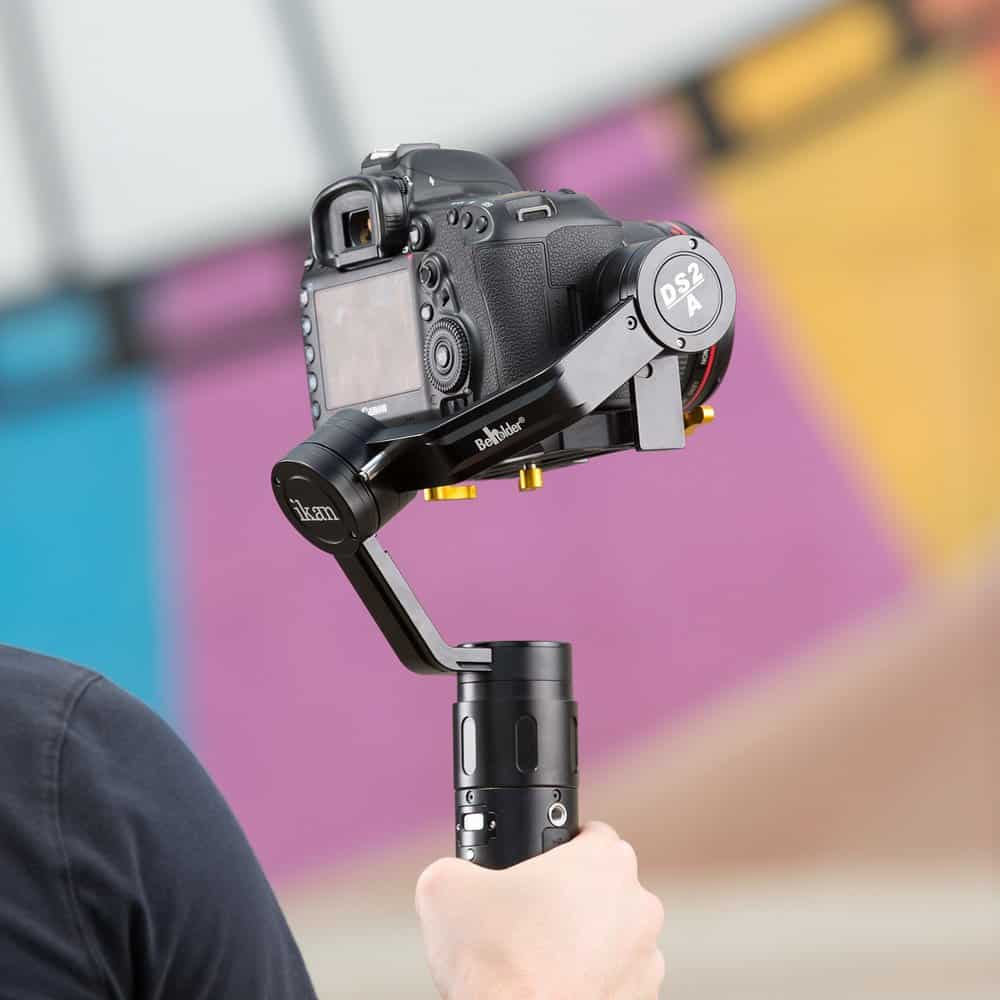 Best DSLR Stabilizers
I've categorized them for a number of budgets because one might be good but it's useless if you can't afford it, and not everyone wants one of the cheapest for video students.
This way you can choose what budget you are looking for.
Best Overall: Flycam HD-3000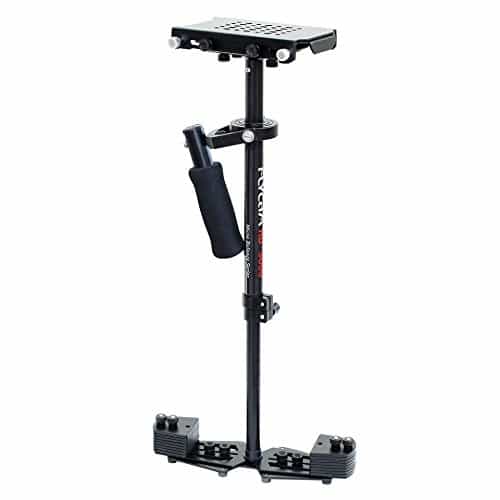 If you need a lighter stabilizer for heavier cameras, the Flycam HD-3000 is probably your best bet.
It's (fairly) affordable, lightweight (as mentioned before) and has a weight limit of 3.5kg, giving you an incredible range in terms of all the different cameras you can use with it.
It is equipped with a gimbal with weights on the bottom, as well as a universal mounting plate for more reach in terms of use.
It offers remarkable stability, which will also significantly improve the work of a less experienced videographer.
Getting started with your own stop motion storyboards
Subscribe to our newsletter and get your free download with three storyboards. Get started with bringing your stories alive!
We'll only use your email address for our newsletter and respect your privacy
The Flycam HD-3000 is compact and easily portable. It features a foam padded handle for added comfort.
The gimbal suspension has a 360° rotation and features several mounting options for versatility.
The build is made of black anodized aluminum, which not only looks good, but is also very robust.
It has a small-scale adjustment method and has a solid discharge plate for all DV, HDV and DSLR camcorders.
There are many mounting options at the base of the Flycam HD-3000, which gives you many customization options.
It has a minimal and robust shape that is effective and compact and with a Micro adjustment procedure for a better adjustment.
This will help you to shoot proficiently despite the fact that you are running, driving or walking on a rough landscape.
This Flycam HD-3000 is a decent choice for anyone looking for reliable, robust and compact handheld video stabilizers that also work well.
It is an extraordinary article for both beginners and experts.
This also adds to the 4.9′ detachable steering cable and gimbal suspension that could potentially power any sports camera thanks to the built-in power port.
Best for Mirrorless Cameras: Ikan Beholder MS Pro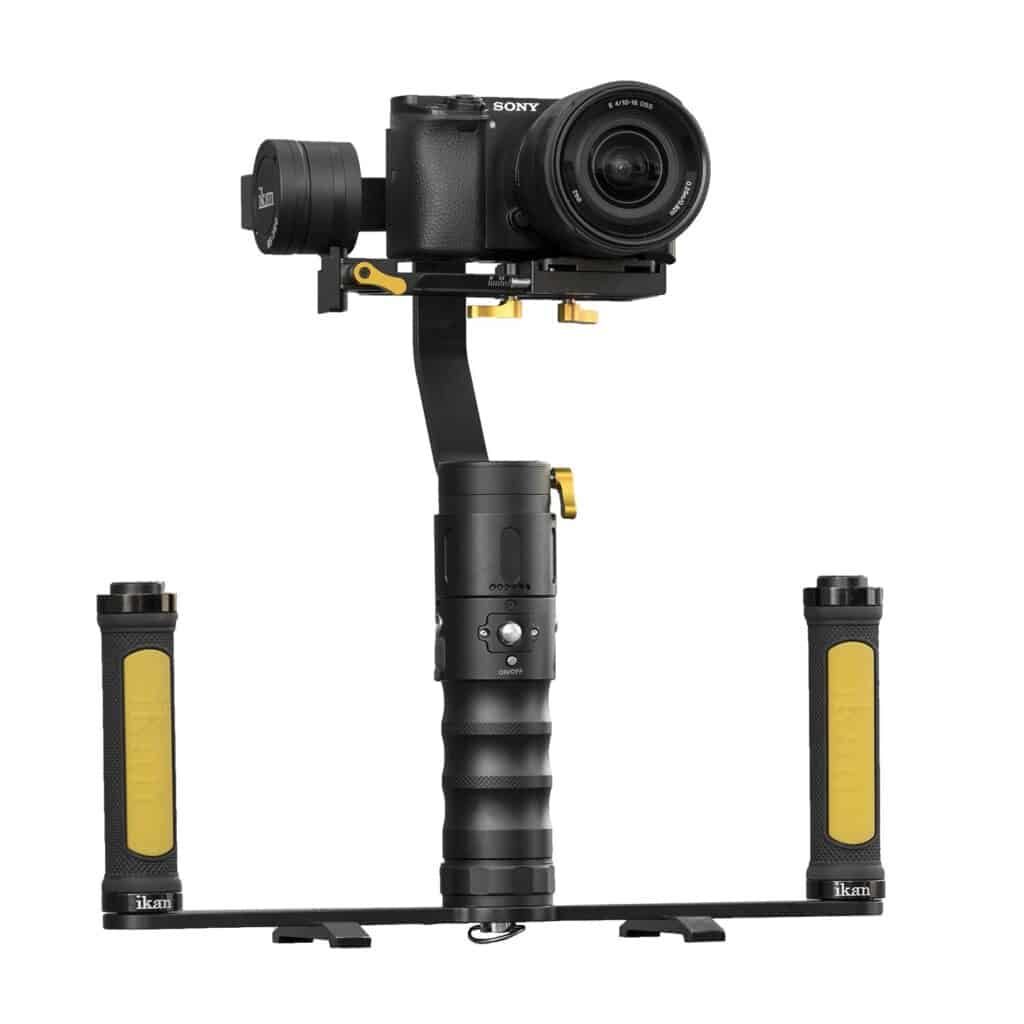 The Ikan MS Pro is a much smaller gimbal, made specifically for mirrorless cameras, which does limit the variety of cameras that can be used with it.
This isn't necessarily a bad thing, though, as it simply means it's a product dedicated to a specific type of camera, with that specific range and best support.
The weight support limit is 860g, so it's perfect for cameras like the Sony A7S, the Samsung NX500 and the RX-100 and cameras of that size.
So if you have a specific camera, a nice and light stabilizer like this is a perfect choice.
The build features a threaded mount, which gives you the option of mounting it on a tripod/monopod, or a slider or dolly like this one we've reviewed for increased range of use.
Like the Neewer stabilizer, it also has quick release plates for quick and easy assembly/disassembly. The stabilizer is extremely durable, as the entire construction is made of aluminum.
It also has a USB charging port, in case you want to charge smaller toys like GoPros or your phone, we're not saying it's the main feature, but it's still pretty cool.
The Ikan MS Pro may be a bit difficult to use for beginners and inexperienced photographers/videographers, but once you get the hang of it, it will become a major asset when it comes to the quality of your footage.
Ledmomo hand grip stabilizer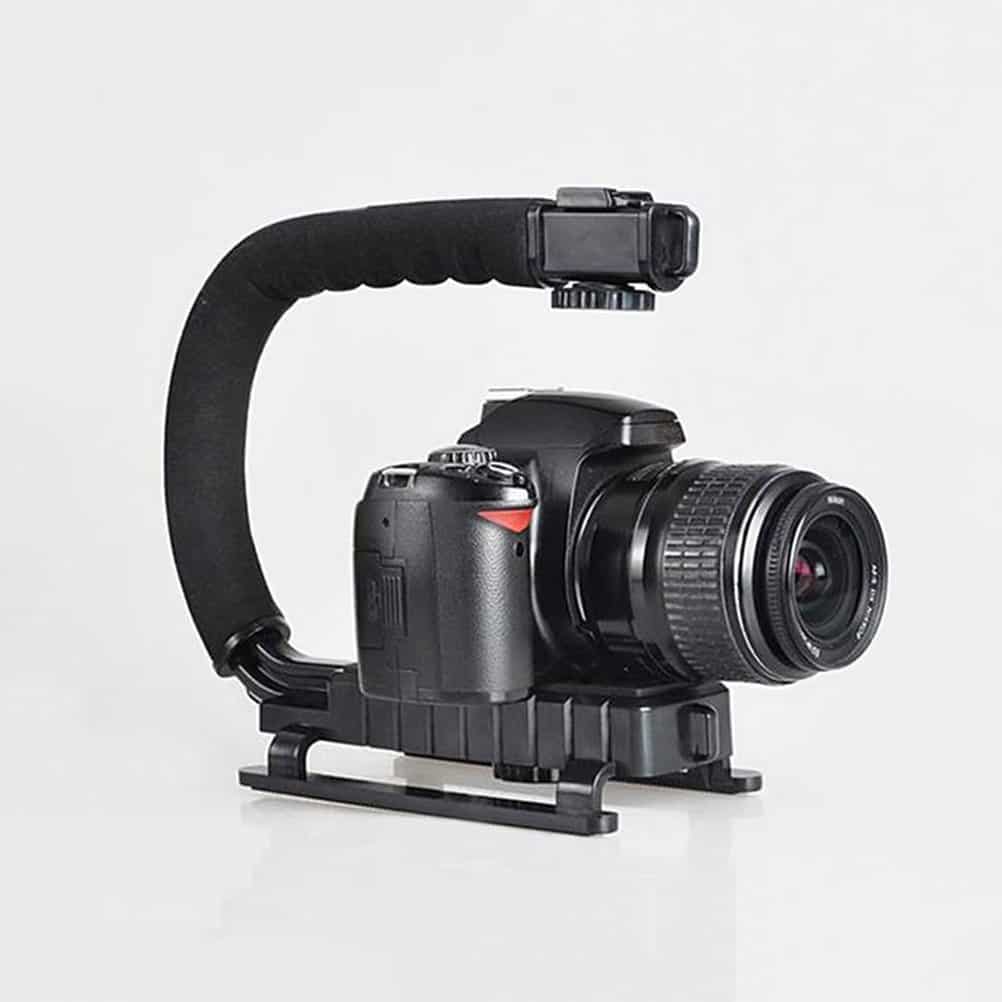 When you look at this model in comparison to the rest, it is clear that it stands out, at least in the design. Although it is particularly noticeable in design & build, that is not necessarily a bad thing.
It just means that this stabilizer is otherwise in line with most of the others on this list. In the sense that it is reliable, in terms of performance and durability.
The handle on this one is horizontal, unlike all the others, and the balance plate slides. Despite the metal construction, the stabilizer is still relatively lightweight.
The Ledmomo hand grip stabilizer measures 8.2 x 3.5 x 9.8 inches and weight is 12.2 ounces (345g).
The handle can also be mounted on a tripod. You can also install other accessories with the shoe mount, which is a simple process.
It has a padded handle with NBR protective coating and the high-quality ABS effect on the retentive plastic. It is a shoe mount for video lights or strobes.
The balancing handle is the least expensive gadget on this list. Simple, lightweight and with a sturdy metal structure, the Ledmomo can be a good starting stabilizer for students and amateurs who want to stop making moving videos but are on a very small budget.
Glidecam HD-2000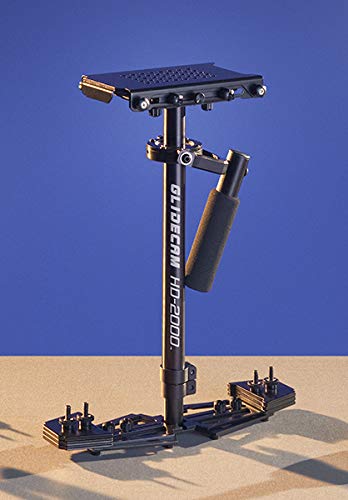 If you have a smaller camera, especially within the 2.7kg weight limit, the Glidecam HD-2000 is probably your best option when it comes to stabilizers.
This product measures 5 x 9 x 17 inches and weighs 1.1 pounds.
Once you get the hang of it and start capturing smooth, steady images and videos, you'll see exactly why it's the best, although we'll say again, it's not for the inexperienced, at least at first .
The stabilizer has weights that help balance, counteract the light weight of the camera, as well as a sliding screw mounting system that helps to achieve quality, smooth and professional-looking shots.
Like many of the products on this list, it also features a quick-release system, which helps save time setting up and disassembling the stabilizer.
It's also worth mentioning that it comes with a microfiber cloth, in case you need to clean your lenses.
It has 577 Rapid Connect Adapter Assembly with the Lower Arm Support Brace Accessory. It is compatible with many action cameras and has an improved clamping system that allows secure connections.
In short, the Glidecam HD-2000 handheld stabilizer is recommended for any videographer. This product is much lighter in weight and has an attractive design.
It has an easy-to-use interface and also offers a variety of features that other gimbals have that are in a much higher price range.
Glide Gear DNA 5050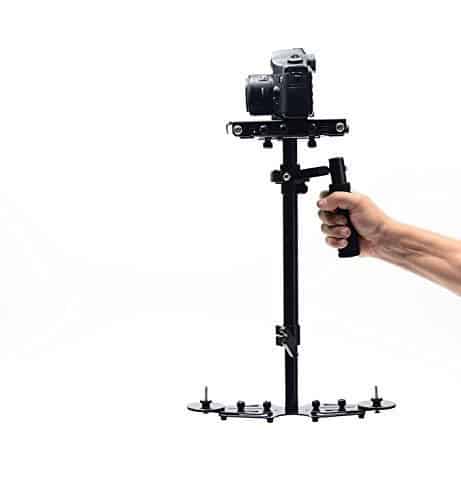 One of the more professional options on our list, it measures 15 x 15 x 5 inches and weighs 2.7kg. The Glide Gear DNA 5050 stabilizer comes in three pieces along with a nylon cover that also comes with a shoulder strap.
Assembly takes no more than a few minutes, which is very good for such a device. However, what will take some time is the process of getting used to this product, but that is something that will be more than worth it because once you get used to it, this stabilizer will allow you to get smooth, efficient shots. to achieve unparalleled results.
The stabilizer comes with a feature known as adjustable dynamic balance, which works well against the light weight of the camera you're using it with, as the weight limit is only 1 to 3 pounds.
Like many gimbal mounts on this list, this one also features an easy-release plate for hassle-free attachment and disconnection.
Other features include a foam-padded handle, three-axis gimbal and telescoping center, coupled with the 12 counterweights that will help you achieve impeccable balance.
It also has another drop-on camera plate with a unique design and robust construction that provides stabilization that is comparable to more professional gear and thus outperforms other stabilizers in its price range.
It is a high quality DSLR stabilizer made in USA.
It is equipped with a three-hub gimbal for smoother and precise adjustment. It has foam padded grip for better grip, 12 sets of stabilizers and adaptive focus, each of these features will ensure the perfect video.
Neewer 24 "/ 60cm
Neewer won't sell you the idea that they are the best brand on the market, and I'm not advocating that either, but what they do offer is reliability at a good price, which is why they often appear on my lists as the budget option.
Neewer 24 Handheld Stabilizer measures 17.7 x 9.4 x 5.1 inches, and the weight is 2.1 kg. This particular Neewer stabilizer is not only affordable, but it is also lightweight and gets the job done.
It has a carbon fiber frame and weights on the bottom for balance. On top of that, it features a Quick Release System that allows for quick and easy assembly and disassembly.
This stabilizer is compatible with just about all camcorders, as well as many SLRs and DSLRs. Any camera 5kgs & below will work perfectly. For camcorders, video-competent DSLR cameras and DVs work best.
It has aluminum alloy with dark powder coating. Neewer is not the best known brand of stabilizers but still gets a lot of positive reviews from customers.
The Neewer 24″/60cm handheld stabilizer has low erosion joints and handles with elastic spreads for pleasant grip, is fully collapsible, lightweight and versatile with its bag.
What else are you looking for in a budget stabilizer?
Sutefoto S40 Handheld Stabilizer measures approximately 12.4 x 9 x 4.6 inches and weighs 2.1kg. It is a best choice for GoPro and all other action cams and has a snappy balance.
It is very easy to assemble and carry and has aluminum alloy with dark powder coating. It has a high and low point shot.
The Sutefoto S40 Mini Handheld Stabilizer works with a GoPro and all other actioncams up to 1.5kg. The stabilizer is equipped with 2 supports for electrical discharge, gimbal suspension and six loads on the sled.
The body is made of a lightweight and robust aluminum combination and the gimbal is encased in a neoprene cover.
Everything that uses the handheld stabilizer uses a gimbal frame with loads at the base to deliver smooth shots even on shaky surfaces.
This cardan turns effectively and gives a decent equalizer once you get used to it.
Everything requires a significant investment to handle it properly, but you'll soon be able to adjust how to set up and adjust this DSLR stabilizer to get the ideal results.
The quick drain frame functions admirably and allows for quick assembly and disassembly. Overall, the Sutefoto S40 Hand Stabilizer is an excellent item at a good price.
DJI Ronin-M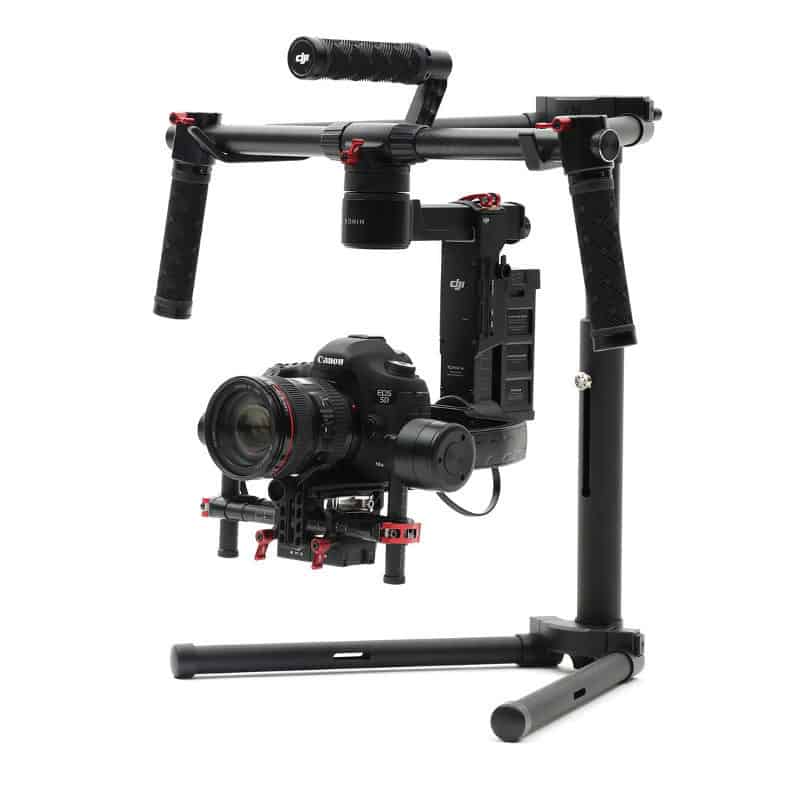 The DJI Ronin-M is the baby brother of the original Ronin, weighing only 5 pounds (2.3 kg), and doing a lot more heavy lifting in the camera, so this gimbal is perfect for most DSLRs in the market, as well as a selected number of other heavy-duty cameras, such as the Canon C100, the GH4 and the BMPCC.
Let's talk about benefits:
It comes with many extras. The Auto-Tune stability, which allows photographers and videographers to capture precise shots and provides great balance, the 6-hour battery life, which is more than sufficient for a normal working day, along with many other small features such as ease of use, ease of both portability and disassembly, and many other features all come together to provide a complete package for any professional.
The gimbal can be used in many different setups and environments, and can certainly take a beating, because the structure is made of a sturdy magnesium frame.
It has 3 working methods (Underslung, upstanding, folder case) and has the overhauled ATS (Auto-Tune Stability) innovation. You can also set it up quickly with precise balancing.
In addition, you can also connect an external monitor using the 3.5mm AV audio/video output port and also includes a standard 1/4-20″ female thread located right on top of the bottom of the handle.
It's a fantastic camera customization framework that aims to give the videographer all the options for freehand shooting. It works for most camera types and arrangements up to 4 kg.
Ronin-M uses brushless motors that run on three tomahawks used for side-by-side "roll" to keep your horizon level as you move.
In addition, the gimbal can be used in vehicle mounting situations and various mountings where vibration or other sudden movements could be a problem.
It's the best gimbal I've seen, but the only thing stopping it from being at the top of the list is the price tag.
The Official Roxant PRO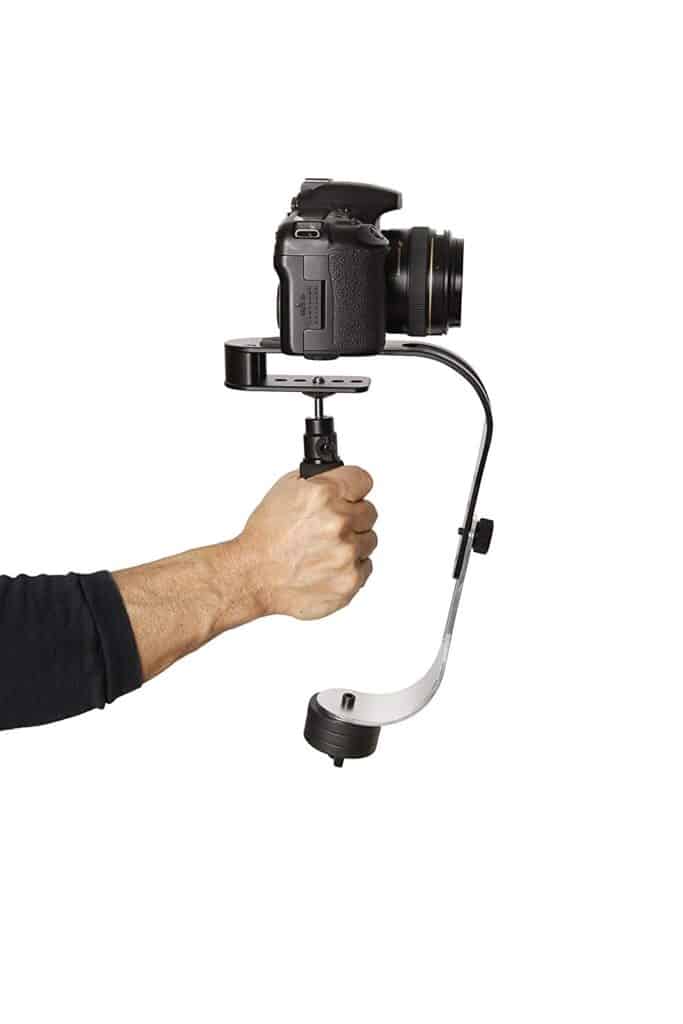 Official Roxant PRO Video Camera Stabilizer measures approximately 13.4 x 2.2 x 8.1 inches and weighs 800 grams. It is ideal for GoPro, Canon, Nikon, Lumix, Pentax or any other DSLR, SLR or camcorder up to 1kg.
It has an unusual structure and reduces vibration for longer, straight shots for both stills and video and has a strong construction and handle.
This rigid DSLR camera stabilizer, supplied with the Pro Style balancing innovation, is one of the winners in this top list when using very light cameras.
Overall, the Roxant PRO is a perfect device for keeping the camera consistent, even while shooting video from a fast-moving vehicle.
I loved this product and it is a perfect choice for GoPro. The downside is that the manual contains no images.
Still, you can learn the proper balancing settings from YouTube and once you've got it balanced you won't be able to live without it.
Ikan Beholder DS-2A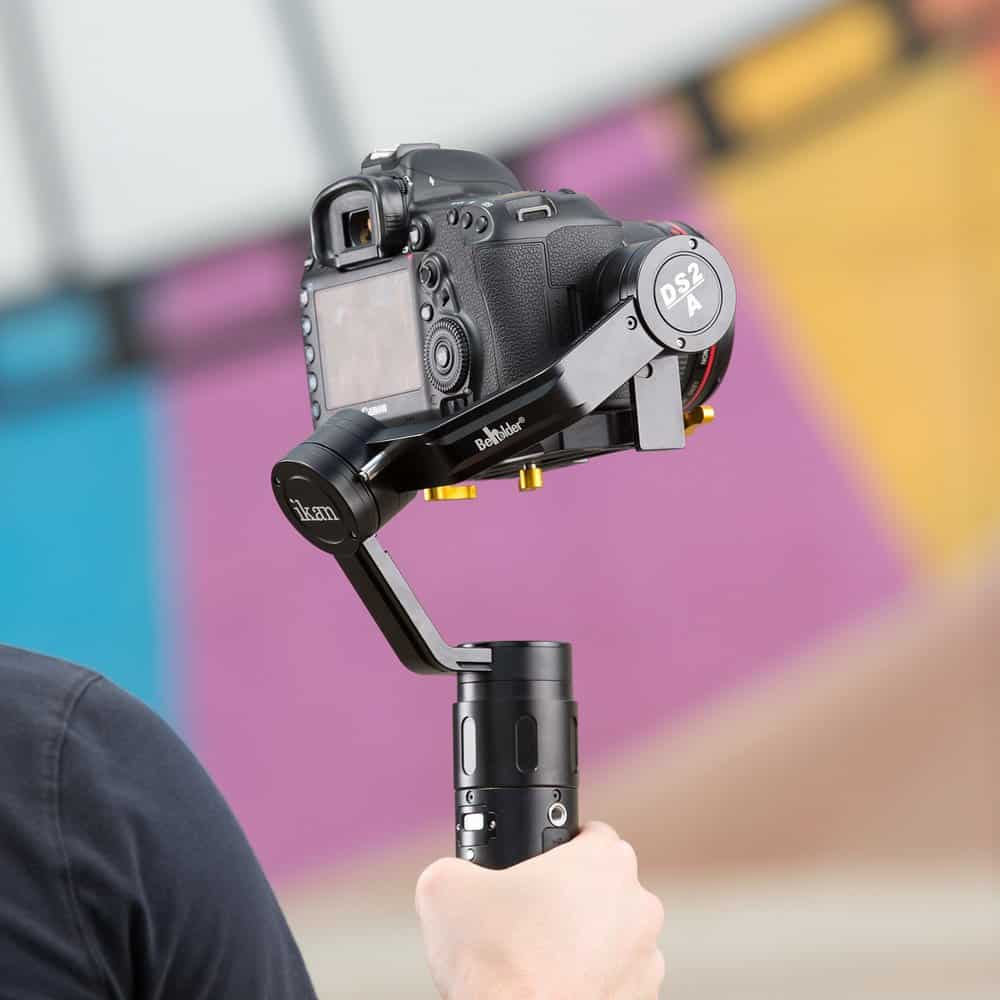 All gimbals are not created equal as you will notice in this list. You'll see a range of prices and a range of features come along that will blow your mind.
You'll also see a range of performance from mediocre to professional quality.
If you're looking for a handheld gimbal in the professional category, the Ikan DS2 is well worth considering.
Ikan is a Texas-based company that specializes in technology. Their camera support and stabilization systems are some of their best products and they seem to be getting better and better.
For those smooth, sliding shots, you'll be impressed with the DS2's stabilization capability.
Designed for professional filmmakers, this gimbal lives up to that high bar too. It reacts very quickly to your movement and does so with graceful softness.
The smooth quality you get is because of the advanced 32-bit controller and 12-bit encoder system, check out the video below from martin fobes, using the DS2 gimbal.
An adaptive PID algorithm ensures that the stabilizing operation is efficient and does not run out of battery life.
To ensure smooth stabilization, it's important to balance your camera on the gimbal.
Fortunately, this is pretty easy with the DS2. You simply move the camera mounting plate back and forth to achieve balance. You can rest assured that this will only take a few minutes.
This gimbal suspension offers 360° rotation along the axis thanks to a high quality brushless motor. It is unique in having a curved motor arm.
This helps you get a better view of the camera's screen no matter how you move. You can follow the action and frame your photos the way you want.
On many other gimbal, the roll-axis motor can get in the way of your shots, so this is a very welcome feature.
Different modes
The DS2 has different modes that you can use a lot.
One of the more unique modes is the 60-second Auto-Sweep mode, which lets you perform a 60-second camera sweep automatically.
This can result in some really cool images. You can choose from three tracking modes:
With the Pan Follow mode, the DS2 follows the pan axis and maintains the tilt position. In tracking mode, the DS2 follows both the tilt and pan directions.
The 3-axis tracking mode puts you in complete control and allows you to pan, tilt and roll to your heart's content.
There is also a Point & Lock mode that allows you to manually lock the camera to a fixed position. No matter how you and the gimbal lever move, the camera stays locked in one exact position. You can quickly put it into this lock mode from any of the other modes and it will stay locked until you reset it.
One really cool feature that you can use from any mode is the Auto Inversion feature. This allows you to quickly and easily switch to an inverted position, with the camera hanging below the handgrip.
Battery life
When the batteries are fully charged, you can expect the gimbal to last about 10 hours. You can shoot a lot of great footage in that amount of time.
There is an OLED status screen on the handle that allows you to keep an eye on the remaining battery life.
CamGear vest stabilizer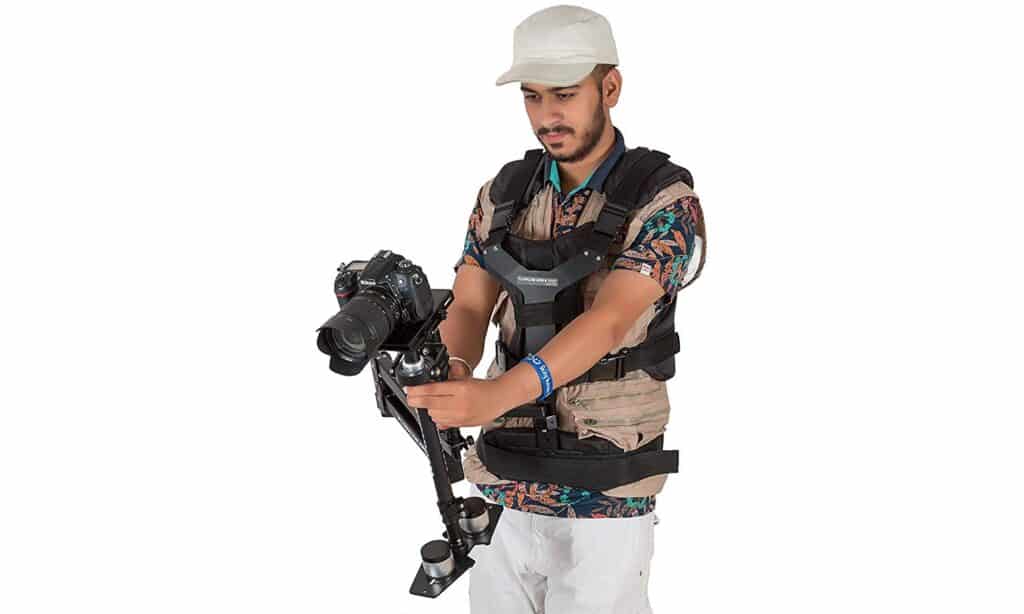 CamGear Dual Handle Arm is a favorite item on this list. You can capture some great footage when mounting your camera on this vest, although a vest won't be for everyone.
You'll need to spend a few minutes wearing and adjusting this vest, but once you're done, you don't need to make any other configurations.
It works is simple, comes with a thin breastplate and a knob to adjust the height. Dual arm Steadycam is designed to use flexible control through high precision bearings.
The arm works great with all kinds of professional camcorders, DSLR cameras, SLR and DVs etc. It is designed with a soft padded fabric that supports camera functionality and allows you to wear the vest for a long period of time.
You can use the button to fix the height of the vest. The vest has two damping arms and one connecting arm. It is very easy to place the loading arm in the slots of the vest (sizes: 22 mm and 22.3 mm).
You can quickly adjust the arm on the vest port for high and low angle shooting.
In short: the vest is easy to install and adjust without additional tools. It is made of high quality material such as aluminum and steel and comfortable to wear for a long time.
For anyone who finds it difficult to hold up a camera stabilizer for a long day of shooting.
How do you choose a handheld stabilizer?
Do not worry. I have written a detailed explanation to solve this mystery of yours as well.
Different types of stabilizers
Below I have explained the three main types of DSLR stabilizers that you can buy:
A Handheld Stabilizer: A handheld stabilizer as it is in its name allows especially handheld use. It avoids using a vest or a 3 axis gimbal. A handheld stabilizer is generally a significantly cheaper option, but relies more on the cameraman's ability.
A 3-axis gimbal: A 3-axis stabilizer makes automatic adjustments based on gravity to give you almost perfectly stable images without human error. Some of the most popular options are battery powered motorized 3-axis gimbal suspensions, such as the famous DJI Ronin M. These stabilizers take about 15 minutes to assemble and balance. Some of the more advanced options even have an electronic automatic balance function. IMPORTANT! This gimbal requires charging time and batteries.
A Vest Stabilizer: Vest stabilizers combine the vest mounts, springs, isoelastic arms, multi-axis gimbals, and weighted sleds. These stabilizers are usually used with high end cinema cameras and depending on their support range, it will of course likely be difficult to balance lighter cameras.
How do stabilizers work?
The key to using any of these stabilizers is to shift the center of gravity from the camera to the 'sled' (weighted plate).
This makes the overall equipment quite heavy, taking into account the camera itself (all its aspects), the stabilizer, the vest system, the weight can go up to about 27 kilos!
Don't get discouraged! This weight is evenly distributed over your entire upper body, making movement and stability easier.
These stabilizers don't require batteries (in most cases, at least), but can take a physical toll on your camera operator, eventually slowing down the process if he or she needs to rest between shots.
As you already know, the camera market is also filled with countless manual gimbals and other stabilizers. This can result in quite a hassle while researching which one is best for you!
Which options do you choose
The budget is important! Never the sole determinant of what to buy, but often the one with the most impact. Even if your budget is low, there are some great options to look into.
The options are fantastic for any budget level, and perhaps, when you're done reading this article, you'll find that the stabilizer you're looking for may be cheaper than you thought.
Your camera – the biggest determining factor when choosing a stabilizer
Your camera and your stabilizer must maintain a symbiotic relationship in order to work fully with each other. This means that your camera is ultimately the biggest determinant.
You'll find a lot of high-end gimbal mounts that will help if you have a lighter camera, because they're just not compatible with each other (because of size, weight, etc.).
Most stabilizers perform at their best when they are bottom heavy, as this keeps your camera upright.
It's not always about weight though! Often times, your camera may be too bulky considering the lens, and may require a different set-up.
If a camera is also on your to-buy list, it's probably a good idea to buy it first (read my review on the best cameras right now), as it will make it easier for you to decide which stabilizer to invest in.
The accessories you already have
Sometimes your stabilizer may not be compatible with your camera for minor and more easily solvable reasons.
Many accessories exist for this, such as arm extensions. Other accessories generally help, such as additional battery options, and so on.
Either way, accessories make for an even more relaxed experience when operating a camera.
What you should keep in mind is the accessories you already have, as they may not be compatible with your stabilizer, or they may be too heavy with the camera to work with.
Handheld Stabilizer FAQs
Determination of the maximum load
When determining the weight of your camera, it is important that you remove the battery pack and weigh it on the scale.
This is because the stabilizer batteries themselves charge your camera, so the camera's own batteries are not needed.
It is also important that you weigh and then add the total sum together so you know what the total load is, minus the stabilizer itself.
After determining the total load on the camera and all accessories (minus the stabilizer), you need to find a stabilizer that can hold that weight, usually the maximum load is provided.
Used materials
Again, it is vital that you find out what materials the stabilizer is made of when purchasing it, as it must be able to hold your camera weight while maintaining performance and durability.
Metal and carbon fiber is what you normally look for in your stabilizer because they are sturdy, and carbon fiber has an added advantage because it is lightweight.
Do stabilizers work with GoPros and other non-DSLR cameras?
Most of the stabilizers we've mentioned are built primarily for DSLRs.
They can work with GoPros if used extra carefully to maintain balance for more stable footage, but if they can, it's better to buy a stabilizer made specifically for the GoPro, such as the ROXANT Pro.
However, there are some stabilizers that are designed and built to support a variety of cameras such as Lumix, Nikon, Canon, Pentax and even the GoPro.
Make sure to ask where all the cameras you are interested in are compatible.
What weights does it come with?
To get smooth footage, your stabilizer needs to be properly balanced, especially if the weight of your stabilizer doesn't match the weight of your camera.
Stabilizers come with a range of counterweights that typically weigh 100g and you get a total of four.
Do stabilizers come with quick release plates?
The short answer is, of course. It seems quite debatable to invest in something of such value that your work is only hindered by a lack of installation of your camera on the stabilizer itself.
Quick release plates allow you to quickly attach to get the best angles with your DSLRs on the stabilizer.
Hi, I'm Kim, a mom and a stop-motion enthusiast with a background in media creation and web development. I've got a huge passion for drawing and animation, and now I'm diving headfirst into the stop-motion world. With my blog, I'm sharing my learnings with you guys.