Best Phone Stabilizer & Gimbal: 11 models from beginner to pro
I love creating free content full of tips for my readers, you. I don't accept paid sponsorships, my opinion is my own, but if you find my recommendations helpful and you end up buying something you like through one of my links, I could earn a commission at no extra cost to you.
Do you want to reveal the undiscovered possibilities of your own smartphone? Or are you tired of shaky videos and blurry photos? Turn your great ideas into movie quality videos, you just need one thing, a stabilizer.
Have you ever tried to shoot a video with your phone, only to end up giving it up again because of choppy, shaky footage?
You may want to shoot smooth video with your iPhone, but you've found that the built-in OIS or EOS stabilization isn't enough.
Smartphone cameras are getting better, but video recording while holding the phone directly in hand can be clunky and inconvenient.
Well, don't despair – an affordable stabilizer or gimbal can make a big difference.
By adding one or more of these simple, lightweight devices to your kit, you're taking the first step to creating professional cinematography.
Yes, cinematography may sound like a big word for videos shot on your tiny smartphone.
But you're actually using the same kit used by some of the top American filmmakers: Sean Baker and Oscar-winning director Steven Soderbergh.
In case you hadn't heard the news, Sean Baker shot an entire feature film using 2 iPhone 5s phones, an extra lens, and a $100 gimbal.
That film (Tangerine) was selected for Sundance, a major film festival that receives more than 14,000 entries annually.
Getting started with your own stop motion storyboards
Subscribe to our newsletter and get your free download with three storyboards. Get started with bringing your stories alive!
We'll only use your email address for our newsletter and respect your privacy
Soderbergh is a major Hollywood director whose films everyone knows, with hits such as Erin Brockovich, Traffic and Ocean's 11. He even won an Oscar for best director for Traffic.
Recently, Soderbergh has directed 2 feature films with an iPhone – Unsane (which brought in $14 million in ticket sales) and High Flying Bird which is now on Netflix.
Soderbergh has done that with the DJI Osmo of which this new version is now the DJI Osmo.
I think this is the best stabilizer for your smartphone, if you have the money to spend. It will really take your videos to a new level.
Read on for my comprehensive list of smartphone stabilizers and gimbals. From handy pistol grips to advanced 3-axis gimbals that can turn you and your smartphone into a movie maker.
Best Gimbals and Stabilizers Reviewed
First of all, we have to look at the different types of grip and gimbal. Even something as simple as a few bucks pistol grip will help you make less shaky videos.
They also don't require batteries or chargers, which helps if you really want to keep your shooting style. Once you add moving parts to your stabilizing device, things get a little more complicated (and just a little bit more expensive).
Best pistol grip: iGadgitz smartphone grip
The pistol grip is simply a handle with a clamp to hold your phone securely. As you can see from the image above, depending on the model, other devices such as microphones and lights can also be attached to the pistol grip.
This smartphone grip has the same 2-in-1 grip as a tripod. You can also mount a microphone or light on top of the clamp.
Budget pistol grip: Fantaseal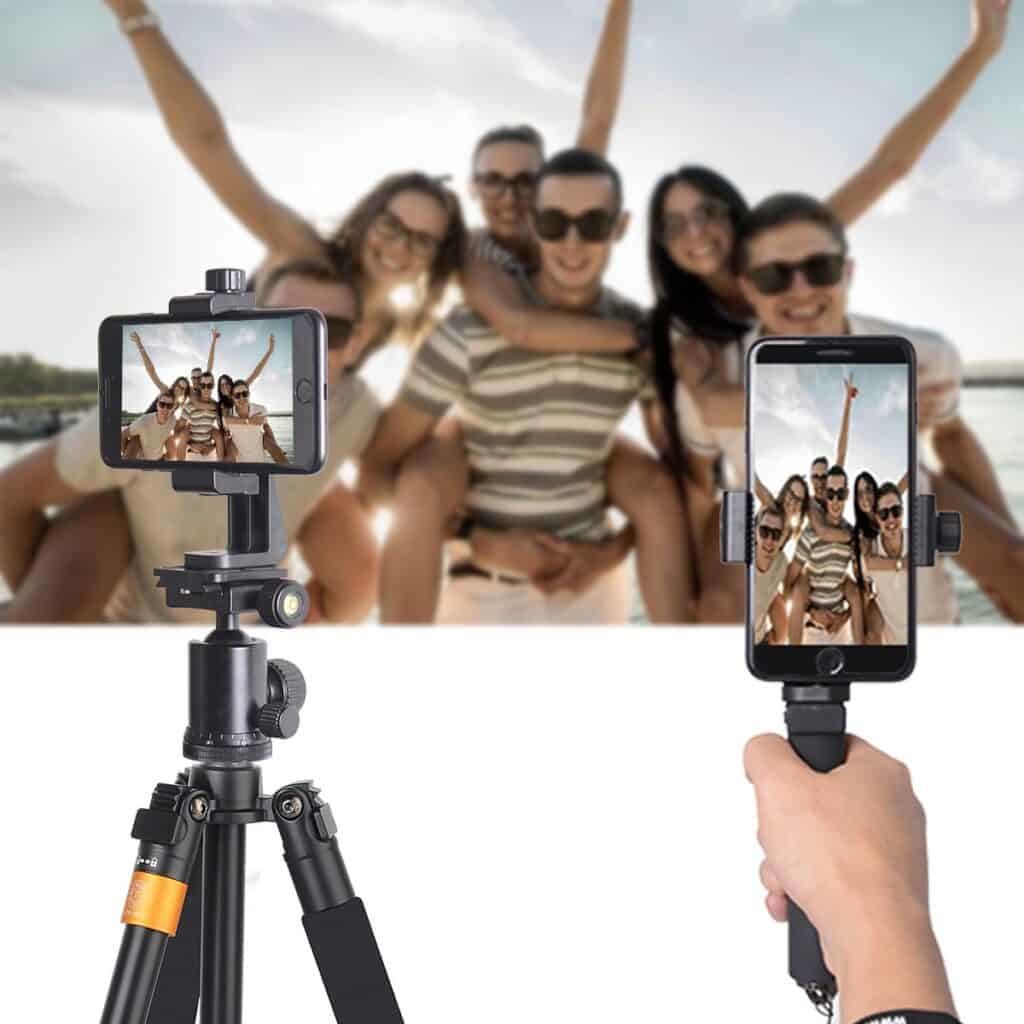 The Fantaseal Pistol Grip smartphone handle has fewer features, but has a sturdier construction.
This handle fits nicely in your hand. There is also a strap (because nobody likes to drop their phone). The clamp is also stronger so that your phone is better in place.
The clamp can also be attached to a normal tripod if you need that option. In addition, the hand strap can be removed and a 1/4 inch thread can be used on the bottom.
For example, the entire grip can be mounted on a tripod (great choices here), or you can place other items on the base of the grip, such as a light, microphone or action camera such as GoPro.
Best counterweight stabilizer: Steadicam Smoothee
While Soderbergh uses a DJI Osmo to shoot movies, Sean Baker shot Tangerine with a Steadicam Smoothee in 2013-2014.
No engine is involved. Instead, the stabilizer works by using a combination pistol grip with a top-mounted phone.
Meanwhile, the curved arm hangs down on a ball joint. So the arm swings around as you move, keeping the smartphone level.
Now there are a number of advantages and disadvantages in using a counterweight stabilizer compared to a motorized 3-axis gimbal. One drawback is that they can be tricky and require some practice to master.
This is because you have no real control over the movement of the arm. For example, when you're panning left or right, there's no real way to stop the camera from panning when you want it to.
The advantages of a counterweight stabilizer are:
they require no batteries or charger
they are a lot cheaper than the 3-axis gimbals
you can grab the arm with your free hand to take the stabilizer from a twist to a firm grip and extra stability
This was one of your best options in 2015 to create the Steadicam look with a smartphone. Since then, the introduction of the motorized 3-axis gimbal has changed the game, but at a higher price of course.
Best motorized 3-Axis Gimbal Stabilizer: DJI Osmo Mobile 3
Now to the best stabilizers you can get. By far the most popular gimbals for smartphones are the motorized ones. Which Steven Soderbergh used to shoot his last 2 movies. In his case, he used the DJI Osmo Mobile 1.
Over the past two years, we've really seen an explosion of these devices. They are usually the same price and essentially do the same thing: keep your smartphone level and move as smoothly as possible.
These gimbals usually come with downloadable apps that can help set up the gimbals and give you options to control the camera and gimbals remotely.
For that reason, different gimbals will fit different phones, depending on whether you have an iPhone or Android.
There are a few key players in the 3 axis gimbal market and these are the big sellers with the best models.
The DJI Osmo Mobile is lighter and cheaper than its predecessor (as used by Soderbergh when filming Unsane). The DJI Osmo is more stripped-down than the Zhiyun Smooth, with fewer controls.
DJI is a well-known brand of building tools for creators. Their drone and camera stabilization systems have redefined camera placement and movement.
Dji Osmo Mobile is DJI's latest handheld smartphone gimbal with time-lapse, motion-lapse, active track, zoom control and more. The long-lasting battery that can also charge your smartphone supports you to capture moments and record them anywhere, anytime. Meanwhile, the beauty mode in the DJI GO app keeps you looking your best.
Some buttons have 2 functions, such as the power/mode toggle button. The Osmo has a dedicated record button and thumb pad for smooth panning. Plus a zoom switch on the side of the gimbal.
Both the Zhiyun Smooth and Osmo are equipped with a universal 1/4″-20 mount on the bottom (as above: for attaching a tripod, etc.). But the Smooth also offers a detachable base, which is convenient is when recording motion time-lapse videos.
"Qualifies as the best value for money iPhone accessory on the market today."
9to5mac
While charging, the Osmo Mobile uses a micro USB port and a USB Type A port to charge your smartphone (the Smooth only uses a USB-C port).
Comparing the two, the Smooth gimbal has a greater range of motion than the Osmo Mobile. The Smooth also keeps the camera very still while moving the gimbal.
So, while the Smooth is more stable, the DJI app for the Osmo Mobile probably has the edge over the Zhiyun's. The Osmo Mobile app has object tracking, a simple interface and great video preview quality and just easier to use.
That said, to counteract the Smooth's poor app performance, there's the option to use (buy) the FiLMiC Pro app instead. But guess what – you can also use FiLMiC Pro with the DJI Osmo so it doesn't matter.
So there really isn't too much in between these two best gimbals for smartphones. So really it comes down to your personal preference. DJI's simpler gimbal or the extra features and slightly better stability of the Smooth.
Budget 3 axis gimbal: Zhiyun Smooth 5
The Zhiyun Smooth is one of the best smartphone gimbals money can buy right now. And because they've partnered with the top camera app FiLMiC Pro, they've knocked the other leaders in the smartphone gimbal market off the throne.
Zhiyun is known for providing industry-leading products at an affordable price. Born for storytelling, the Smooth Stabilizer is one of the most popular products among YouTubers.
The integrated control panel design helps users to control both the stabilizer and the mobile camera directly without touching the screen.
With all the other features you can imagine for a stabilizer, Smooth's PhoneGo mode can capture every single move in a flash and create the best transition for your story.
The official APP for Smooth is called ZY play. But Filmic Pro has best-in-class support for Smooth, you can use Filmic Pro as an alternative to ZY-play.
Apart from stabilizing your smartphone, the Smooth has a number of extra functions. An integrated control panel gives you focus pull & zoom capabilities.
Control Panel: Smooth is designed with a slider on the control panel (and a trigger button on the back) to switch between different gimbal modes. This reduces the need to touch the screen, helps users control both the stabilizer and the camera. "Vertigo Shot" "POV Orbital Shot" "Roll-angle Time Lapse" buttons included.
Focus Pull & Zoom: In addition to zoom, the handwheel becomes a focus puller, allowing you to focus in real time.
PhoneGo mode: reacts immediately to movement.
Time Lapse: Timelapse, Timelapse, Motionlapse, Hyperlapse and Slow motion.
Object Tracking: Tracks objects, including but not limited to human faces.
Battery: Can be used continuously for 12 hours. Battery indicator shows the current charge. Can be charged by a portable power source and the phone can be charged by the stabilizer through the USB port on the tilt axis.
Most versatile: MOZA Mini-MI
Apart from regular stabilization, the Moza Mini-MI is easy to use and has 8 different shooting modes.
By using inductive charging technology and magnetic coils in the base of the phone holder, the Mini-Mi allows you to wirelessly charge your mobile phone by simply placing it on the gimbal.
By using the wheel on the handle, you can zoom in smoothly without touching your smartphone. Use the MOZA app and this in the Camera Settings menu to focus the controls.
Features an independent control system for each axis; Roll, Yaw and Pitch. These axes can be controlled separately by 8 tracking modes, giving you the same professional functionality as that of MOZA's advanced control technology.
Plus, the Moza Genie app lets you control the speed at which these modes work.
Best battery: Freevision VILTA
Another option that essentially does the same thing and costs a few Euros less than the top brands. However, there are a few additional features:
VILTA M uses the same algorithm as VILTA, which adopts the most advanced efficient motor control algorithm and servo control algorithms in the industry.
This allows the gimbal to respond in high-speed scenarios with high control precision, achieving image stability exponentially higher than competing products.
17 hours of battery capacity is enough to meet your needs while traveling. Via a type-c adapter, VILTA M can charge the phone during use.
It adopts intelligent battery management system, which makes VILTA M safer and longer battery life. The rubber coated handle design is all about giving you an incredibly comfortable grip.
Best sidegrip: FREEFLY Movi Cinema Robot
It is an advanced smartphone stabilizer designed to make your mobile device a powerful storytelling tool.
Combine with the free app for pro-level shooting methods and intelligent shooting options, including Majestic, Echo, Timelapse, SmartPod and more.
Characteristics:
Portrait, landscape or selfie mode
Weight: 1.48lbs (670g)
Battery: USB-C fast charge and can last 8 hours longer on a single charge (2 batteries are included in the box)
Compatibility: Apple (iPhone6 ​​- iPhone XR), Google (Pixel – Pixel 3 XL), Samsung Note 9, Samsung S8 – S9+ (Movilapse method not currently available; S9 and S9+ require adjustable counterweight)
Freefly's new Movi is inspired by, but not to be confused with, the go-to industry gimbal of yesteryear, the Movi Pro. Freefly claims that it has taken all the "professional movie tricks" and technology of full-sized stabilizers and packed them into a simple and small cinema robot to give your mobile phone a big boost with professional stabilization.
The Movi is made of durable plastic with a rubber grip on the bottom, which is handy when you put it down for a timelapse or pan. Unlike its biggest competition, the Osmo Mobile, which is more of a monopod, it has a U shape that can be gripped with one or two hands for extra stabilization.
It is comfortable to hold and very lightweight. The record and mode-changing buttons are cleverly placed on the front of the main grip, so you can easily trigger them with your index finger without losing your grip on the Movi.
It can be tricky to level and stabilize at first, but once put into Majestic Mode, shots are smooth as butter, and better than tests done with competing products. And that's okay for that price tag.
The Freefly Movi is managed through a free app on your mobile device. Note that the id="urn:enhancement-6e1e1b91-be3b-4b94-b9b5-25b06ee2b900″ class="textannotation disambiguated wl-thing">stabilizer will still work even if you're not using the app, so if you just want to practice using stabilization with your phone's video mode (here are the best camera phones for that), you can.
Of course you need the app if you want to do any of the advanced or more "cinematic" tricks that the device offers.
There's no manual with the Movi, but the company provides a series of short videos (under a minute) to teach you all of your basics. One thing that is crazy is that these tutorials cannot be found in the app.
For a tool specifically designed to be used on-the-go, it's strange that you can't reference the videos on how to work it without having internet access (and without leaving the app).
The other strange thing is that functions are not named in ways that clearly imply what they do.
The simplest default mode, which allows you to just use the stabilizer without advanced movements, is called Majestic mode. Why the company didn't go with "Basic", "Beginner", "Standard" or some other more descriptive name for this mode is beyond me.
Here's the good news: after you practice a little in Majestic Mode, the shots become smooth and without jerks. Keep in mind that, as with a professional stabilizer, you still need to move yourself as smoothly and steadily as possible to get the best results. This tool will not do all the work for you.
To do camera moves you have to exit Majestic mode and go into Ninja mode. This mode provides features such as timelapses that can be shot with the camera set to a static frame or to a path between two points.
Movilapses that take time-lapses while you're in motion and a Barrel mode that films rolling shots where your image is turned upside down. We focused on two of the most likely to be used in a standard shoot: Echo and Orbit.
Shooting in Echo Mode: In the case of the Movi app, an Echo is simply a pan. As far as we can tell, it has no "echo" effects at all. You can choose your own A and B points for the pan, or a preset path such as 'left' or 'right', along with setting the duration of how long you want the pan to last. Keep in mind that the camera doesn't stop recording when a move is complete, so you'll want to keep it steady at the end of the pan. That leaves room for the end to cut or fade easily.
Orbit mode: Orbit mode lets you take a revolve shot, where you/the camera make a circle around the subject. Unlike some of the other tools that make this possible, the Movi doesn't let you pick a subject or point of interest in your frame (at least as far as we can tell), so your results can be a little shaky unless there's a very bright natural focal point to to focus on. an important
One thing to know before trying this is something that is actually missing from the overly simple online tutorial: after you choose a direction for your job, you have to go the opposite direction to get the right effect. In other words, if you choose "left" in the app as the direction of your lane, you actually have to walk in a circle to the right for it to work properly.
That said, the Freefly Movi is a usable, out-of-the-box and super portable product that will undoubtedly make your smartphone videos look smoother, more professional and ultimately better.
Read more: the best camera drones with gimbals
Splash proof: Feiyu SPG2
Feiyu SPG 2 gives you a fantastic experience of making video in a moving setting. The three-axis tracking mode ensures the stability of your camera no matter what environment you're in.
This gimbal is also waterproof giving you more options to explore the unknown world. Pair with the Vicool APP, SPG2 gimbal supports panorama, time-lapse, slow motion and parameter adjustment.
A small OLED screen on the gimbal gives you the status of the device without checking your phone.
Characteristics:
Weight: 0.97kg (440g)
Battery: 15 hours
Compatibility: Width of the smartphone between 54 mm and 95 mm
Best Extendable Gimbal: Feiyu Vimble 2
You have people who use the selfie stick or have at least seen it once. Feiyu Vimble 2 takes this to another level.
This 18cm extendable gimbal lets you pack more content into the frame, making this a smart choice for vloggers and YouTubers.
Apart from the extender, it also offers all-you-need features for a smartphone stabilizer. Powered by AI algorithm in the Vicool APP, it supports face tracking and object tracking.
Characteristics:
Weight: 0.94kg (428g)
Battery: 5 – 10 hours, which can also charge the smartphone
Compatibility: Smartphones width between 57mm and 84mm, Action cameras and 360° cameras
Smallest gimbal: Snoppa ATOM

Different from other stabilizers in the list, Snoopa ATOM started crowdfunding. It is one of the three smallest smartphone stabilizers on the market that is slightly longer than the iPhoneX and you can even put it in your pocket.
The long-lasting battery also supports wireless charging, so you can easily handle the demands of continuous filming. Snoppa app allows ATOM to take long exposure photos and capture high brightness, low noise photos in the dark.
The app also offers features such as face/object tracking and motion time-lapse. A microphone can also be attached directly to ATOM for better audio quality.
Characteristics:
Weight: 0.97kg (440g)
Battery: 24 hours
Compatibility: Smartphones weigh up to 310g
Also read: perfect video recordings with one of these dolly tracks
Hi, I'm Kim, a mom and a stop-motion enthusiast with a background in media creation and web development. I've got a huge passion for drawing and animation, and now I'm diving headfirst into the stop-motion world. With my blog, I'm sharing my learnings with you guys.