Best keyboards for Avid Media Composer: speed up your process
I love creating free content full of tips for my readers, you. I don't accept paid sponsorships, my opinion is my own, but if you find my recommendations helpful and you end up buying something you like through one of my links, I could earn a commission at no extra cost to you.
In this post, I want to walk you through the options for purchasing a keyboard specifically for Avid's Media Composer product.
You have more options than you might think with products from an entire backlit keyboard to handy covers for Windows and Mac.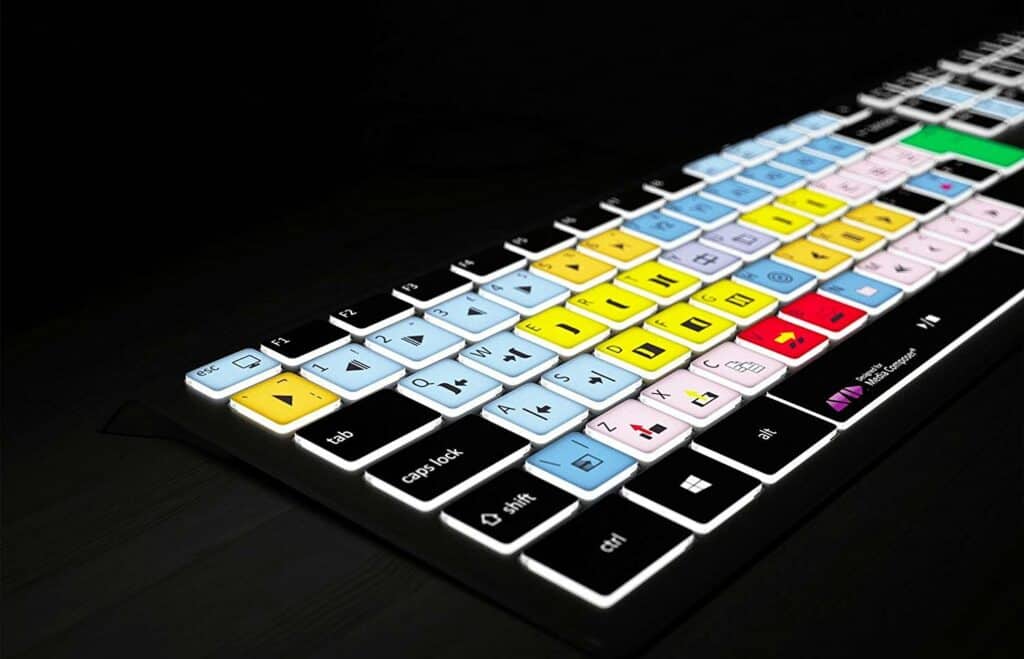 Fixed keyboards for Avid Media composer
The advantage of purchasing a specific keyboard for editing in Avid Media Composer is that you get more options than with a cover for your existing keyboard, such as connectivity options for peripherals and full control over all shortkeys, plus the right adjustable backlight for visibility of your keys, even in a dark room.
For Mac: LogicKeyboard Avid Media Composer UK Advance Keyboard
LogicKeyboard's Avid Media Composer Advance Mac keyboard has built-in color-coded keyboard shortcuts specifically for Avid Media Composer, an editing software.
Quickly accessible keyboard shortcuts make it easier to create content and speed up your workflow. The keyboard also has all the standard letter, number and symbol labels.
If needed, the backlight offers five brightness levels, so you can find the one that works best for you.
After connecting it to your system, you can use the built-in USB hub to connect additional devices and peripherals.
Backlit keys for improved contrast and readability
Dimmable backlight with five selectable levels
Built-in USB hub with two Type A ports
Screwdrivers for lighter, quieter keystrokes
Color-coded, labeled keyboard shortcuts with graphical commands
Avid Media Composer's custom keyboard is based on the original Apple Ultra Thin Aluminum Keyboard. The LogicKeyboard keyboard for Avid Media Composer makes working with media composer a lot easier and faster.
It is recommended for use in post production facilities, professional video editing houses and anyone requiring the most commonly used Custom Key commands to be easily accessible from a dedicated, clearly labeled and color coded keyboard.
Getting started with your own stop motion storyboards
Subscribe to our newsletter and get your free download with three storyboards. Get started with bringing your stories alive!
We'll only use your email address for our newsletter and respect your privacy
It's also a great way to learn Avid Media Composer's hotkey commands.
For Windows PC: Editors Keys Avid Media Composer Backlit Keyboard
I first heard about this keyboard as a Kickstarter funded venture and it seemed pretty cool.
Editors Keys is a company dedicated to providing quality keyboards for many different editing platforms, but their claim is that this is the first backlit keyboard for Avid.
If you're anything like me, you keep your editing space dark, but not pitch black, and need a backlit keyboard in that environment, not only does it make sense, but it can also boost productivity.
Not to mention, it adds to the sexiness of an otherwise drab editing space.
The first thing I noticed was the cool packaging it came in – a black magnetically locked box with foam keyboard inserts. Very good!
The keyboard itself is also pretty smooth, glossy black with color-coded keys. Not as sturdy as I'd like, but fine and solid.
The backlight is turned on by pressing the scroll lock key. A cool, pale blue light evenly penetrates the keys.
Personally, I'd like to see a little less light breaking through the edge of the keys, but that's a very minor consideration and has more to do with my preference.
That goes away when you get closer to the keyboard. Although not implemented in my version, I was told that future versions will have adjustable light brightness via the keyboard.
And this one, for sale at Amazon, does indeed have three adjustable levels.
Typing is going well. It is not loud and is very responsive. At the bottom of the keyboard are sliding drawers that allow for some tilting like many keyboards on the market.
I would also like to see USB ports, but I know not everyone agrees. Apart from that, I quickly felt comfortable with the feel of this keyboard and can use it for a long time.
Editors Keys claims that you can work up to 40% faster with a custom keyboard like this one in Media Composer. It is absolutely worth a look.
Keyboard covers for Avid Media Composer
The convenience of a keyboard cover is that you can easily take it with you, especially when you take your Macbook or iMac with you as a portable studio. And it is of course a lot cheaper to buy.
For Apple Magic Wireless keyboard with numpad: Editors Keys
Speeding up your work in Avid Media Composer has never been easier with the Editors Keys keyboard for Avid Media Composer. These amazing covers are compatible with all Apple Mac keyboards.
Faster keyboard editing even has the coveted shortcuts for media compilers.
You will find that each key has a shorter route and color coding to help you, you will find the tool that will make your Avid Media Composer skills faster than ever before.
Full protection for coffee or liquid on your Mac keyboard. They are all made from an ultra-thin silicone material for the best fit and protection.
Avid Media Composer keyboard cover with 100+ shortcuts
For Apple Magic Keyboard – Funk Version with Numeric Keypad
Fits on your keyboard. Suitable for all English, American and European keyboards
Master Avid Media Composer
You can protect your keyboard from dirt and germs
For Apple Magic Wireless keyboard without numpad: Xskn Keyboard Cover
1st Soft Silicone Keyboard Skin, designed to fit for 2015 US and EU layout Apple Magic keyboard (bottom right key is square)
delivers the shorter design of the Avid Media Composer, helping you increase your efficiency
handmade original: They are durable, thin and soft with a cashmere feel
For Macbook Pro: Editors Keys Avid Media Composer Keyboard Cover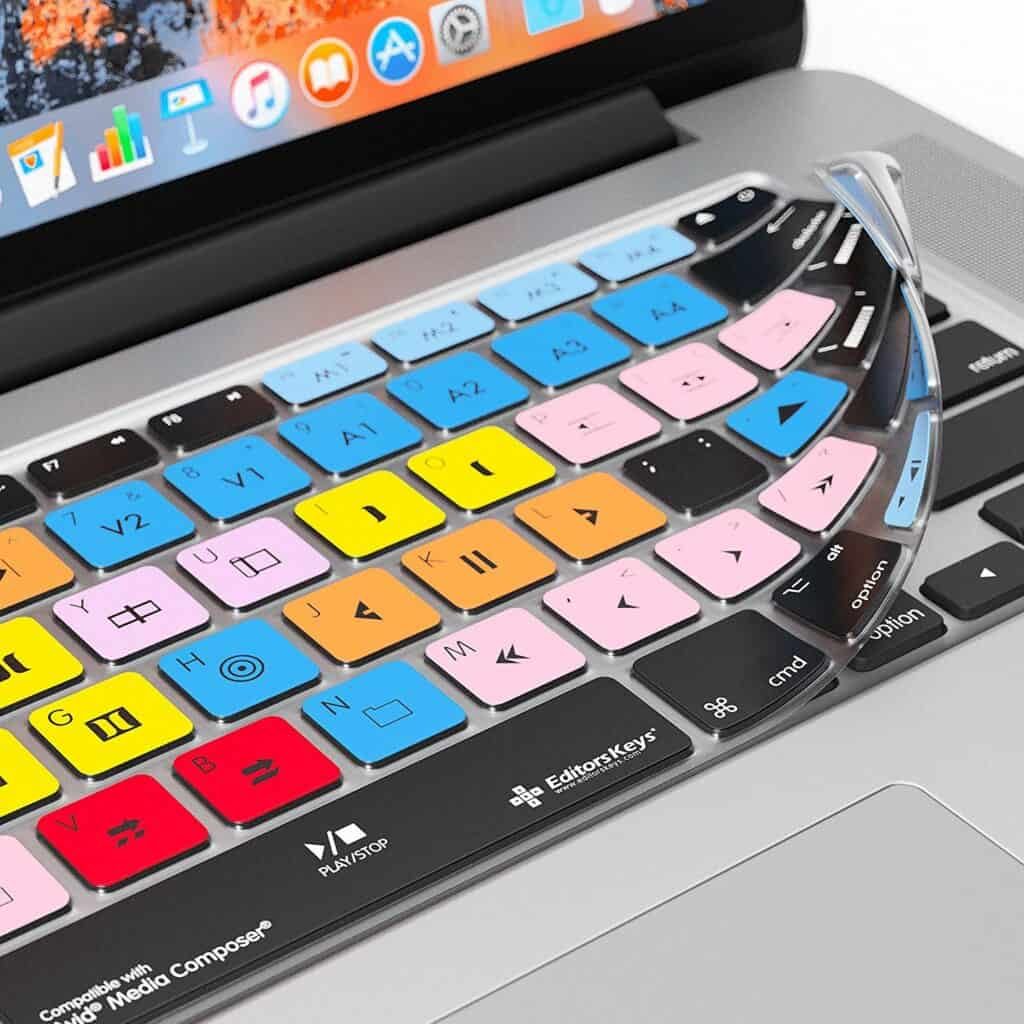 The most important Avid shortcuts for media composer
Suitable for Apple MacBook Pro Retina 13″cm 38.1cm 17cm and older generation iMac Wireless Keyboard
Master Avid Media Composer
Complete protection of your MacBook Pro against dirt and spills
Hi, I'm Kim, a mom and a stop-motion enthusiast with a background in media creation and web development. I've got a huge passion for drawing and animation, and now I'm diving headfirst into the stop-motion world. With my blog, I'm sharing my learnings with you guys.