Best on-camera lights for stop motion reviewed
I love creating free content full of tips for my readers, you. I don't accept paid sponsorships, my opinion is my own, but if you find my recommendations helpful and you end up buying something you like through one of my links, I could earn a commission at no extra cost to you.
The on-camera light is to the video shooter what the speed light is to the still photographer. Many would consider it an essential piece of equipment.
"On-camera" is a term that defines a category, but this light doesn't always (or ever) have to be attached to your camera. It refers to a compact, battery-powered light that you can mount on the camera if you wish.
So they can be very flexible in use, and that's why they can be a great tool for the stop motion photographer.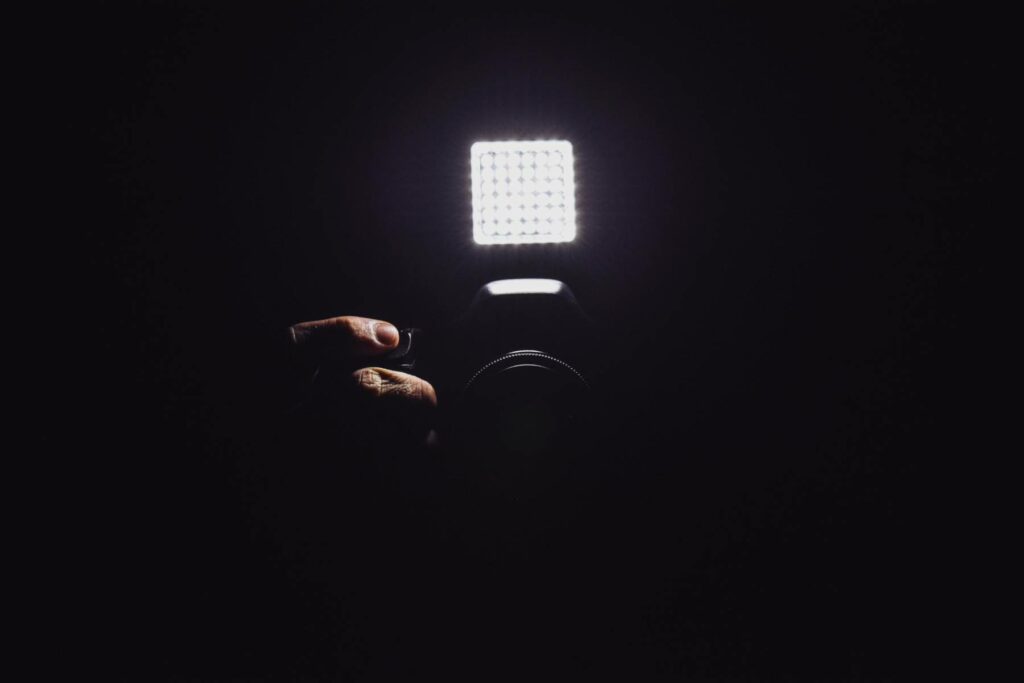 There are hundreds of them, so what I'd like to do is run through the best ones with you. They are all great lights, each distinctive in its own way.
The best one you can get for your stop motion animation right now is this Sony HVL-LBPC LED, which gives you a lot of control on brightness and light beam, which can be especially great when working with toys.
But there are some more options. I'll take you through each of them.
Best on-camera lights for stop motion reviewed
Sony HVL-LBPC LED Video Light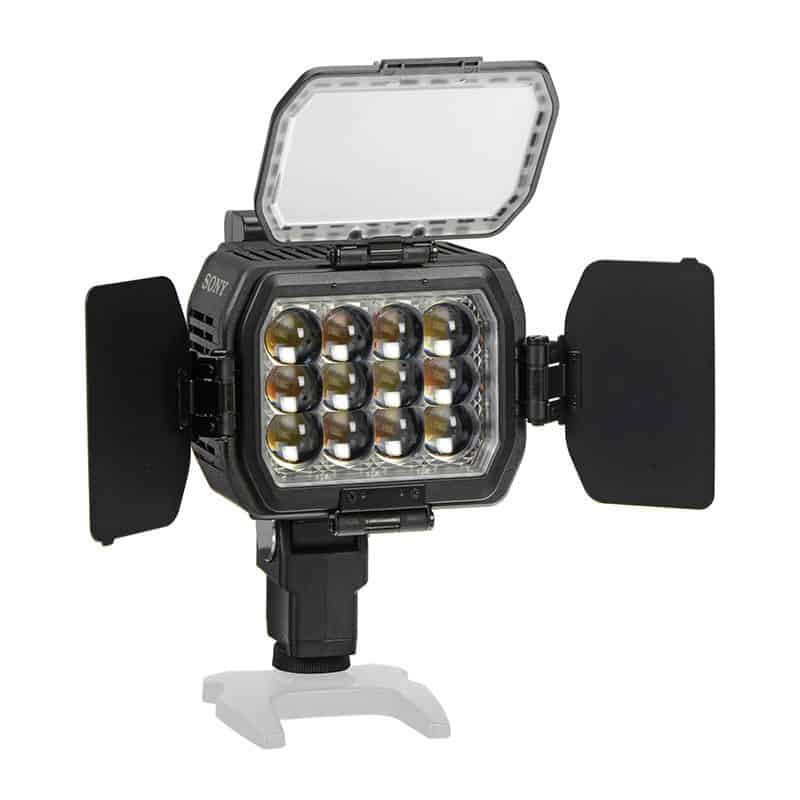 For users of professional Sony L-series or 14.4V BP-U-series batteries, the HVL-LBPC is a powerful option. The output can be cranked up to 2100 lumens and has a moderate 65-degree beam angle without using the flip-up lens.
The HVL-LBPC aims to recreate the concentrated light area found on halogen video lamps. This pattern is beneficial when the subject is further away from the camera, making the HVL-LBPC a popular choice with wedding and event shooters.
It uses Sony's patented Multi-Interface Shoe (MIS) to enable automatic triggering of compatible cameras, plus an adapter included for use with standard cold shoes.
Getting started with your own stop motion storyboards
Subscribe to our newsletter and get your free download with three storyboards. Get started with bringing your stories alive!
We'll only use your email address for our newsletter and respect your privacy
Lume Cube 1500 Lumen light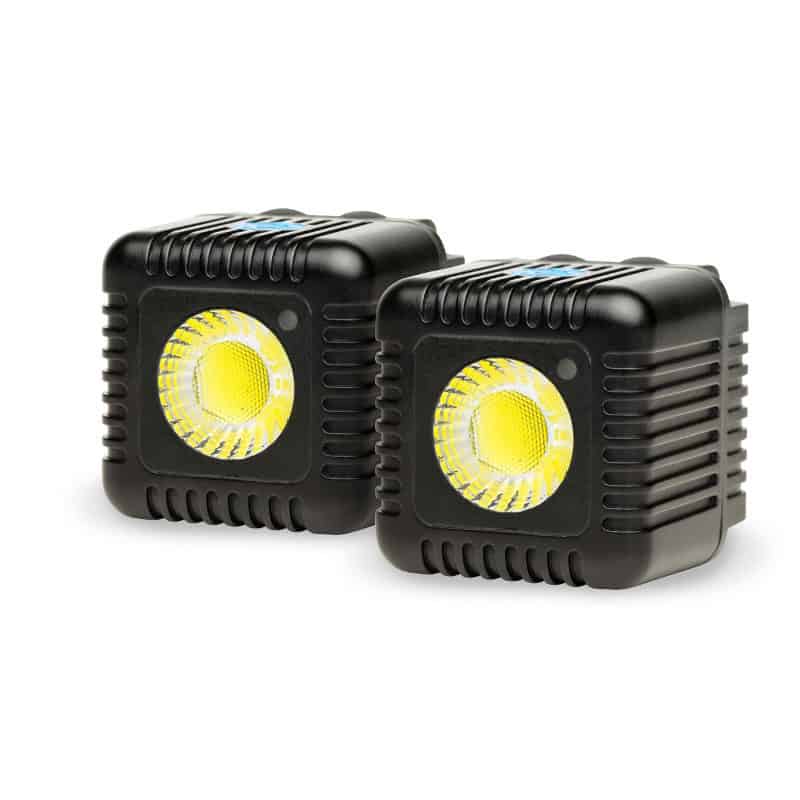 The Lume Cube 1500 is a waterproof LED dubbed as the perfect companion for an action camera, such as a GoPro HERO. With a 1.5″ cubic form factor, the light integrates a 1/4″ -20 mounting socket and adapters are available to connect it to GoPro mounts.
Due to its light weight and compact size, the Lume Cube is also suitable for use on video drones like these top choices. Kits and mounts are available for popular DJI, Yuneec and Autel models and even a kit for your smartphone:
View prices and availability of different versions here
Rotolight NEO On-Camera LED Bulb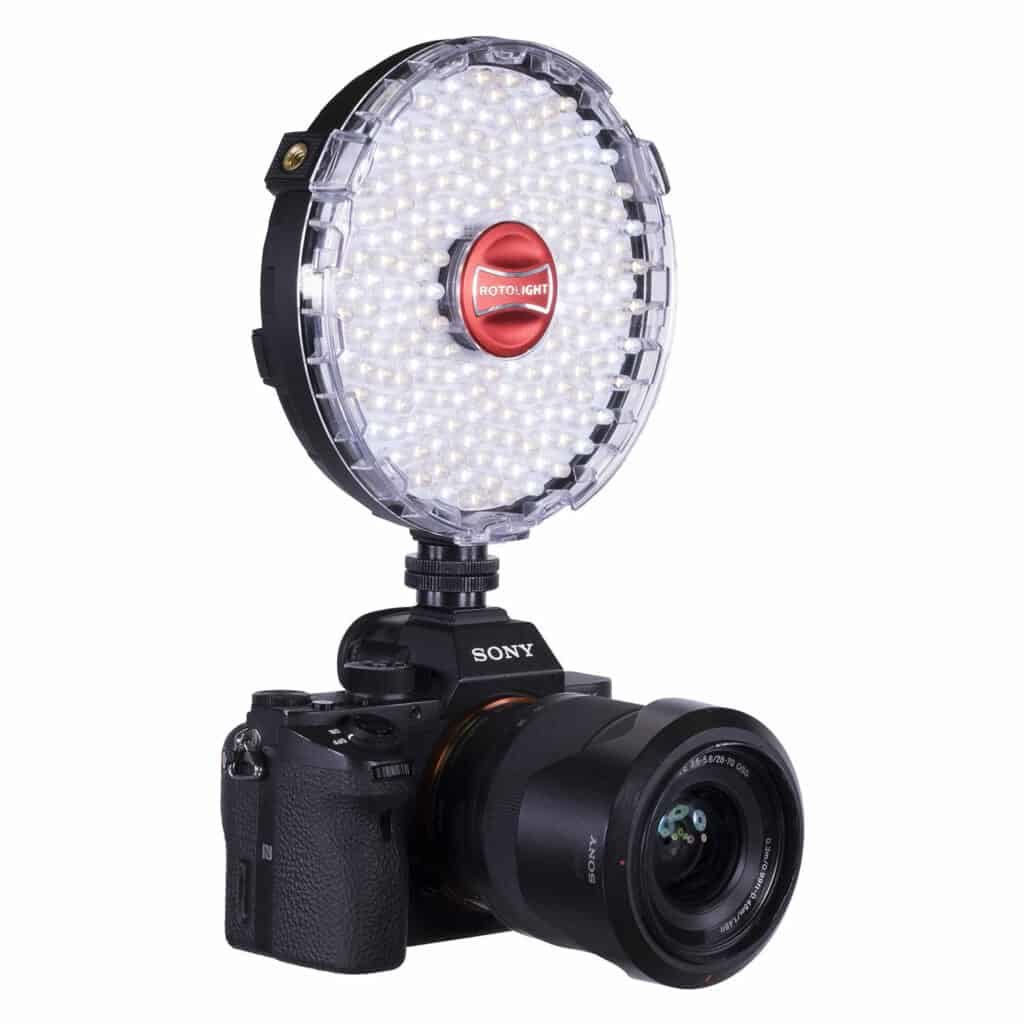 The Rotolight NEO is distinguished by its round shape. It implements an array of 120 LEDs, giving a total output of up to 1077 lux at 3′.
The light is conveniently powered by six AA batteries.
F&V K320 Lumic Daylight LED Video Light
The F&V is a specular LED meaning it is designed to be the point source of a non-diffused one and is made up of 48 LED lights to recreate daylight.
This gives it a narrow adjustable beam angle of 30 to 54 degrees. A narrow bar projects further for a better throw and creates a more "spot" effect, which can actually be desired in some cases.
A 2-hour battery and a battery charger are included.
What should you look for in an on-camera light for stop motion?
There are a few things you should look for in an on-camera light for stop motion animation. First, you want a light that is bright enough to illuminate your subject matter. Second, you want a light that is adjustable so you can control the amount of light that hits your subject. And lastly, you want a light that will not cause any flicker when you edit each shot after the other.
I'm going to assume you're making a stop motion with toys, one of the hardest things to photograph correctly because of all of the light bouncing of those tiny little polished hoods, heads, and little bodies.
However, there are some other considerations specific to toy photography. First, you'll want to make sure the light doesn't create any hot spots on your toys (which can be distracting and ruin the effect of your photos). Second, you may want a light with a diffuser attachment to help soften the light and reduce shadows. And lastly, you'll want to make sure the light is small and unobtrusive so it doesn't interfere with your composition or take away from your toys.
Conclusion
There are just so many options to choose from and knowing which ones will work best for your production can be quite the challenge.
I hope this article has helped you figure out what your stop motion animation needs for those perfectly lighted shots.
Hi, I'm Kim, a mom and a stop-motion enthusiast with a background in media creation and web development. I've got a huge passion for drawing and animation, and now I'm diving headfirst into the stop-motion world. With my blog, I'm sharing my learnings with you guys.