Best drones for video recording: Top 6 for every budget
I love creating free content full of tips for my readers, you. I don't accept paid sponsorships, my opinion is my own, but if you find my recommendations helpful and you end up buying something you like through one of my links, I could earn a commission at no extra cost to you.
Gone are the days when the best camera drones were just a novelty for radio-controlled vehicle enthusiasts.
Today, regular cameras (even the best camera phones) can't reach all spots and good camera drones are proving to be incredibly useful and creative tools for photographers and videographers.
A drone, also known as a quadcopter or multicopter, has four or more propellers, which move air vertically from each angle, and a built-in processor that keeps the machine at a stable level.
My favorite is this DJI Mavic 2 Zoom, because of its easy operation and stabilization plus the ability to zoom a lot, something that most camera drones miss and why you often also take a good camera with you.
In this video of Wetalk UAV you can see all the features of the Zoom:
For the size of some, they are surprisingly fast and maneuverable, which is achieved by tilting the drone slightly off the horizontal axis (hanging) with a small amount of the energy from the propellers being directed sideways.
This stability and maneuverability proves perfect in the photo and film industry to get great shots from angles that you would otherwise not be able to reach, or that used to require a very large crane and dolly track.
In recent years, the popularity of camera drones has grown enormously and a number of new models have come onto the market as a result.
But given that the photography industry has never quite outgrown the tripod in the past 200 years, what are the challenges, and what benefits, does sending a good camera into the air entail?
The obvious one is the ability to shoot from anywhere (aviation authorities allow this), get any angle of your subject, and add smooth aerial shots to your videos.
Getting started with your own stop motion storyboards
Subscribe to our newsletter and get your free download with three storyboards. Get started with bringing your stories alive!
We'll only use your email address for our newsletter and respect your privacy
For new camera angles and footage, check out my post on editing your action cam footage.
I have also selected two other drones for you, one with an attractively low price and the other with the best price-quality ratio, and you can read more about these options below the table.
What should you pay attention to when buying a drone?
There are some features to consider when choosing the best camera drone for your needs, especially when compared to shopping for a regular video camera.
You will probably have to accept a smaller sensor size and no zoom in your drone compared to your camera, because less glass means less weight, an essential trade-off for flight time.
Vibration is also a big problem, the fast spinning props and sudden movements are not ideal for still or video photography.
The means of control is either your phone's limited Wi-Fi range or a separate controller that uses radio frequency (but probably also your phone to watch the live video).
On top of the basics, drone manufacturers have strived to automatically combat the risk of collisions with sensors.
Partly to help you, but also to combat damage to key sensors and the propellers, which are understandably eager to avoid a serious collision.
Before you buy a drone, it is wise to do good market research.
You need to know for yourself what is important to you when using a drone. After all, drones can be expensive gadgets, so you want to be 100% sure that you choose the right drone.
There are a lot of different models, and the choice comes down to personal preference. A drone costs roughly between 90 and 1000 euros.
In general, the better the drone's features, the more expensive it is. When purchasing a drone, you have to pay attention to a number of points, which I explain to you below.
What will you be using the drone for?
If you are mainly going to use the device for photography and film, make sure you take the quality of the camera into account.
If it is important to you that the drone can fly long distances, then choose one with a large maximum distance.
The controls
Many drones have a separate remote control, but some models can also be controlled via an app on your smartphone.
If you don't have a smartphone or tablet, you should be careful not to accidentally purchase an app-controlled drone!
The more advanced models have a remote control that is in direct contact with the camera of the drone. In most cases, this remote control is equipped with a digital screen.
There are also remote controls that work in combination with your smartphone, so that you can transfer the captured images directly to your mobile or tablet.
The camera
Most people who buy a drone do so because they want to shoot. A drone without a camera is therefore also difficult to find.
Even the cheaper models are often equipped with an HD camera for recordings and a photo quality of at least 10 megapixels.
Battery life
This is an important aspect of the drone. The better the battery, the longer the drone can stay in the air.
In addition, it might also be useful to see how long it takes before the battery is fully charged again.
Best drones with camera reviewed
Read on for my pick of the best camera drones you can buy, whether on a budget or if you're going for a professional setup.
Best Buy: DJI Mavic 2 Zoom
Not only is it highly portable, the Mavic 2 Zoom is also a powerful flying creative assistant drone.
Weight: 905g | Dimensions (folded): 214 × 91 × 84 mm | Dimensions (unfolded): 322 × 242 × 84 mm | Controller: Yes | Video resolution: 4K HDR 30fps | Camera resolution: 12MP (Pro is 20MP) | Battery life: 31 minutes (3850 mAh) | Max range: 8km / 5mi) Max. Speed: 72km/h
Advantages
Very portable
Optical zoom function (on this zoom model)
Great software features
Cons
Expensive
Not 60 fps for 4K
DJI's Mavic Pro (2016) changed the perception of what was possible with the best camera drones, making it possible to fold a good quality lens and carry it easily without adding too much extra weight to your carry-on.
It sold so well that perhaps the appeal of simple aerial shots is waning, something DJI has tried to combat with software features.
One of the most stunning (on both the Mavic 2 Pro and the Zoom model) is Hyperlapse: an aerial time-lapse that can capture motion and is processed onboard the drone itself.
The zoom model also gets a dolly zoom effect (ask a horror movie geek), which is a lot of fun.
The case has a pretty solid feel for something so small and foldable, but it brings in powerful motors and speed control systems, capped off with surprisingly quiet propellers.
This makes it almost as capable as heavier drones in the wind, with a high maximum speed and very responsive handling (which can be softened for film work).
The omnidirectional sensors also make it very difficult to crash at normal speeds and even play a part in providing excellent object tracking.
The only drawback of the Mavic 2 is the choice you have to make between the more expensive 'Pro' and the 'Zoom'. The Pro has a 1-inch image sensor (20 megapixels) on a fixed 28mm EFL but with adjustable aperture, 10-bit (HDR) video and up to 12,800 ISO. Ideal for sunsets and photos.
This zoom still retains the very decent 12 megapixels of its predecessor, but has a zoom (24-48 mm efl), which in turn is useful for cinematic effects.
In case you really want a drone that is good for both stills and video shooting, the DJI Mavic 2 Zoom is an excellent choice.
The great thing is that this drone is the very first DJI drone with a 24-48mm zoom, which is all about dynamic perspectives.
With the drone you can zoom up to 4x, including 2x optical zoom (zoom range of 24-48 mm) and 2x digital zoom.
The moment you make full HD recordings, 4x lossless zoom offers you a better view of objects or subjects that are far away. This will make for unique scenes.
You can fly the drone for up to 31 minutes, just like the DJI MINI 2 I described before. The maximum speed is 72 km/h, the second fastest drone in the list!
The 4K camera has a 12 megapixel camera with a 3-axis gimbal. This drone has an auto-focus tracking system which will ensure that everything will look clearer and sharper while zooming in and out.
The drone is also equipped with Dolly Zoom, which automatically adjusts the focus while flying. This creates an intense, confusing but oh so beautiful visual effect!
Finally, this drone also supports enhanced HDR photos.
Versatile drone for videos and photos: DJI Mavic Air 2
For a drone with advanced features, this is an extremely good choice. The capabilities of this drone are extraordinary!
Please note: when using this drone you must have a valid pilot's license with an additional A2 certificate. You must always have the pilot's license with you when using the drone.
As I mentioned before, this drone has a lot of interesting features. It can avoid obstacles (anti-collision system) while staying in the air and it also automatically adjusts the exposure for the most beautiful images.
It is also capable of making hyperlapse shots and shooting 180-degree panoramic images.
The drone is also equipped with a large 1/2-inch CMOS sensor and has an image quality of up to 49 megapixels, which guarantees excellent images.
The drone can fly for a maximum of 35 minutes in a row and has a maximum speed of 69.4 km/h. It also has a return function.
You control the drone using the controller, on which you attach your smartphone. This makes controlling the drone comfortable for your neck, because the smartphone will always be in line with the drone and therefore you don't have to bend your head all the time to look at your phone.
The drone comes with all basic parts and accessories.
Best budget choice for video recording: Pocket drone with Camera
Understandably, the DJI Mavic Air 2 isn't for everyone, both in terms of price and features. That is why I also looked for a budget drone that can also make ordinary beautiful video recordings.
Because 'cheap' does not always mean that the quality is not good! This pocket drone with camera has a compact and foldable size, so you can put it in your jacket pocket or in your hand luggage!
You send the drone into the air whenever you want. Thanks to the altitude hold function, the drone produces extra sharp and vibration-free images.
Here you see a clear difference with the DJI Mavic Air 2 in terms of battery life: where the DJI can fly for up to 35 minutes in a row, this drone can 'only' be in the air for nine minutes.
You control this pocket drone with the included controller or via your own smartphone. The choice is yours.
The controller might be better if you want more ease of use. In that case, you use your smartphone as a monitor.
The drone has a range of 80 meters, a live view thanks to the WiFi transmitter and a return function. Furthermore, the drone has a speed of 45 km/h.
Like the DJI Mavic Air 2, this Pocket drone is also equipped with the obstacle avoidance function. You get a storage bag and even extra spare rotor blades.
It is also nice that this pocket drone does not fall under the stricter regulations, so you do not need a certificate or pilot's license to be allowed to fly it.
Unlike the DJI Mavic Air 2, which is more for experienced pilots, this drone is well suited for every (new) drone pilot!
Best price/quality ratio: DJI MINI 2
Are you looking for one that does not necessarily have to be the cheapest, but which above all has the best price/quality ratio? Then I recommend the DJI MINI 2 to capture all your spectacular moments.
This drone is also suitable for beginners. Please note: before you start using the drone, you must register it with the RDW!
Like the Pocket drone, the DJI MINI 2 also has a compact size, the size of your palm.
The drone films in 4K video resolution with 12 megapixel photos. The result is noticeable: beautiful, smooth videos and razor-sharp photos.
You can even use 4x zoom and if you download the DJI Fly app, you can instantly share your footage via social media.
Just like the DJI Mavic Air 2, this drone can take to the air for a nice long time, up to 31 minutes, and up to an altitude of 4000 meters. This drone is also easy to control and, like the previous two, has a return function.
The maximum speed is 58 km/h (the DJI Mavic Air 2 has a speed of 69.4 km/h and the DJI MINI 2 is a bit slower, namely 45 km/h) and the drone is not equipped with an anti-collision function (and the other two do).
Best Drone for Beginners: CEVENNESFE 4K
A drone with many options, but cheap; does that exist?
Yes, of course! This drone is perfect for beginners, but also possibly for professionals.
For beginners it is especially nice that the drone is cheap, so that you can first try out and experiment whether a drone is indeed interesting for you.
If it becomes a new hobby, you can always buy a more expensive one later. However, this drone has a lot of features for its price! Curious what those are? Then read on!
The drone has a battery life of up to 15 minutes and a range of 100 meters. Compared to the DJI Mavic Air 2, which can fly for up to 35 minutes at a time, that is of course quite a big difference.
On the other hand, you can also see that reflected in the price. The range of 100 meters is solid enough for a beginner, but again not comparable with a height of 4000 meters of the DJI MINI 2.
With this CEVENNESFE drone you are able to make a live view and the drone is also equipped with a return function.
The drone even has a 4K wide-angle camera! Not bad at all… You can stream the live images to your phone and save them in the special E68 app.
Take-off and landing buttons make landing and take-off a breeze. Thanks to the one key return, the drone returns with a simple push of a button.
As you can see: perfect for the new drone pilot! It is also nice that you do not need a pilot's license for this drone.
The drone has a small folded size, namely 124 x 74 x 50 mm, so that you can easily take it with you in the supplied carrying bag.
Everything you need to get started right away is included! Even a screwdriver! Are you ready for your very first drone experience?
Best Drone with Live Video Feed: DJI Inspire 2
How wonderful is it to be able to broadcast your spectacular images live? If that's what you're looking for in a drone, check out this DJI Inspire 2!
The images are captured in up to 5.2K. The drone has the ability to reach a top speed of up to 94 km/h! That's the fastest drone we've seen so far.
The flight time is a maximum of 27 minutes (with X4S). There are drones that last a little longer, such as the DJI Mavic Air 2, the DJI MINI 2 and the DJI Mavic 2 Zoom.
Sensors work in two directions in this drone for obstacle avoidance and sensor redundancy. It also packs a host of intelligent features, such as Spotlight Pro, which allow pilots to create complex, dramatic images.
The video transmission system provides dual signal frequency and dual channel and can stream video from onboard FPV camera and main camera at the same time. This allows for better pilot-camera collaboration.
Effective transmission can take place at a distance of up to 7 km and the video can provide 1080p/720p video as well as FPV for the pilot and camera pilot.
Broadcasters can broadcast live from the drone and aerial live streaming directly to the TV is very easy.
The Inspire 2 can also create a real-time map of the flight path and if the transmission system is lost, the drone can even fly home.
What will probably be very disappointing for many is the sky-high price of almost 3600 euros (and also refurbished)! Nevertheless, this is a great drone.
Best lightweight video drone: Parrot Anafi
This drone is light, foldable and able to use the 4K camera anywhere.
Weight: 310g | Dimensions (folded): 244 × 67 × 65 mm | Dimensions (unfolded): 240 × 175 × 65 mm | Controller: Yes | Video resolution: 4K HDR 30fps | Camera resolution: 21MP | Battery life: 25 minutes (2700mAh) | max. Range: 4 km / 2.5 mi) | max. Speed: 55 km/h / 35 mph
Advantages
Very portable
4K at 100Mbps with HDR
180° vertical rotation and zoom
Cons
Some features are in-app purchases
Only 2-axis steering
Parrot wasn't much of a contender in the high-end video space until the Anafi arrived in mid-2018, but it was well worth the wait.
Rather than jack up prices and weight by installing sensors of questionable quality (and the processing power to handle their data), Parrot leaves it up to the user to properly avoid obstacles.
In return, though, they've managed to keep portability and price manageable, partly by including a large, sturdy zip case so you can shoot just about anywhere.
While the carbon fiber elements of the body feel a bit cheap, in reality this is one of the best built frames on the market and very easy to operate thanks to its automatic take-off, landing, GPS-based return to home, and an exceptional well-built folding controller with a hinged phone grip, one that seems so much easier to operate, and so much more logical than DJI's recent models.
The only niggles are that the gimbal only works on two axes, relying on software to handle tight turns, which it does well, and for some reason Parrot charges extra for in-app features like tracking me modes that DJI comes with for free.
On the plus side, that gimbal can be swiveled all the way up for an unobstructed angle that most drones can't manage, and the system even features zoom, unheard of at this price.
Best Video Drone with Hand Gestures: DJI Spark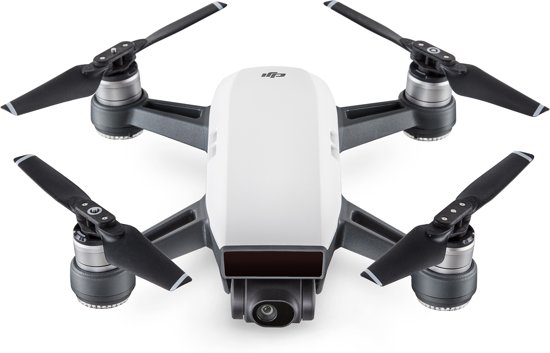 HD video recording selfie drone that you can control with hand gestures.
Weight: 300g | Dimensions (folded): 143 × 143 × 55 mm | Controller: optional | Video resolution: 1080p 30fps | Camera resolution: 12MP | Battery life: 16 minutes (mAh) | max. Range: 100m | Max range with controller: 2km / 1.2mi | max. Speed: 50km/h
Advantages
Fairly lives up to its portability promises
Gesture controls
Quickshot Modes
Cons
Flight time disappointing
Wi-Fi is very limited in range
no controller
In terms of value for money, the Spark is one of the best camera drones. Although it doesn't really fold, it does feel like a reassuringly sturdy chassis. But the propellers do, so it's not really that thick to carry around.
Videographers have to settle for "standard" High Definition – 1080p, which is certainly more than enough to share your experiences on YouTube and Instagram.
Not only is the quality exemplary, but the ability to track topics works well too.
Where the Spark really stood out (especially at launch when it was a real novelty) was the gesture recognition.
You can launch the drone from the palm of your hand and have a few predefined shots taken of you with simple gestures.
It's not perfect, but still surprisingly good.
You clearly get a lot of technology for your investment here and it's nice to know that you can buy a controller later if the range turns out to be insufficient.
For many it will indeed not be enough, but for a lot of people it will be and then you have a very affordable drone with a lot of value for money, which you can possibly expand later.
Best Video Drone for Kids: Ryze Tello
A great drone that proves with its small size that size isn't everything!
Weight: 80g | Dimensions: 98x93x41 diagonal mm | Controller: No | Video resolution: 720p | Camera resolution: 5MP | Battery life: 13 minutes (1100mAh) | max. Range: 100m | max. Speed: 29km/h
Advantages
Bargain price for the features
Fantastic indoors
Great way to learn programming
Cons
Depends on phone to capture recordings and therefore also captures interference
Rarely more range than 100 m
Can't move the camera
Well below the likely minimum registration weight, this microdrone proudly claims to be "powered by DJI." To make up for that, not only is it a bit pricey for its size, but it also has a host of software features and positioning sensors.
With surprisingly good image quality and direct-to-phone save, it can give your Instagram channel a new perspective.
The price has been kept low for the amount of features: there's no GPS, you have to charge the battery in the drone via USB and you fly with your phone (a charging station and add-on game controllers can be purchased from Ryze).
Images are stored directly on your camera phone, not on a memory card. The camera is only software stabilized, but the 720p video looks good despite that handicap.
If you want to look cool, you can launch it from your hand or even throw it in the air. Other modes allow you to record 360-degree videos and the software includes smart swipe-focused flips. Nerd pilots can also program it themselves.
Best Professional Drone with Camera: Yuneec Typhoon H Advance RTF
Six rotors and a generous package of extras, a capable camera drone.
Weight: 1995g | Dimensions: 520 × 310 mm | Controller: Yes | Video resolution: 4K @ 60 fps | Camera resolution: 20MP | Battery life: 28 minutes (5250 mAh) | max. Range: 1.6 km / 1mi) Max. Speed: 49 km/h / 30 mph
Advantages
6-rotor S
Intel-powered sensors
Lens hood, extra battery and other included extras
Cons
Control distance is limited
Handle grip not natural for some
A built-in battery monitor is missing
With a sensor of one inch, the Typhoon H Advance has a camera that can compete with the Phantom. Better yet, it's supported by a large and stable frame with six propellers, which can return even if an engine is lost.
The retractable support legs allow for 360 degrees of lens rotation, unlike the Phantom. Add to the great value features like Intel-powered collision avoidance and object tracking software (including Follow Me, Point of Interest, and Curve Cable Cam), the 7-inch display on the controller, and the extra battery that Yuneec bundles and it feels like a good deal.
The transmission distance isn't as far as you might expect and the build and especially the controller can be seen as a nice minus for a pro or RC enthusiast compared to the very customer-friendly approach of Parrot or DJI.
FAQ about drones for video recordings
Now that we've taken a look at my favorites, I'll answer some more frequently asked questions about camera drones.
Also read: this is how you edit your DJI video footage
Why a drone with a camera?
With the help of a camera, a drone can make beautiful video recordings from the air.
Drones are therefore increasingly used in numerous advertisements, corporate videos, promotional videos, internet videos and films. It is a fact that video is an effective way to reach a target audience and leave a lasting impression.
Drones offer a unique perspective to promote a company or project.
In addition to high-quality images, drones also guarantee recordings from the most beautiful angles.
Drone recordings are dynamic and the images you obtain with a drone cannot be made possible in any other way; a drone can reach places where a regular camera cannot.
The shots can portray subjects or situations in a spectacular way.
A video also just becomes a lot more interesting when you vary between regular camera images and drone shots. This way you can tell a story from different perspectives.
Drones are reliable and capable of producing the most beautiful 4K resolution videos.
Also Read: Edit Video on Mac | iMac, Macbook or iPad and which software?
Drone vs helicopter footage
But what about helicopter shots? That is also possible, but know that a drone is cheaper.
A drone can also reach places where a helicopter cannot reach. For example, it can fly through trees or through a large industrial hall.
A drone can also be used flexibly.
Can you mount a camera on a drone yourself?
There can be two reasons why you would want to mount a camera on your drone: because your drone does not (yet) have a camera, or because your drone camera is broken.
In the second case, it is of course a shame to purchase a whole new drone. That is why it is possible to buy separate cameras for your drone to replace the broken one.
In most cases, these separate cameras are also suitable for mounting a camera on a 'regular' drone.
Before you purchase a drone camera, it is wise to check first whether your drone supports a camera and secondly whether the camera you have in mind is suitable for your drone model.
What else can you use a drone for?
Besides for promotion and for advertising, there are a lot of other ways to use a drone. Here are some applications that you probably hadn't thought about!
For scientific research
Did you know that NASA has been using drones to survey the atmosphere for years?
In this way they try to learn more about winter storms, among other things.
Detecting fires
With drones, fires or dry areas can be detected relatively cheaply and quickly.
Queensland University in Australia has developed solar powered drones that can stay in the air for up to 24 hours!
Track down poachers
Instead of chasing poachers in a jeep or boat, one can now do so by means of a drone.
Whaling operators are already using drones.
Border Guard
With a drone you of course have a lot more overview than human border guards. Drones allow smugglers and illegal immigrants to be tracked down.
What about the legislation surrounding drones?
Drones are increasingly being discussed in the media. The law is changing. Deploying a drone is sometimes just not allowed (and is not possible).
In January 2021, the regulations for drones heavier than 250 grams were tightened. So there are more restrictions for flying these types of drones.
A good reason to choose a light weight (pocket) drone!
How do video drones work?
Drones use their rotors – which consist of a propeller attached to a motor – to hover, meaning the downward thrust of the drone is equal to the gravity acting against it.
They will move upward when pilots increase speed until the rotors produce an upward force greater than gravity.
A drone will descend when pilots do the opposite and decrease its speed.
Are drones worth buying?
If you're looking to enhance your photos and/or videos, find unique ways to simplify the way you do business, or just want a fun weekend project, a drone may be worth your time and money.
The decision to buy your own drone can sometimes be a challenge, especially if you're on a budget.
Can drones be dangerous?
Whatever the cause, a drone that crashes out of the sky and hits a human will deal damage — and the bigger the drone, the greater the damage.
Damage due to incorrect calculation can occur when the flight of a drone is more dangerous than expected.
Where are drones banned?
There are eight countries that have a complete ban on commercial use of drones, namely:
Argentina
Barbados
Cuba
India
Morocco
Saudi Arabia
Slovenia
Uzbekistan
Until recently, only commercial drones were banned in Belgium (use for scientific testing and recreation was allowed).
What are the main disadvantages of drones?
Drones have a short flight time. The drone is powered by high-quality lithium polymer batteries.
Drones are easily affected by the weather.
Wireless problems may arise.
Accurate control is difficult.
Conclusion
With a drone you can create fantastic images for advertising campaigns or just for personal projects.
Buying a drone is not something you just do, it can be very expensive. It is therefore important that you compare different models in advance and understand which is the right one for your situation.
I hope I have helped you with making a good choice with this article!
Once you have shot the images, you need a good video editing program. I've reviewed the 13 best video editing tools here for you.
Hi, I'm Kim, a mom and a stop-motion enthusiast with a background in media creation and web development. I've got a huge passion for drawing and animation, and now I'm diving headfirst into the stop-motion world. With my blog, I'm sharing my learnings with you guys.