Aiseesoft – Total Video Converter Review
I love creating free content full of tips for my readers, you. I don't accept paid sponsorships, my opinion is my own, but if you find my recommendations helpful and you end up buying something you like through one of my links, I could earn a commission at no extra cost to you.
"Do you also regularly edit video and audio?"
This is how you avoid your biggest frustration (fear?) during video and audio conversion.
Unusual "User-Friendly Software": Edit your audio and video in an instant and cherish that ultimate experience / memory in image and sound…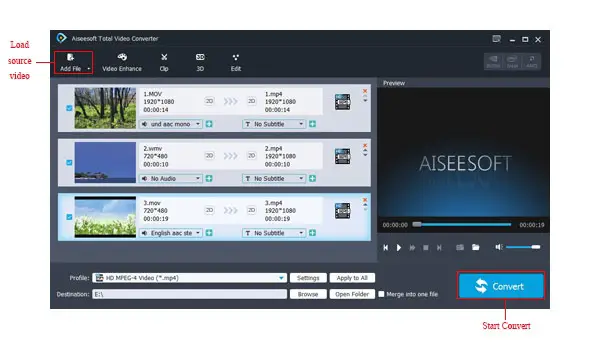 You too wanted to capture your ultimate holiday experience or other important moment. To film? Fine! But then you wanted to edit all the bits of video by turning them into a nice compilation…
Well, you'll never forget that moment. That was the moment when you had to leave your ultimate holiday experience, wedding or party behind for good…
The files that you had carefully saved for a long time can now go in the trash… The files are permanently damaged and unreadable…. HELP…!
Was it maybe because you wanted to "try" a program? Did you want to save money by doing it for free? Unfortunately, you will certainly be faced with surprises…
you will get problems with resizing video
audio out of sync
choppy images after converting
subtitles wrong
playback problems
Do I have to continue…?
You have come to this page for a reason. We reveal to you a method with which you don't screw up your ultimate experience on video…
Getting started with your own stop motion storyboards
Subscribe to our newsletter and get your free download with three storyboards. Get started with bringing your stories alive!
We'll only use your email address for our newsletter and respect your privacy
What are those memory images worth to you…?
The problem with many video editing programs is the result AFTER conversion and/or after editing. Have you ever really been able to enjoy all your videos and music files without limits?
Isn't it your worst nightmare that either your files are missing or the files are corrupted by converting or editing?
Nobody wants to edit their photos or videos at the risk of destroying the files so that you no longer have all your (emotional) memories and ultimate experiences on screen…
It is that emotional value that cannot be expressed in money.
Compare it to a burglary in your home. Especially the thought that a stranger has been in your house makes you sick… Let alone that your private laptop or other private property has been taken.
Maybe that necklace or bracelet that your deceased grandmother or grandfather gave you… You shouldn't think about it?! That thought alone makes you sick and nauseous… That never@!
No more problems with this software…
Using cheap and unsuitable software, one of my most important moments in my life has been lost…. That feeling is indescribable…
I felt a real emptiness for a while. I felt like I had failed… The files were corrupted after converting…
This should never happen to me again! This should not happen to you (anymore)!
Just think if one of your most important events is no longer captured… Maybe it's the recording of your wedding, your vacation or that ultimate experience with your first love…
These are invaluable (emotional) value!
Name any price and I'd say YES to get my images back…
The basis is good and reliable software…!
You just don't want to treat your most important moments and memories in an unprofessional way. You cannot afford to make mistakes. Know what you're doing!
Aiseesoft's Total Video Converter was THE solution for me. I have worked a lot with old programs. This has given me a lot of work, time and lost material.
While I'm someone who likes to stick with their old familiar software – afraid of the unknown – it's definitely worth trying at least for free.
The advantages of the Total Video Converter
for playback on any device

upscale your video resolution in one go
add one or more audio tracks as background music for your video
remove and/or adjust subtitles
convert between different video formats
convert to audio format
for Windows and MAC
convert to infinite formats
full video conversion and editing tool
all-in-one video assistant
It's that simple…
If you can create and send emails then you can also use this software….
This is how…:
Download and install Aiseesoft Total Video Converter on your computer step by step
In the main interface of the program, choose "ad file"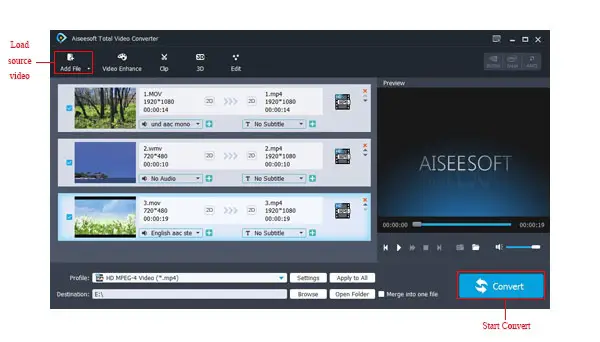 Voor meer effect klik dan op "Effect" en het programma opent de editinginterface. Pas videolengte, beeldverhouding, 3D-effect etc aan.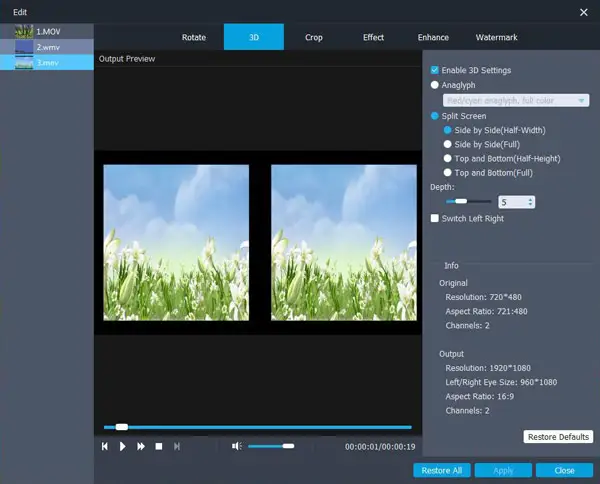 Klik op de kolom "Profile" en selecteer "target format".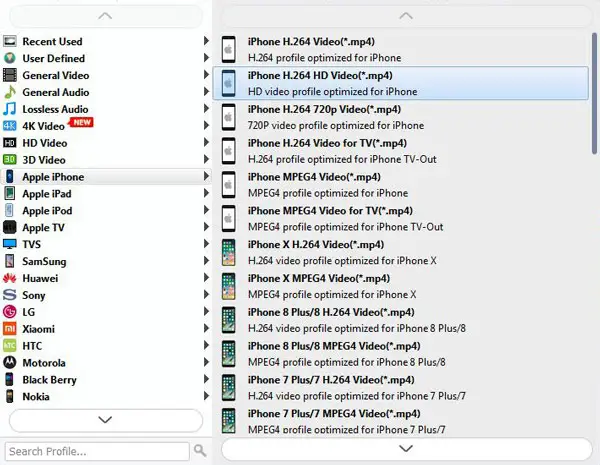 See the example in the main interface…
Is this too difficult for you or do you want to risk damaging your files?
These people did not want to take the risk and have chosen – wise as they are – for this software….
And you can't beat the price… You won't find so much quality and reliability for such a price… Yes, maybe a free tool… You know what risk you run with it… How much is it worth you?
This is exactly what you get…
The Total Video Converter is available for Windows users but also for MAC users.
Convert your 4K UHD/HD/SD video to any popular video format:
Convert your video to popular formats
Convert 4K and 1080p HD video
Edit your video effect and improve the quality
Fast video conversion speed
Prevent your computer from slowing down by editing programs
This powerful video converter software offers you ultra-fast conversion speed and preserves original quality. Make your videos better than ever with the "video improve quality function".
Convert to popular formats and make your video more colorful with the bonus features…
Do you never want editing or conversion problems again? What is your ultimate experience or memory on image worth to you?
Do you opt for quality and reliability or…?
You are about to convert or edit your most important memories or moments – your video / audio files.
Like other people you can take the path of least resistance… try something for free, try cheap software, don't go for quality and reliability….
OR….
Edit your video easily with this video converting and editing software…. For MAC and Windows! The all-in-one video assistant.
The easiest way will probably lead to the same (bad) results with which you already have enough experience. But if you want change to happen, you'll have to try something different.
Make another choice and decide and pursue what you really want… A BETTER RESULT….Click on the button below for the Aiseesoft Total Video Converter for Windows or Mac. and then download the software (free) to your computer.
This gives you a complete range of video conversion and editing tools that you can use immediately. You can enjoy unlimited video and music files on any device.
Check the Aiseesoft for Windows or Mac offer here
Hi, I'm Kim, a mom and a stop-motion enthusiast with a background in media creation and web development. I've got a huge passion for drawing and animation, and now I'm diving headfirst into the stop-motion world. With my blog, I'm sharing my learnings with you guys.