Best claymation starter kits | Get going with clay stop motion
I love creating free content full of tips for my readers, you. I don't accept paid sponsorships, my opinion is my own, but if you find my recommendations helpful and you end up buying something you like through one of my links, I could earn a commission at no extra cost to you.
Do you want to make a claymation stop motion animation with unique clay characters?
Well, the good news is that you can do it at home in no time if you get a stop motion movie kit or gather some necessary supplies and use your computer or phone.
If you're getting started with claymation you might be looking into complete stop motion animation kits.
You can opt for a complete set like the Zu3D Complete Stop Motion Animation Software Kit or get just some clay and a green screen. You'll need a camera and animation software, which you may already have.
So whether you're just starting out or looking to upgrade your current animation kit, there is something for everyone when it comes to claymation.
Buying guide for claymation starter kits
When looking for a claymation starter kit, you can either opt for a complete set like Zu3D or just get some clay and a green screen.
Chances are, you already have a good camera for stop motion and you can download free or paid animation software on your laptop, tablet, or smartphone.
When it comes to buying stop motion animation kits for claymation, all I can advise is that you look for as many necessary essentials in the kit as possible.
A good kit will include the things you need to make claymation stop motion movies using clay figurines, including:
modeling clay sculpting accessories (these are optional and you can just use objects you already have at home)
a green screen
armature (optional because you don't necessarily need an armature for claymation)
webcam
included animation handbook
software that is compatible with mac os or windows depending on your operating system
You don't really need much more and you can use your own HD camera if you have one.
Getting started with your own stop motion storyboards
Subscribe to our newsletter and get your free download with three storyboards. Get started with bringing your stories alive!
We'll only use your email address for our newsletter and respect your privacy
Older kids might be able to make their own mini-stage, assorted props, and a movie set for their stop motion animations.
Younger children will appreciate these complete claymation kits because they have all the necessities in one place and they can start making clay figures, shooting the frames, and editing right away.
It's also a cheaper option for parents to get a complete set.
Also read: Key techniques for stop motion character development
Best complete claymation starter kit: Zu3D Complete Stop Motion Animation Software
This claymation kit is compatible with all operating systems including Windows, Mac X OS, and iPad iOS.
Zu3D software is very user-friendly, even for beginners. This stop motion kit includes everything you need to get started.
There is modeling clay, a green screen, a webcam for taking the photos, a mini-set, a guiding handbook, and the software.
The software is easy to use and comes with a library of sound effects, music, artwork, and effects. Also, this lifetime software has 2 licenses so 2 people can use it.
This kit is marketed toward children because it's very easy to use but it's an excellent starter kit for adults too.
If you're looking for a comprehensive claymation starter kit, the Zu3D Complete Stop Motion Animation Software Kit is the best option.
It's easy to use and includes everything you need to get started making your own animated films.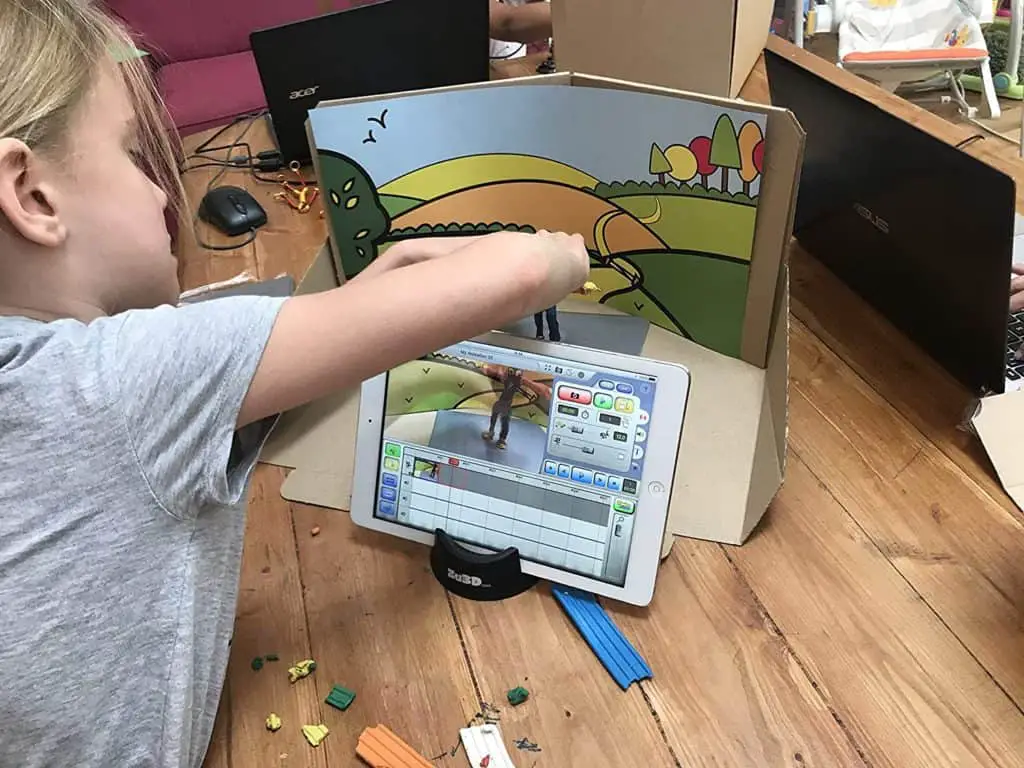 The software is user-friendly and has tons of features to help you create professional-looking animations.
The reason why this kit is so good is that the software gives you a lot of creative freedom.
With the software, you can playback the film and adjust the frame rate (speed) of the video or each clip to create special effects such as slow-motion or speedy action scenes.
Other effects like lasers or explosions can also be added.
Even kids can use the program to delete frames or scenes and re-shoot them. You simply copy and paste frames or groups of frames and you can even reverse sequences when required.
As for sounds, you can add music and sound effects. As well, you can add titles and text to the stop motion film.
Thus you can make a complete claymation film in no time.
Best claymation clay set for kids: Happy Makers Modeling Clay Kit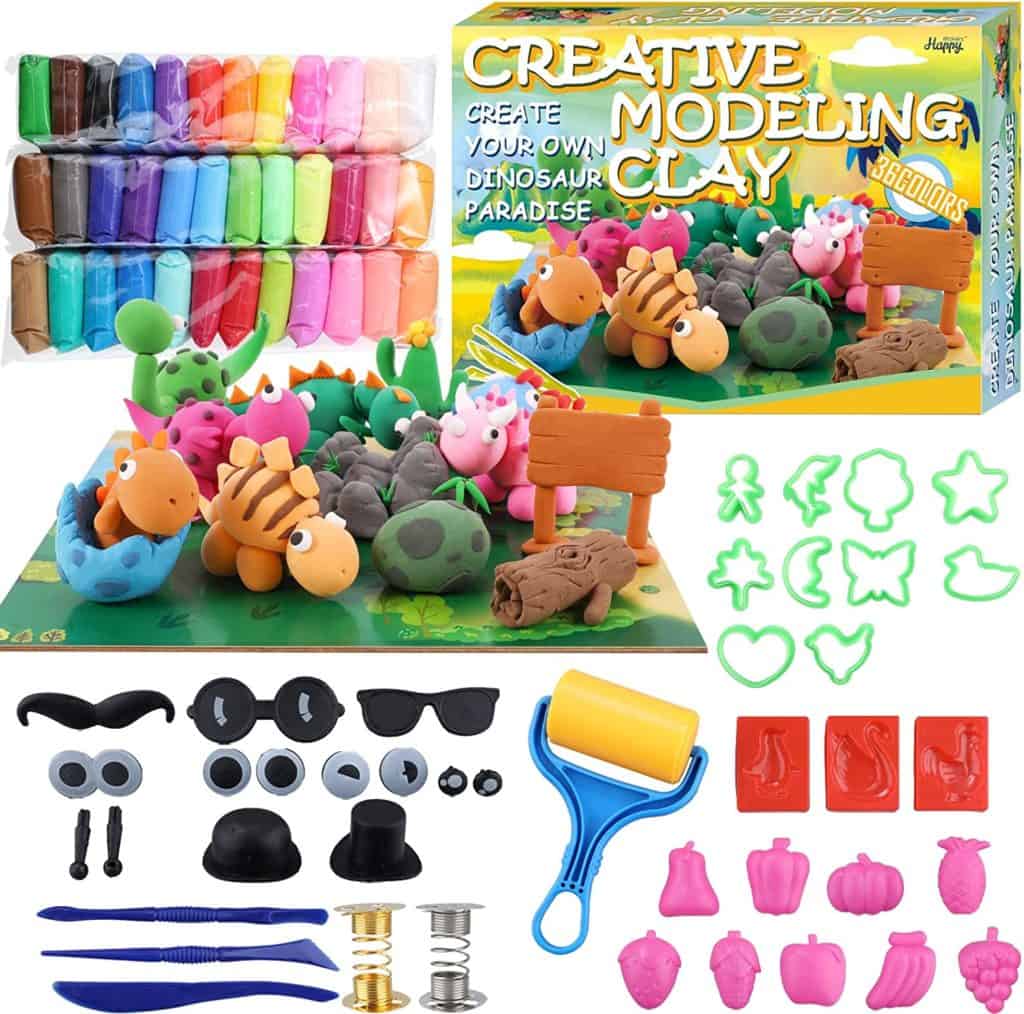 If you already have your own camera and laptop or phone, all you need is a green screen and some easy-to-use modeling clay for kids.
You can then just download a stop motion app to edit your animation.
This modeling clay set is one of the best for kids. It comes with 36 bright colors of soft, air-dry clay.
The clay doesn't need to be baked and it's non-toxic, so it's safe for kids to use. It takes about 24-36 hours for the modeling plasticine to dry completely.
The clay is easy to work with and can be used to make a variety of clay figurines. Once the clay is dry, it will be strong and won't break easily.
This set also comes with a few modeling tools to help with shaping the clay into different figures.
If you're looking for an affordable starter kit that's just modeling clay, this set is a great option and allows kids to make all kinds of different characters for their stop motion animation.
The recommended age for this claymation kit is between 3-12 and it's the best kit for young kids because the clay is soft and easy to mold and the colors are great for fun character design.
The small molds and sculpting tools are easy to use and you can avoid the painstaking process of having to gather all kinds of different accessories – here you have everything young animators need to make the clay puppets.
Best claymation clay set for adults: Arteza Polymer Clay Kit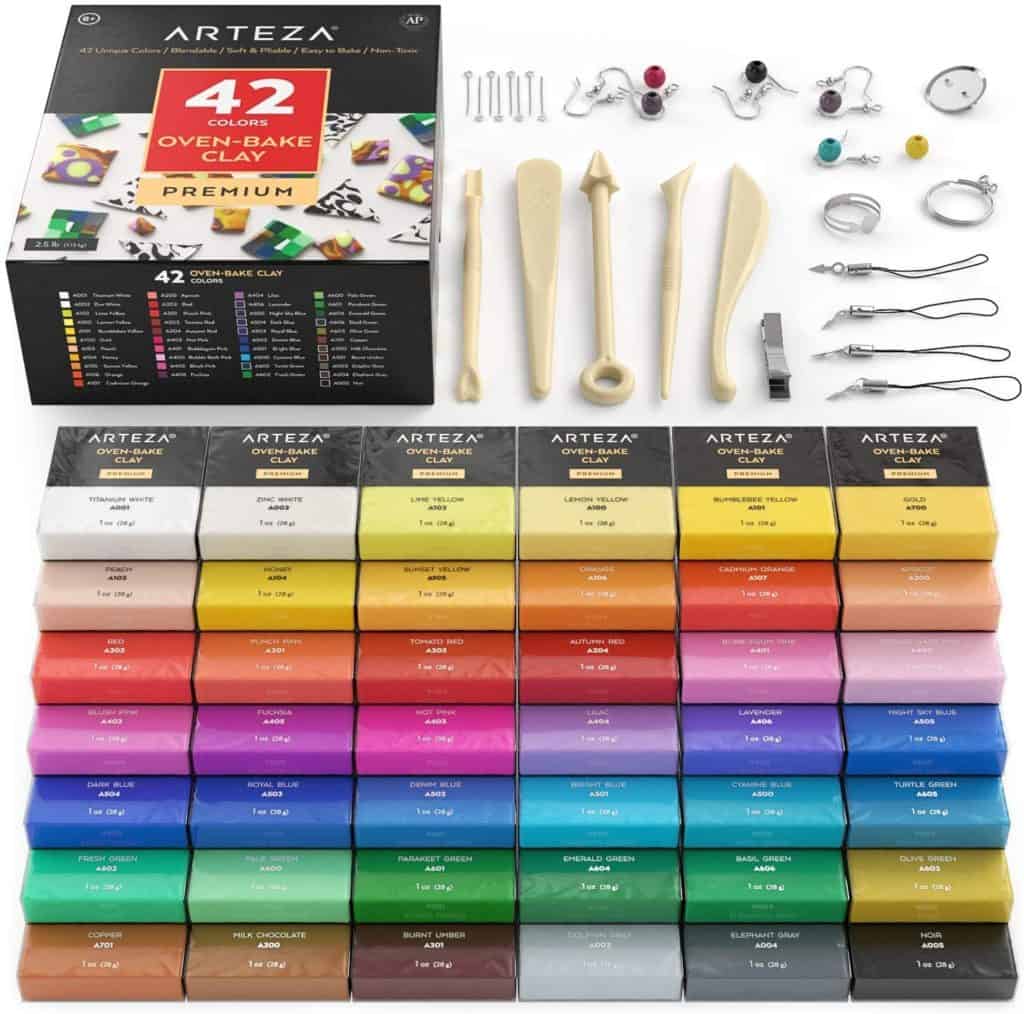 For serious claymation animators, oven-bake clay is the best choice for sturdy, long-lasting clay figures.
Arteza polymer clay kit is designed for adult use and the clay must be oven-baked after molding your figures.
This set comes with 42 colors of high-quality oven-bake clay that can be used to create many different types of figures and prototypes.
The modeling tools included in this kit are perfect for sculpting intricate details and shapes into your clay figures.
The measuring tool will help you make sure your models are the desired size. And, there is an instructional book to help you get started.
Whether you're making your first claymation or trying a new style, this set has everything you need to create professional-looking figures that will last for many years.
So if you're looking for the best claymation kit for adults, Arteza polymer clay set is the one to grab.
While this is not a complete animation kit, it has all the necessary materials and tools to make professional-looking claymation characters.
Again, I don't recommend this for younger kids because you need to bake the clay and it's not as soft to work with and mold as the kid-friendly modeling clay.
Arteza Polymer clay can be used on its own or on top of armature or flexible stand to create mobile characters.
Best claymation software kit for Windows: HUE Animation Studio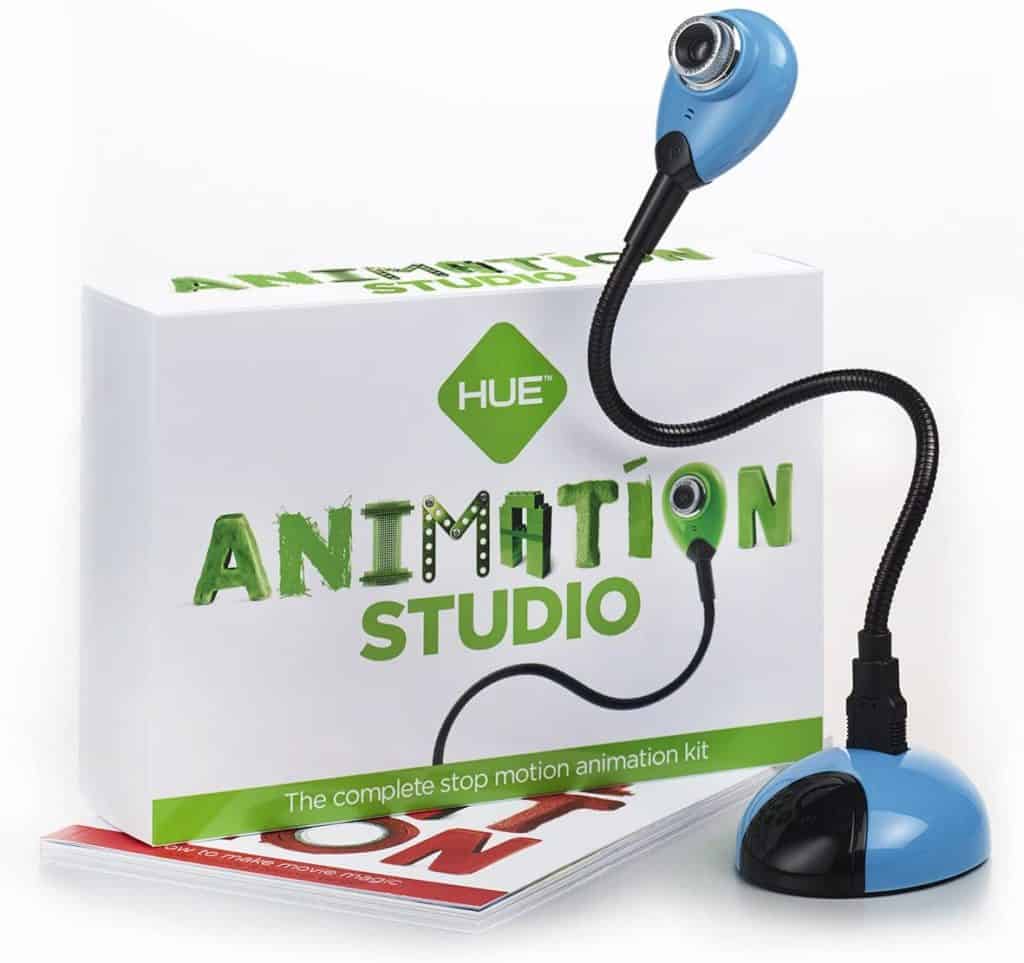 If you already have modeling clay and a green screen, you might want to grab a kit like the HUE animation studio which contains a camera, book, and the software you need for stop motion animation.
The one drawback of the Hue animation studio kit is that it's only compatible with Windows operating systems.
However, if you have that, you can use this software with the included camera or a separate camera to make claymation animations.
The kit includes a small web camera, a USB cable, and a booklet that shows you how to use the software for editing and making your claymation animation.
All you need is your own clay puppets which you can make if you have a modeling clay set like the one I reviewed earlier.
The book is a complete guide so this set is suitable for all ages, even complete beginners.
Some people prefer this kit over the stop motion animation kits like Zu3D because they either already have clay or they want to make traditional stop motion animation too, not just claymation.
It depends on what you want to use the kit for but if you just want to make claymation, I prefer the Zu3D or Arteza kits.
However, if you want this simple stop motion animation software, this is a good value purchase.
Takeaway
As you've probably realized, you have plenty of options to make claymation films.
The best claymation stop motion starter kit with all the things you need is the Zu3D because it provides modeling clay, a green screen, a webcam, and that very important software.
If you're looking for a more traditional stop motion animation set, go with the HUE Animation studio. This is a great choice too if you want to use your own clay because it comes with a camera and software.
The main takeaway is that you can make your own movie at home using basic clay characters and simple stop motion animation kits.
Next, learn about all the other types of stop motion animation (claymation is just one!)
Hi, I'm Kim, a mom and a stop-motion enthusiast with a background in media creation and web development. I've got a huge passion for drawing and animation, and now I'm diving headfirst into the stop-motion world. With my blog, I'm sharing my learnings with you guys.