Best claymation tools | What you need for claymation stop motion
I love creating free content full of tips for my readers, you. I don't accept paid sponsorships, my opinion is my own, but if you find my recommendations helpful and you end up buying something you like through one of my links, I could earn a commission at no extra cost to you.
If you're like most people, you might think of claymation as something that's only for kids.
But the truth is, claymation can be a lot of fun for adults too. In fact, it's a great way to express your creativity and have some fun.
Are you looking for the best claymation tools on the market?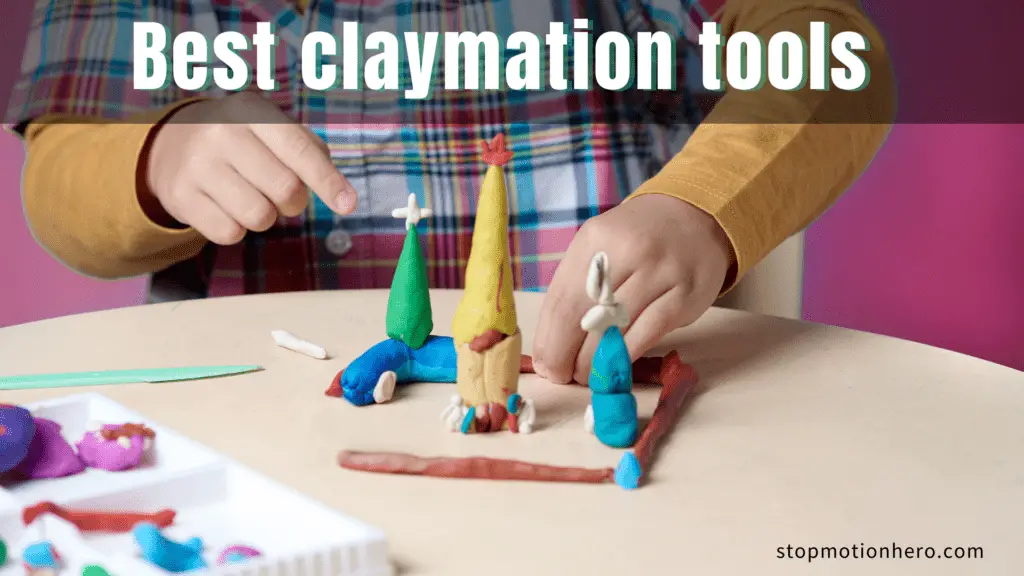 To make your own claymation, you need the basics first, which include malleable clay, a heat source, cutting tools, a camera, and animation software.
I'll also include all the extra things you might need.
First, let's take a look at the table of tools you need, then check the best buyer's guide for claymation tools.
I'll also compare the best overall products and the best budget-friendly options.
So whether you're looking to invest in a high-quality tool or are on a tight budget, we have you covered.
What supplies do you need for claymation?
Claymation is a type of stop-motion animation that uses modeling clay or plasticine to create characters and scenes.
It is a popular technique for creating TV commercials, movies, and music videos.
Getting started with your own stop motion storyboards
Subscribe to our newsletter and get your free download with three storyboards. Get started with bringing your stories alive!
We'll only use your email address for our newsletter and respect your privacy
However, many amateur animators aren't sure how to start making animations with clay at home.
Claymation is created by taking photographs of clay figures or objects that have been slightly altered between each frame.
When these images are played in sequence, it creates the illusion of movement.
Claymation is often used to create funny or cute characters and scenes. It can be a fun way to tell stories and express your creativity.
Therefore, you need a set, props, clay characters, a camera, and then software to make claymation from start to finish.
In order to get started with claymation, you will need some basic supplies.
You will need a modeling clay or plasticine, a cutting tool, and something to draw your animation on (like paper or a computer).
You can also use accessories like fake hair, clothes, and props to add realism to your scenes.
If you want to create stop-motion animation, you will also need a camera and software to string your images together.
You see, making a claymation stop motion is about more than just coming up with a story.
Let's look at all the things you need – I'm also sharing my top pick in each product category so you can skip the research, go straight to shopping and then start producing your original claymation.
Best clay for claymation stop motion
You might first be asking, "what's the best clay for claymation stop motion animation?"
There is no one-size-fits-all answer to this question, as each animator has their own preferences for clay. However, we recommend using soft clay that is easy to work with.
I've selected four options for you to consider.
Oven-bake clay: Staedtler FIMO Soft Polymer Clay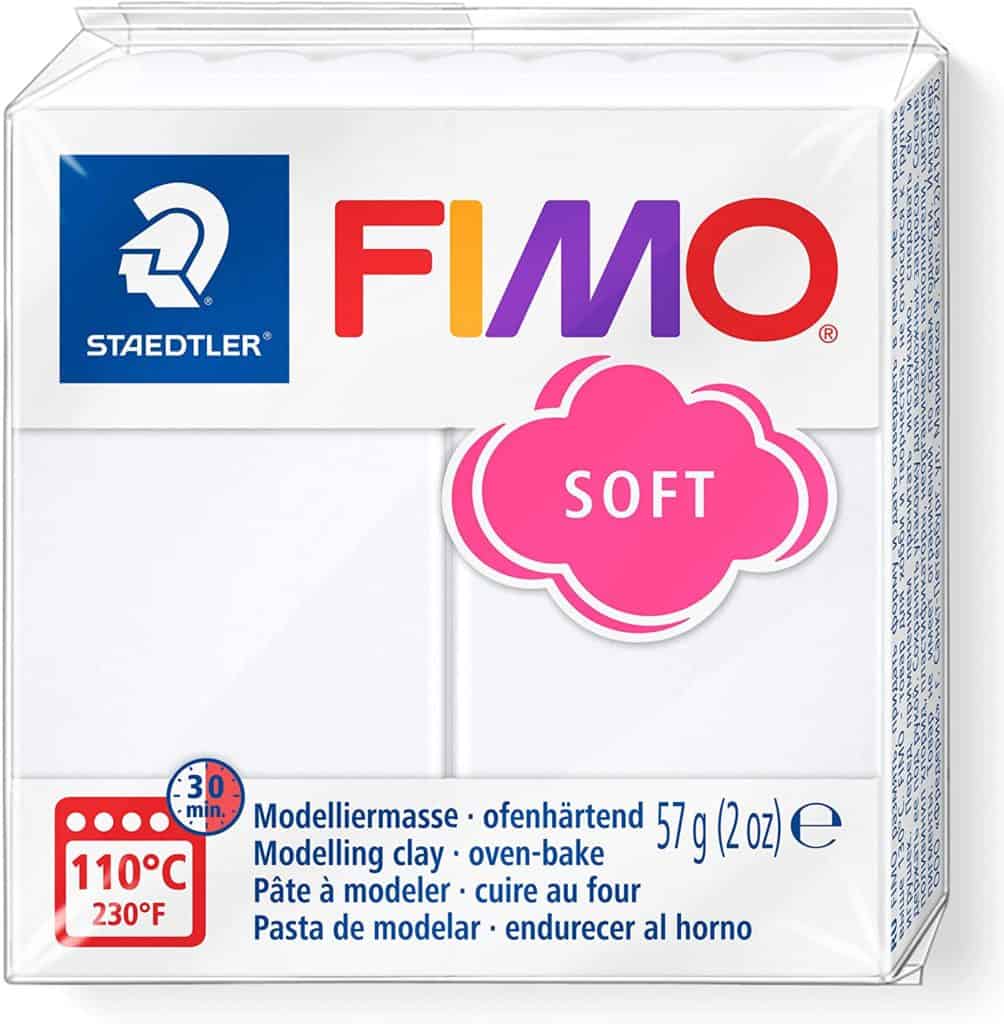 If you are looking for a harder clay that is more durable, we recommend using Fimo Clay.
This clay is a little more difficult to work with, but it is very durable and will last for a long time. It needs baking though.
The plasticine and air-dry modeling clay like Van Aken are easiest to work with and require no baking at all.
Fimo Clay is probably the best oven-bake clay for claymation. It comes in a wide variety of colors, so you can find the perfect shade for your project. It is also durable, so it will hold up well to repeated use.
However, this clay isn't as soft and malleable as the plasticine or Van Aken Claytoon. Fimo clay must be oven-baked so it takes longer to make your figurines for stop motion.
But don't worry, it doesn't take long to bake this clay: bake at 230F (110C) for 30 minutes. After that, your figurines will last for a really long time compared to basic no-bake plasticine.
I prefer this Fimo soft clay over the regular because it is a tad softer so it's easier to mold your puppets. Also, it's easier to sculpt the faces and other fine details.
This clay has a smooth texture and it's still firmer than brands like Sculpey III but not nearly as hard to sculpt as Kato.
Non-hardening modeling clay: Van Aken Claytoon Oil Based Modeling Clay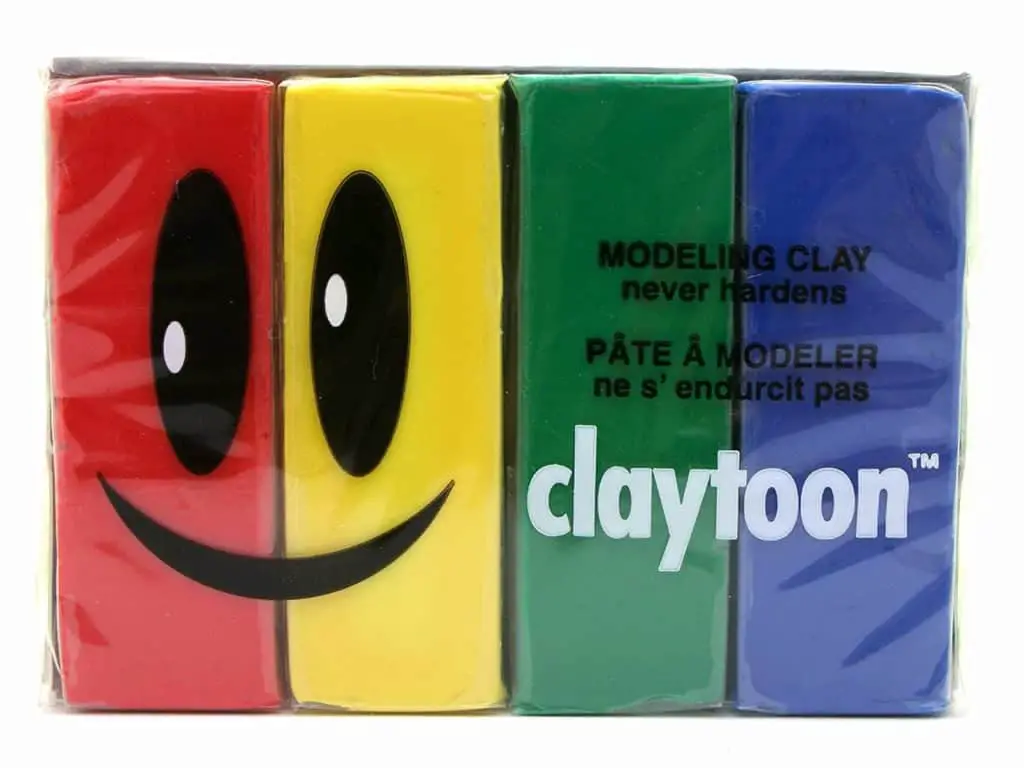 Unless you want to make a professional type of animation, you can use air-dry modeling clay.
This doesn't need to be baked in the oven so it's easy and quick to use for kids and adults alike.
If you're looking for versatile, non-hardening modeling clay, look no further than the Claytoon. It comes in various colors and is easy to work with since it dries down on its own.
This clay is perfect for a variety of applications, from sculpture to animation. It's easy to use and can be blended or textured to create unique effects.
Even professional stop motion animation studios use the Van Aken clay for their stop motion puppets because it's an award-winning product.
The clay is actually plasticine so it doesn't require baking and is easier to work with. It warms up quickly and is extremely malleable when rolled out.
After each photo, you can reshape the clay in a different way.
My main criticism is that it gets a bit too soft, especially if you mold it for too long.
Also, it can transfer some of the artificial colorings so you might notice your hands turn colored – I recommend using gloves to prevent this.
However, compared to kids' plasticine this has a better, more malleable texture.
You can combine the Claytoon with Super Sculpey, a plain white variety, or flesh-colored.
This mixture not only improves the consistency but the clay becomes firmer so it's better able to withstand repeated handling as a result of this.
This clay is also good because the colors blend well if you want them to. Also, it holds its shape when you mount it onto your armature.
Plasticine clay set for kids: Jovi Plastilina Reusable and Non-Drying Modeling Clay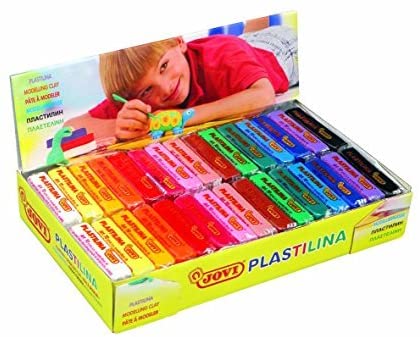 Kids love to use a variety of colored plasticine because it makes the clay puppet building process more fun.
This modeling clay doesn't need to be air-dried and is perfect for children. It's non-toxic, soft, and easy to work with.
The Jovi Plastilina clay is a great starter set for kids who want to get into the world of stop motion animation or sculpting.
It has enough colors to encourage creativity but it's very easy to shape so the kids don't get frustrated.
Also, this modeling clay is made of mostly vegetable-based ingredients and it has more volume than standard mineral-based clays.
Therefore, the sculpted characters won't turn flat while you're taking the photos.
Check out this funky dinosaur made with Jovi clay:
Although I recommend this product for kids of all ages, adult animators love it too!
Many clay stop motion animators use this clay because you can make incredible fine details in the plasticine.
Another added bonus is that these colors don't bleed into each other at all – and that's rare!
This big box of modeling clay is going to last for a long time because it doesn't dry out for at least one year.
And, considering it's budget-friendly it's great for larger stop motion animation classes too.
Modeling clay kit for kids: ESSENSON Magic Clay with Tools and Accessories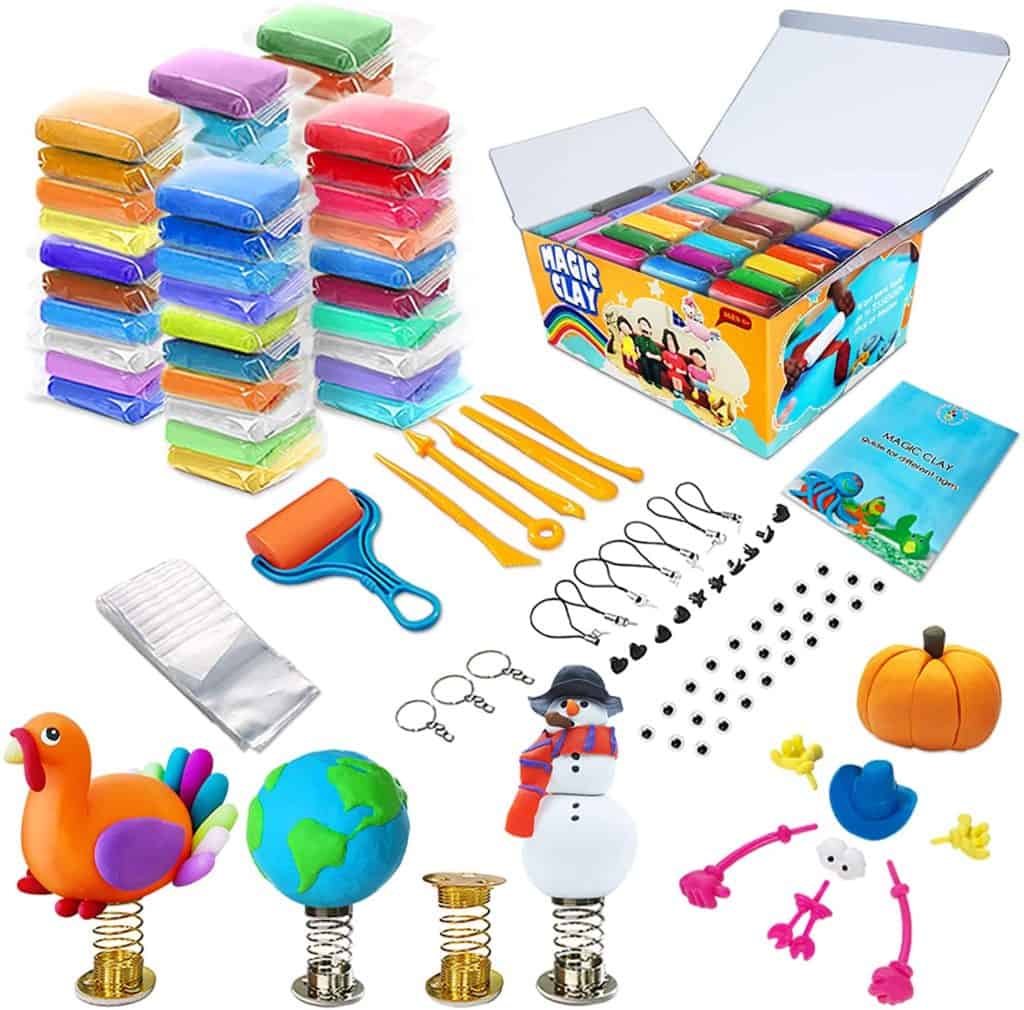 Is your kid creative and always looking for new ways to express themselves?
If so, then they will love the Magic Clay Modeling Clay Kit. It contains air-dry plasticine so you don't need to bake the figurines they make.
This clay set comes with everything they need to create their own unique sculptures, including 12 colors of clay, 4 modeling tools, and a storage case.
The clay is also non-toxic, making it safe for kids to use.
Also, the tools are quite small, so they're ideal for kids' tiny hands. Adults can use this set too but it's not a professional kit.
Parents prefer this set over Play-doh because it doesn't crumble and doesn't stick to other objects.
Also, the plasticine doesn't smell bad or like chemicals, instead, it has kind of a fruity scent.
Just know that this type of modeling clay dries out pretty quickly – it won't last long like the Jovi.
The kit includes small decorative pieces for eyes, noses, mouths so the characters are ready for the spotlight.
After shooting certain frames, the puppets can be re-modeled and the accessories are switchable for the next shots.
Find more great clays for claymation reviewed here (including the best choice for professionals)
Other tools you need for claymation
Next to clay, you need other items to shoot a complete claymation film. Let's go through them all.
Rolling pin: The Acrylic Round Tube Roller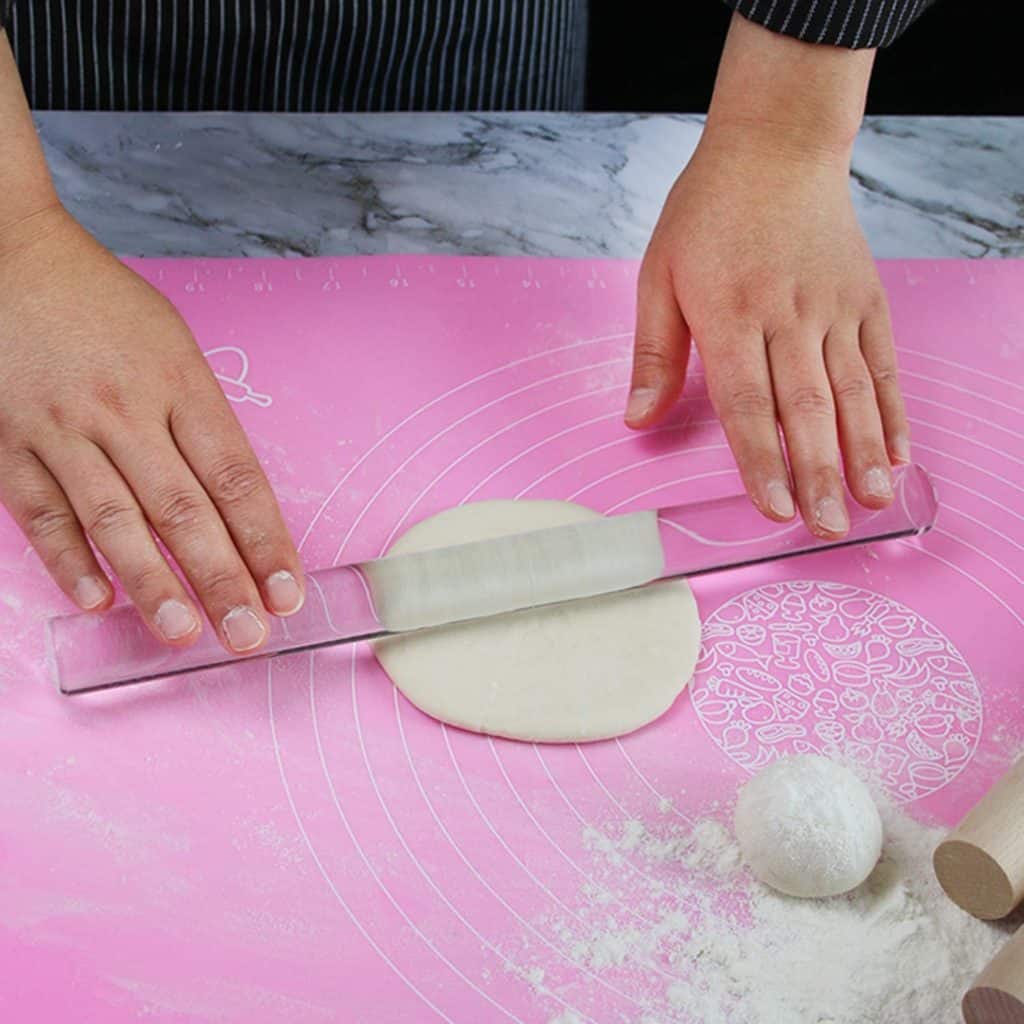 This is used to roll out the clay into a flat sheet. It can be useful for making large or thin pieces of clay.
The Acrylic Round Tube Roller is a cylindrical plastic rolling pin that helps you roll out sheets of modeling clay.
Therefore, you can easily roll out shapes or flatten the clay and since the rolling pin is made of acrylic, the clay doesn't stick to it.
Clay extruder: Miniature Alloy Rotary Clay Extruder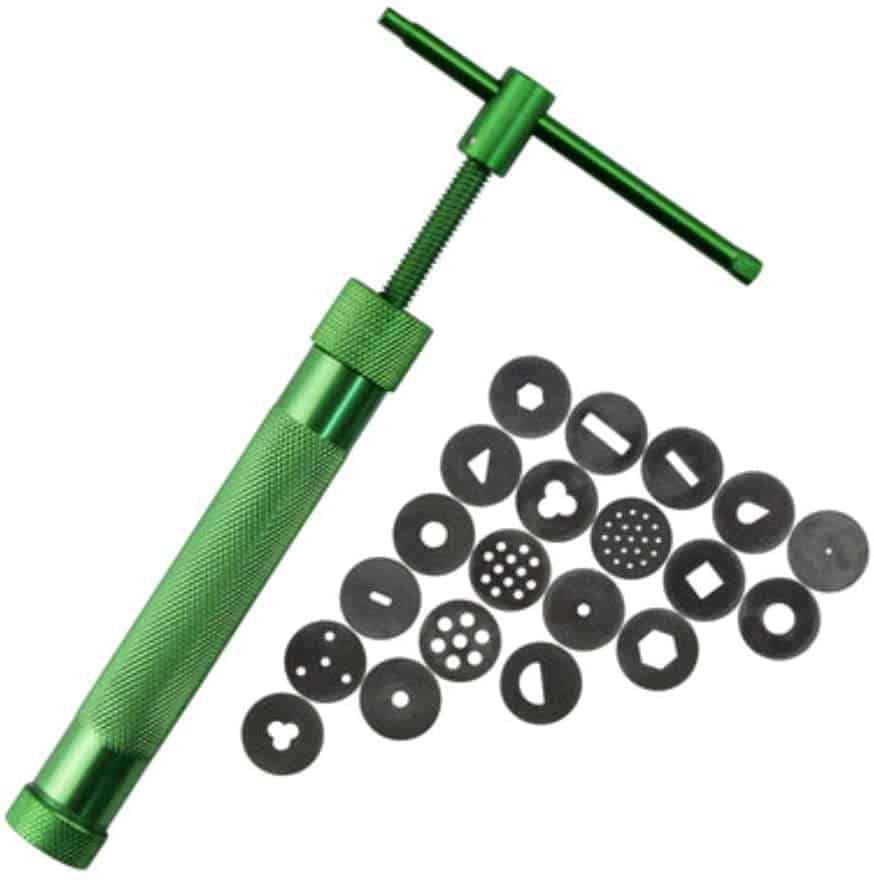 This is used to create long and thin pieces of clay. This can be useful for making things like arms, legs, snakes, or noodles.
The Clay Extruder is a handheld tool that helps you extrude clay into various shapes. You can use it to create strings of clay, coils, or any other design you can think of.
Sculpting knife & tools: Tegg Clay Sculpting tools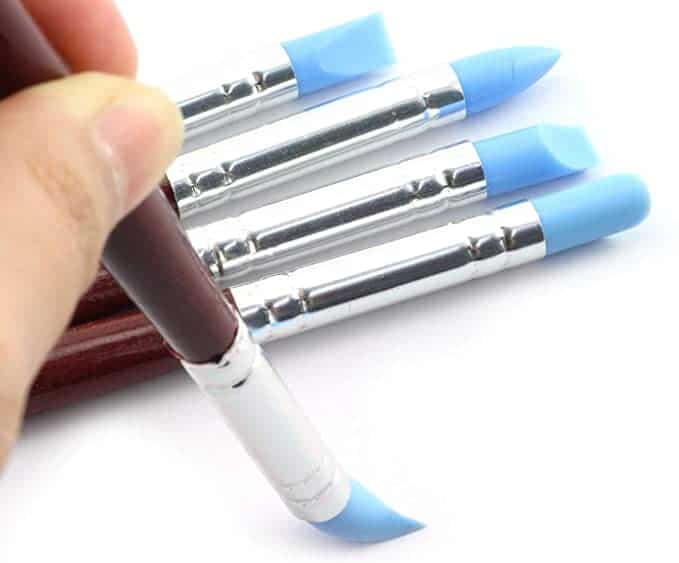 A clay sculpting tool is a must-have. It helps you carve out detail and achieve the desired results.
The Tegg Clay Sculpting tools look like small paintbrushes but they have silicone rubber tips. This makes it easy to sculpt your figurines because it allows for accuracy.
Clay cutting tools: BCP Set of 2 Wooden Handle Craft Art Tools set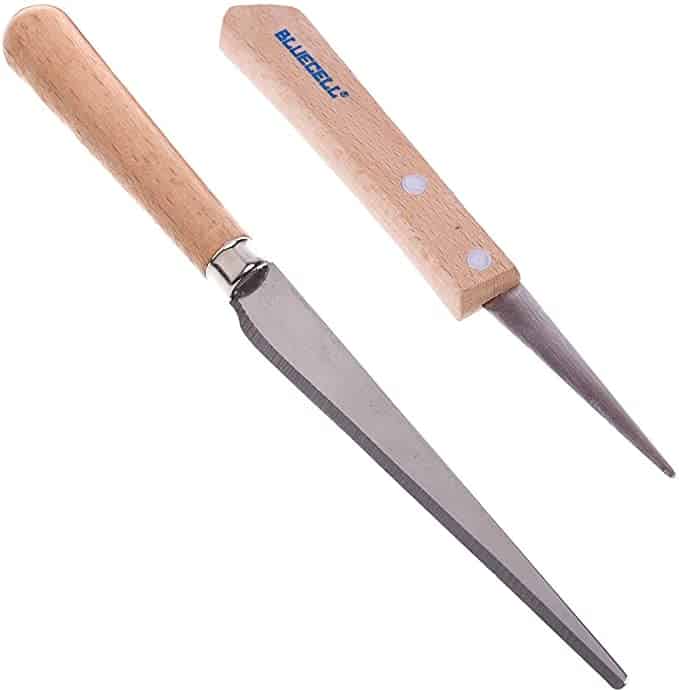 These are used to cut the clay into desired shapes and sizes. A sharp, precise knife is ideal for this purpose.
The BCP Set of 2 Wooden Handle Craft Art Tools contains 2 knives with a sharp pointy end but they each have a blade width.
They are not as sharp as professional tools, but for claymation, they do the job well.
Brayer: ZRM&E acrylic brayer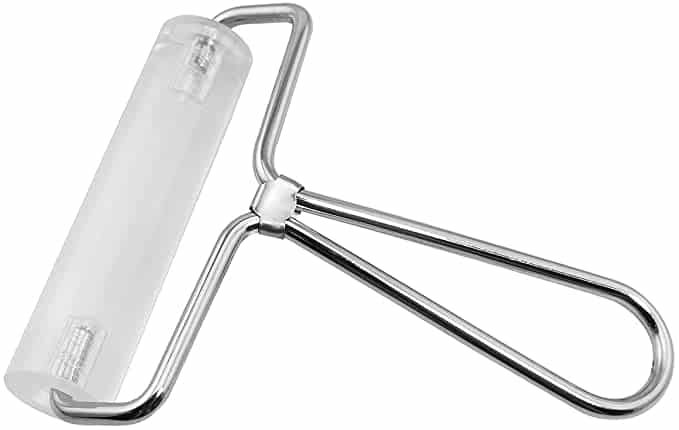 A brayer is a cylindrical tool that is used to evenly press down the clay and remove any air bubbles. This is especially helpful when you're working with a thin sheet of clay.
Grab the ZRM&E acrylic brayer which has a sturdy stainless steel handle.
Clay tool kit for shaping and sculpting puppets: Outus 10 Pieces Plastic Clay Tools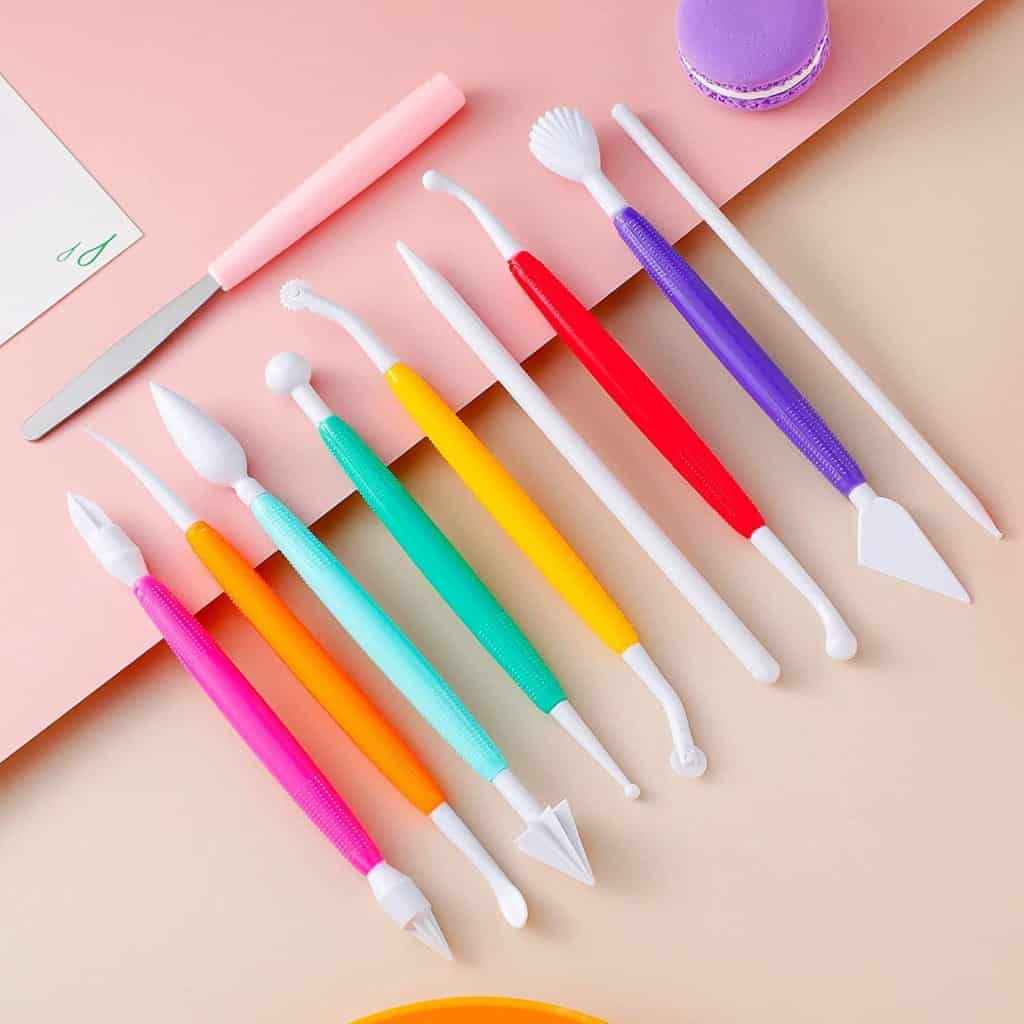 This complete set is excellent if you want to get serious about claymation. You have all of the shaping and carving tools you need.
All of the tools are double-ended with plastic tips of various sizes and shapes. The reason you need a complete set like this is if you need to make lots of puppets with a lot of details.
You can use these plastic tools with polymer clay, other modeling clay, and plasticine.
Armature wire: 16 AWG copper ground wire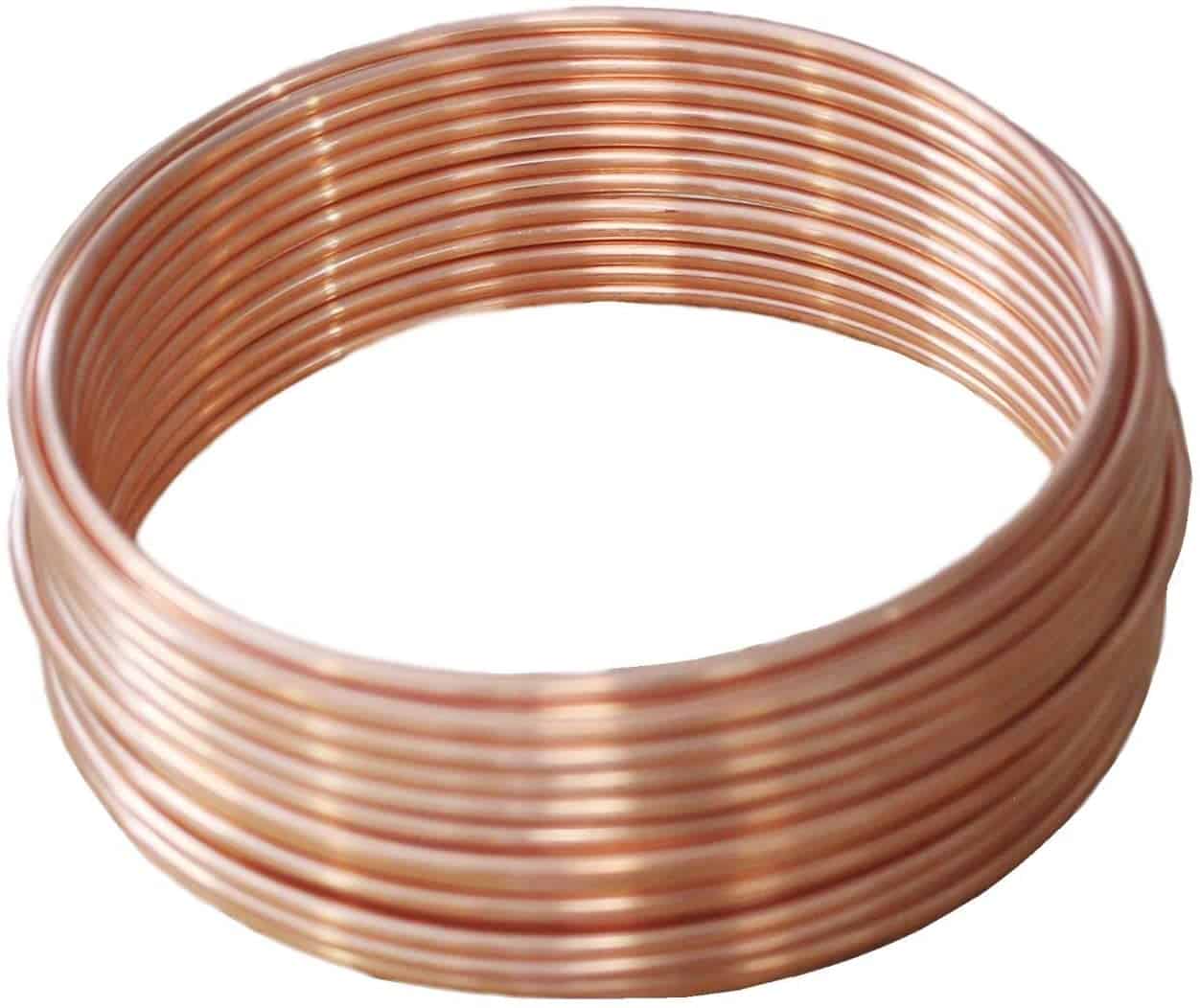 This is a metal frame that goes inside the clay to make it positionable. Without an armature, your clay figures won't hold their shape and may fall apart.
There are a few different types of armatures available. The stop motion wire armature is the most popular and is made from twisted wire.
It's easy to bend and can be used for a variety of projects.
I recommend the 16 AWG copper ground wire because it's highly malleable and perfect if you want to make stronger armatures.
You can twist multiple copper wire strands together to make the core and then use one strand for finer details like fingers, toes, etc.
Once you have created your character, you can use a special stop motion rig arm to keep it in place when shooting your images.
Set & backdrop: Green Screen MOHOO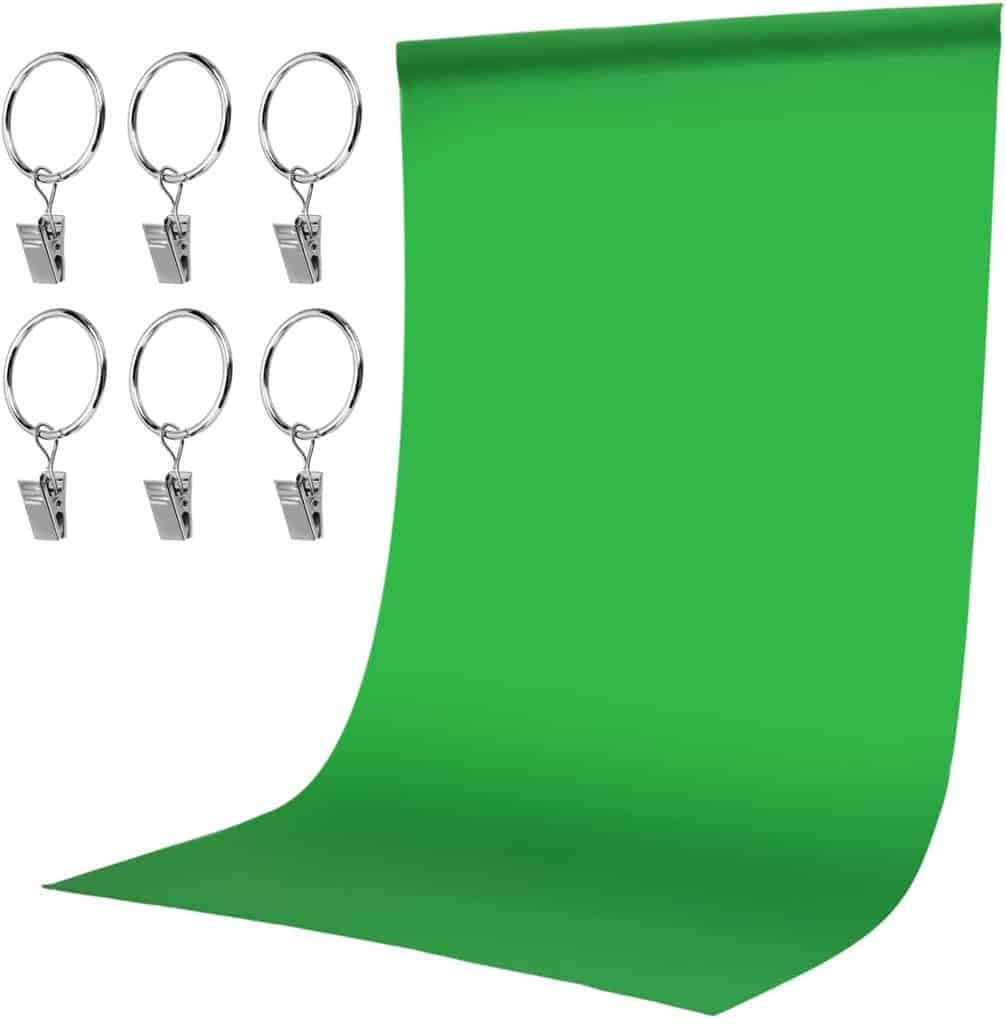 No animation is complete without a "set". Now, you can keep things simple and just use some white sheets or white paper.
For basic claymation, you can even use a cardboard background.
However, if you want something nice, use a green screen backdrop like the Green Screen MOHOO 5×7 ft Green Backdrop. This will give your animation a more professional look.
This backdrop is wrinkle-free and adjustable so you can just set it up and start creating your set.
Webcam: Logitech C920x HD Pro
Using a webcam, you can take pictures of your armatures and create stop-motion videos.
The Logitech HD Pro C920 is the best value webcam for stop motion because it has a still photo feature that allows you to take continuous shots for the animation.
You can, of course, record 1080p video at 30 frames per second too but the image quality is excellent for claymation.
These low-cost webcams are ideal for those just starting out in the animation industry, as well as for children who want to learn how to make their own short animated films.
For its small size and low price, this webcam has a remarkable amount of resolution. The level of detail you'll need for stop-motion content can be obtained by using this.
It also has the benefit of being computer software controllable.
This means that you'll be able to take photos without having to touch the camera at all. Stop motion animation relies heavily on this concept.
You might have to retouch the clay figures so you want to be able to be away from the camera and control it remotely.
While this webcam has autofocus, you may want to disable it if you're going to be shooting stop motion video, or else the image can be distorted.
This webcam stands out because it's simple to set up and control from your computer screen.
With the included mount, you can attach the webcam to a tripod, a stand, or just about any other surface.
There are some hinges that appear to be sturdy and can be adjusted in a matter of seconds. The camera's image quality is also improved because the camera's mount is shake-free.
In low-light situations, it can boost the brightness and sharpness of your images.
Because Logitech webcams work with both Mac and Windows computers, laptops, and tablets, you don't have to worry about compatibility issues.
It used to be that Logitech webcams had a Zeiss lens, one of the best lenses in the world, but this one doesn't.
Even after all these years, the quality of their lenses is still superior to that of any built-in camera on a laptop.
Camera: Canon EOS Rebel T7 DSLR Camera
A good digital camera for stop motion is one that can shoot at a high frame rate.
This is because you will need to take a lot of pictures to create your animation. A DSLR camera is a good option because it gives you the ability to change lenses.
This means that you can get a close-up shot or a wide-angle shot, depending on what you need. You should also make sure that the camera has a good autofocus system.
This is important because you don't want the clay to be out of focus when you take the picture.
The Canon EOS Rebel T7 DSLR Camera is a great option for those who are looking for a high-quality camera. It has a 24.1-megapixel sensor and can shoot at 3 frames per second.
It also has an advanced autofocus system that will make sure that your clay is in focus when you take the picture.
The camera also comes with a kit lens that has a wide focal range. This means that you can get close-up shots or wide-angle shots, depending on what you need.
The camera also has a built-in flash that will help you take pictures in low-light situations.
If you are looking for a good digital camera for claymation, the Canon EOS Rebel T7 DSLR Camera is a great option to consider.
Tripod: Magnus VT-4000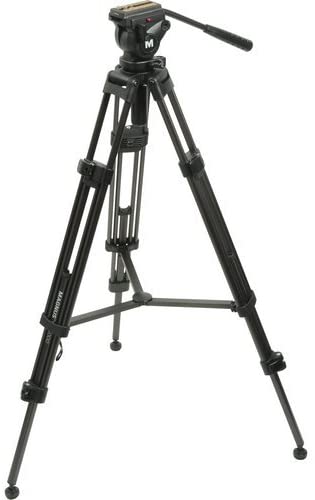 To make crystal-clear id="urn:enhancement-1ad6f43e-2ace-433c-ae50-ab87a071bd4e" class="textannotation disambiguated wl-thing">claymation films, you need a sturdy stop motion tripod that keeps your camera stable.
Since a DSLR camera is quite heavy, it can topple over without a good tripod. The Magnus VT-4000 is one of the best on the market.
It can hold up to 33 pounds, which is more than enough for a DSLR camera and lens.
The tripod also has a quick-release plate that makes it easy to attach and detach your camera.
This is important because you'll want to be able to quickly change cameras if you are shooting a scene with multiple characters.
The tripod also has a bubble level that will help you keep your shots straight.
This is important when you are shooting stop motion video because even the slightest tilt can cause your video to be off-balance.
The Magnus VT-4000 Video Tripod is a great option for those who are looking for a sturdy tripod that can hold a lot of weight.
Lighting: EMART 60 LED Continuous Portable Photography Lighting Kit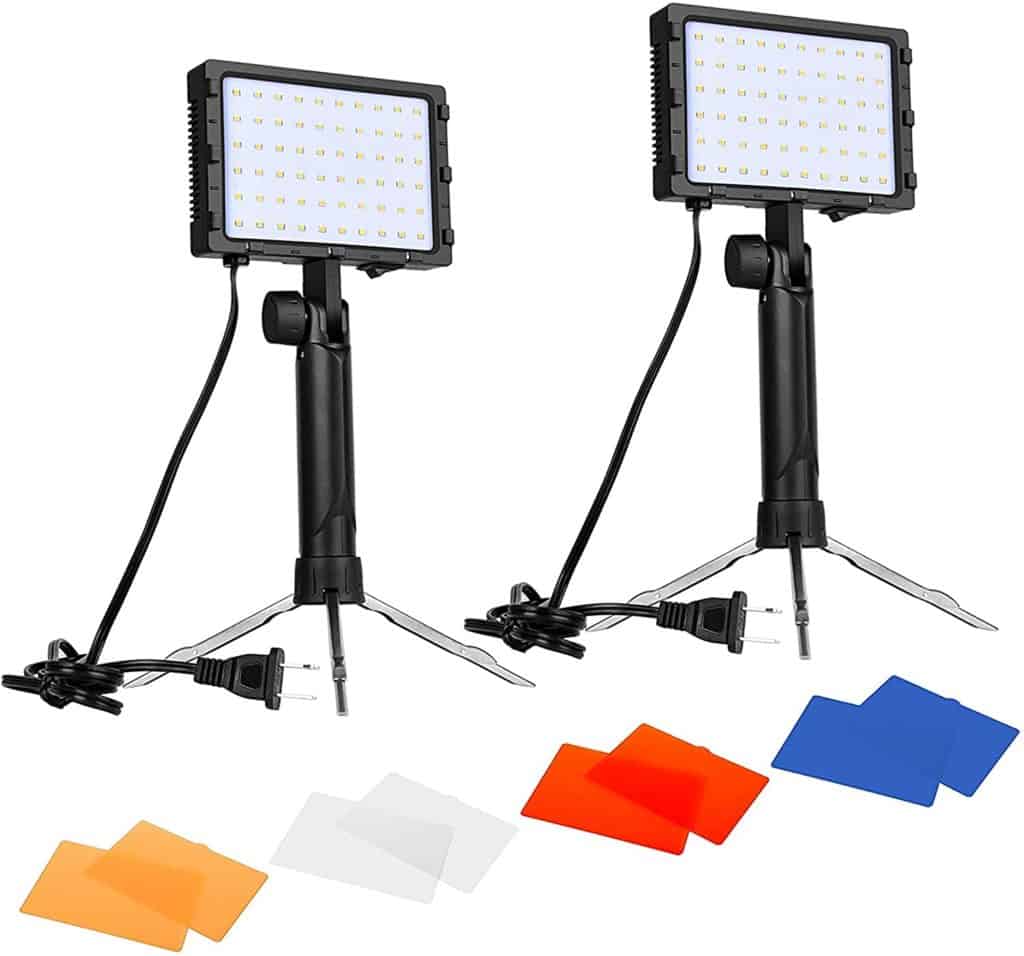 Smaller LED lights are perfect for filming your claymation. These provide bright light so your film set and characters are fully visible in fine detail.
This particular kit comes with two lights, each with 60 LEDs, which can be adjusted to provide cool or warm lighting.
The stand is also adjustable, so you can get the perfect angle for your scene.
You can plug in the lights or connect them via a USB cable.
You also get color filters so you can shoot photos with different colors – that sounds like something cool for your animation right?
Computer: Microsoft Surface Laptop 4 13.5" Touch-Screen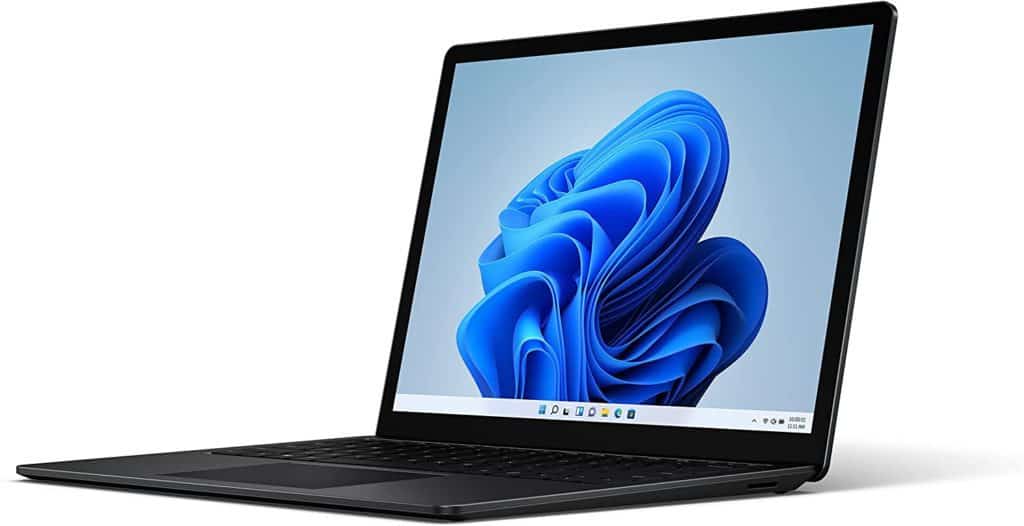 Another tool you need is a computer. You will need to import your footage into video editing software (great choices reviewed here) and make any changes you want.
We recommend getting a computer that has a lot of storage space and a fast processor. This way, you won't have any problems when editing your videos.
Although you can use apps and smartphones or tablets, using a dedicated laptop for video editing or desktop computer is easier.
A laptop like the Microsoft Surface Laptop 4 13.5" Touch-Screen has a very speedy 11th generation Intel core processor and excellent image quality.
It's also a touchscreen computer which makes it easier to use animation software.
Software for claymation: Stop Motion Studio

Now that you have all of the necessary tools, you need software to help you create your claymation masterpiece. The best software for this is Stop Motion Studio.
This software is available for both Windows and Mac computers and is very easy to use. It comes with a variety of features that will help you make great videos, including:
An easy to use timeline editor
A library of animated props and characters
A green screen feature to help you composite your scenes
Automatic video stabilization
You can draw and paint right on your tablet
Stop Motion Studio is the perfect software for those who want to easily create stop motion videos.
The great thing about this software is that you can use your digital camera, smartphone, webcam, DSLR to shoot the images.
Then the software will allow you to edit everything from any device, and it's as easy as editing on a desktop.
Find more info about Stop Motion Studio here
Also read: What Cameras Work with Stop Motion Studio?
Is it hard to make a claymation video?
Making claymation is harder than other types of stop motion.
Arguably, claymation is the hardest type of animation because the animator must have an incredible amount of patience. Also, immense attention to detail and extreme precision are required.
Every movement of the clay figure has to be photographed many times and then stitched together. This art form is very time-consuming.
But don't let that put you off! Simply start with the basics and work from there:
Conclusion
As you can see, there are a lot of different tools that you can use for claymation. It is important to choose the right tools for your needs, and we hope this article has helped you do that.
While it seems like you need a lot of specialty tools for claymation, you might have most things (like the camera) from other stop motion animation projects.
But, you'll definitely have to get modeling clay, some basic modeling tools, and the software if you don't own it.
Now that you know what tools you need, you are ready to start creating your own clay animation movies. Just remember to have fun and be creative!
Read next: How to do stop motion for beginners
Hi, I'm Kim, a mom and a stop-motion enthusiast with a background in media creation and web development. I've got a huge passion for drawing and animation, and now I'm diving headfirst into the stop-motion world. With my blog, I'm sharing my learnings with you guys.