Best camera for stop motion animation | Top 7 for amazing shots
I love creating free content full of tips for my readers, you. I don't accept paid sponsorships, my opinion is my own, but if you find my recommendations helpful and you end up buying something you like through one of my links, I could earn a commission at no extra cost to you.
A stop motion camera captures the still images that will be utilized to produce the stop motion video.
In simple terms, a stop motion video is created by taking a still image, moving the characters slightly into a new location, and then taking another still image.
This gets repeated thousands of times and that's why you need a good camera that makes it easy to shoot high-quality images.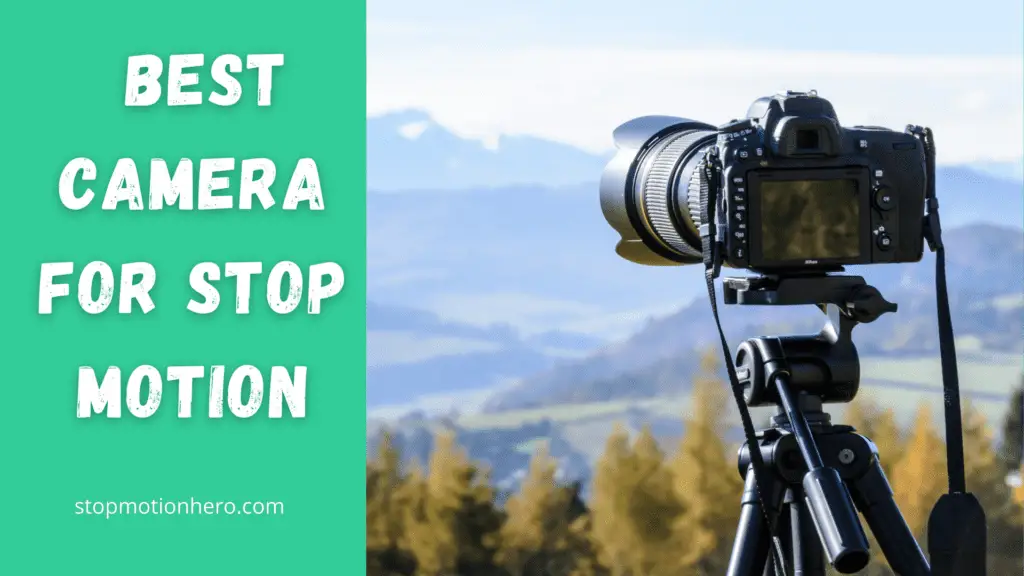 Characters, lights, and the camera are all part of a stop motion video set. There are many cameras to pick from, so where do you start?
This guide walks you through how to choose a camera for stop motion and reviews the best devices in each category.
The cameras in this review will be discussed in detail and I'll explain why a camera would be ideal for use in various kinds of settings.
Buyer's guide: how to choose a camera for stop motion?
Buying a camera for stop motion animation is tricky because there are so many options for every budget.
The camera you pick depends on how much you're willing to spend, your expertise level, and how many features you want to have.
Although I can't tell you "the one best camera" for stop motion, I can share great options depending on different needs.
It all comes down to your project, skill level, and budget.
Getting started with your own stop motion storyboards
Subscribe to our newsletter and get your free download with three storyboards. Get started with bringing your stories alive!
We'll only use your email address for our newsletter and respect your privacy
If you're a professional stop motion animator, you will want the best cameras available but if you're a beginner, you can get away with using a webcam or your smartphone.
So, since each project is different, you might need a different set of features from your camera.
Professional animation studios like Laika or Aardman always use top-of-the-line cameras from brands like Canon.
They use RAW format to shoot on Canon still cameras so that they end up with amazing details in each photograph.
Since the images are enlarged on the big screen in the cinema, the images must be extremely clear and detailed. That requires the best cameras with great lenses.
Beginners or those who do stop motion animation as a hobby can use all kinds of DSLR cameras including budget-friendly ones from major brands like Nikon and Canon.
Alternatively, webcams or cheaper cameras included in stop motion animation kits work too. Kids don't really need fancy cameras that might break and set you back financially.
Here's what to look for when purchasing a stop motion camera:
Type of camera
There are different types of cameras you can use for stop motion films.
Webcam
When you have limited resources then a webcam can be an ideal choice. They work perfectly if combined with the appropriate tools.
This gives you a lot of ease of use, and you're always in control of what is happening.
The webcam is a small built-in or attachable video recording camera. It is attached to your laptop or desktop monitor via a mount or camera stand.
It connects through the internet and you can use it to snap photos just like a phone or digital camera.
The cheapest option to capture the photos for your stop motion animation is a webcam.
This method isn't the first choice for professionals but amateurs can use a webcam and still get good results.
Just don't expect the same kind of resolution as with a $2,000 DSLR camera.
Most of the webcams these days are compatible with the stop motion software or apps so you can make movies seamlessly by important the thousands of photos you take with the camera.
DSLR and mirrorless systems
Usually, people interested in motion photography should purchase DSLRs and interchangeable lenses for their photography needs.
These cameras are also very versatile and can easily be used to suit different purposes, justifying their total cost.
The cameras have better functions and better resolutions compared with camcorders and webcams.
I won't recommend them to anyone starting with stop motion as a beginner because of the difficulty in achieving the desired outcomes.
Do not get worried, as you can overcome all difficulties with practice and patience.
A DSLR camera allows you to control all kinds of functions like exposure and brightness, grain, etc so you end up with the best resolution and crystal clear images.
Let's be honest, if you're only using a webcam or smartphone to shoot your stop motion movie, you might not end up with a high-quality project. DSLRs are fail-proof options.
Compact camera & digital camera
A compact camera is a small-body digital camera that is lightweight and great for all skill levels. In terms of image quality and resolution, it offers amazing images and is better than a webcam.
Most small digital cameras are part of the compact camera category. These small devices are perfect if you want a simple point-and-click photography method.
A compact camera is easier to use than a DSLR but if it has a high MP feature it can offer the same excellent image quality.
A large DSLR camera has a mirror or prism system while a compact camera doesn't so it's less bulky and easy to carry with you.
Action camera
An action camera is something like a GoPro. It's similar to a conventional camera in that it takes images and videos, but unlike regular cameras, action cameras are small and come with a variety of adapters.
This feature allows you to attach them to helmets, handlebars, submerge them, and attach them to almost anything like special stands or tripods (we've reviewed some here).
Since the camera is so small, it doesn't fall over easily and you can get close to tiny puppets or LEGO figures and action figures.
Furthermore, most action cameras have a wider lens, allowing you to capture photographs with more width.
Focus control options
The most important thing when shooting stop motion photography is having control of the focus. If your camera can't focus properly, the images will be blurry and unusable.
Although webcams and most new cameras have an autofocus feature, you don't want that for stop motion photography.
It doesn't matter which types of stop motion puppets you use, autofocus is still unnecessary. Let's say you're making a LEGO stop motion animation.
Because changing your LEGO scenes on a regular basis will necessitate focussing on new subjects, the limitations of autofocus will hold you down significantly.
However, not all cameras perform poorly in this category.
Webcams with excellent focus capabilities are available at the higher end of the market, and they may be ideal for your photography needs.
If you have a larger budget, the digital camera market largely eliminates focusing concerns, as both manual and autofocus options are available. It's best to use a good camera with manual focus.
Resolution requirements
A high resolution means better quality photos and no pixelated images. But, for stop motion animations you can get away with a basic digital camera that doesn't have a high resolution.
If you're shooting with a digital camera, you won't have to worry about resolution.
When purchasing a webcam, though, keep the resolution specifications in mind. At the very least, you'll want to seek ones with resolutions of at least 640×480.
If you choose specs lower than this, the resulting resolution will degrade your finished film, making it too small to fill screen sizes.
I propose shooting your film in a 16:9 aspect ratio with a Full HD resolution of 1920 x 1080 pixels.
This is the most common movie format, and it can be seen in great clarity and without black bars on practically all televisions and computer monitors. It also won't end up looking pixelated.
When you're looking at digital cameras for stop motion or DSLR cameras, look at the MP (megapixels). The higher MP count usually indicates a better camera.
1 MP = 1 million pixels so the more megapixels the better the photo quality and you can make the image bigger without pixelation.
Remote control & electronic shutter
You should try to avoid touching the camera setup and the stand or tripod as much as possible when making stop-motion animations.
Touching it can cause trepidations and make your frames turn blurry.
Remote control (here are the best models for you camera when making stop motion) can be an essential tool in a stop motion project where the photos have to be taken in large quantities and each shutter release could cause a shake to the camera and change the optimal angles.
You also should check whether the camera features live view mode to keep the battery low, which saves time.
Electronic shutters and remote control capabilities, for example, are essential characteristics if you want a camera that is easy to use for stop motion.
When looking at the DSLR market, you'll notice that these specifications are standard.
An electronic shutter controls exposure by turning the camera's picture sensor on and off.
Because an electronic shutter does not have any mechanical parts, it can reach higher frame rates than a basic mechanical shutter.
As long as you have manual control of settings, you're good to go. Make sure you can also control white balance and the exposure levels and gain.
If you're shooting colorful claymation or colorful subjects you need to control some settings.
Learn all about the different types of stop motion photography here
Optical zoom
The optical zoom magnifies the image you shoot to fill all of the image sensors and ensures image sharpness.
You can take great close-up shots of your characters and puppets.
Digital zoom is also used to zoom into subjects but it's a built-in photo procession software and there's no physical movement of the camera lens.
WiFi
Some DSLR cameras connect to WiFi directly. Therefore, you can transfer photos to your PC, laptop, phone, or tablet to make the movie.
This feature isn't absolutely necessary but it makes data transfer quicker and more efficient.
Top 7 best stop motion cameras reviewed
A stop motion animation is the process of a series of still images resulting in a film. Inbetween the stills objects created of various materials can be modified to create the illusion of motion.
Famous examples have been Wen Anderson's Isle of Dogs and Aardman's animation Wallace and Gromit.
Mainly shot outdoors with constant controlled light, animators favor high fidelity still photography cameras.
DSLR and mirrorless cameras are commonly used by amateurs as well as professional filmmakers. But, beginners can work wonders with an inexpensive webcam as well.
The cameras in this review will be discussed in detail and I'll explain why a camera would be ideal for use in various kinds of settings.
Here are the top-performing cameras you can use to create stop motion at home or in the studio. I've got options for pros, hobby animators, beginners, and kids too!
Best DSLR camera for stop motion: Canon EOS 5D Mark IV
Type: DSLR
MP: 20
WIFI: yes
Optical zoom: 42x
The best long-term investment for stop motion animators is a high-quality Canon DSLR. It's the type of heavy-duty do-it-all camera you can use for many years from now.
Although this camera is one of the more expensive models, it has the best features Canon has to offer.
The EOS 5D Mark IV is best known for its big sensor, great processing, and the variety of compatible lenses you can use.
This camera is the best when it comes to capturing still images. It performs very well because it has a 30.4-megapixel sensor and gives a better resolution even in low-light settings.
Most photographers prefer the Canon cameras because of their superior optical performance. In addition, the Canon EOS 5D has a DIGIC 6 processor which means that the overall image processing is better.
Combine the large sensor and better processor and you get one of the top cameras for any type of photography.
This camera features 4K video recording options and autofocus which you need for regular photography but for stop motion, it won't help much.
However, it has benefits like a super smooth interface, touchscreen controls, weather-sealing properties, built-in WIFI and NFC, a GPS as well as an interval timer.
You can use the WIFI to upload photos directly into the stop motion software you're working with.
Also, you can get a whole host of optional lenses which makes this DSLR very versatile.
This camera has a heavy-duty build but it's a tad heavy. On the whole, the camera is very quiet – the shutter is quiet and soft compared to the earlier Canon models.
The viewfinder makes it easy to see what you are photographing without having to keep touching the camera.
If you're interested in fine details, you'll be glad to know this camera offers amazing color and tone reproduction.
The only major disadvantage of this camera is the lack of articulating screen which some photographers say can help a bit. For stop motion though, this feature isn't important.
People often compare the Canon EOS 5D Mark IV to its rival Nikon 5D MIV. There are many similarities between the two but the Nikon has a higher 46 MP full-frame sensor and a tilting screen.
The thing is that Nikon is much more expensive compared to this Canon and you have all the features you need on the Canon if you're buying the camera for stop motion.
Unless you need the tilting screen and higher MPs you probably don't want to spend an extra thousand dollars.
Canon cameras are a bit lighter and easier to carry but they last long just like Nikons.
The overall performance and value are hard to beat and if you're stuck between Canon and other brands, you can feel confident about choosing this camera.
Besides, you get a whole package here: the camera, battery pack, charger, memory card, straps, lens caps, case, tripod, and more! Of course, you can buy even more additional lenses.
Check prices and availability here
Best compact camera for stop motion: Sony DSCHX80/B High Zoom Point & Shoot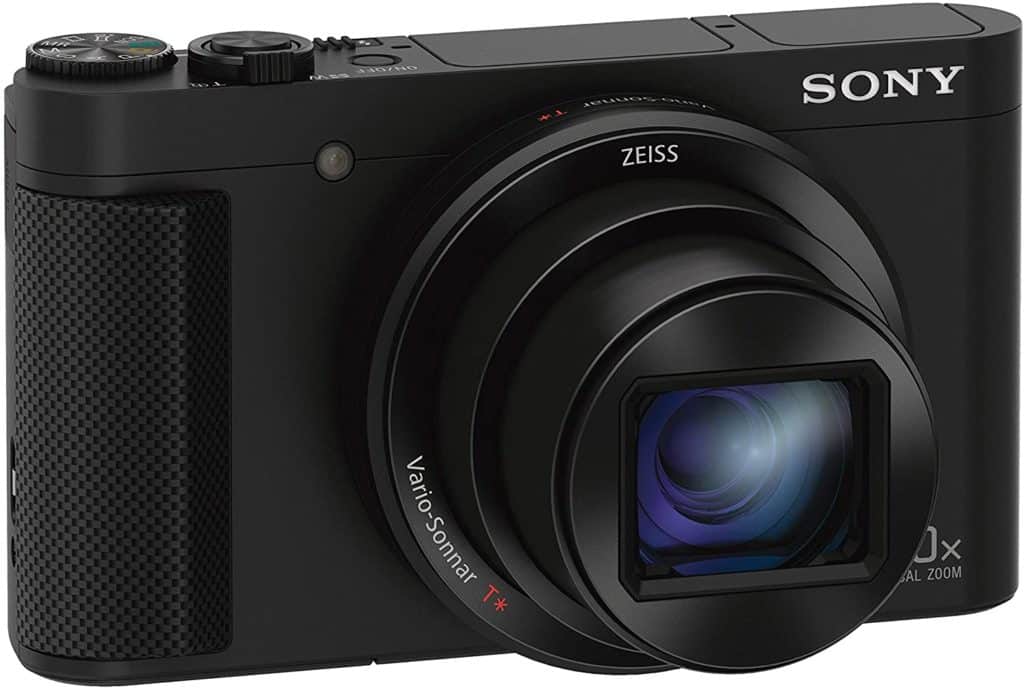 Type: compact & digital camera
MP: 18.2
WIFI: yes
Optical zoom: 30x
Compact cameras can be simple and you don't need too many fancy upgrades if you're just shooting stop motion animations.
However, the Sony DSCHX80 has all the modern features you could want and more.
It has a manual mode which is exactly what you need when capturing stills for your movie.
This camera is quite powerful and it's just what you'd expect from a higher-end point and shoot device.
There are some cameras at a similar price point with 40MP+ but for stop motion, you want a good lens and manual focus not just lots of megapixels.
Therefore the 18.2 MP Exmor sensor is very efficient and more than enough. It can receive up to 4x more light compared to a regular sensor so you get amazing clarity.
This camera also has a Bionz X image processor and this helps reduce noise – thus the camera doesn't miss any fine details. All your scenes and characters will be captured accurately.
This specific Sony camera is usually compared to the Panasonic Lumix but that one is pricier and you probably don't need much more from a compact camera than Sony's model can offer.
Sony is a superior brand to other similar cameras like Kodak which has cheaper compact cameras.
That's because the Sony camera has a Zeiss® which is one of the best there is. You'll notice the difference in lens quality when shooting with a cheaper camera.
The Sony also has autofocus if you need it. But animators are most excited about the manual feature because you can adjust the aperture, ISO, and exposure.
Another advantage is that there's an LCD multi-angle display. This feature allows the user to see the shot before you take it so if you don't like it, you can make adjustments.
I think this is a great feature because you can double-check the positions of your peppers and spend less time taking all the stills. The feature works no matter what the camera's position is.
My main criticism of this product is that it has a relatively short battery life so you always need a spare battery on hand.
Finally, I want to talk about the one-touch remote control technology which lets you make adjustments from a distance.
This means you don't need to touch the camera while shooting the film. That also amounts to less blurry photos and less unwanted movement.
Plus you can turn any smartphone or tablet into the viewfinder you need.
You can use this Sony camera with your Final Cut Pro or iMovie software.
Canon DSLR vs Sony compact camera
It's unfair to compare a pricey DSLR and a cheaper compact camera but these are two different stop motion camera options for those serious about animating.
It all comes down to budget and what you're looking for from the camera.
The Canon camera has a 20 MP image sensor which is higher than Sony's 18.2 MP. However, the image quality isn't very noticeable to the naked eye.
It's worth noting that the Sony compact camera has 30x zoom, so it's not as great as Canon's 42x zoom.
These cameras are obviously very different when it comes to size so if you don't have professional tripods and extra accessories, the Canon is hard to use for stop motion movies.
But if you want the highest quality images, you need a DSLR because you can adjust all settings manually.
The compact camera is a better choice for those who make animations as a hobby.
Best webcam for stop motion: Logitech C920x HD Pro
Type: webcam
Video quality: 1080p
Field of view: 78 degrees
Did you know that you can use a webcam to take photos of your armatures and create stop motion videos?
The best value webcam for stop motion is the Logitech HD Pro C920 because you can use the still photo feature to snap continuous shots for the animation.
Of course, if needed you can record 1080 video at 30 FPS too and so you can use it for Zoom and work meetings
These types of webcams are an affordable option and perfect for beginners or kids learning how to produce these short animations.
This webcam captures at a startling high resolution for its size and affordability. This will be useful for creating stop motion content because it will provide you with the degree of detail you'll need.
Another advantage is that it can be controlled by computer software.
This implies you'll be able to take photos "hands-free" and without disturbing the camera. This is critical in the context of stop motion animation.
Just be careful to turn off the face tracking feature of any webcam or else you won't be able to focus on your image clearly.
Besides, the tracking feature keeps zooming in and out and distorts your photos.
This webcam has an autofocus feature too but you might want to turn it off while you're shooting stop motion.
What makes this webcam stand out is that it's easy to set up and control from your monitor. You can mount the webcam on a stand, tripod, or pretty much anywhere with the handy mount.
One of the challenges of taking photos for stop motion with a webcam is that you can't really position and adjust the webcam properly.
The Logitech webcam doesn't give you many issues in this regard.
There are some adjustable hinges that seem quite sturdy and they're easy to adjust in seconds. The mount is also shake-free which ensures better image quality.
The base and clamp are pretty sturdy and hold the device properly so it doesn't topple over. If you have to film from various angles, you can move the camera.
Also, the webcam comes with a built-in tripod screw socket so you can switch between different tripods and stands as you photograph.
Also, it has a neat feature called HD lighting adjustment which means that the camera adapts to the lighting conditions automatically.
It can compensate for poor or low light conditions indoors so you end up with brighter and razor-sharp photos.
Logitech webcams are compatible with all PC, laptop, and tablet operating systems so you can use them with your Mac or Windows devices.
In the past, Logitech webcams had a Zeiss lens which is one of the best lenses in the world however, the newer models like this one don't have a Zeiss lens.
Their lens quality is still excellent – much better than any built-in laptop camera.
So, if you're looking for an overall great webcam with clear picture quality, this one is a great option.
Best action camera for stop motion: GoPro HERO10 Black
Type: action camera
MP: 23
Video quality: 1080p
Have you thought about using a GoPro to shoot still images for stop motion animation?
Sure, it's known as the perfect video camera for adventurous explorers and athletes but you can use it to shoot still images for your stop motion frame.
In fact, the GoPro Hero10 has a very cool feature you can use with the GoPro app. It lets you shoot lots of frames per minute then swipe through all the images very quickly.
This is like a preview of your finished movie!
The GoPro app is great for this reason and so it's the best type of action camera for stop motion. Since you simulate the final movie you can know which frames might need reshooting.
The Hero10 has a faster processor than the previous models. The overall user experience is smoother and quicker.
You also get double the frame rate which means better, clearer footage of your action scenes.
All the touch controls are responsive and straightforward. But the best upgrade for this GoPro is the new 23 MP photo resolution which is even better than some digital and compact cameras.
Most DSLRs are more expensive than a GoPro but if you like a multi-use device you can use it for filming movies AND taking photos for stop motion animation.
So, if you're not a professional photographer but want a modern device, the GoPro is handy.
My problem with the GoPro is that it starts to overheat after 15 minutes of video.
When you use it for taking pictures, it doesn't overheat as fast so it shouldn't be an issue. Also, the battery life is short compared to a quality camera.
This is not a dupe for a professional-level camera but it sure can beat a webcam or cheaper compact body camera.
GoPro cameras are great because you can use them for photography but fancy video drones like DJI just aren't ideal for stop motion.
You can get very creative with your movies and film stop motion scenes in full resolution underwater or in humid environments and low light.
Best cheap camera for stop motion & best for beginners: Kodak PIXPRO FZ53 16.15MP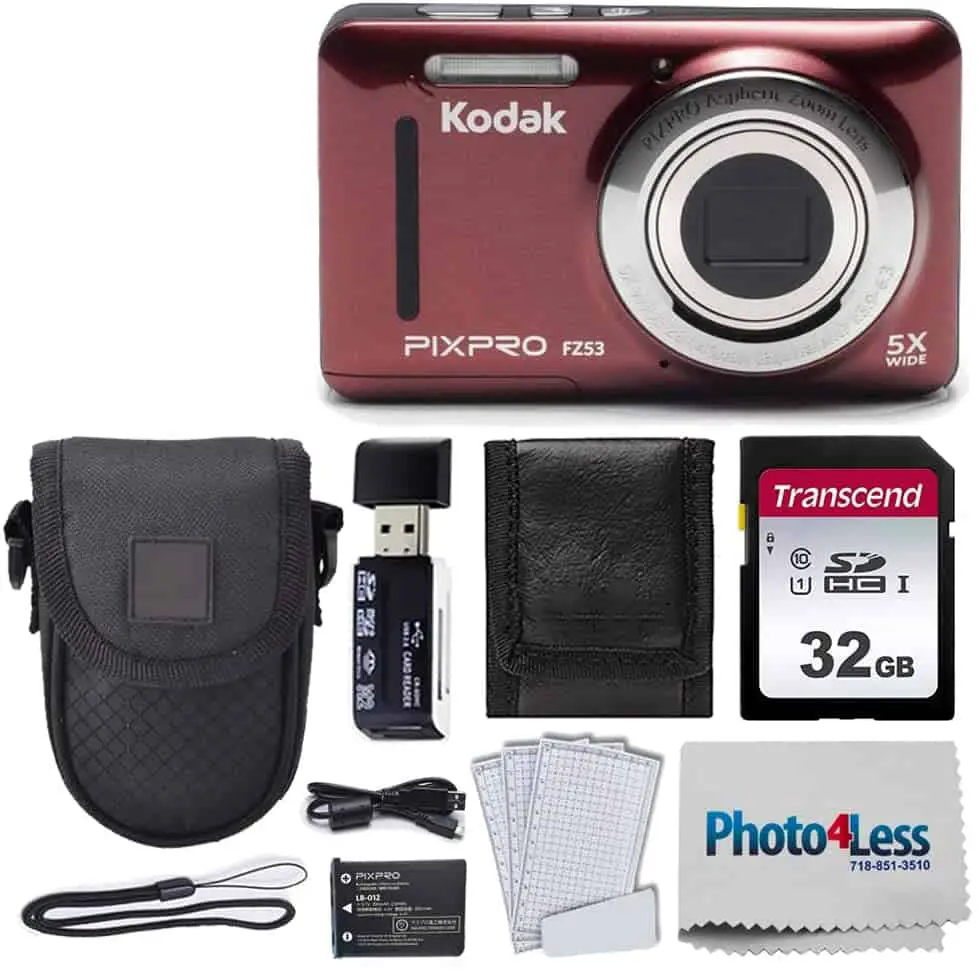 Type: compact point and shoot camera
MP: 16.1 MP
WIFI: no
Optical zoom: 5x
If you're looking for a good starter camera that is easy to use and offers great image quality, Kodak is a reputable brand to turn to.
Although the Kodak Pixpro FZ53 doesn't have a Zeiss lens, it offers sharp images.
The Kodak Pixpro is good for beginners because it offers 5x optical zoom, digital image stabilization, and a 16 MP sensor.
You can transfer all the images from the SD card to your laptop or computer via USB port or directly from the SD card.
The Kodak camera is lightweight so you can get a small tripod to use with it. It's easier to set up than a large DSLR camera and that's why I recommend it for beginners.
For those who aren't familiar with using all the camera settings, this is a good starter kit. The Kodak camera has basic features with a small LCD screen and it's a good point and shoot system.
Since this is a basic camera, you don't have a remote control feature so you just use the old-school method of snapping each photo yourself.
This is not a bad thing because it ensures you can see exactly what you're shooting in each frame.
However, making your stop motion animation movie will take a bit longer and your finger might get a bit tired.
A design drawback I noticed is that the shutter and video buttons are too close to each other and the buttons are tiny. This can cause you to accidentally press the wrong button.
With a camera like this, you can take good quality photos and then use stop motion animation software to make edits and create a smooth video when played back.
I also recommend getting this camera for teens and young adults who want to learn stop motion animation at home.
It's affordable and it only takes a couple of hours to learn all the features.
Best smartphone for stop motion: Google Pixel 6 5G Android Phone
(view more images)
Type: Android smartphone
Rear camera: 50 MP + 12 MP
Front camera: 8 MP
You don't necessarily need a fancy stop motion camera to make movies.
In fact, most modern smartphones are so good, they replace the camera altogether. The Google Pixel 6 is a great mid-range smartphone for animators and creatives.
This phone has a super-fast Google Tensor processor which keeps your phone running quickly when using stop motion apps as well as when you're taking pictures.
Once you have an app like Stop Motion Studio, you can make the animation from start to finish right on your Android or iOS device.
All the hardware and software on the Google Pixel have been updated for this new model. The camera is one of the best on the market and it can easily compete with Apple's cameras.
Pixel has an interesting feature called night mode and night sight which improves image quality in low light and no light conditions.
The 50MP main camera sensor allows 150 percent more light in, while the 48MP telephoto lens offers 4x optical and 20x digital zoom.
For ultrawide selfies, the 11MP front-facing camera provides a 94-degree field of vision.
You don't really need the front selfie camera for stop motion but the amazing back camera sensor is going to make your images have much better quality.
You can also use iPhones for stop motion, and Samsung, Motorola, Huawei, Xiaomi, or other smartphones to shoot stop motion videos.
But, the reason I recommend the Pixel is that it's easy to use, has a 50 MP camera and doesn't slow down when the processor is heavily solicited.
The phone has a very bright screen and true color representation so you can see exactly what you're shooting. This results and better photos you can actually use for your animation.
You also have a battery life of 7.5 hours.
Some people are saying the battery life is short compared to competitors like Samsung and Apple. Also, the phone seems a bit more fragile.
For the best experience, use a special phone stand or tripod like the DJI OM 5 Smartphone Gimbal Stabilizer to stabilize the phone.
Check prices and availability here
Best stop motion animation kit with camera & best for kids: Stopmotion Explosion
Type: web camera
Video quality: 1080 P
Compatibility: Windows and OS X
If you want a complete kit for yourself or the kids, you can choose this budget-friendly Stopmotion Explosion kit.
This kit includes a 1920×1080 HD camera, free stop motion animation software, a guide in book format.
I wish that some action figures or armatures were included but they're not, so you'll have to create your own stop motion puppets.
But the informative booklet is a good teaching aid, especially if you're a complete beginner or you want to teach kids how to animate. Many STEM educators use this kit to teach kids around the world.
The camera is pretty good considering it's so cheap! It has an easy focus ring to prevent blurry photos and it has a low profile.
It has a bendable flex stand so you can position it in all kinds of objects and change the shooting angle.
This stop motion set is excellent for brickfilms and LEGO stop motion animation because the stop motion camera sits on top of lego bricks and the stand molds to the shape of the bricks.
Then you can secure the camera to your PC it laptop without even having to detach it. The software is compatible with almost all operating systems, including Mac OS and Windows.
It's hard to find a good basic kit without paying a hefty price tag for the camera but this product does exactly what it's supposed to and does it well.
Frame animation is pretty easy with the small camera because it's stable and kids can mold the stand to their needs.
Also, the camera has manual focus from 3mm upwards to whatever you need to capture the action. So, this is one of the best cameras for stop motion for kids.
Parents are raving about how good this camera is for making LEGO animations.
Younger kids can do it all on their own and the program includes lessons on how to use music, create voiceovers and add special sound effects. Therefore, the child can learn to do it all with this kit.
A disadvantage is that you can't erase frames in real-time so if your hand gets in the way you only realize after you've shot the frames.
This happens to some users but it's not a general issue.
If you want a fun, instructive stop motion kit and don't mind getting your characters from elsewhere, this is a good kit to start you off.
Check prices and availability here
Can any camera be used for stop motion animation?
Yes, you can use any functional camera that takes still photos for stop motion. The camera doesn't matter as much as the creative side of things.
Without a good story and puppets, you can't make very good stop motion films.
The camera just needs to take still images. However, I still recommend using a good camera because you want decent quality images, not overly blurry or poor image quality.
The best cameras to use for stop motion include DSLRs (most expensive), digital cameras, or webcams (cheapest).
Check
Takeaway
In the past, stop motion films were produced only by professional stop motion cameras you find in pro studios like Aardman.
These days you can get very affordable hardware and reliable DSLR cameras, digital cameras, webcams, and all kinds of animation kits for beginners.
The best part of making your own stop motion videos is that you have unlimited creative freedom. If you just want to create basic films, a stop motion kit is all you need to capture images.
But if you want pro-level stuff, the Canon EOS 5D is a good value DSLR camera that will last you for many years to come.
Next, check out my review for the best stop motion rig arms to keep your animation characters in place
Hi, I'm Kim, a mom and a stop-motion enthusiast with a background in media creation and web development. I've got a huge passion for drawing and animation, and now I'm diving headfirst into the stop-motion world. With my blog, I'm sharing my learnings with you guys.