Best Camera Phones for Video Reviewed | A surprising number 1
I love creating free content full of tips for my readers, you. I don't accept paid sponsorships, my opinion is my own, but if you find my recommendations helpful and you end up buying something you like through one of my links, I could earn a commission at no extra cost to you.
This year's best camera phone: ultimate smartphone camera test for when you want to make your own videos for social media or other applications.
Choosing the best camera phone can be a difficult task. Camera phone technology has improved a lot in recent years. You're also seeing more and more professionals using their phones to quickly capture unique footage for videos.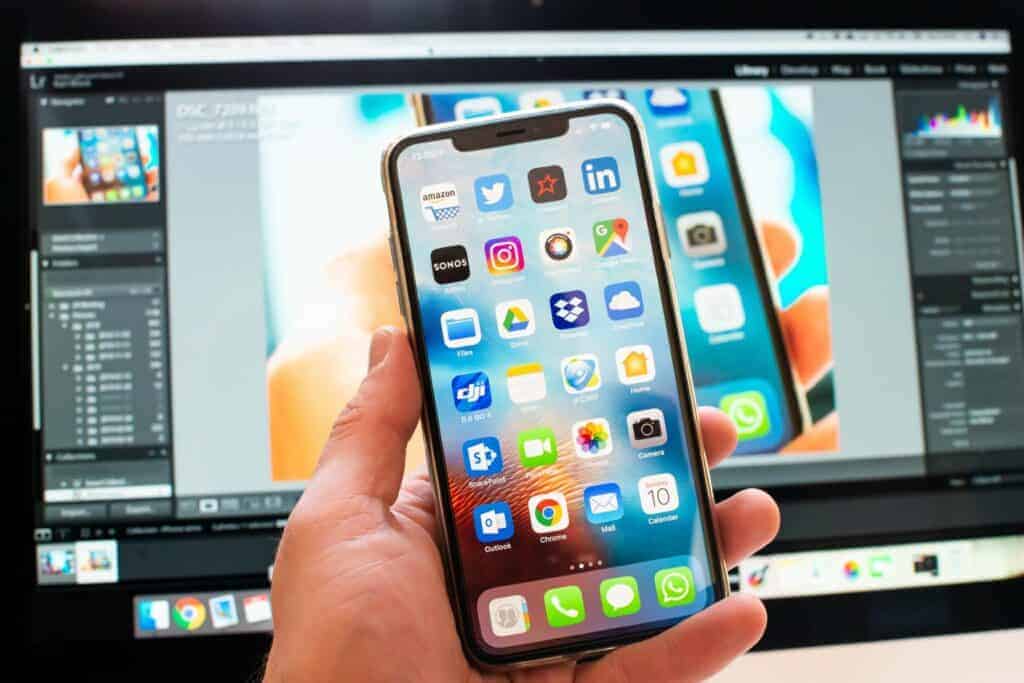 The time has finally come when phones are no longer being suppressed by still cameras or even video cameras, but are positively embraced as camera alternatives, especially with the advancements in multi-camera recording.
From a real triple camera to a telephoto lens or ultra-wide angle lens: the camera features in smartphones are unbelievable! You can easily take professional photos with a mini camera in your pocket.
And with this mini camera you can also call and text. The correct term for the new generation of smartphones should actually be 'camera smartphones'.
In addition to the capabilities and specs of the cameras, there are also a number of other aspects that you may want to take into account.
For example, the amount of internal storage and whether there is a microSD card slot, if you like to film in 4K. The battery life is also important to you.
As you'll read here, they're also starting to give DSLRs like I've reviewed here a challenge to justify their investment, especially with so many brilliant camera deals circulating in the smartphone world.
My personal favorite is the Huawei P30 Pro. The phone is currently the best in its class for zooming, low light and overall image quality.
These are images taken with the new Huawei P30 Pro:
Getting started with your own stop motion storyboards
Subscribe to our newsletter and get your free download with three storyboards. Get started with bringing your stories alive!
We'll only use your email address for our newsletter and respect your privacy
It was a tough one, but the P30 Pro beat the Google Pixel 3 in the low-light videography test and has the best zoom I've ever seen on a phone.
What you need to know when buying a phone for video
When purchasing your ideal camera phone, you should pay attention to several points.
First of all, you need to know what your budget is.
Where do you want to film, do you film most indoors or outdoors a lot?
Is that in daylight or at night when it is dark?
You may be filming on a tripod or rather with the smartphone in your hand; Of course you have to pay attention to the stabilization. With a gimbal or stabilizer (read our reviews here) you can make videos by hand that appear to be shot from a tripod.
How much memory do you need?
The higher the number of GBs of storage memory, the more space for apps, photos and videos. Phones have 64, 128, 256 or 512 GB of storage capacity.
64 GB of memory: Many entry-level models have 64 GB of storage memory. You can store quite a few files here, but not very many large files. Do you film a lot in the high 4K resolution? Then 64 GB is not enough.
The higher the number of GBs of storage memory, the more space there is for apps, photos and videos. Do you like to take pictures? Then you are fine with 64 GB of storage memory.
With 64 GB, you can also store almost twelve hours of recorded Full HD videos.
128 GB memory: More and more smartphones have a standard storage capacity of 128 GB. Even the affordable models. The file size of apps keeps getting bigger, photos keep getting better and we like to store movies offline to save data.
With less than 128 GB of memory, you will quickly run into problems. An average movie that you save offline is 1.25 GB in size.
256 GB memory: Are you busy taking photos and videos for your Instagram all day? Do you prefer to keep them all on your phone? Then a phone with 256 GB of memory is ideal for you.
More and more good phones have a version with this large amount of GBs and more and more smartphones can film in 4K resolution.
With this incredibly high resolution, your videos are extremely detailed and sharp.
Due to this high quality, filming in 4K does take up a lot of space: up to 170 MB per minute. So that adds up very quickly. Nice then, to have that much storage memory.
An hour of filming in 4K produces a video of 10.2 GB. That means you can film 4K videos for more than a day!
512GB memory: This is of course an even greater luxury; Boss above boss! With this memory you can store up to two days of 4K videos and you can easily store multiple seasons of your favorite series offline.
How many megapixels do you want for video?
More megapixels, does that mean better photos? No. It's important to understand that 48-megapixel cameras are a good thing, but it's not about the quality of the photos.
Megapixels are not a measure of camera or photo quality. A 2000 megapixel camera can still take mediocre photos.
The higher the megapixel count, the more detail the camera's sensor can collect, but again, this doesn't make for great quality.
Squeezing more pixels into a camera sensor makes the pixels smaller due to the size limitations of a smartphone's body and the camera sensor inside.
This can affect the quality of the image and in turn puts more emphasis on the software that runs the camera to produce the best possible images.
How many megapixels do you need now for professional photography? Attention 'Selfie Queens and Kings'; Most portrait photos only need a few megapixels for a high-quality image.
A 24 megapixel camera is more than enough for professional portrait work.
Even a 10-megapixel camera can give you all the resolution you need, unless you're doing very large prints or want to do extensive cropping.
But how many megapixels do you need for a video camera?
If you want to make a video recording with your photo camera in Full HD, use a resolution of 1920 pixels horizontally and 1080 pixels vertically. That is a total of 2,073,600 pixels, so more than two Megapixels, according to Fotografieuitdaging.nl
Best Camera Phones for Video Recording Reviewed
At the moment there are some camera phones that are simply superb, but with the differences between the likes of the Huawei P30 Pro, Google Pixel 3, Huawei Mate 20 Pro and the iPhone XS being pretty negligible, so any of these handsets should basically are an excellent choice when you want to make good video recordings on the go.
In short, it's a great time to buy a phone for its camera features.
Overall Best Phone for Video: Samsung Galaxy S20 Ultra
Rear camera: 108 MP main camera with OIS (79°) (f/1.8), 12 MP wide-angle camera (120°) (f/2.2), 48 MP telephoto camera with OIS (f/2.0), ToF camera
Front camera: 40 MP at f/2.2
OIS: Yes
Dimensions: 166.9 X 76.0 X 8.8mm
Storage: 128 GB / 512 GB internal, expandable to 1 TB via microSD (UFS 3.0)
Importance
Best pluses
100x zoom function
Samsung's best display yet
internal specs of a laptop
future-proof with 5G
Main Negatives
You need a big hand
Inconsistent camera performance
The price is very high
The Samsung Galaxy S20 Ultra is the ultimate camera smartphone with its ultra-sharp cameras. You can take beautifully sharp selfies thanks to the 40-megapixel selfie camera and the Time of Flight sensor; this measures the depth and that makes portrait photos super sharp.
The main rear camera has a resolution of 108 MP; that is sharp enough to extract multiple images from one photo, or to zoom in up to 100 (!) times.
Whether it's the quality of lenses and sensors, or the features on display, 'Flagship' smartphones are now fitting compacts in the world of video editing.
Best price/quality camera phone: Huawei P30 Pro
Simply the best camera phone you can get for your money right now
Release date: April 2019
Rear cameras: 40MP (wide angle, f/1.6, OIS), 20MP (ultra wide angle, f/2.2), 8MP (telephoto, f/3.4, OIS)
Front camera: 32MP
OIS: Yes
Weight: 192g
Dimensions: 158 x 73.4 x 8.4mm
Storage: 128/256/512GB
Main advantages
Best in class zoom functionality
Superb low-light photography
Perfect manual control
Main Negatives
Screen is only 1080p
Pro mode could be better
Best camera phone: The P30 Pro is much loved, it's a camera phone that has it all: great low-light photography, incredible zoom capabilities (5x optical) and powerful specs.
Four lenses are placed on the back, one of which is a ToF sensor. This means that the depth perception is also fantastic. While we would have preferred a better screen and the price to be a little cheaper, this is the best camera phone out there right now for those who want the very best.
Since the P30 Pro is out now, we've taken the P20 Pro off this list – if you can still get it; This is also an excellent camera phone.
Best smartphone for video: Sony Xperia XZ2 Premium
Do you want to film video? This is the best camera phone out there
Release date: September 2018
Rear camera: 19MP + 12MP
Front camera: 13MP
OIS: No
Rear camera aperture: f/1.8 + f/1.6
Weight: 236g
Dimensions: 158 x 80 x 11.9mmmm
Storage: 64GB
Main advantages
Many video features
Fantastic slow slomo mode
Main Negatives
Thick and heavy phone
On the expensive side
The best camera phone for video: Sony's phone isn't cheap, but it comes with the best video recording features I've ever seen on a phone.
It gives clear video images in low light, while the video recording in daylight is also fantastic.
Perhaps the most exciting element is that you can record slow motion video at 960 frames per second in Full HD, which is double the resolution of the Samsung Galaxy S9's comparable feature.
Below is a comparison of the video camera against our previous favorite, the Samsung S9:
If you're looking for some shareable video clips, this is a must-have for those slow moments.
Best of the previous generation at a low price: Samsung Galaxy S9 Plus
Until recently, this was our favorite camera phone. However, he is still great!
Release date: March 2018
Rear camera: 12MP + 12MP
Front camera: 8MP
OIS: Yes
Rear camera aperture: f/1.5 + f/2.4
Weight: 189g
Dimensions: 158.1 x 73.8 x 8.5mm
Storage: 64/128 / 256GB
Main advantages
Fantastic automatic mode
Fully packed with features
Main Negatives
Is very expensive
AR Emoji is not for everyone
An excellent camera phone: The Samsung Galaxy S9 Plus is a camera phone that is, in fact, one of the best phones on the market today.
This is the first time Samsung has embraced dual camera technology, using two 12MP sensors linked together.
The main sensor is particularly impressive with an aperture of f/1.5, and that makes for some great low-light shots for shooting at night.
There's also an impressive bokeh mode for portrait shots. That combined with great video recording, slow motion and AR emoji makes this our favorite smartphone for video recording.
Check the most current prices and availability here
Affordable Apple with great camera: iPhone XS
Tied to Apple? The iPhone XS is a fantastic camera phone
Release date: October 2018
Rear camera: Dual 12MP wide-angle and telephoto cameras Front camera: 7MP
OIS: Yes
Rear camera aperture: f/1.8 + f/2.4
Weight: 174 g
Dimensions: 143.6 x 70.9 x 7.7mm
Storage: 64/256GB
Main advantages
Great Mode for portrait
Spectacular for selfies
Main Negatives
Chance of oversaturation
Quite expensive
The best premium camera phone: The extra money spent on an iPhone XS isn't necessary to get a better camera experience. However, you do get the best iPhone ever made.
The X marked a significant change for the company, and while the iPhone XS doesn't look any different, it gives you a 5.8-inch full screen that looks futuristic, coupled with vastly improved camera software.
The camera is a powerful dual 12MP shooter with a sporty f/1.8 and the other f/2.4 both of which include optical image stabilization to capture impressive shots.
The colors are very natural and the fact that you use a telephoto sensor also helps you to capture details at a greater distance. Better than most other phones on the market.
There is also a new sensor that measures 1.4μm and thanks to the new chipset it is now twice as fast as its predecessor and has two new features: Smart HDR and Depth Control.
Best camera for low-light video: Google Pixel 3
One of the best Android cameras – especially for low light
Release date: October 2018
Rear camera: 12.2 MP
Front camera: 8 MP, f/1.8, 28mm (wide), PDAF, 8 MP, f/2.2, 19mm (ultra-wide)
OIS: Yes
Rear camera aperture: f/1.8, 28mm
Weight: 148g
Dimensions: 145.6 x 68.2 x 7.9mm
Storage: 64/128GB
Main advantages
Brilliant zoom
Superb night mode
Great manual controls
Major Negatives
Only one lens
A bit too much reliance on software
Fantastic Night Mode: The Google Pixel 3 has been a revelation in the camera phone scene. Like its predecessors, it has only one lens on the back. However, the image results are fantastic.
When I first tested the Google Pixel 3 against the Huawei Mate 20 Pro, I put the Mate 20 Pro on top. But the new night mode, which offers stunning photos in low light, makes the Google Pixel 3 a great camera phone that rivals only the Mate 30 Pro.
Best Cheap Camera Phone: Moto G6 Plus
The best cheap camera phone you can get right now
Publication date: May 2018
Rear camera: 12MP + 5MP
Front camera: 8MP
OIS: No
Rear camera aperture: f/1.7 + f/2.2
Weight: 167g
Dimensions: 160 x 75.5 x 8mm
Storage: 64/128GB
Main advantages
Most affordable
Full camera specs
Main Negatives
Limited video recording
Poor quality zoom
The best cheap camera phone: Is your budget limited? The Moto G6 Plus, but also meanwhile the new G7 will not disappoint you as far as the photos are concerned. It is an affordable device with a dual rear camera.
It has a 12MP sensor (f/1.7 aperture) combined with a 5MP depth sensor that enables a bokeh effect portrait mode. The device isn't for everyone, but if you're looking for the best videography you can get on a budget device, we'd definitely recommend this option from Motorola.
The power lies in running video editing apps on the phone itself, for example for a quick Instagram Story post that you still want to edit before you post it.
Also read: these video editing tools will make your footage look great
Do Youtubers Use Their Phones To Record Videos?
There are accessories you can get quite cheaply, to do everything you need to make YouTube videos. You will need, among other things, a microphone, a gimbal and a tripod (like these).
Just download the YouTube app on your phone. You can record videos and upload them to the platform directly in the app.
Read more: these drones are great to combine with your camera phone
Hi, I'm Kim, a mom and a stop-motion enthusiast with a background in media creation and web development. I've got a huge passion for drawing and animation, and now I'm diving headfirst into the stop-motion world. With my blog, I'm sharing my learnings with you guys.