Stop motion rig arm | How to keep your animation characters in place
I love creating free content full of tips for my readers, you. I don't accept paid sponsorships, my opinion is my own, but if you find my recommendations helpful and you end up buying something you like through one of my links, I could earn a commission at no extra cost to you.
You've created a storyboard, made your puppets, set up the digital camera, but now what?
How do the puppets stay in place?
To help you shoot the frames, you need a sturdy and steady rig arm. This refers to a metallic stand for the armature.
A stop motion rig arm is a metallic "arm" that holds the puppet in place. It is moveable, bendable, and adjustable so you can put the doll in any position you need to.
The puppets stay in place while you take the photos, making life much easier.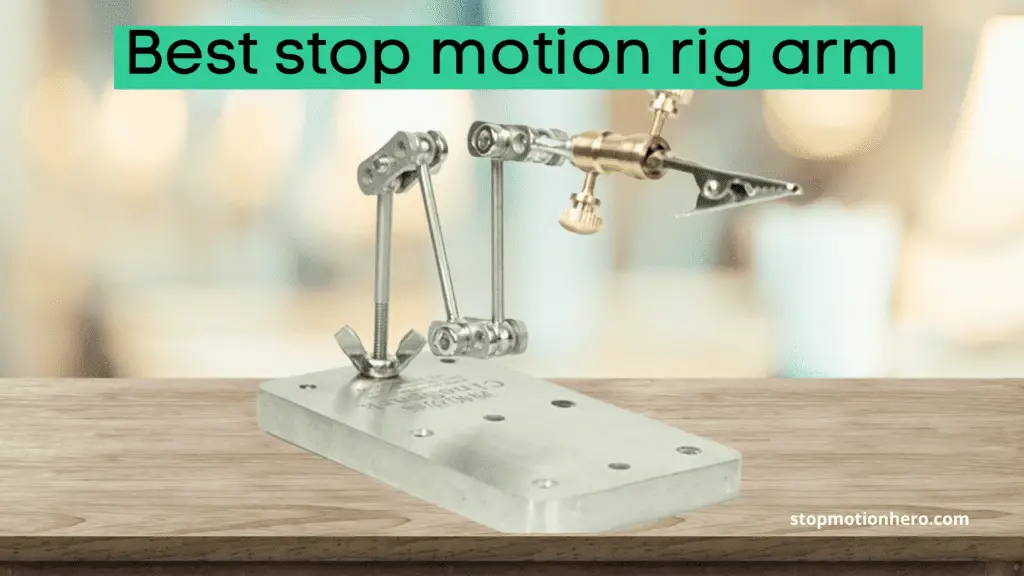 In production, you can use software to remove the armature rig so it's invisible in the final stop motion animation.
Your stop motion toolkit should include the Ready-to-Assemble R-200 Rigging arm for Stop Motion because it can hold up many types of armatures with a weight of up to 200 grams and it is made of solid stainless steel which doesn't fall apart during use.
So, if you're here, I bet you're looking for the best rigging system for stop motion animation.
That's why I've reviewed the best rig arms for different puppet weights and sizes so you can find just what you need to make your movie.
Stop motion rig arm buyer's guide
Are you curious to know what to look for when buying a rig arm for stop motion?
Getting started with your own stop motion storyboards
Subscribe to our newsletter and get your free download with three storyboards. Get started with bringing your stories alive!
We'll only use your email address for our newsletter and respect your privacy
Well, there are two main features you need to check.
Supported weight
The most important thing to consider is how much weight the rig arm can hold. If your armature is heavier than the weight supported, the rig arm will fall over.
Rig arms are designed to support a certain weight, and the most flimsy ones can only hold about 50 g, whereas the really good ones can support a 300+ gram puppet.
If you make your own rig arm, you can add in additional reinforcements to hold even heavier action figures or puppets.
Material
Stop motion rigs are made of metal because this material is much stronger than plastic, for example.
Stainless steel is a popular affordable material and it holds up well over time. It also doesn't rust easily and you can even make modifications and drill into it.
The stainless steel rig arm also allows for smooth movements. It usually doesn't hold very heavy puppets though. These kinds of rig arms are popular in cheaper stop motion animation kits for kids.
Professional stop motion rigs are made of better materials though like aluminum. An aluminum rig arm with a base can actually weigh as much as 1 kg, so it can hold heavier weights.
So, if you want professional rigs, go for aluminum ones because they are sturdier than stainless steel.
There's more equipment needed to get started with stop motion animation that I've listed here
Best stop motion rig arms
We now know what to look out for in a stop motion rig arm and why you need one. Let me list the best options available for you to choose from.
Best overall stop motion rig arm & best for mid-size puppets: Cinespark Ready-to-Assemble R-200
material: aluminum
supported weight: 200 grams or 7.5 ounces
arm length: 20 cm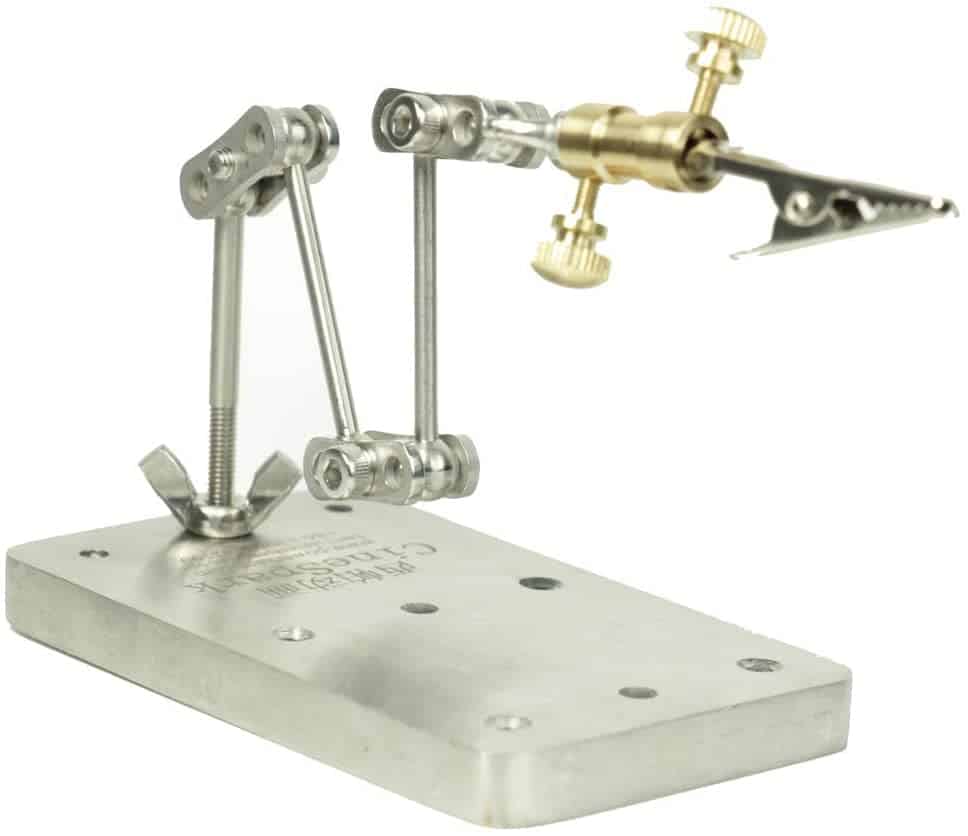 If you can only invest in one rigging arm, I recommend this mid-range one because it can hold a weight of up to 7.5 ounces (200 grams) which is the standard size for most stop motion armatures.
Also, this rig arm is for people who are serious about creating stop motion animations but don't want a fully professional setup.
This brand Cinespark makes all kinds of rig arms but this is one of their mid-tier products and is still relatively affordable.
The actual rig arm is made of aluminum and copper bits and is very sturdy and durable. It can last you for many years to come.
You can customize the arms to make them shorter or longer, and you can add on bits too. The arm length is 20 cm, so a bit shorter than the R-300 rig arm but it's still a great length for stop motion.
Animators are really liking this rig arm because it's easy to assemble and doesn't require specialty tools.
It's also very sturdy and has a clamp at the arm's end so you can hold all kinds of stop motion puppets, even clay ones. Claymation is one of the most popular types of stop motion.
There's nothing to complain about with this one, so if you're looking for an everyday stand with rig arm and clamp attachment, you can get this one for a fair price.
It can help you take thousands of frames without bending and falling over as cheap stands do.
Best stop motion rig arm for small puppets & longest arm: HNK Store DIY Rig-100 Ready-to-Assemble
material: stainless steel
supported weight: 50 grams (1.7 ounces)
arm length: 40 – 60 cm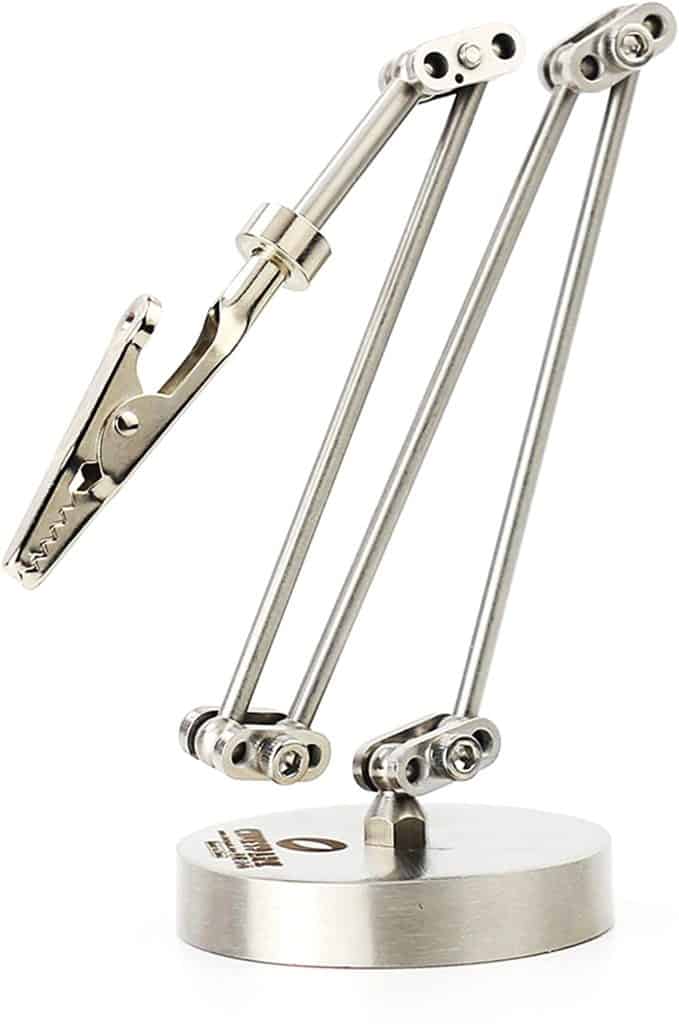 If you're using very small LEGO brick puppets, small clay dolls, or other super lightweight characters for your movie, you can get away with using an affordable rig arm like the Rig-100.
The manufacturer recommends using sponges, cloth dolls, and paper figurines with this rig because it's designed for lightweight objects. So, if you're planning on some stop motion animation with the kids, this is a great rig arm.
It's a really neat rigging system because it has a long arm that you can assemble how you see fit.
The rig arm length is between 40 to 60 cm so it gives you lots of flexibility in your movements. It's hard to find budget-friendly rig arms at this length.
The arm has a sturdy stainless steel round base and the arm is made of stainless steel too and CNC machine-made components.
This ensures that your parts move smoothly when you move them around. All the movements are fluid and squeak-free and the material is rust-proof too.
You can experiment with assembly. The arms are pre-assembled at the factory but the kit includes fallen keys and a wrench so you can modify and make your own rigs depending on what you need.
Therefore, this set is great for beginner animators too.
Some users claim that the rigging system is a bit difficult to assemble because the joint plates must be used in pairs. If you're not careful with the setup, the rig arm can fall down while shooting.
But, if you follow instructions, you should be fine.
Best stop motion rig arm for heavier puppets: Cinespark Ready-to-Assemble R-300
material: stainless steel, copper, aluminum
supported weight: 400 grams (14.1 ounces)
arm length: 23 cm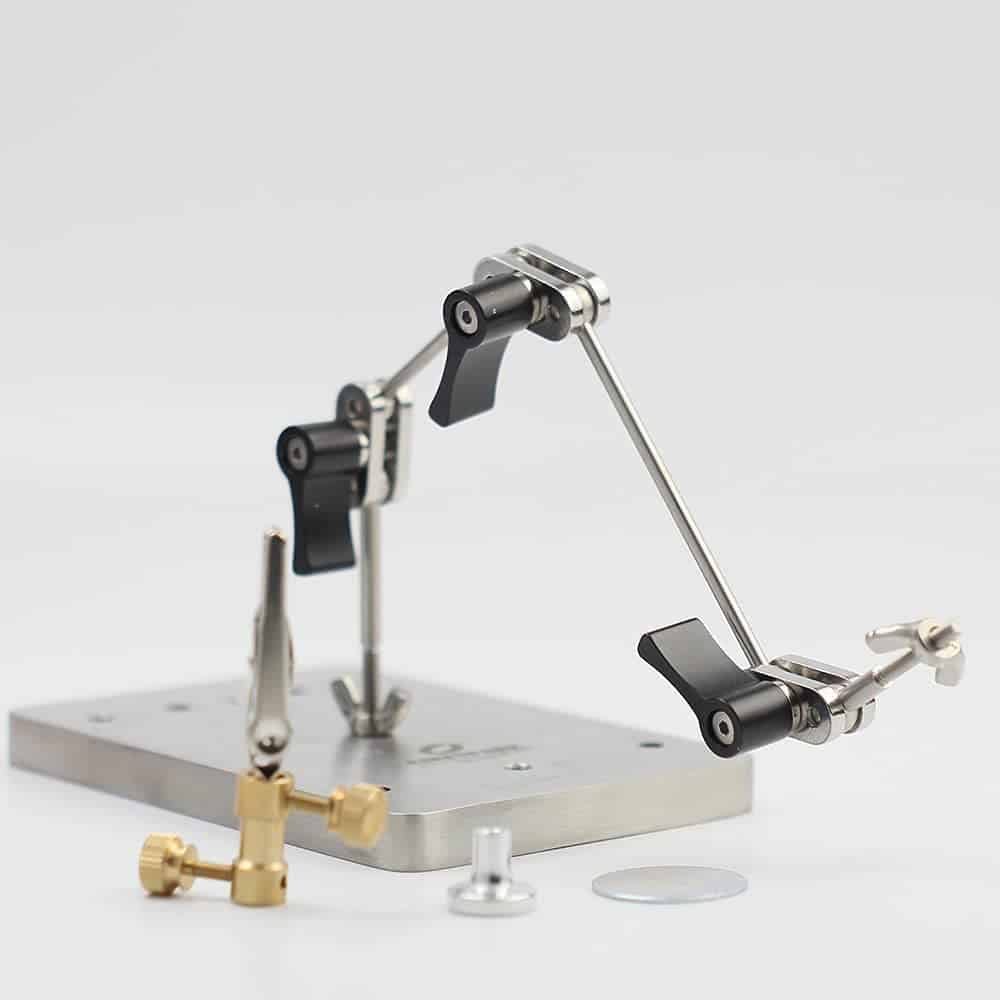 If you're using action figures for your animation, you know some models can be quite heavy. That's why it's best to be on the safe side with a heavy-duty rig like this R-300.
It can hold up to 400 grams, which is more than most puppets weigh and about the size of a fully-dressed Barbie doll.
The actual rig arm and base is over 1kg in weight which means it's a heavy-duty product and well-made.
All the smaller pieces and screws are CNC machined parts which means they're sturdy and durable. These are made of copper and plastic.
There are several ways to mount the armature including an M3 threaded rod, a magnetic adapter, or a 25 mm round flat adapter or clamp.
You can customize the arm and assemble the whole rigging system quite easily without any special tools.
The only issue you might encounter is knowing how to assemble the screws, nuts, and rods. That's why I recommend this rig arm for experienced animators over beginners.
The base is quite heavy and large, so it keeps the rig arm and your puppet balanced without tipping over. It weighs 680g and stays put when you're taking photos for your film.
There's a long 23 cm arm, with the possibility of making it even longer if you install additional pieces.
Compared to the smaller and lighter rig arms, this one can be used with converter clamps to hold up large wrestling figures too!
My only concern with this is that it's hard for kids to use, so in my opinion, this rig arm setup is for adult use only.
Best stop motion rig arm with linear slider rail: PTR-300 Vertical and Horizontal Linear Winder rig System
material: carbon steel and aluminum
supported weight: 300 grams or 10.5 ounces
arm length: 20 cm
Alright so this technically isn't the rig arm, but it's a winder rig system that moves the rig arm vertically and horizontally. It also includes a rig arm that is 20 cm long.
With this set, you've got everything you need to create the illusion of moving puppets. You can move the linear system up and down or left to right to move your armature around.
The only downside is that this system is quite expensive so it's recommended for people who are serious about making stop motion animation at home.
Since you can make adjustments to move the arm up and down, you can then film more sophisticated scenes for movies and even create those amazing flight sequences.
The handwheel is very qood quality and even has markings on it so you can set it up to the precise position you want.
With a bit of practice, photographing your subjects is super easy with this complete setup. The main advantage is that you can elevate the armatures to different heights without making major adjustments to the rig arm.
So, if you're interested in switching from a basic arm rig with a low load capacity to something durable and heavy-duty, this system is worth the investment.
Ready-to-assemble Cinespark series vs Kinetic Armatures
All the rig arms I reviewed so far except the first HNK 100 is part of Cinespark's rig arm set. This set is available on Amazon and is a bestseller because it's designed for amateur and semi-professional stop motion animation.
There's no competition for these products on Amazon, but specialists will tell you about a company called Kinetic Armatures which specializes in rig arms, winders, and armatures.
These products are custom made and will cost you hundreds of dollars.
For that reason, I recommend these cheaper aluminum and stainless steel Cinespark rig arms which work almost as well.
Best helping hand for DIY stop motion rig arm: NEIKO 01902 Adjustable Helping Hand
material: cast iron base & steel
supported weight: very small objects
This NEIKO helping hand is not a stop motion rig arm, but instead, it's a tool used for smoldering or painting small objects.
But, with a bit of tweaking and adjusting, you can use it as a basic rig arm and the best news is that it's very cheap.
It has a magnifying glass and two adjustable rig arms with small clamps, and you can remove the magnifying glass to make it suitable for stop motion.
The tool can only hold small and lightweight puppets or armatures so I recommend small figurines and paper models.
This stand has two rig arms with alligator spring clamps. These are attached to special wire holders and the arms are fully adjustable.
Besides holding your stop motion figurines, these arms can be used to hold tiny electronic components or jewelry metals for soldering.
The base of this helping hand is made of heavy cast iron for extra stability.
Also, the clamps are mounted on little ball joints which you can adjust and position at any angle. So, you can shoot photos from even the most difficult angles.
Overall, I think this helping hand is useful if you plan on making your own DIY rig arms for stop motion. I will discuss how to make a DIY rig arm later on in the article, so keep reading.
Best basic stop motion puppet and armature holder: OBITSU Assembly Action Figure and Doll Stand
material: plastic
supported weight: approx 7 ounces or 198 grams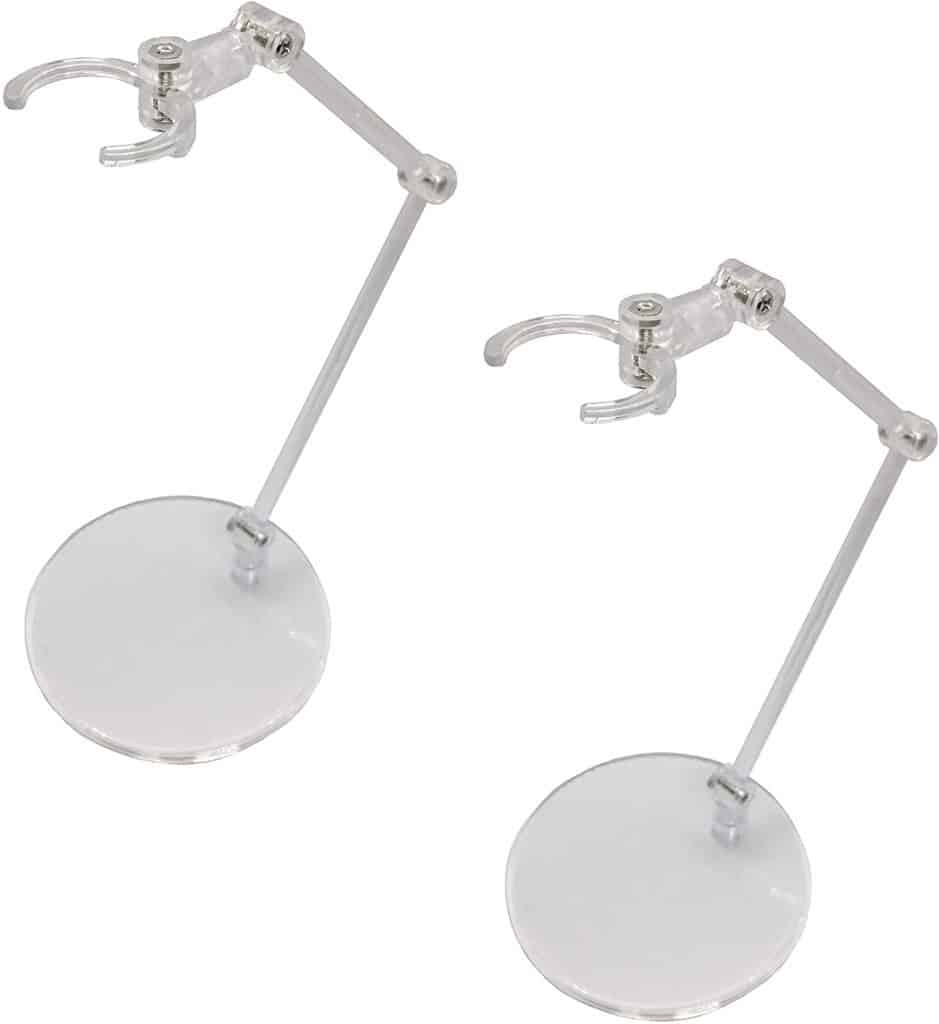 Although it's not technically a rig arm, this basic doll stand is perfect for shooting simple stop motion scenes. Actually, this type of stand is perfect for taking photos of action figures.
It can hold 3.9 to 11.8-inch (1/12 ~ 1/6 scale ) dolls without falling over. Just like other rig arms, this stand has foldable and moveable arms which are easily adjustable.
Therefore, you can customize how you assemble this stand and make your armatures take on various positions.
The first thing you can do to this stand is to remove the clamp part and add another arm extension or you can position the arm pieces differently.
Or, you can combine the two stands to make one large stand with long arms and two clamps so you can hold two puppets at once.
The only issue with this product is that it's made of polycarbonate plastic so it's not nearly as durable as stainless steel. Be careful when assembling and disassembling it to avoid cracking or breaking the plastic.
The good thing is that the screws and nuts are made of iron which is a strong material.
I recommend using a basic stand like this as your rig arm because it's very cheap. It's ideal for beginners or kids, especially while you're teaching kids how to do stop motion animation.
How do you make a stop motion rig arm? (DIY)
If you do stop motion as a hobby (here's how to get started as a beginner), you can learn how to make a DIY rig arm so you can save money.
These rig arms can be quite expensive, and if you like to get crafty, you can make one at home.
The easy way to make a DIY rig arm is with a piece of rectangular metal as a base and
First, you want to have your rectangular metal base, preferably steel. If it is rough and you risk cutting yourself on it, you need to smoothen the edges.
Then, you can add some stick-on rubber feet to the bottom of the metal base to prevent slipping.
For the actual stand and rig, you use a magnetic base stand and holder with an articulated arm that magnetically attaches to your base with the switch of a button.
Then, to connect the puppet and the articulated rig arm, you want to use some galvanized steel wire, just make sure it's thick enough to hold your puppet's weight without bending.
You can take to 1.5 mm wires and twist them together to make it stronger using mole grip pliers.
As for length, make the arm about 20-25 cm long, so you have enough space between the stand and your puppet.
One end of the wire must be plugged into your puppet's back and the other end gets epoxy glued to the stand's rig arm.
You can also solder the wire arm to the stand too if you want to make it extra secure.
All you have to do is change up your puppets while shooting your animation. It's really that easy!
And when you're ready to remove an armature rig, take the puppet off and that's it. You can keep the armature rig in place for your next film without unassembling it every time.
Also learn about the key techniques for stop motion character development
Takeaway
Now that you have rig arms for all budgets, including the tools for a DIY rig, you can start making your stop motion movie.
It all starts with a bit of planning to figure out how heavy your armatures and figurines are.
Then, you need to select the rig stand with an arm that can hold up that particular weight without bending or cracking under pressure.
A rig arm that can hold about 200 grams is great because then you can use most kinds of puppets or figurines for your film.
Once your armature is mounted on a stable rig and the arm is long enough, you can start to take many photos for your animation.
Read next: What is pixilation in stop motion? Let me explain
Hi, I'm Kim, a mom and a stop-motion enthusiast with a background in media creation and web development. I've got a huge passion for drawing and animation, and now I'm diving headfirst into the stop-motion world. With my blog, I'm sharing my learnings with you guys.