Best camera microphone for video recording reviewed | 9 tested
I love creating free content full of tips for my readers, you. I don't accept paid sponsorships, my opinion is my own, but if you find my recommendations helpful and you end up buying something you like through one of my links, I could earn a commission at no extra cost to you.
From tie clips to shotguns, we take a look at the pros and cons of 10 external microphones that will improve the sound quality of your video clips – and explain all the jargon.
The microphones built into DSLRs and CSCs are very basic and only intended as a stopgap for audio recording.
Because they're housed in the camera body, they pick up all the clicks from autofocus systems and absorb all the processing noise as you press buttons, adjust settings, or move the camera.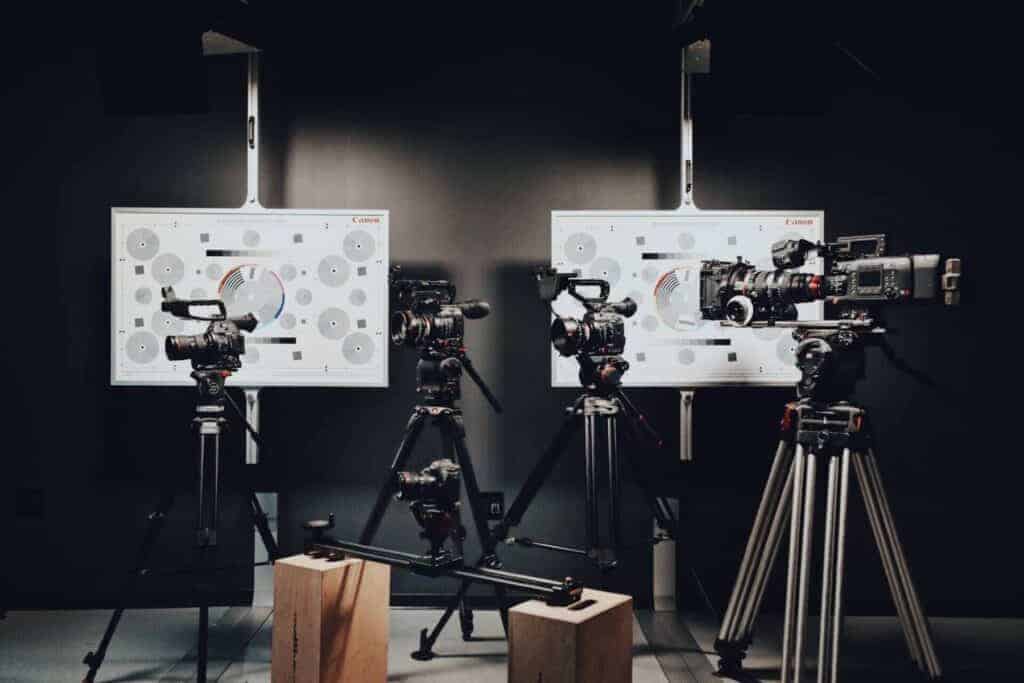 Even the best 4K cameras (like these) benefit from having the right microphone to use with them. For better audio quality, just use an external microphone.
These plug into the camera's 3.5mm microphone jack and are either placed on the camera's hot shoe, placed on a boom or microphone stand, or mounted directly on the subject.
The most convenient approach is the hot shoe mount, because you get better sound recordings without having to change anything in your recording workflow. This can be ideal if you're looking for cleaner audio from general scenes and want a hassle-free approach to eliminating the ambient noise that occurs.
From the roar of city traffic to birdsong in the woods, a shoe-mounted 'shotgun' microphone is ideal. If your audio is more important, such as the voice of a presenter or an interviewer, place the microphone as close to them as possible.
In this case, a lavalier (or lav) microphone is the answer, as it can be placed near the source (or hidden in the recording) to get the cleanest sound possible.
Best camera microphones reviewed
The budget for pro-quality mic setups used in TV and cinema can easily run into the thousands, but we've picked some wallet-friendly options that will still deliver a lot better results than your camera's built-in mic.
BOYA BY-M1
Great value and impressive sound quality makes this a great deal
Getting started with your own stop motion storyboards
Subscribe to our newsletter and get your free download with three storyboards. Get started with bringing your stories alive!
We'll only use your email address for our newsletter and respect your privacy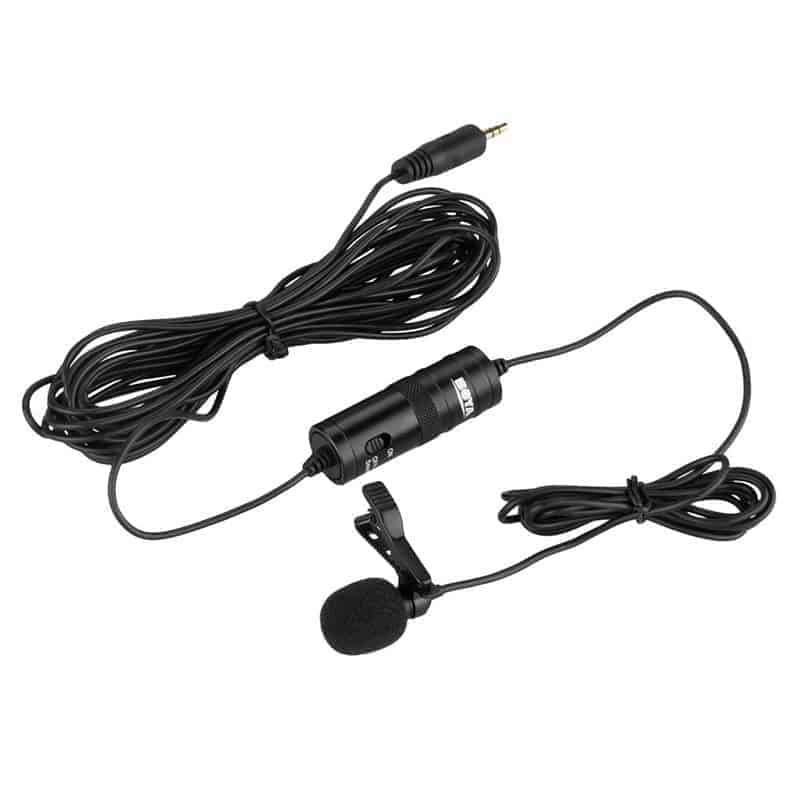 Transducer type: Condenser
Shape: Lavalier
Polar Pattern: Omnidirectional
Frequency Range: 65Hz-18KHz
Power source: LR44 battery
Supplied windshield: foam
Great sound quality
Very low noise level
A bit on the large side
very fragile
The Boya BY-M1 is a wired lavalier microphone with a switchable power source. It runs on a LR44 cell battery and must be switched on if a 'passive' source is used, or off if used with a plug-in powered device.
It comes with a lapel clip and features a foam windscreen to dampen wind noise and plosives. It offers an omnidirectional polar pattern and the frequency response extends from 65 Hz to 18 kHz.
While not as comprehensive as some of the other mics here, this is still great for voice recording. The plastic construction of the capsule is slightly bulkier than professional lovage, but the 6m wire is long enough to keep your presenter at the right height and keep things tidy in the frame.
Considering its low price, the BY-M1 delivers audio quality far beyond expectations. It has a higher output here than others, and there's no attenuator to turn the volume down, so the signal may be distorted on some equipment.
But on the Canon 5D Mk III, the result was an extremely low noise floor, delivering excellent, sharp shots. While the build quality means it should be handled with care, this is an excellent little microphone.
Check prices and availability here
Sevenoak MicRig Stereo
Similar quality can be obtained in a more manageable unit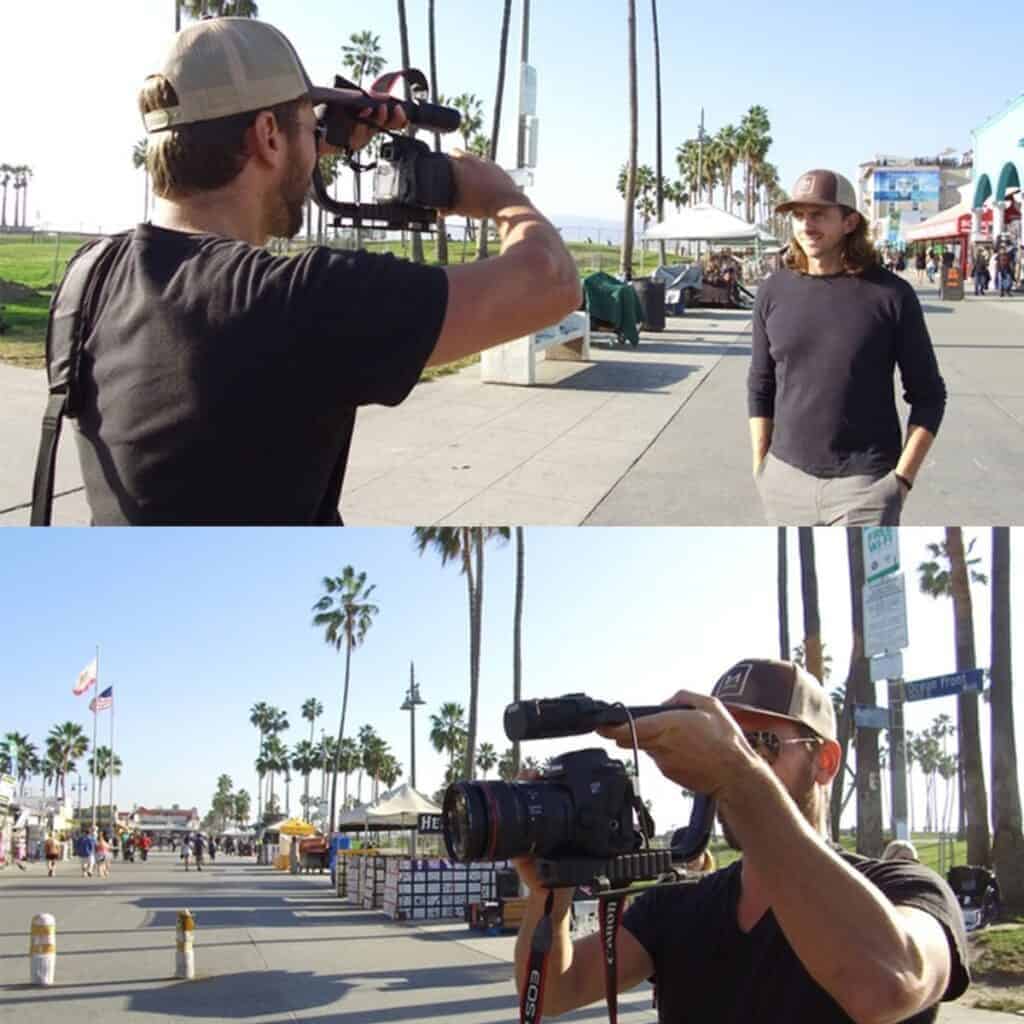 Transducer type: Condenser
Form: Stereo only
Polar pattern: Wide-field stereo
Frequency Range: 35Hz-20KHz
Power source: 1 x AA battery
Included Windshield: Furry Windjammer
Decent quality
A wide stereo field
Very bulky for a microphone
Not tripod friendly
The MicRig is a unique product that offers a stereo microphone integrated into a rig-cam stabilizer. It can handle anything from a smartphone to a DSLR (camera phone and GoPro cameras brackets are included) and the microphone connects to the camera via an included lead.
A furry windjammer is included for outdoor use in windy conditions and the frequency response extends from 35Hz-20KHz.
A low-cut filter can be turned on to reduce bass growl, and there's a -10dB attenuator switch if you want to cut the output to suit your camera.
It runs on a single AA battery, and while the rig offers a handy handle, the plastic build flexes under the weight of a DSLR, so not really suitable for the heavier setups.
The audio quality of the stereo microphone reveals a little high-frequency noise, but gives a good, natural response with a wide stereo sound.
The size may be too bulky for some and while there is a 1/4 inch thread on the base of the plastic thumbscrew that secures the camera, it's not a particularly solid purchase on a tripod, so the device is more for use on a tripod only. the hand.
Audio Technica AT8024
Big on price, but has the features to match
Transducer type: Condenser
Shape: Shotgun
Polar Pattern: Cardioid Mono + Stereo
Frequency Range: 40Hz-15KHz
Power source: 1 x AA battery
Included Windshield: Foam + Furry Windjammer
Good quality for mono / stereo
Natural sound
A small high-frequency hiss is heard
The AT8024 is a shotgun microphone with a shoe and offers a wide range of functions. It has a rubber mount to isolate the microphone from camera and operation noise and offers two recording patterns for both wide-field stereo and cardioid mono.
While the most expensive option here, it comes with both a foam windshield and a furry windjammer that is very effective at cutting out wind noise, even in a strong breeze.
It runs for 80 hours on a single AA battery (included) and delivers a 40Hz-15KHz frequency response. Overall, this is a great fit-and-forget microphone, well built and well equipped with accessories.
The noise floor of the microphone isn't perfect, so it does suffer from a bit of high-frequency noise, but the recordings are full and natural.
It's a bonus with the ability to record in stereo at the touch of a button, and a roll-off filter to attenuate bass plus a 3-stage gain option to match the microphone's output to your camera's input, it ticks all required boxes.
Pair this with an interview lav and you'll be well prepared for high-quality videos and anything that may come your way.
Audio Technica ATR 3350
Well-made budget-level microphone
Transducer type: Condenser
Shape: Lavalier
Polar Pattern: Omnidirectional
Frequency Range: 50Hz-18KHz
Power source: LR44 battery
Supplied windshield: foam
Refined build makes it easy to use
Mic sis unfortunately reduces the quality of recordings a bit
Like the Boya BY-M1, the ATR 3350 is a lavalier microphone that runs on a switchable power supply unit fed by an LR44 cell, but offers a wider frequency response ranging from 50 Hz to 18 Khz.
A long 6m cable allows the wire to be tucked out of the shot and it is very possible for presenters to walk in or out of the frame while wearing it.
A foam windshield is included, but it's worth investing in a small furry windjammer if you plan on using it outdoors.
When recording voices, the quality is decent, and the omnidirectional polar pattern means it records sound from any direction.
While it gives a little more bottom end in shots, it runs at a lower level than the BY-M1 and is noisier too, with more high-frequency noise.
The build is slightly more refined and the capsule is slightly smaller, and were it not for the cheaper BY-M1 the ATR 3350 would certainly be worth it and be at the top.
It's not a bad microphone at all, but the BY-M1's lower noise level and higher price point don't make it the top choice.
Rotolight Roto-Mic
Good microphone worth checking out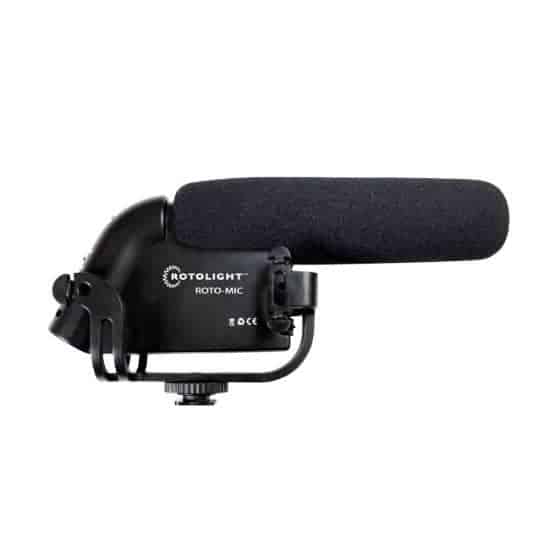 Transducer type: Condenser
Shape: Shotgun
Polar Pattern: Supercardioid
Frequency Range: 40Hz-20KHz
Power source: 1 x 9v battery
Included Windshield: Foam + Furry Windjammer
Comes with the accessories you need
High-frequency hiss is noticeable on recordings
Better known for innovative LED lighting, Rotolight also offers the Roto-Mic. Originally designed as a kit with an LED ring lamp surrounding the microphone, the Roto-Mic is also available separately.
The microphone has an impressive frequency response of 40Hz-20KHz and the output can be set to +10, -10 or 0dB to match the specifications of the camera being used.
The polar pattern is supercardioid so it focuses on a small area just in front of the mic, and in addition to a foam windscreen, it comes with a furry windjammer that works well outdoors at eliminating wind noise.
With this we found that the best results were obtained by placing it over the top of the foam. Relatively compact and powered by a 9v battery block (not included) the only down side to the Roto-Mic is some high frequency noise that is noticeable compared to quieter shotguns.
It can be made into post-production so it's not a deal breaker given its good feature set and price, but this aspect stands in the way of a top rating.
Rode VideoMic Go
A good choice for budget-conscious shooters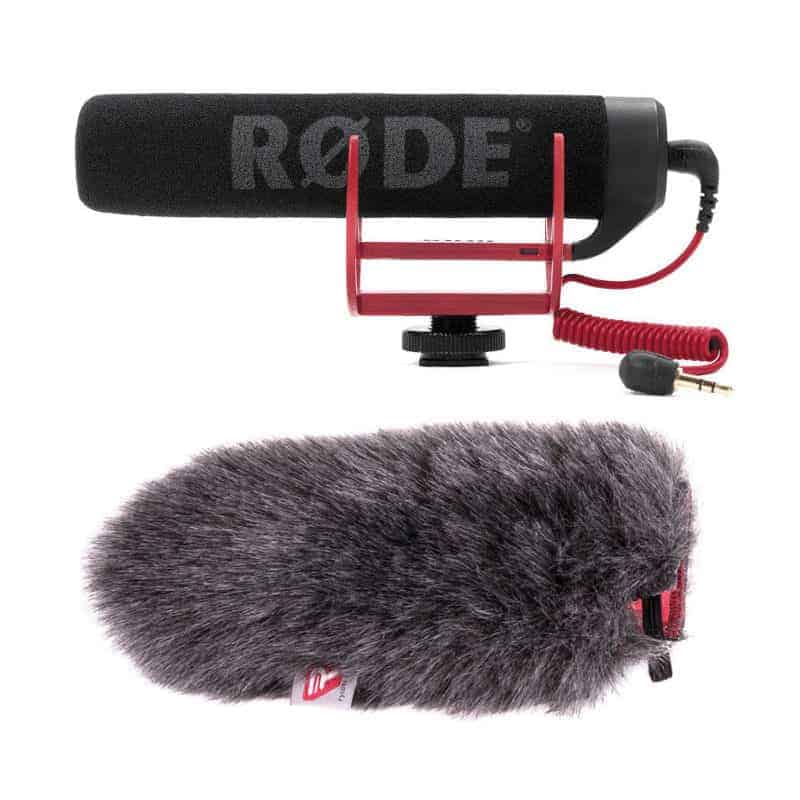 Transducer type: Condenser
Shape: Shotgun
Polar Pattern: Supercardioid
Frequency response: 100Hz-16KHz
Power source: None (plug-in power)
Included windshield: foam and windjammer in a more comprehensive package
Connect and play
Hassle-free microphone that's well made
Purity can be seen in the high frequencies
Rode makes a wide range of video-specific audio sets, from enthusiast to all the way advanced broadcast equipment. The VideoMic Go is at the lower end of the spectrum and is mounted on a hotshoe, with an effective shock absorber to reduce operating noise.
It is powered by the plug from the camera's microphone jack, so it requires no battery and there are no onboard switches to attenuate the output or change polar patterns.
This means you just plug it in, set your recording level and start recording. It comes with a foam windscreen to reduce wind noise, but there is an optional windjammer for windy conditions.
The frequency response stretches from 100 Hz to 16 kHz, but the recordings were rich and full, so we didn't notice the bass being bad.
There is a crispness to the sound as the response curve rises gently to boost at about 4KHz, but there is some hiss at the high end of the frequency ladder.
Overall, this is a well made, great sounding mic that is very easy to use.
Check prices and availability here
Rode VideoMic Pro
A good choice for those looking to invest in audio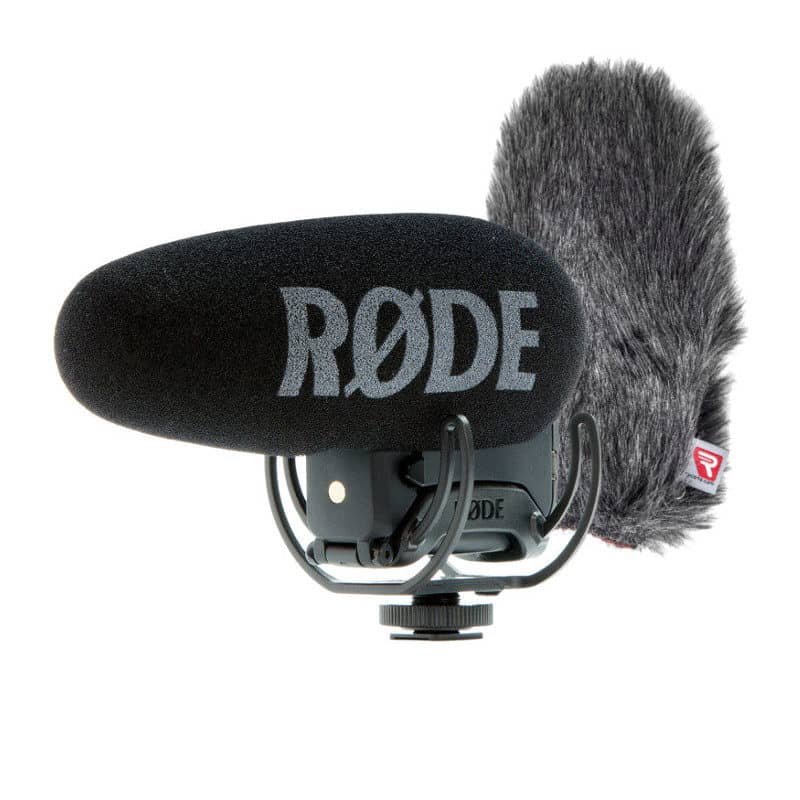 Transducer type: Condenser
Shape: Shotgun
Polar Pattern: Supercardioid
Frequency Range: 40Hz-20KHz
Power source: 1 x 9v battery
Included windshield: foam and windjammer in more extensive package
Fantastic sound
Top Shooting Feature Set
A bit bulkier and heavier than the Rode VideoMic Go is Rode's VideoMic Pro. This hotshoe shotgun microphone is the same size and design, but adds extra features for those seeking more flexibility and higher quality recordings.
Though suspended from a similar shock mount to the Go, it includes a chamber for a 9V battery (not included), which serves as a power source for approximately 70 hours.
On the back there are two switches to adjust the performance, and these change the output gain (-10, 0 or +20 dB) or offer the choice between a flat response or one with a low-frequency cut.
The sound quality is excellent, with rich tonality throughout the 40 Hz to 20 kHz range and a flat response across the speech frequencies.
Impressively, there is a very low noise floor comparable to the Boya BY-M1 lav microphone.
The included foam windshield protects the microphone, but outdoors a furry windjammer is needed to prevent wind noise, and the special Rode model is only included in the more extensive package.
This aside, the VideoMic Pro is an excellent microphone, and more than justifies the price with its features and performance.
Sennheiser MKE 400
Good, very compact microphone, but sounding a bit thin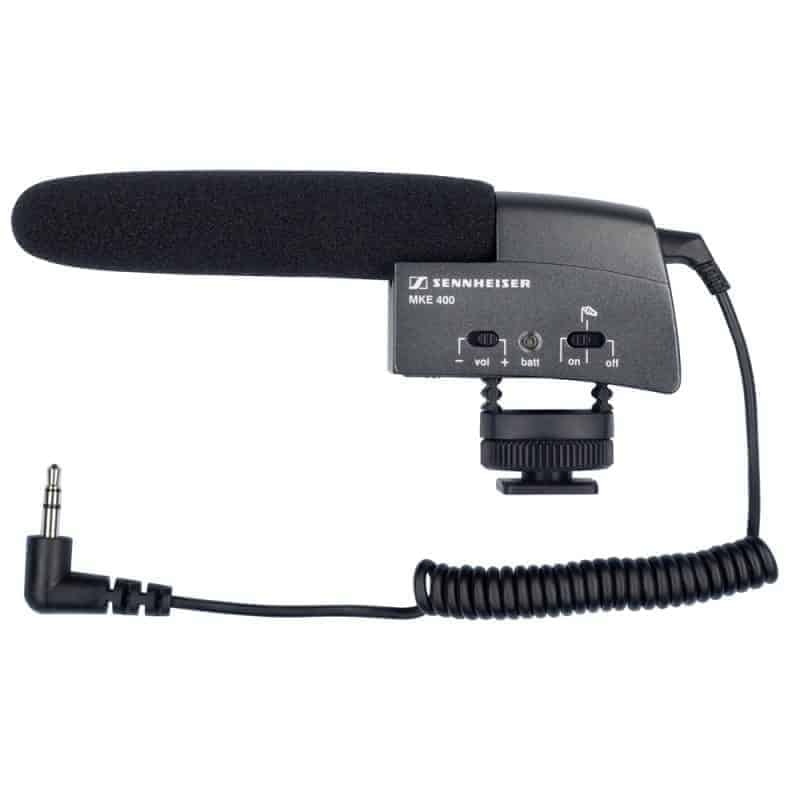 Transducer type: Condenser
Shape: Shotgun
Polar Pattern: Supercardioid
Frequency Range: 40Hz-20KHz
Power source: 1 x AAA battery
Supplied windshield: foam
Small format
Large medium to high brightness
Bass response is missing
The MKE 400 is a very compact shotgun mic that mounts to a hot shoe via a mini shock absorber and although it weighs only 60 grams it has a rugged, well constructed feel
It runs for up to 300 hours on a single AAA battery (included) and offers two gain settings (marked '- full +') and both a standard response and a low-cut setting to enhance bass.
An included foam screen protects the capsule, but a windjammer for breezy conditions is an optional extra. The MZW 400 kit includes one and also has an XLR adapter to connect the microphone to a professional video and audio kit.
The polar pattern is supercardioid, so the sound is rejected from the side and focused on a narrow arc in front of the microphone. While the frequency response stretches from 40Hz to 20KHz, there's a noticeable lack of bottom end recordings, and it's quite thin-sounding, especially when compared to the Rode VideoMic Pro.
Recordings are clear and sharp, with mids and highs dominating the sound, but it takes a little extra time to restore the low frequencies for rich, natural-sounding results.
The compact size will appeal to those who want better sound from a small, lightweight microphone.
Hama RMZ-16
The camera's built-in microphone gave better results unfortunately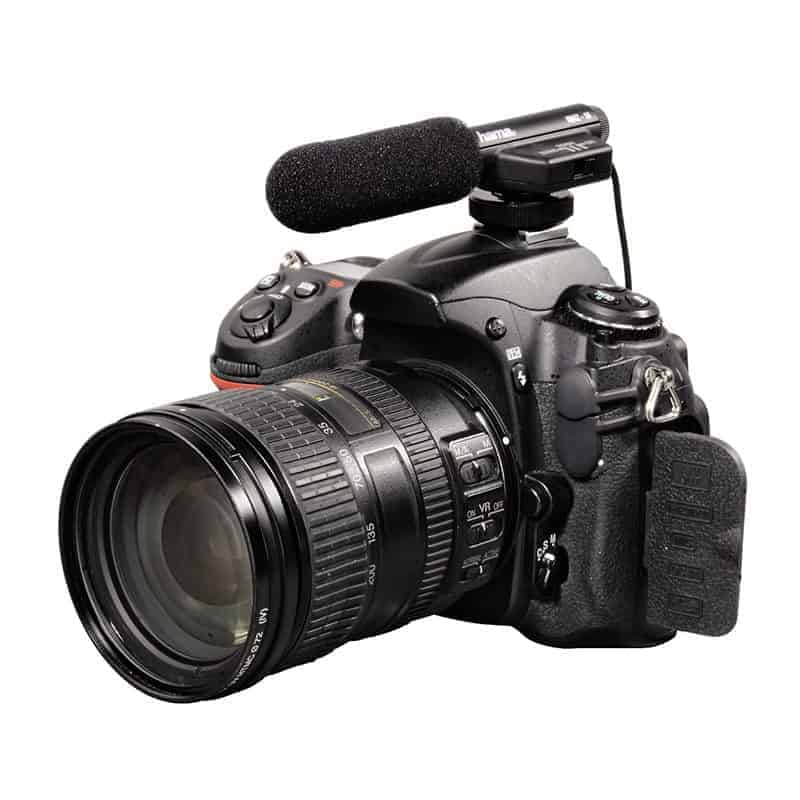 Transducer type: Condenser
Shape: Shotgun
Polar Pattern: Cardioid + Supercardioid
Frequency Range: 100Hz-10KHz
Power source: 1 x AAA battery
Supplied windshield: foam
Very small and light Zoom function
Noise floor here is higher than others
The Hama RMZ-16 is a small mic that has a shotgun style that weighs next to nothing and sits on the hot shoe. It runs on a single AAA battery (not included) and offers a switchable Norm and Zoom setting that changes the polar pattern from cardioid to supercardioid.
A foam windshield is included, but this caught some wind noise outside, so we added a furry windjammer (not included) for our test shots to maintain consistency.
The main problem with our review sample was that it generated a lot of noise regardless of the polar pattern selected, and the results weren't as good as our Canon 5D's built-in microphone.
The RMZ-16 quotes a frequency response from 100 Hz to 10 Khz, but the recordings were thin and had a low response. Very close, about 10cm from the microphone, the increased bass response of the proximity effect enhanced the sound across the frequency range, but the noise remained very noticeable in the background.
The RMZ-16's very compact size and feather weight would appeal to the traveling light, but the results don't make it worth it.
Hi, I'm Kim, a mom and a stop-motion enthusiast with a background in media creation and web development. I've got a huge passion for drawing and animation, and now I'm diving headfirst into the stop-motion world. With my blog, I'm sharing my learnings with you guys.