Best 4K video camera | Buying guide + extensive review
I love creating free content full of tips for my readers, you. I don't accept paid sponsorships, my opinion is my own, but if you find my recommendations helpful and you end up buying something you like through one of my links, I could earn a commission at no extra cost to you.
For a long time, a Full HD was the highest quality to shoot videos. This quality has meanwhile made way for 4K video technology.
A 4K camera films in an image size that is four times larger than that of a Full HD camera, making video recordings even sharper.
It is therefore logical that a 4K camera is a lot more expensive than a Full HD camera. 4K is also sometimes referred to as UHD ("Ultra HD").
The quadrupling of the Full HD resolution promises excellent picture quality, so that images even on large-screen TVs look realistic and crystal clear.
But that's not all. The movement options of the 4K camera are also impressive.
Parts cut from 4K images are equivalent to Full HD, which means that you can also realize zoom and panning shots from one shot.
In addition, with a 4K Photo function you can capture a still image with a resolution that is equal to the 8 megapixels of a 4K video.
It allows you to cut high-resolution still images from separate video frames.
If you're going for the very highest quality, you should definitely consider a 4K video camera.
In this extensive review post I will show you the best 4K cameras that are available now. I also explain what you should pay attention to when purchasing a 4K camera.
Getting started with your own stop motion storyboards
Subscribe to our newsletter and get your free download with three storyboards. Get started with bringing your stories alive!
We'll only use your email address for our newsletter and respect your privacy
This way you will quickly have the best 4K camera for you at home!
What are the best 4K cameras in our opinion?
We think this Panasonic Lumix DC-FZ82 is a great camera.
Why? First of all, we think the price is super attractive for the product you get in return.
For less than three hundred euros you have a perfect all-round Bridge camera that lets you capture all the details of your adventures in the best quality without effort.
And how about the dozens of positive reviews from satisfied customers!? More details about this camera can be found in the information below the table.
In addition to this Panasonic Lumix, there are a number of other cameras that I definitely think are worth discussing.
You will find all our favorite cameras in the table below.
After the table I will discuss each camera in more detail, so that you can easily make a well-considered choice!
What do you look for when buying a 4K camera?
From the table you can conclude that for the better 4K cameras it is best to go for brands such as Panasonic, Olympus, Canon and GoPro.
Before you make the investment, it is important to first determine what exactly you are going to use the 4K camera for and what specifications the camera must meet.
There are a number of things to consider when buying the right 4K camera for you.
Processing Speed
If you want to record 4K images and edit them for your own use, 50 mbps is enough.
However, if you are a professional, you will soon opt for 150 mbps.
On the other hand, if you often use the videos online, then you don't need to work at such speeds.
It can cost quite a lot of space, computer speed and memory and also costs more money.
Image Stabilization
Image stabilization ensures that your image is stabilized, so that you will get a less moving image. Small vibrations (not large movements) are corrected here.
So if you mainly plan to film by hand, image stabilization is certainly important.
If you film more from a tripod (like these for stop motion), then image stabilization is not necessarily a requirement.
Zoom power
The zoom power varies quite a bit between cameras. The further away you want to be able to film, the more zoom power or optical zoom you need.
If you want to be able to film something at a distance of about 5 meters, an optical zoom of up to 12x is fine.
However, if you want to be able to capture a singer in a theater, you need a 12x to 25x optical zoom. The images will then be sharper and better exposed.
Sensor
An image sensor is used in a video camera to convert the light entering through the lens into a digital image.
The image sensor of a professional 4K camera is larger than that of another video camera.
This allows more light to fall on the sensor, making it easier for the camera to process poor light conditions, movements and colors,
Resolution
Contrary to popular belief, resolution is NOT one of the most important aspects of video. Because 4K film only becomes beautiful with good processing speeds, image processors and sensors.
The high resolution is mainly a marketing ploy, to make people buy a more expensive camera and more memory cards, while they do little with the videos.
However, if you start working with film as a professional, resolution is important. 4K contains twice as many pixels as a Full HD image, which means that you can zoom in up to 2x without losing too much quality.
The 4K must be filmed with a high processing speed, otherwise the image will still become blurry when zooming in.
Also read: we've reviewed the best video editing software to buy right now
Best 4K video cameras reviewed
Now let's take a look at our top picks. What makes these cameras so good?
Best all-round 4K camera: Panasonic Lumix DC-FZ82
This Panasonic Lumix is ​​a camera that is perfect to use for shooting photos from near or far.
The camera is suitable for all kinds of circumstances, is ergonomically designed and relatively light in weight. With this camera you can easily capture all the details of your adventures in pin-sharp detail!
Thanks to the 20-1200mm zoom lens, you are able to photograph beautiful landscapes in wide panorama images.
You can also use the 60x zoom to get your subject closer to your screen. You can see your photos immediately on the 3.0 inch LCD screen.
The camera makes videos in 4K image quality at 25 or 30 frames per second. In addition, the sound is incredibly clear thanks to the built-in stereo microphone.
When you buy the camera you get a lens cap, a battery, AC adapter, a USB cable, a shoulder strap and a manual. So you can immediately start experimenting with your new acquisition!
Best 4K camera with NFC: Panasonic LUMIX DMC-LX100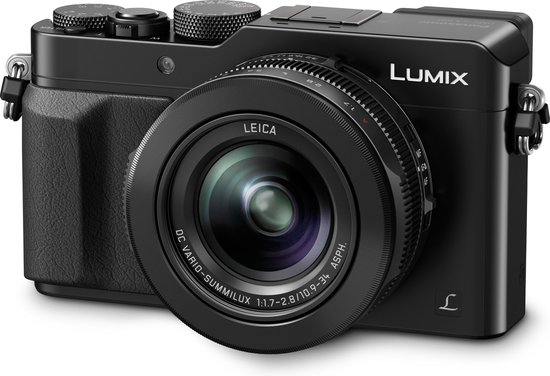 This camera from Panasonic offers a level of creative control that you usually only see on the more complex camera systems.
The camera is equipped with a 12.8 megapixel Micro 4/3" MOS sensor.
Because the camera has a surface area that is seven times (!) larger than a regular camera, it performs better in low light, has better saturation and out-of-focus shots are improved.
The camera has one of the widest lenses in a large sensor camera. Also, it is equipped with a special aperture ring, shutter speed, focus ring and exposure compensation.
The LX100 records videos in 4K (30 fps), so you'll never miss a moment. In addition to these, the camera offers many more spectacular functions!
Check prices and availability here
Best High-fps 4K Camera: Olympus OM-D E-M10 Mark III
Looking for an affordable all-rounder? Are you a novice or experienced photographer, or are you a film buff? Then this camera is for you!
The Olympus OM-D camera is very handy to take with you on a trip and extremely user-friendly.
The camera is equipped with a lightning-fast processer and 5-axis image stabilization. This means that you can still take beautiful, sharp photos in low light.
You can film in 4K at 30 fps (or Full HD at 60 fps). The camera has a WiFi connection, so you can control it remotely via your smartphone or tablet.
The camera is also equipped with a rotatable touchscreen; perfect for creative photographers who like to experiment with different angles.
The camera has four convenient shooting modes, in which the camera chooses the best settings for every situation.
When you purchase this Olympus camera, you will receive the following: lens caps, BC-2 Body cap, BLS-50 lithium-ion battery, BCS-5 battery charger, a USB cable, camera strap, warranty card and a handy manual.
You don't need more!
Best 4K camera with Wi-Fi: Canon EOS M50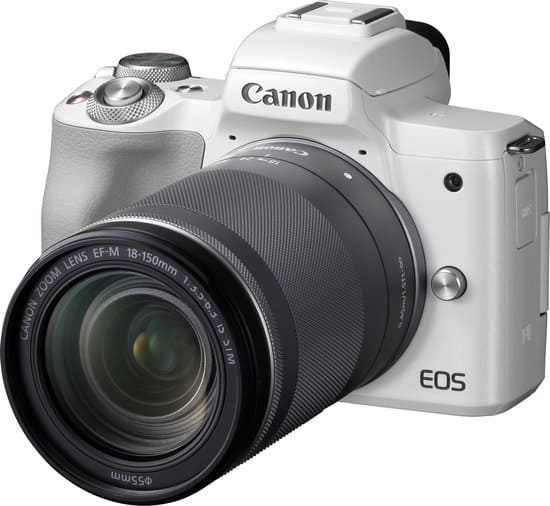 This Canon camera has a nice sleek design. Just be aware that this camera is not dust or waterproof.
Thanks to the 21.4 megapixel sensor, you can take sharp photos and share everything very easily and wirelessly via WiFi, Bluetooth and NFC. Thanks to the 180-degree tiltable LCD screen, you can make videos in 4K at 25 frames per second.
The camera also has the Creative Assist function, which teaches you how your settings affect your photos and videos. For example, you can quickly add beautiful effects to your photos.
Furthermore, the Canon uses a 3-axis Digital IS Image Stabilization system. This means that if you take pictures and move a little, your images will still be recorded razor sharp.
You can also use the touch&drag autofocus function while shooting. By tapping on your screen, you choose where you want the focus of the photo.
When you purchase the camera, you get the following: an 18-150mm lens, a battery charger, a power cord, a camera cap, a strap and a battery.
Best Waterproof 4K Camera: GoPro HERO4 Adventure Edition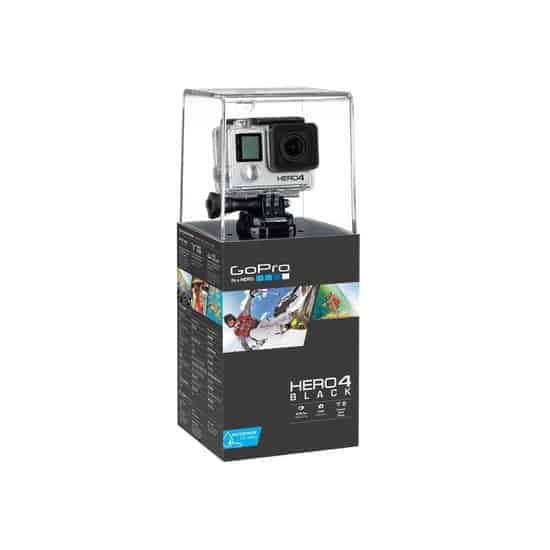 With this GoPro HERO4 you make a completely new point of view visible to the viewers! With this camera you can shoot beautiful sharp images.
At 4K you shoot 15 fps. The camera has a total megapixel count of 12 MP. The camera has an LCD screen and a touchscreen.
The camera is also equipped with WiFi and Bluetooth and is even waterproof up to 40 meters. In addition, the camera is shock and dust resistant.
We and many others think this GoPro is highly recommended!
Best 4K camera with GPS: GoPro HERO5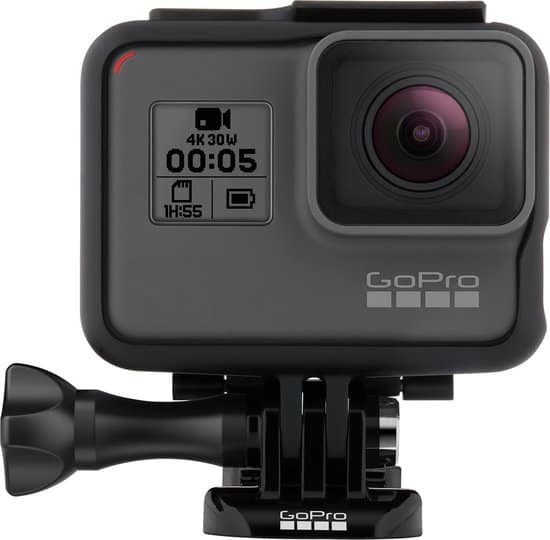 For an incredibly powerful and user-friendly GoPro, this is a perfect option.
It is a camera with a durable design that, due to its water resistance, is very suitable for pool or beach use.
With the GoPro HERO5, you can film in 4K image quality at 30 fps. You will always capture beautifully stable images thanks to the built-in image stabilization.
The camera also has a 2 inch touchscreen and even includes a GPS. So the camera records your location while filming so that you will never forget where you recorded the videos.
The 12 megapixel camera ensures that you can shoot both RAW and WDR photos. Conveniently, the camera is waterproof up to 10 meters and you can even operate the GoPro with your voice.
WiFi and Bluetooth are built-in and the camera features a dual microphone system with advanced noise reduction.
Download a GoPro app to easily view and edit your photos from your computer.
With the purchase of a GoPro HERO5, you get a frame, a rechargeable battery, curved adhesive mounts, flat adhesive mount, a mounting buckle and a USB-C cable.
Check prices and availability here
Best budget choice 4K camera: GoPro HERO7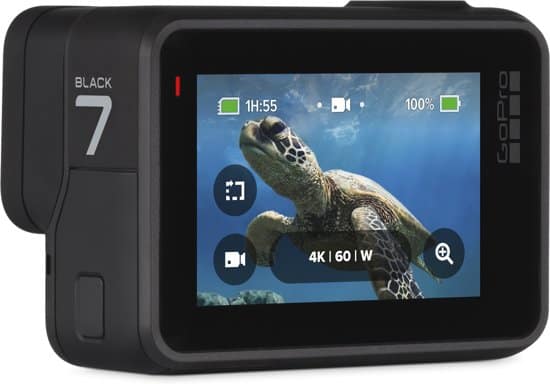 Would you like to take your GoPro one step further? The GoPro HERO7 is the successor to the GoPro HERO6 and is the most advanced GoPro ever.
The camera is ideal for shooting impressive videos and photos. Thanks to the robust housing, the GoPro can handle any adventure. A camera for everyone.
Thanks to the ultra HD 4K quality, you can produce smooth videos at 60 frames per second and capture razor-sharp photos of 12 Megapixels.
The HyperSmooth stabilization gives you gimbal-like effects. So it looks like your camera is floating! The camera can also correct extreme vibrations.
You control the camera via the touchscreen or via voice control. The GoPro is easy to operate and the use of special functions (such as slow motion and time lapse) is also child's play.
You really don't have to be a techie to use this camera properly.
From now on you also know exactly where you've been, how high and how fast you went, and how far you've gone thanks to the built-in GPS module.
Finally, you can connect your GoPro HERO7 to your smartphone via the app.
What does a 4K video camera mean?
4K is a video specification that literally means '4,000'. It gets its name from the approximately 4,000 pixels width of the images.
4K is significantly more detailed than Full HD because it has twice as many pixels horizontally and four times as many pixels in total.
Buy a 4k camera
In this article you were able to get acquainted with the technical concept of '4K' and you were able to read about various fantastic 4K cameras, some more expensive than others.
If high video quality is of great importance to you and you want to be able to shoot the most beautiful videos, then a 4K camera is definitely worth considering. Of course you have to pay some money for it.
I hope that after reading this article you have a better understanding of what 4K is, what the pros and cons are and that you have gotten a good idea of ​​some interesting 4K video cameras.
Have fun with your new purchase!
Also read: Best video cameras for vlogging | Top 6 for vloggers reviewed
Hi, I'm Kim, a mom and a stop-motion enthusiast with a background in media creation and web development. I've got a huge passion for drawing and animation, and now I'm diving headfirst into the stop-motion world. With my blog, I'm sharing my learnings with you guys.