Best Dolly Track Camera Sliders reviewed: 50,- to motorized
I love creating free content full of tips for my readers, you. I don't accept paid sponsorships, my opinion is my own, but if you find my recommendations helpful and you end up buying something you like through one of my links, I could earn a commission at no extra cost to you.
Few things bring your movie to life like tracking shots.
In the past, fancy tracking shots mostly lived in the realm of professional movie studios. Solo and amateur photographers didn't really have access to the expensive dolly and track available to the major studios.
However, thanks to the increasing popularity of DSLR cameras, that's all starting to change. Just ten years ago, personal camera sliders filled a special place in the market. However, they have become much more popular in recent years.
As their availability explodes, more and more brands and companies come into play. When it comes to buying a camera slider, you can't afford to go wrong with your purchase.
This article will help you identify your specific needs and make it easier for you to find the dolly track that's best for you.
You don't have to spend a lot of money to get eye-catching dolly shots. Here are some professional picks and DIY options that won't break your budget.
When you storyboard your next movie or video project, you may decide that a particular scene would benefit greatly from a dolly shot.
Of course, you may not have the budget to buy a Dolly platform and track. Fortunately, there are several solutions to get a great dolly shot on the cheap too.
From affordable professional gear to DIY dolly systems, let's take a look at some.
Best camera dolly tracks
Camera sliders, or dolly tracks, are perfect for making short dolly shots. I have personally used this Konova Slider K5 for two film productions and it captured exactly what was needed.
Getting started with your own stop motion storyboards
Subscribe to our newsletter and get your free download with three storyboards. Get started with bringing your stories alive!
We'll only use your email address for our newsletter and respect your privacy
While it was not the most affordable of all the options below, it is very cost effective compared to buying a high end professional dolly system which can easily cost $1500-$2000 and is the best overall choice right now .
Overall best dolly track: Konova Slider K5 120
The Konova K5 Slider is one of the most tested camera sliders on the market. It combines one of the largest tracks available today with a plethora of advanced features to make filming and tracking easier than ever before.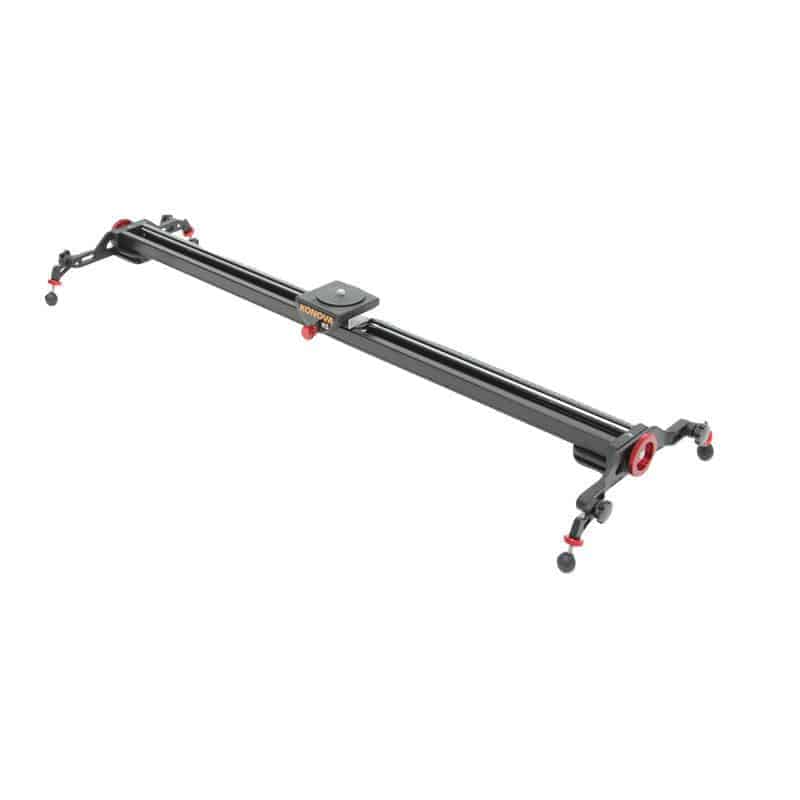 Like other high-end models, the K5 uses a flywheel slider for smoother, quieter and more precise movements. It also supports adding a crank/pulley system or converting to an automatic system.
With a track of almost 120 centimeters (47.2 in) you can achieve bigger tracking shots than other sliders can, and three large bearings provide an unprecedented payload of up to 18 kilos, supporting almost every camera on the market.
In addition, the slider features a number of ¼ and 3/8 inch brackets, which you can use to attach tripods and other camera accessories, turning the K5 into an ultimate filming tool.
The track comes with a storage bag and, despite its dimensions, weighs only 3.2kg. While that makes it one of the toughest sliders on the market, it could be a lot worse for this size.
Due to the price, the Konova K5 is only recommended for those who film and record professional images. If you are serious about taking professional tracking shots, there are few models available that will give you better results.
Best camera slider under $50: Zecti 15.7″ Portable Carbon Fiber
One of the best ways to measure the quality of a product is to see how much value you get relative to the amount you pay. The Zecti Portable Camera Slider measures quite positively when evaluated against these guidelines.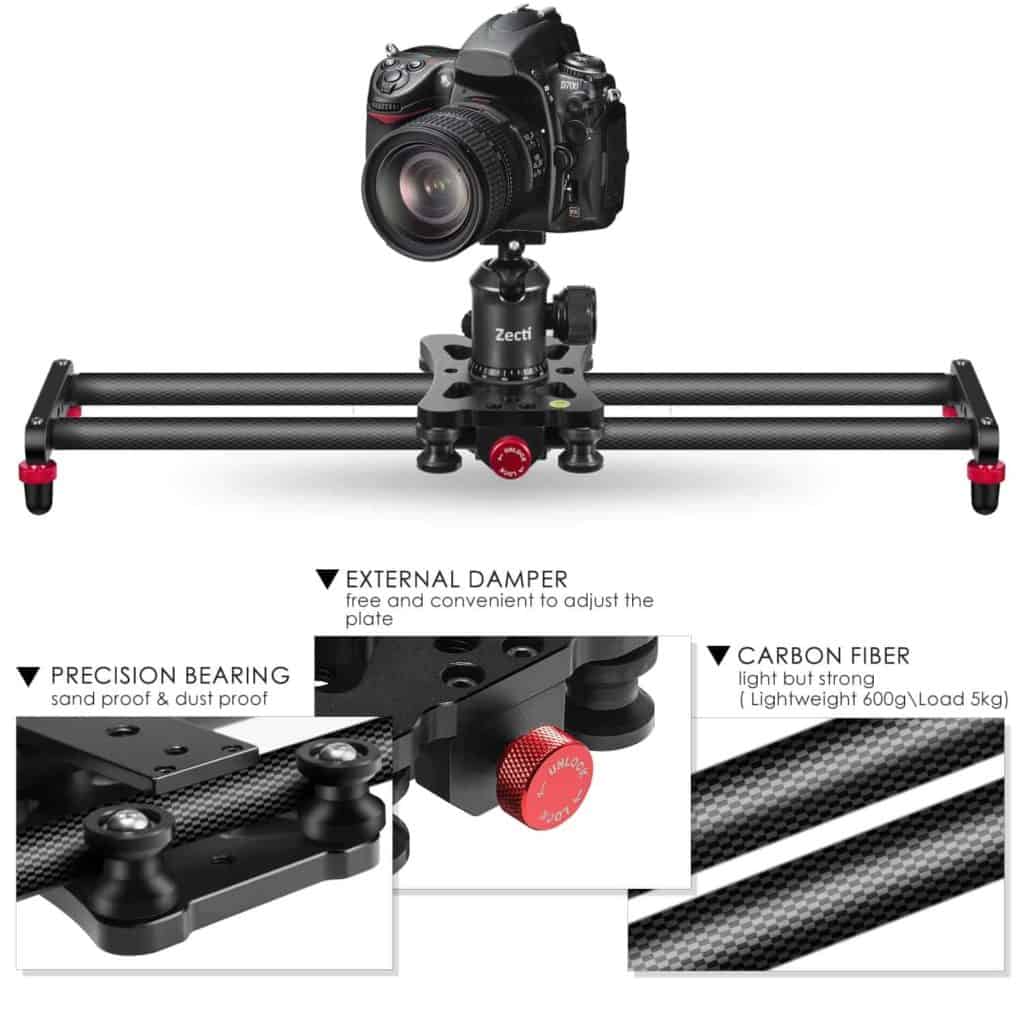 It is one of the more affordable camera sliders on the market, and its small size and light weight make it very portable. With a length of 15.7 cm, the camera dolly track from Zecti uses a carbon fiber holder and a metal frame.
It has universal ¼" male threads for a DSLR camera and both ¼" and 3/8″ screw holes on both ends and below the slider for tripod mounting.
One of the best features of this camera slider is its versatility. Its small size allows it to be mounted in a variety of ways, including vertically, horizontally, or even at an angle when mounted on a tripod (best reviewed here).
This allows you to shoot from the ground or even from your shoulder, allowing you to film a wide variety of shots. The follow slider comes with legs that can be adjusted for both flat and rough surfaces, and can also be removed if more convenient.
With a bubble level you can see your angle the slider is on and it comes with a padded carrying case. Here's a video filmed with the Zecti 15.7 vna Roto showing the unboxing first:
Best camera slider under €75: Neewer Aluminum camera Track
Unlike the tabletop mobile dolly, the Neewar 23.6 inch camera slider functions just like any other camera slider, and it is also much more flexible to use.
Made with a durable aluminum frame and weighing just over four pounds, this camera slider is both durable and lightweight. With 60 centimeters of track, this slider gives you some decent movement, making it significantly larger than the Zecti slider at a very competitive price.
Four U-shaped ball bearings provide smooth movement during filming while ensuring minimal wear and tear on the aluminum tubes.
The legs can be adjusted from 8.5 to 10 inches and can be folded to allow the slide to be mounted on a tripod. The slider is suitable for both vertical and horizontal recordings, but also for recordings with an angle of up to 45 degrees.
The camera can be mounted directly or indirectly on the slider, via the ballhead, for even more flexibility. The slider has a maximum payload of 8 kilograms and comes with a carrying case for easy travel.
Best motorized slider: GVM Dolly track rail system
Motorized sliders offer more control than any other type of dolly track. Because you can program the tracking and not have to operate it manually, you are better able to control all aspects of the filming process while you are working on the process and the shot yourself.
However, motorized camera sliders are quite a bit more expensive than standard sliders, and so is the GVM motorized camera slider.
However, this dolly track offers enough powerful features to make up for the expensive price tag. The motorized slider gives you a huge amount of control over your tracking.
It enables automatic time-lapse recording for the entire duration of the song, leaving you ready for powerful, incredible images.
And the automatic motor can be set to speeds from 1% – 100% intervals, so you can adjust and customize your shots in countless ways.
The slider comes with a remote control that allows you to set the time lapse and speed of the slider. Of course, the biggest drawback of this slider is its size. Because it's motorized, it's significantly smaller than some other sliders, with just under 11.8 inches of track.
The other, bigger problem is his weight limit. The slider cannot support a camera over 3 pounds, meaning this slider is unusable for people using larger DSLR cameras.
For those with bigger cameras, you'll have to find another option. But if you're using a smaller camera and want to add a degree of automation to your shots, this could be your solution.
If you are looking for a motorized slider, the GVM Dolly track is exactly the product you need. It features top quality bearings that provide movement that is both smooth and quiet, making this ideal for filming in serene, quiet environments.
Here is a video filmed with the GVM motorized dolly track:
Check prices and availability here
Best Portable Tabletop Camera Slider: Neewer Mobile Rolling Slider Dolly Car
If you want to take a short dolly shot and you're using a DSLR, check out a small table dolly. These lightweight solutions are great in a pinch and many can support quite a bit of weight which can help if you're using one of the smaller cameras from Blackmagic Design or RED.
By using this solution, you can get effective dolly shots on multiple small areas. And for ease of use, you can capture multiple angles in a matter of minutes, as there's no real set-up time between shots.
A camera slider doesn't have to cost a lot of money, and if you're still a relatively newbie, the Neewer Tabletop Rolling Slider Dolly Car might be a good way to introduce you to a camera slider.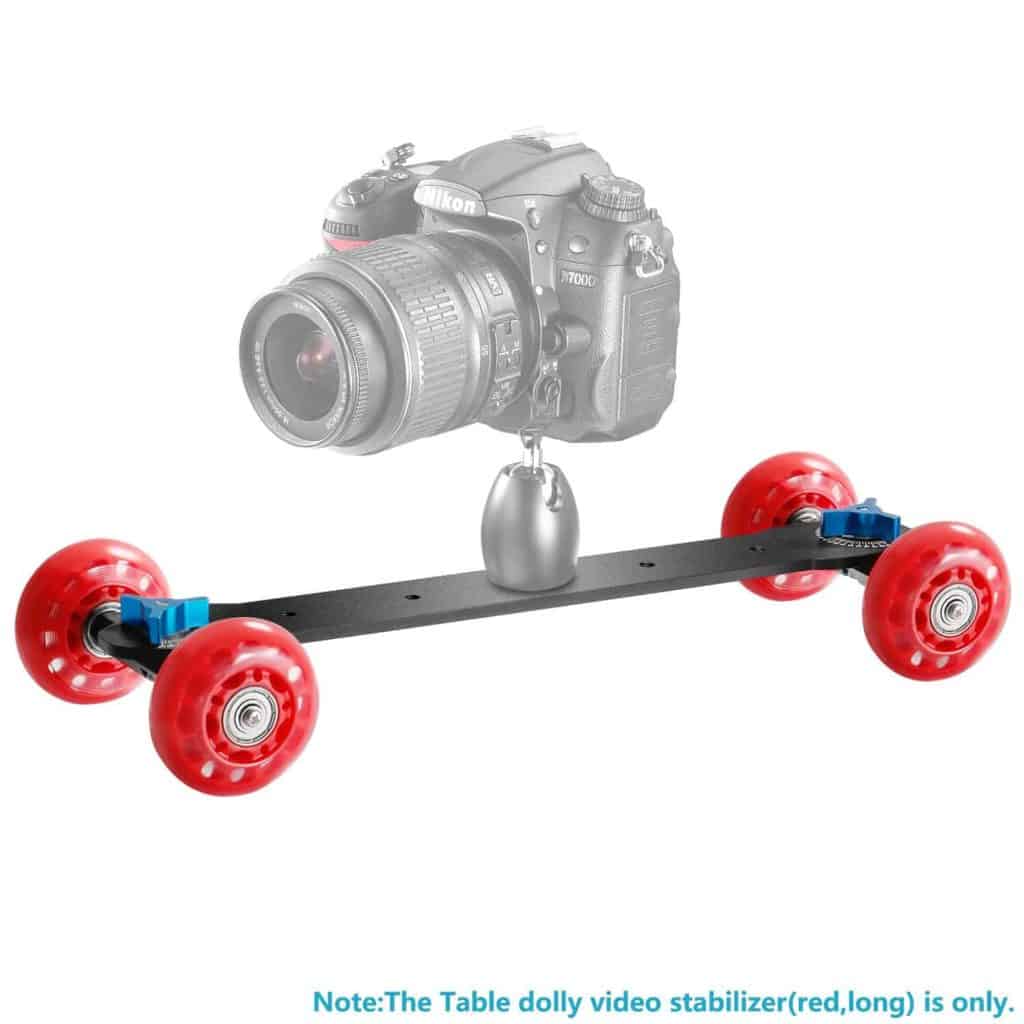 This is by no means the best product on the market, but its low price point makes it an attractive entry-level product. The body is composed of a durable aluminum alloy and the dolly is mounted on plastic rubber wheels for solid support and easy movement, making it ideal for both portable cameras and heavy DSLRs.
The wheels roll pretty well, but if you're having trouble getting smooth movements, you can sand them down for better performance.
The alloy frame is heavy enough to support a camera of up to 10kg, despite weighing just 1.2kg. The biggest advantage of the dolly car is the freedom of movement. Provided you use the dolly on a smooth surface, you can easily obtain tracking material.
However, because the board is not attached to a dolly track like a traditional camera slider, you cannot mount it on a tripod and the wheels are ill-suited for rocky or sandy environments.
If you're looking for an inexpensive, lightweight slider that offers plenty of mobility, this is a good entry-level choice. But the inability to be mounted makes this a poor fit for serious outdoor photography.
Here's a video where this guy explains how to use the Neewer Tabletop Mobile Rolling Slider in vlogging:
Check prices and availability here
Libec DL-5B Dolly tripod
If you can't afford a slider or you don't have a smooth surface to use a dolly on a table, the tripod dolly mount is your best option.
This easy-to-use tripod add-on needs a solid, smooth surface to really give you the results you're looking for, but it certainly can take a lot more knocks than a table dolly.
A solid option is the Libec DL-5B, a tripod with wheels that you can use perfectly as a dolly for your shots.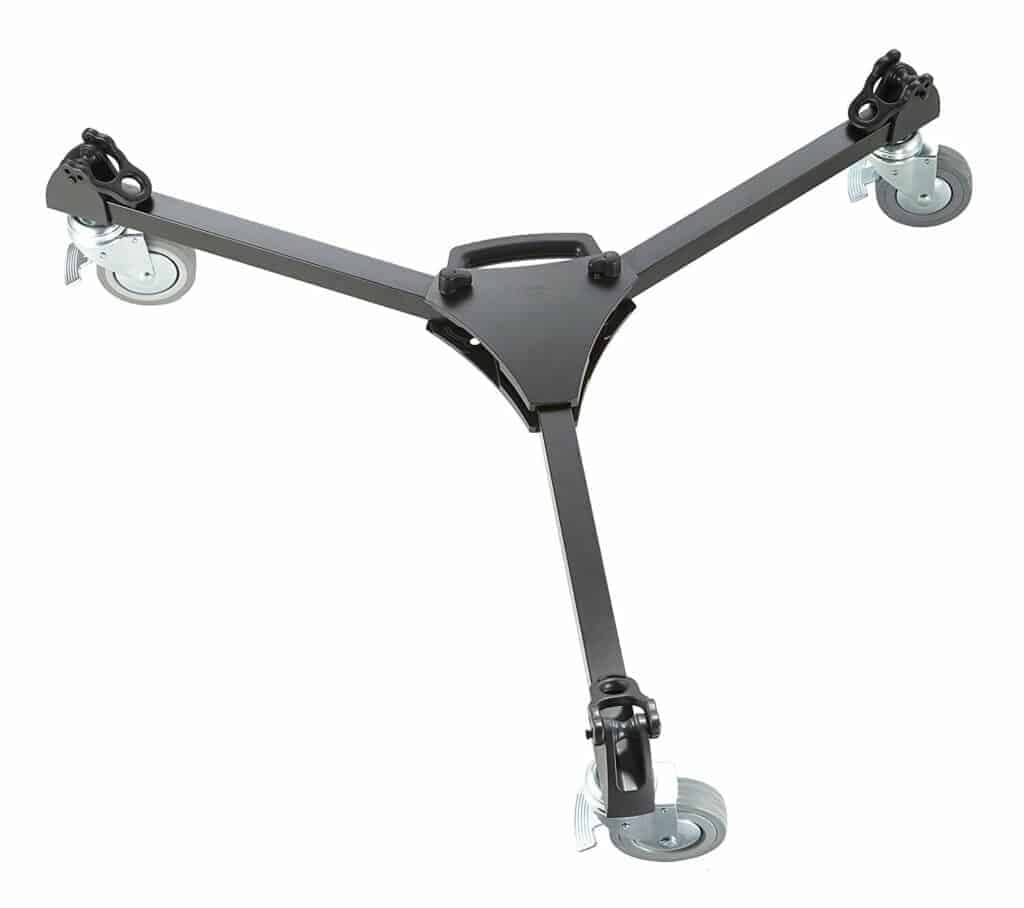 A slightly less refined means for those beautiful sliding images, but a must when you use heavier cameras, such as in a recording studio.
Things to consider when buying a Dolly track
Before you buy a dolly track, it helps to know exactly what kind of features you need and what you are looking for.
Everyone has cameras of different sizes and different filming needs, so you will need to consider these factors and evaluate them according to your own expectations.
Lens options
The main reason people choose id="urn:enhancement-8de96628-551a-4518-ba62-e0a0252d1c9f" class="textannotation disambiguated wl-thing">camera sliders over gimbal stabilizers (more on those here) is that sliders allow for a lot more versatility with the lenses you use, especially for solo filmmakers using an art or cinema lens.
Operating a gimbal is significantly more involved than a dolly track, making it easier for you to adjust your camera's focus and zoom while performing tracking shots.
Material of the track and holder
Most camera sliders are made of carbon fiber, steel or aluminum. These options vary widely in weight and payload.
Carbon fiber sliders are significantly lighter than steel or even aluminum, but they have a smaller load capacity. If you're filming solo and want to keep your load to a minimum, carbon fiber or aluminum are better choices.
If you have a big, heavy camera, you probably need a steel track.
Track length
Camera sliders are available in different lengths. The smallest are about 30 cm, while the longest are between 1 meter 20 – 1 meter 50. Much longer than that, and sliders become impractical and you move into the realm of tracks and pulleys.
It is important to consider the balance of your track. If you have a longer unit, you will need two sets of tripods to balance the rig.
Many dolly tracks come with feet built in so you don't have to carry around a heavy tripod or two, although this usually applies to the smaller sliders.
Some sliding legs are designed for balancing on flat surfaces, while others have a gripping mechanism that allows them to be attached to rocks or other surfaces for greater freedom and flexibility.
Crank belt
Some higher tracks now have options that allow you to attach cranks or other discs to your slider belts. This allows you to slide the camera over the belt without changing your position.
This provides smoother transitions and makes it less likely that you accidentally mess up your footage.
Conclusion
Whether you're looking for an expensive, professional camera slider or prefer a smaller, more portable and budget-friendly dolly track (or car) model, there are more choices available than ever before.
There has never been a better time to invest in a camera slider than now. Do you already have a favourite? Let us know in the comments.
Hi, I'm Kim, a mom and a stop-motion enthusiast with a background in media creation and web development. I've got a huge passion for drawing and animation, and now I'm diving headfirst into the stop-motion world. With my blog, I'm sharing my learnings with you guys.