Must-have DSLR camera accessories for stop motion photography
I love creating free content full of tips for my readers, you. I don't accept paid sponsorships, my opinion is my own, but if you find my recommendations helpful and you end up buying something you like through one of my links, I could earn a commission at no extra cost to you.
Ready to take amazing photos with your DSLR camera? Well, not with just the kit lens. There is a whole range of DSLR accessories that can take your photography to a new level.
Whether you're shooting Lego stop motion or Claymation photography, this guide makes it easy to find the essential camera accessories you need.
Let's start.
Best stop motion DSLR Accessories
External flash
You might be a big fan of natural light kits like me. But there are tons of reasons to own an external flash.
Of course, low light situations and indoor settings call for extra light, and you probably have a kit if you're taking stop motion animation seriously, but when taking that perfect one shot for a Youtube thumbnail or other reason it can add a great bit of depth.
You don't necessarily have to pay the top prize. For example, there are good brands that make flashes for the well-known brands. The best I have tested is this Yongnuo Speedlite YN600EX-RT II flash for Canon with a super response time. Plus you can also include it in a Canon wireless flash system without any problems.
The brand has also made one for Nikon cameras. You can connect it in different ways and even has a digital radio transceiver.
Of course you can always go for an original one from these established brands, but then you immediately pay a lot more like this Canon Speedlite 600EX II-RT flash:
Full Tripods for DSLR Cameras
A good stable tripod is a must, especially if you're creating an exposure time of about 1/40 of a second. Otherwise, even the slightest movement will give you blurry photos or the next photo in the animation will be slightly off.
Getting started with your own stop motion storyboards
Subscribe to our newsletter and get your free download with three storyboards. Get started with bringing your stories alive!
We'll only use your email address for our newsletter and respect your privacy
A large-sized tripod offers you the stability you are looking for and the Zomei Z668 Professional DSLR Camera Monopod with Stand is suitable for you for Digital Cameras and DSLRs from Canon, Nikon, Sony, Olympus, Panasonic etc.
The 360 ​​Panorama Ball Head Quick Release Plate provides a full panoramic, 4 section column legs with quick release flip locks and allows you to adjust the working height from 18″ to 68″ in seconds.
Handy for traveling because it weighs only one and a half kilos. The included carrying case makes it easy to take anywhere. Quick release twist leg lock provides an ultra-quick and comfortable leg treatment for quick erection and the 4-piece leg tubes save a lot of space, making it compact in size.
It is a 2 in 1 tripod, not only a tripod, but also can be a monopod. Multi angles for shooting like low angle shot and high angle shot are also possible with this monopod.
Furthermore, it is compatible with almost all DSLR cameras like Canon, Nikon, Sony, Samsung, Olympus, Panasonic & Pentax and GoPro devices.
This Zomei has been my regular companion in recent years. I love how compact it is to carry around and it functions as both a light travel tripod and an easy to set up monopod.
It also has a ball head with a quick-fastening mounting plate. It has a column hook to hang a weight for added stability. And you can adjust the height from 18″ to 65″ with its rotating leg locks that control four adjustable leg pieces.
Also check out these other camera tripods we've reviewed for stop motion here
Remote shutter release
Besides using a tripod, the best way to avoid camera shake and movement while shooting is to use a shutter release cable.
This little device is one of the most used items in my kit bag, besides my camera itself, of course. Stop motion photographers especially need a good camera trigger to reduce the chance of their camera moving during a shoot.
Here are some different types of external shutter releases:
Wired remote control
Pixel Remote Commander shutter release cable for Nikon, Canon, Sony and Olympus, among others, is suitable for single shooting, continuous shooting, long exposure and has support for shutter half-press, full-press and shutter lock.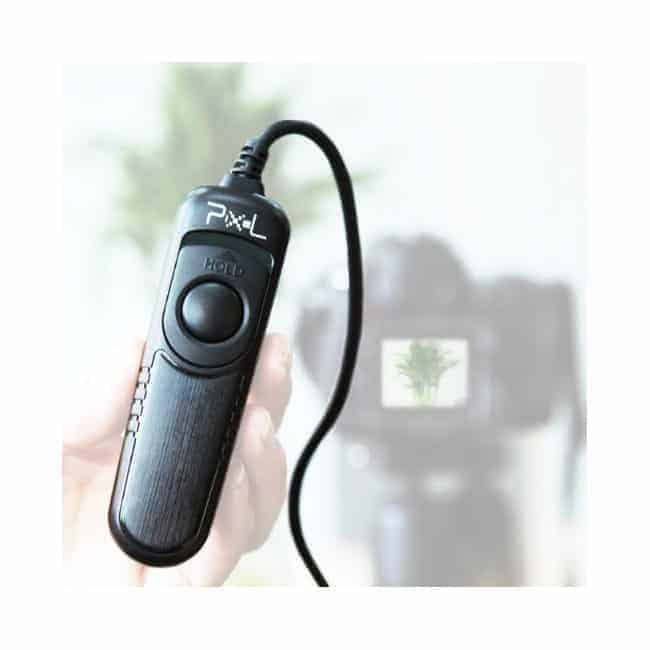 This cable is as straight forward as possible. A connection to your camera on one side and a large button on the other to activate your camera's shutter button.
It doesn't get any easier than that.
But just in case you want some fancy setup, it supports several shooting modes: single shot, continuous shooting, long exposure, and BULB mode.
NOTE: Make sure to choose the correct cable connection for your camera.
Wireless Infrared Remote Controls
Eliminate judder and increase image quality with this wireless remote from Pixel for Nikon, Panasonic, Canon and more.
If your camera supports infrared (IR) remote camera triggering, this little guy is one of the most useful Nikon DSLR accessories you'll have on hand. It's small. It is light. And it just works.
Using the camera's built-in IR receiver, you can activate your shutter release at the touch of a button. All wireless.
Camera Cleaning Accessories
Your camera gets dirty. Clean it up. Dust, fingerprints, dirt, sand, grease, and grime can all affect the quality of your images and the performance and life of your camera.
With these camera cleaning accessories you can keep your lenses, filters and camera body tidy.
Dust blower for DSLR cameras
This is a powerful cleaning tool. It always goes with me in my camera bag. Dust has met its match with this hard rubber constructed blower.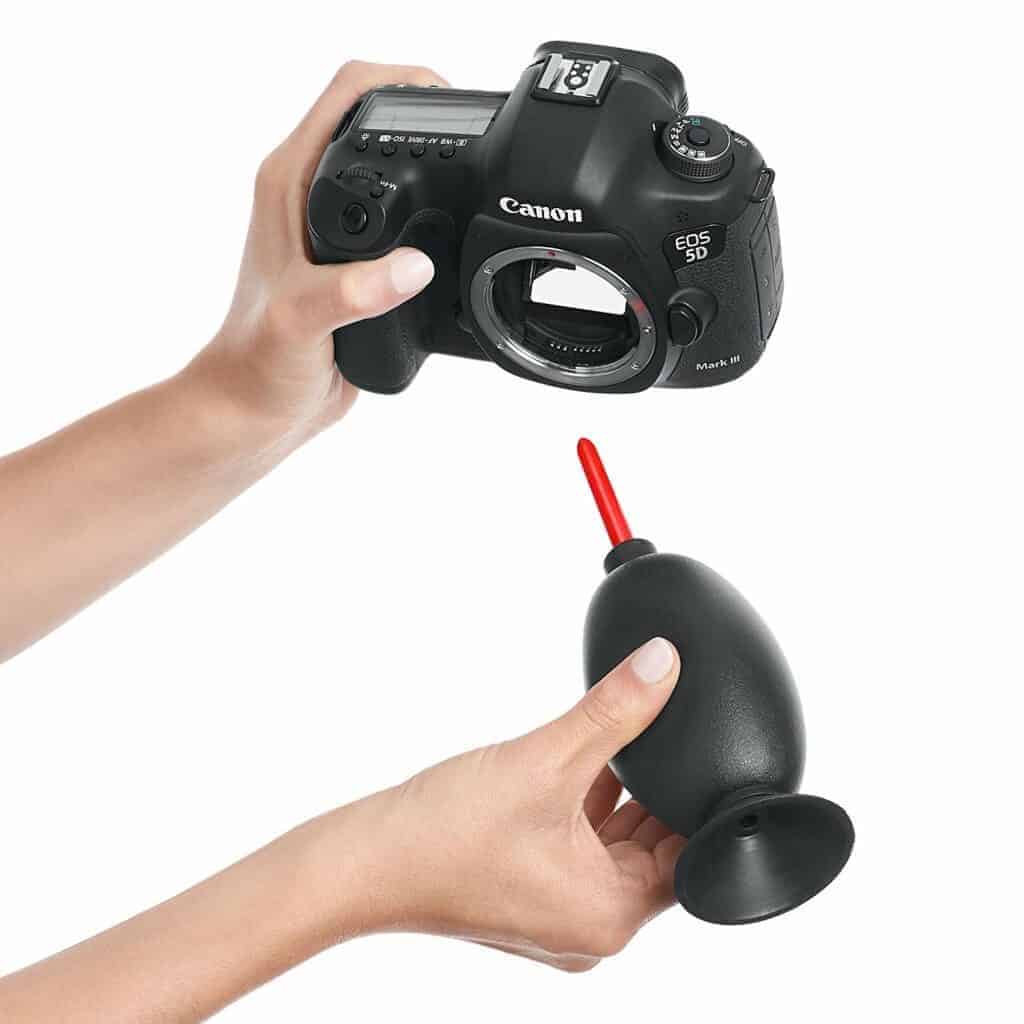 It even has a one-way valve to prevent dust from being sucked in and then blown out for safe cleaning of cameras and electronics.
Dusting brush for cameras
My favorite brush tool is this Hama lens pen.
It is a simple lens cleaning system, effective, durable and long lasting with a soft brush that retracts into the pen body to keep clean.
Removes fingerprints, dust and other dirt that can damage your image
Works with all types of cameras (digital and film), as well as binoculars, telescopes and other optical products
This is a 2-in-1 lens cleaning tool from Hama. One end has a retractable brush to sweep away the dust. And the other end is covered with an anti-static microfiber cloth to wipe fingerprints, oils and other smudges off your lens, filter or viewfinder.
UV and polarizing filters
UV filter
The main filter I would recommend, which is not very expensive, is a UV (ultra violet) filter. This extends the life of your lens and camera sensor by limiting harmful UV rays.
But it's also a very inexpensive way to protect your lens from accidental bumps and scratches. I'd rather pay a few dollars to replace a cracked filter than a few hundred dollars to buy another lens.
These from Hoya are very reliable and available in different sizes:
Most Popular Protection Filter
Provides basic ultraviolet light reduction
Helps eliminate bluish cast in images
up to 77 mm diameter
Circular Polarizing Filter
A good circular polarizer will help you reduce the glare you normally encounter when shooting to add water and a little extra color boost to your photos.
Here too, Hoya offers a huge variety of sizes up to 82mm to choose from.
Reflectors
Sometimes natural light and studio lights alone don't provide the ideal exposure. A quick and easy way to solve this problem is to use a reflector to bounce light off your subject.
The best photography reflectors are collapsible and portable. And they should be built in with more than one type of reflector and diffuser, so you have a lot of lighting options.
Here's my favorite: the Neewer 43″ / 110cm 5-in-1 Collapsible Multi-Disc Light Reflector with Bag. It comes with discs in translucent, silver, gold, white and black.
This reflector fits on any standard reflector holder and is a 5-in-1 reflector with translucent, silver, gold, white and black discs.
The silver side brightens shadows and highlights and is very bright. It does not change the color of the light.
The golden side gives the reflected light a warm color cast.
The white side brightens up shadows and allows you to get a little closer to your subject.
The black side subtracts light and deepens shadows.
And the translucent disc in the center is used to diffuse the light hitting your subject.
This reflector fits all standard reflector holders and comes with its own storage and carrying bag.
External monitor
Ever wish you could, a bigger screen to view your shots as you shoot them? Want to take a self-portrait or record a video of yourself, but need help framing your photo?
The solution to these problems is an external monitor (or field monitor). A field monitor can help you achieve optimal framing and focusing without having to stare at your camera's small LCD screen.
Here's the one I use: this Sony CLM-V55 5-inch for its value for money.
It's also the overall best in my on-camera monitor for still photography review where you can find many more for other situations.
Memory Cards for Cameras
Current dslr cameras can easily produce RAW files over 20MB. And when you take hundreds of photos in one day, that can add up quickly.
As with batteries, memory storage is something you don't want to run out of when you're doing a shoot. It is a necessary accessory for your camera.
In general, it's better to have more than you think you need. So I've listed a few below with bigger options for each size.
SanDisk Extreme PRO 128GB
Take these and record data at speeds up to 90MB/s. Transfer data to your computer's hard drive at speeds up to 95MB/s.
Can capture 4K Ultra High Definition. UHS Speed Class 3 (U3). And it is temperature resistant, waterproof, shockproof and X-ray proof.
This Sandisk is available here
Sony Professional XQD G-Series 256GB Memory Card
XQD memory cards provide lightning fast read and write speeds for compatible cameras. This Sony card has a maximum read speed of 440MB/sec. And a maximum write speed of 400 MB / sec. This is for the pros:
It records 4k video with ease. And it enables lightning-fast continuous burst mode of up to 200 RAW photos. Please note that you need an XQD card reader to transfer photos.
One of my favorite DSLR accessories.
Xqd Performance: The new XQD cards reach max read 440MB/s, max write 400MB/S2 using PCI Express Gen.2 interface.
Superior strength: exceptional durability, even during intensive use. Up to 5x more durable compared to standard XQD. Tested to withstand water up to 5 M (16.4 feet)
Fast read and write: Maximizes the performance of XQD cameras, whether shooting 4K video or continuous burst mode shooting, or transferring large content to host devices
High durability: shockproof, anti-static and resistant to breakage. Full performance at extreme temperatures, also UV, X-ray and magnet resistant
Saved Files Rescue: Applies a special algorithm to achieve a higher recovery rate for raw images, mov files and 4K xavc-s video files captured on Sony and nikon devices
It is a bit more expensive, but you don't run any risk of losing your files due to magnetic field or water or whatever may happen along the way.
Prime Lens
A prime lens has a fixed focal length. They are usually lighter and more compact than zoom lenses. And a wider maximum aperture means a much tighter depth of field and faster shutter speeds.
But with a prime lens, you have to get used to walking back and forth instead of zooming in on the subject. All in all, investing in a few primes can be worth it for the quality of your photos in a variety of shooting situations.
This Nikon AF-S DX NIKKOR 35mm f/1.8G lens with autofocus is perfect for your Nikon camera in these situations.
It's a great prime prime lens from Nikon. This 35mm lens is very light and compact. Perfect for travel. It offers phenomenal low-light performance with the f/1.8 aperture.
It is also very quiet. And it does just as good a job as the 50mm version at blurring the background of your subject.
F Mount Lens / DX Format. Angle of view with Nikon DX format – 44 degrees
52.5mm (35mm equivalent).
Aperture range: f/1.8 to 22; Dimensions (approx.): Approx. 70 x 52.5 millimeters
Silent Wave Motor AF System.
External hard drive
While not a shooting accessory, an external hard drive is a must for any serious photographer. Since today's DSLR cameras produce large file sizes, you need something that can hold all that precious data.
And you need something portable and fast so you can upload your photos and process them on the go.
This is what I'm using, the LaCie Rugged Thunderbolt USB 3.0 2TB External Hard Drive:
Capture and edit content like a pro with Rugged Thunderbolt USB 3.0, an external hard drive that delivers extreme durability and fast performance.
For those in need of speed, transfer at speeds of up to 130MB/s using the integrated Thunderbolt cable that wraps seamlessly around the enclosure when not in use.
Pull in with confidence with a portable external hard drive that's drop, dust, and water resistant. This portable 2TB hard drive is a workhorse.
It has an integrated Thunderbolt cable and an optional USB 3.0 cable. So it works with both Mac and PC. It boots quickly and has fast read/write speeds (510 Mb/s with an SSD like my Macbook Pro).
Plus, it's drop-resistant (5 ft.), crush-resistant (1 ton), and water-resistant.
Continuous lighting
Depending on your shooting situation, you may prefer continuous light rather than flash. The current DSLR cameras are very good quality dual video cameras.
Continuous lighting for a studio setup makes it easy to click the lights on and start recording right away. Also read my post on the best light kits and on-camera lights for stop motion.
Macro lens
A macro lens is best when you want to capture fine details of something very close, such as insects and flowers. You can use a zoom lens for this, but a macro lens is specifically designed to capture a shallow depth of field and still stay sharp.
For this I choose the Nikon AF-S VR 105mm f/2.8G IF-ED lens which is designed for close-up and macro photography and is versatile enough for almost any photographic situation.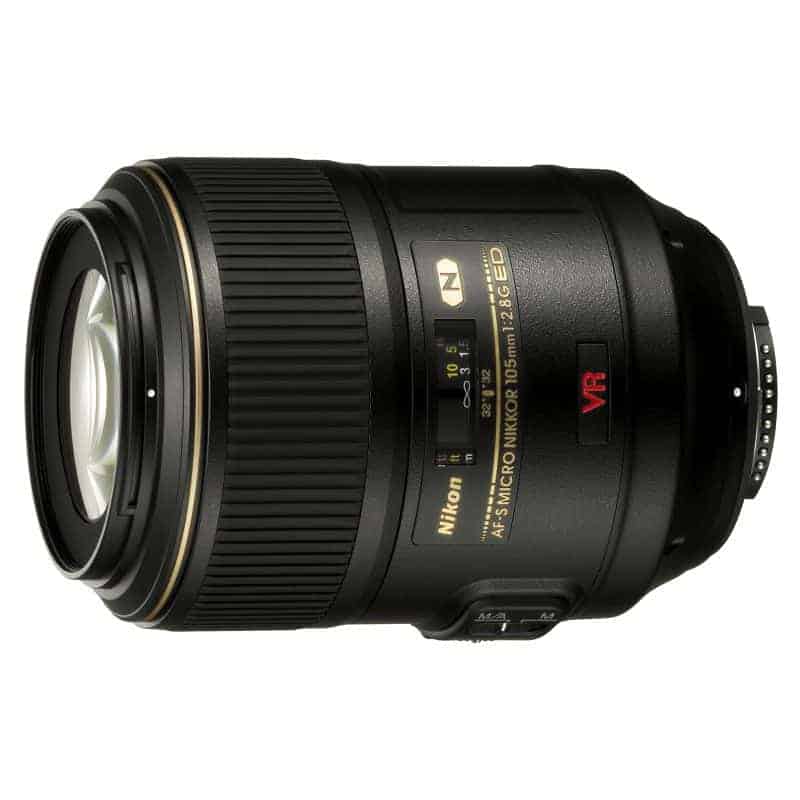 Maximum viewing angle (FX format): 23° 20′.Features new VR II vibration reduction technology, Focal length: 105 mm, Minimum focus distance: 10 ft (0314 m)
Nano-Crystal Coat and ED glass elements that improve overall image quality by reducing flare and chromatic aberrations
Includes an internal focus, which provides fast and quiet autofocus without changing the length of the lens.
Maximum Reproduction Ratio: 1.0x
Weighs 279 grams and measures 33 x 45 inches;
Check prices and availability here
This is a larger and more expensive macro lens. But it has a longer fixed focal length. Like the 40mm version, this lens also has a solid Vibration Reduction (VR) feature built in. And with the f/2.8 aperture, you can blur more light by blurring your background quite well.
Neutral Density Filters
Neutral Density (ND) filters allow photographers to balance their exposure when lighting conditions aren't optimal. They act as sunglasses for your camera, for part of the frame or for your entire shot.
It can help balance the lighting between shots for your stop motion animation.
Here are some ways to get started with ND filters.
Threaded ring, solid ND filter
This is where the B+W filters really shine, with the standard B+W F-Pro filter bracket, which has a threaded front and is made from brass.
This screw-on ND filter is a great way to experiment with what you can do with a neutral density filter. Reducing your exposure by 10 full stops will blur the clouds and make water silky in no time.
If you're not ready to go into a complete nd filter kit just yet, this is a pretty cheap way to go.
Check prices and availability here
Extra batteries
Carrying extra camera batteries is a must for any photographer. It doesn't matter how close you are to a charging station. When you run out of juice, it will always be when you need it most: in the middle of a photo shoot.
You will always see.
So have at least one or two extra batteries on hand, if not a few more. Be prepared!
Battery chargers
Having extra dslr batteries is great. But if you don't have anything to charge them with, you're out of luck. These dual chargers ensure that your camera is refreshed and ready to use.
This universal Jupio charger is one to always carry with you and has already saved me from many situations.
Hi, I'm Kim, a mom and a stop-motion enthusiast with a background in media creation and web development. I've got a huge passion for drawing and animation, and now I'm diving headfirst into the stop-motion world. With my blog, I'm sharing my learnings with you guys.