6 Best video cameras reviewed & buying guide
I love creating free content full of tips for my readers, you. I don't accept paid sponsorships, my opinion is my own, but if you find my recommendations helpful and you end up buying something you like through one of my links, I could earn a commission at no extra cost to you.
From 4K powerhouses to small action cameras, here are the best video cameras.
The best video camera this year is the Blackmagic Pocket Cinema Camera 4K. I get through hundreds of cameras, from DSLRs to movie cameras to action cameras.
Still, the Blackmagic PCC4K has blown me away for its price/quality ratio. It offers excellent 4K video quality, can shoot in RAW or ProRes and has a beautiful 5-inch touchscreen, all for a very low price tag.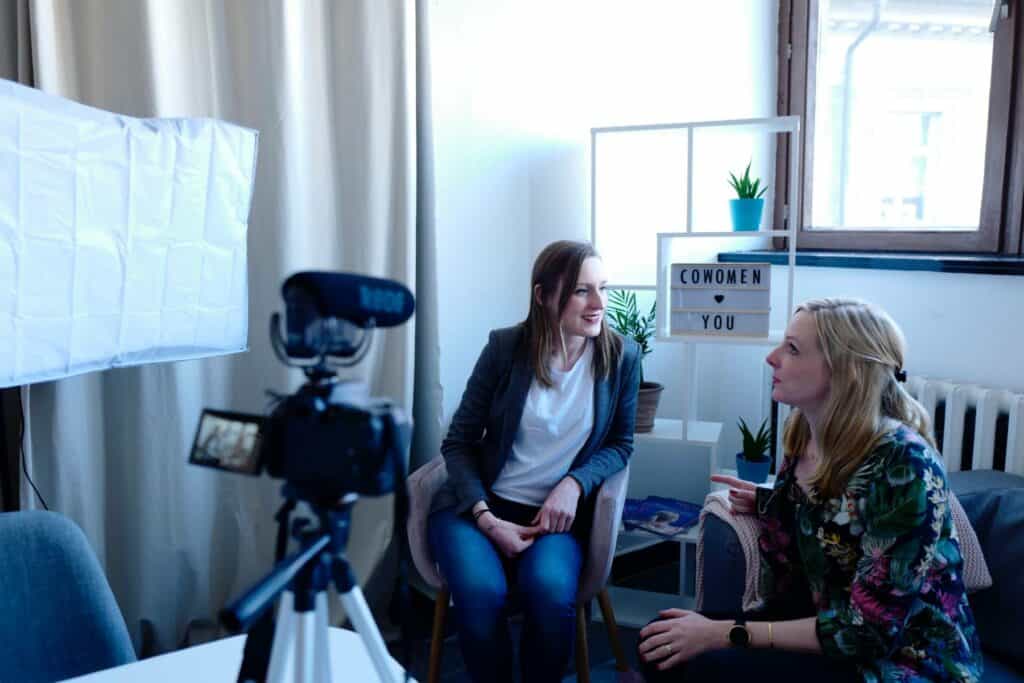 Thousands of dollars less than other professional movie cameras, and cheap enough to give amateur videographers a chance to step into high-quality, professional 4K video production.
Looking for something even more affordable or simpler? I have also found some very good alternatives for that. Here are my tips for the best video camera in several popular categories. At a glance:
Best video cameras reviewed
Overall Best Video Camera: Blackmagic Design Pocket Cinema 4K
Why you should buy this: Professional cinema quality at an affordable price. You will not find better value for money for all types of filmmakers.
Who is it for: student, aspiring and professional filmmakers.
Why I chose the Blackmagic Pocket Cinema Camera 4K as the best: Blackmagic Design is on a mission to democratize professional-quality film production and the Pocket Cinema Camera 4K is the most effective weapon in that battle yet.
It costs just $1,300, but includes features normally reserved for movie cameras that are thousands of dollars more. Built around the Micro Four Thirds system, it uses a very similar sensor to that of the Panasonic GH5S mirrorless camera.
Getting started with your own stop motion storyboards
Subscribe to our newsletter and get your free download with three storyboards. Get started with bringing your stories alive!
We'll only use your email address for our newsletter and respect your privacy
And Blackmagic has taken several steps further by including professional file types such as ProRes and RAW video. They can be recorded directly to SD or CFast 2.0 cards or directly to an external solid state drive (SSD) via USB.
DSLR Video Shooter has a perfect review on its Youtube channel of this camera:
The camera has a beautiful 5-inch Full HD display that is arguably the best built-in monitor we've ever seen. The touch interface is also beautifully designed and offers a surprisingly simple interface for such an advanced camera.
Add in advanced audio inputs for an external microphone and controls, including both 3.5mm and mini XLR, and you've got everything you need to craft your next blockbuster.
Designed for professional movie workflows, the Pocket Cinema Camera doesn't offer the comforts of a modern hybrid camera. Autofocus is slow and often imprecise, and there's nothing quite like the face or eye-tracking autofocus found on mirrorless cameras from Sony and Panasonic.
However, if you find it easy to do things manually, it doesn't get any better than this. No other camera brings so much value for this money.
Best 4K Camcorder: Sony AX700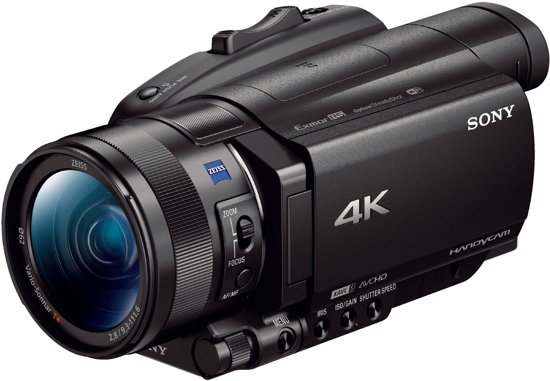 Why should you buy this one? Beautiful 4K footage from a large 1-inch sensor and a clear zoom. Excellent 4K video quality at a competitive price.
Who it's for: For those who aren't afraid to spend money for great image quality.
Why I chose the Sony AX700: Sony's 1-inch-type sensors have dominated the compact camera market for years. And while those same sensors are new to video, they show great promise for video quality well above the average camcorder.
The 14.2-megapixel, 1-inch sensor in the AX700 collects more light than traditional 1/2-inch and 1/3-inch sensors associated with camcorders, delivering a serious boost in image quality over the typical consumer model.
4K is recorded at 30 frames per second at a bit rate of 100 megabits per second. The larger a sensor, the more difficult it is to place a long zoom in front of it. Fortunately, Sony still managed to fit a 12x zoom on the AX700.
The f/2.8-4.5 aperture is bright for the category, but a built-in neutral density filter helps if the environment is too bright, limiting shutter speed so video doesn't look choppy.
The sensor and lens work together with a 273-point phase-detection autofocus for smoother focusing and more accurate subject tracking.
Advanced features such as HDR, 960 fps super slow motion mode, hot shoe connection and S-Gamut and S-log color assessment give the AX700 professional features.
On the outside, the camera offers a handful of manual controls, including a multi-function lens ring that can control focus or zoom.
Dual SD card slots provide plenty of storage space and uninterrupted recording. The high price tag is a bit too much for most buyers, but most video cameras with similar features have even higher prices. Canon also has a video camera series with a 1-inch sensor and 4K, but it starts at €2,500.
For a compact high-resolution fixed-lens video camera, the AX700 is the best money can buy.
Best travel camera: Panasonic HC-VX1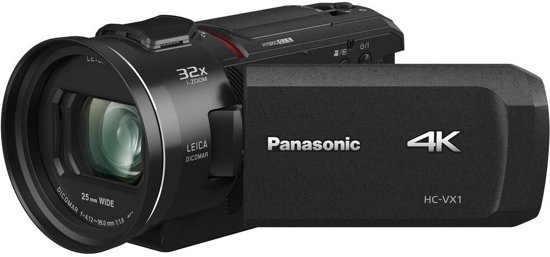 Why you should buy this one: 4K resolution without the four-digit price.
Who it's for: The serious consumer who wants solid video quality without spending a fortune. Why we chose the Panasonic HC-VX1: The Panasonic VX1 packs in both 4K/30fps video and a solid 24x zoom, so the video camera earns a lot of points for versatility.
The 1/2.5-inch sensor is smaller than the one-inch sensors on the market, but better than the average smartphone. In addition to the wide zoom range, the lens also has a bright f/1.8-4 aperture.
And when zooming is more important than resolution, a 48x intelligent optical-digital zoom combo cuts the 4K to plain old HD.
In addition to the high-resolution sensor and bright zoom, the VX1 also features three different types of stabilization for smoother handheld shooting. Two shooting modes are specially designed for harder, high-contrast scenes, with options for active contrast and HDR movies.
Those features are packed into a standard camcorder body, with a 3-inch touchscreen. The VX1 is a good bridge between cheaper HD options and the higher-priced 4K models.
Best Video Camera for Sports: Canon LEGRIA HF R86
Why you should buy these: Record a league game from afar with enough zoom to get a closer look at your favorite player.
At an unbeatable price, the Legria will shine where your smartphone camera fails, on the sidelines.
Who it's for: Consumers who want the zoom and long shooting times they can't find on a smartphone.
Why I chose the Canon Legria: It may not have 4K or a massive sensor, but it brings a 32x zoom on the front that can be extended all the way to 57x using the advanced digital zoom option hidden in the manual settings.
Its 1080p HD at 60fps video won't win any awards for image quality, but it's a good video camera for recording family memories and outings, in addition to capturing your son's soccer matches, all the way to amateur soccer to zoom in on the players so that they can improve their game when they look back.
Despite the price, the HF R800 brings a lot to the table. Dynamic Image Stabilization controls camera movement on three different axes, slow and fast move options can create slow-motion or time-lapse sequences, and Highlight Priority mode keeps clear skies and other bright objects well exposed.
Best Action Camera: Gopro Hero7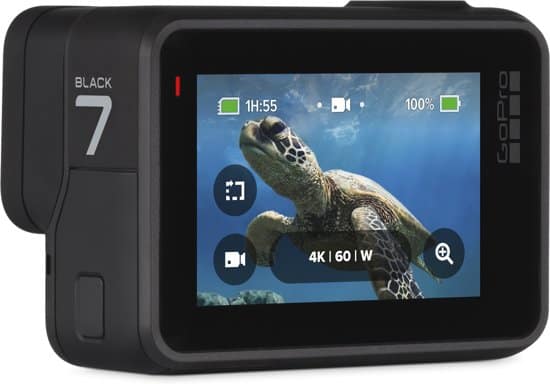 Why should you buy this one? Great image stabilization and 4K/60p video. The Hero7 Black proves that GoPro is still at the top for action cameras.
Who it's for: Anyone with a love for POV videos or who needs a camera small enough to fit anywhere.
Why I chose the GoPro Hero7 Black: Action Cam is going to be a misleading title. These tiny cameras can be used in a much wider range of environments than the name suggests, from taking extreme sports shots to shooting Netflix documentary-level movies.
The GoPro Hero7 Black can handle everything you could ask of a small camera. While GoPro sees more competition than ever before, the latest flagship maintains the lead thanks to incredible electronic image stabilization that is simply the best we've ever seen.
The camera also has a new TimeWarp mode that provides smooth time-laps similar to Instagram's Hyperlapse app. Built around the same GP1 custom processor introduced in the Hero6, the Hero7 Black records 4K video at up to 60 frames per second or 1080p up to 240 for slow-motion playback.
Already one of our favorites, the user interface has been redesigned to make it more user-friendly. GoPro also added native live streaming, allowing users to share their adventures in real time with friends and fans around the world, something that previously required third-party tools.
Best Video Camera for Youtube: Panasonic Lumix GH5
Why you should buy this: Excellent video and audio quality, great stabilization. The GH5 puts professional filming tools in a compact, mirrorless camera.
Who it's for: Serious videographers who want the flexibility of multiple lenses and high-quality 4K video.
Why I chose the Panasonic Lumix GH5: In the world of hybrid still and video cameras, no name is better known than Panasonic Lumix. The GH5 is the latest model in the highly acclaimed GH line that brings professional filmmakers features of a recognizable mirrorless camera body.
What sets the GH5 apart from potential competitors is its video quality: 10-bit 4:2:2 video in 4K resolution at up to 400 megabits per second. Most other cameras require an external recorder to get close, but the GH5 can do well on an SD card.
In addition, unlike most mirrorless cameras and DSLRs, the GH5 offers no time limit on how long you can record; want to run a long-winded hilarious rant for your YouTube fans? You can do that just fine.
Want to record an hour-long interview on your podcast? No problem. The feature set is a great 5-axis internal stabilization system that keeps your handheld gear smooth.
A 180-degree swivel monitor also means you can keep up with your framing for those "walk and talk" shots. High-quality preamps also keep the audio clear and tight when using an external microphone.
If you don't need stabilization and want even more emphasis on video quality, check out the more advanced GH5S.
Tips for researching and buying a camera
Here are some more tips and considerations before buying a video camera:
Why should I buy a video camera instead of using my phone?
In reality, not everyone needs a dedicated video camera anymore; our phones have great cameras that are good enough most of the time.
However, there are some important reasons why you might want a standalone camera.
Zoom lens
Your phone may have two (or five) lenses built in, but if you need the versatility or reach of a long zoom, a camcorder is your best bet.
Not only does this give you the ability to film farther away subjects, but camcorders also use powered lens motors that provide a very smooth zooming action.
Alternatively, interchangeable-lens cameras give extra creative control, even if their lenses don't zoom in as far or as smoothly.
Battery life and recording time
If you're filming a long event, from a small duel game to a wedding ceremony, you probably don't want to risk draining your phone's battery.
Particularly with mid-range and high-end camcorders, video cameras often offer multiple battery types, with high-capacity options designed for such situations.
Mirrorless cameras, like the GH5 above, have optional battery grips that can be attached to extend battery life, while cinema cameras can be fitted with large external batteries.
Image quality
If you want a cinematic look you can do it relatively affordably with any DSLR or mirrorless camera. The combination of a large image sensor and interchangeable lenses gives you much more creative control over the look of your video, allowing you to shoot with a shallow depth of field and significantly improve low-light performance than using your phone.
Sound quality
Let's face it, your phone isn't very good at recording audio, especially in a noisy environment.
Not only does a dedicated video camera have better built-in mics, but you can also connect an external mic to get the best results in any given situation, from a wireless lavalier mic for recording dialogue to a shotgun mic for cutting through ambient noise. , to a stereo mic for recording music.
What are the main features of a video camera?
Video cameras can be divided into four categories, each of which has unique advantages.
Action cameras
These are small, lightweight and mountable cameras designed for "set it and forget it" applications. Attach one to your chest, hang it on your helmet or mount it on your bike frame and just press record.
Usually these cameras are waterproof and rugged and can survive a beating.
Camcorders
While not as popular as they once were (you can thank smartphones for that), camcorders still come in handy when you need a compact all-in-one solution for recording video.
They are characterized by a zoom lens integrated into the camera body. Entry-level models are generally quite compact and can be used with one hand, while the higher-end models are larger and often include professional audio inputs and more controls.
DSLRs and mirrorless cameras
These are still cameras that can record video, and some models are really good at it. The benefits include a large sensor and interchangeable lenses, which improve video quality and creative versatility over camcorders and action cams.
Because of the larger sensors, you won't find extremely long zooms like you get on camcorders, but you will be able to choose from a wide selection of lenses that give you completely different looks.
Cinema cameras
These cameras, like the Blackmagic Pocket Cinema Camera that took the top spot on this list, have a lot in common with DSLRs and mirrorless cameras. They have relatively large sensors and interchangeable lenses. What separates them is the user interface, video-specific features, and higher quality file types.
While most DSLRs and mirrorless cameras shoot highly compressed video, cinema cameras often offer uncompressed RAW files or slightly compressed file types such as Apple ProRes.
The higher quality file type means more flexibility in post production and video editing (these software programs can handle large files).
Can video cameras take pictures and vice versa?
Yes. Today, most SLRs and mirrorless cameras are "hybrid" cameras, meaning they perform well for both stills and video, even if they are more focused on photography.
Camcorders and film cameras can usually also take pictures, but usually the resolution of a special photo camera is missing. While a mirrorless camera can have 20 or more megapixels, a camcorder or cinema camera usually only has as much as is needed for video – for a 4K resolution, that's about 8MP.
What makes a professional video camera?
While professional cameras tend to have better sensors and, like better image quality, what really sets them apart from consumer models is the user interfaces and connectivity features.
A professional video camera has more direct access control, physical buttons and dials on the camera body, as well as a whole host of input and output options for both audio and video.
In the case of cinema cameras, these actually have fewer convenience features than consumer cameras, for example, autofocus and autoexposure may be limited or nonexistent.
Should I buy a 4K video camera?
The answer is probably yes, if for no other reason than 4K is quickly becoming the standard. Even midrange mirrorless cameras now feature 4K video.
However, if you don't have a 4K television or monitor, you don't fully realize the benefits of a 4K video camera, and many people don't see the difference anyway.
That said, shooting in 4K does give you some flexibility to crop and reframe a post-production shot in your video-editing program, which can be a very welcome feature when you need it, such as adding some extra afterwards. zoom in on a captured part of the shot.
It also does a much better job of creating fine patterns, like the threads in clothing, which can otherwise cause moiré at lower resolutions.
Choose the right camera for your project
Choosing the best camera for your project depends on many factors, including target audience, technical expertise and of course budget.
If you know what story you want to tell, you choose the right equipment, not the other way around. Creativity also plays a major role. It's not so much about the camera, but the person behind the camera.
A professional can shoot better images with an iPhone than an amateur with a RED camera. The overview below makes choosing a camera a bit easier:
Consumer Camcorders
These types of cameras are designed for ease of use. You can take them with you on holiday in the travel case, the automatic settings are quite good, manual settings are not present or hidden in a menu.
You can zoom in far, which is why there is also a connection for a tripod. The battery lasts quite a long time and the recordings can be viewed on almost any PC. Finally, they are affordable cameras.
Although the light sensitivity is not bad, the small sensors quickly give image noise. The compact size quickly makes the image restless, even with stabilization.
The lack of manual adjustment options can be a limitation, and unfortunately there is also the issue of perception. The cameras do not look professional, you are not taken seriously.
Suitable for:
Youtube video clips for easy projects
Vacation camera for travel
Prosumer and Professional cameras
The world of prosumer and professional has moved closer and closer together in recent years. Prosumers are mainly looking for ease of use, a good price-quality ratio with a sleek image.
Professionals want to set everything themselves and love large buttons and interchangeable lenses.
For prosumers, cameras such as the Canon XA30 and XA35 are very suitable, they are Full HD cameras with a maximum resolution of 1920×1080, not 4K cameras like these we've reviewed here.
The professionals go more towards Sony PXW-X200 XDCAM (also only Full HD), which gives you much more control over the settings. They are compact enough to use in uncontrolled situations.
A shoulder tripod for these types of cameras is recommended, by the way.
Suitable for:
Weddings and parties
Events such as fairs
Professional online video
DSLR and mirrorless cameras
The introduction of the Canon 5dmkII has brought interchangeable-lens cameras to the "general" public, with indie filmmakers in particular making extensive use of these cameras.
With DSLR cameras, the weak point is often the autofocus, which is slow compared to consumer cameras and they often make quite a bit of noise.
If you work with a large aperture, you have to take into account the small depth of field. It looks nice but it is a challenge to keep the subject in focus, especially if there is a lot of movement in the image.
For a limited budget, the Canon 760D and the Panasonic GH4 are popular entry-level models.
Mirrorless cameras are on the rise. The advantages of DSLR in a compact housing at a competitive price offer a nice total package for the film maker with a limited budget.
The Sony a6000 is very popular and now also works with the improved XAVC-S codec. The a7r (II) and a7s (II) series convince many Indie filmmakers.
Suitable for:
indie filmmakers
Prosumers and professionals on a budget
Photographers who also work with video
Professional video cameras with interchangeable lenses
The price is probably a step too high for hobbyists, but the new Sony FS5 brings professional features and quality to a prosumer price point.
These are not point-and-shoot holiday cameras but serious devices for professionals. In terms of size, they are still quite compact. The Canon C300 is an alternative to the FS5.
Suitable for:
Professional productions
Filmmakers in low budget productions
High-end cinema Movie cameras (with interchangeable lenses)
This is the domain of the RED and ARRI Alexa cinema cameras. Prices range from $20,000 to $75,000 for a complete ARRI.
If you work with these cameras, you will undoubtedly work with a decent team of professionals, including specialists for light and sound.
Suitable for:
High-end productions
Movies
Indie Filmmakers (who have won the lottery)
The higher you go, the more expensive the cameras. If you are working on a large production, renting equipment is also an option. And don't forget that with a professional camera you also need a professional behind the camera.
Also read: these are the best cameras for stop motion animation we've reviewed
Hi, I'm Kim, a mom and a stop-motion enthusiast with a background in media creation and web development. I've got a huge passion for drawing and animation, and now I'm diving headfirst into the stop-motion world. With my blog, I'm sharing my learnings with you guys.