Best video editing software: 13 Best Tools Reviewed
I love creating free content full of tips for my readers, you. I don't accept paid sponsorships, my opinion is my own, but if you find my recommendations helpful and you end up buying something you like through one of my links, I could earn a commission at no extra cost to you.
Your guide to the best paid and free video editing programs.
Armed with the best video editing software, a decent smartphone and a little "creative spark", anyone can be a filmmaker these days. That's the nice thing about living these days.
Whether you want to make fun videos of your vacation for yourself at home or, like me, make videos for your business and marketing.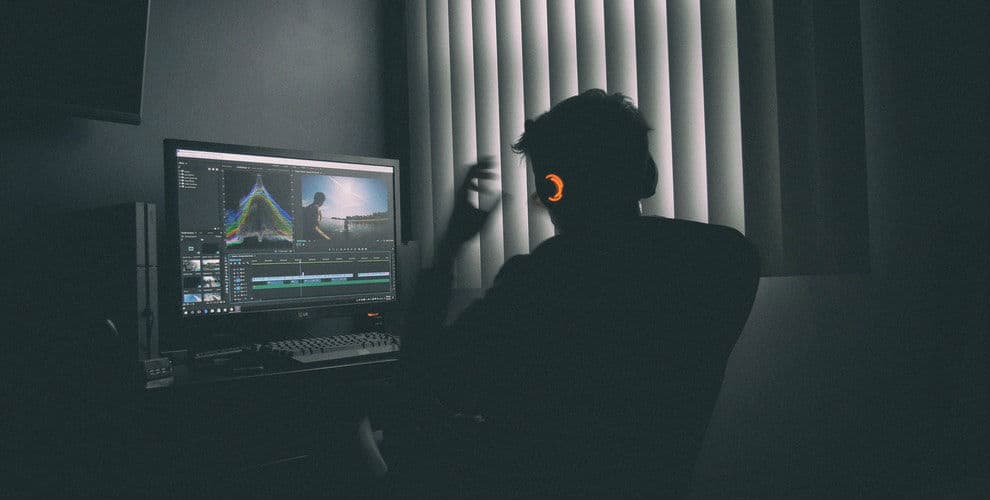 Advances in tools mean it's never been easier to capture high-quality video, it's just a matter of finding the right editor that's right for you and turning it all into something fun to watch.
In this buying guide, I've collected a selection of the best video editors.
These tools make cutting, editing and perfecting very easy.
The programs I've picked won't drain your bank account, but if you're really short on cash (or you're not ready to commit to a paid option yet), scroll down.
You'll find my list of the best free video editing software there. You can also check out our list of the best video editing apps if you want to do some editing on your smartphone, many of which are also free.
Also Read: The Best Video Editing Courses Reviewed
The video editing programs I recommend in this review are packed with features to turn your footage into social gold. Whether you're using one of the best laptops for video editing or any other device, we've picked the best options to suit you.
Getting started with your own stop motion storyboards
Subscribe to our newsletter and get your free download with three storyboards. Get started with bringing your stories alive!
We'll only use your email address for our newsletter and respect your privacy
You will find the best video editing software for Windows PCs, Mac and Android machines. There are also brilliant choices for beginners and experienced video editors. So something for everyone.
Best paid video editing software
First, let's dive into the best paid programs to edit your videos. They come in different price categories and of course for different operating systems:
Best Video Editing Software for PC: Adobe Premiere Pro CC
Adobe Premiere Pro has emerged as the best video editing software for Windows.
Platform: Windows and Mac
Key Features: Multi-Camera Editing, 3D Editing
Video Tracks: Unlimited
Free Trial: Yes (view the trial version here)
Best for: Professionals and serious hobbyists
Main advantages
Excellent automatic functions
Industry standard video editing tool so easy to collaborate with others
Free trial available
Dedicated companion app for extra editing convenience
If you are a Windows user, Adobe Premiere Pro CC is the best video editor currently available, hands down. If you want the best for Windows, the choice is easy: Premiere Pro is a comprehensive video editor from one of the biggest names in the industry, used by a wide range of creative professionals.
Kris Truini shows you the most important things about Premiere Pro CC that you need to know as a software novice in 20 minutes:
It is easy to see why it is so popular for Windows 10 users. It can handle an unlimited number of video tracks, which can be imported from almost any source you can think of (files, tapes, cameras of all standards and even VR).
The auto sync is a gem when you're shooting from multiple angles, and it's hard to misuse the fine tuning tools that will really set your video apart.
There's also an all-new free companion app, Adobe Premiere Rush, that makes it easy to work with footage captured on your phone (like this best one for video). At the time of writing, it was available on iOS, macOS, and Windows.
You can only subscribe to Premiere Pro, but if you use more than one of Adobe's apps, it's worth subscribing to their Creative Cloud for a slightly higher monthly fee. But then access to more of their apps.
Best Video Editing Software for Mac: Final Cut Pro X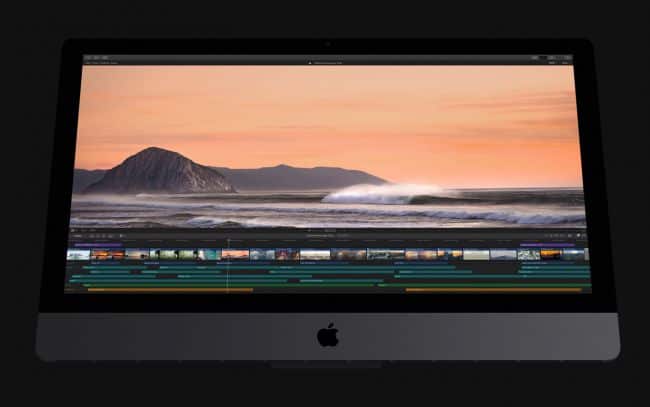 Platform: Mac
Key Features: Multi-cam Editing, Intelligent Color Balance
Video Tracks: Unlimited
Free trial: 30 days
Best for: Professionals and enthusiasts
Main advantages
Versatile and powerful editing
Brilliant interface
The logical choice for Apple users
Main negatives
Final Cut Pro is a very expensive purchase if you don't go for professional video editing
Final Cut Pro X is my top pick for the best video editing software for Mac. And, as you'd expect with Apple, this must-have editor is easy to use and packed with features to justify its (admittedly high) price tag.
Here's a video tutorial from Peter Lindgren that walks you through the basics of this software:
I like the grouping tools, effect options, and the easy way to add and edit audio. If you're already entwined in Apple's ecosystem, you'll know how Final Cut is smart with your photos or iTunes collections.
Best cloud-based online video editing tool: WeVideo
The only cloud-based online video editing tool that comes close to software packages
Platform: Online
Key Features: Edit Multitrack; cloud storage; text overlay and transitions
Free trial: yes, but very limited functionality (view the free trial here)
Best for: Advanced users and hobbyists seeking an online solution
Until recently, Online Video Editors still had a long way to go to compete with even the most basic desktop video editing software. But with faster internet speeds (and enough development cycles), they're starting to catch up!
Today, there are some solid options for editing video online and the benefits of these cloud video editing options can be huge – for the right people. For example, if you work on a Chromebook (here's how to edit on one) and Windows and Mac software is not a solution, or if you want to work online in the cloud with your team.
WeVideo is one of the leading options for online video editing software. It is an incredibly powerful video editor for the cloud, with benefits ranging from great online id="urn:enhancement-74a7d031-8ef8-4653-a305-2693b0750550″ class="textannotation disambiguated wl-thing">video editing collaboration to solid Green Screen effects (here's how to use them).
But as with all online video editors, it doesn't come without some drawbacks. For example, uploading your video content takes a long time and editing videos with many traces can be slow.
You can prevent uploading by choosing one of the many options for linking with your online storage such as Dropbox and Google Drive, which makes uploading fast enough. Furthermore, it is best used for making smaller projects with a cheerful, cheerful approach because of the cheerful animation effects and the slow running with too many tracks.
View all cloud options from WeVideo here
Best Video Editing Software for Hobbyists: Adobe Premiere Elements
Platform: Windows and Mac
Key Features: Video Stabilization, Face Recognition, Automatic Motion Tracking
Video Tracks: Unlimited
Free trial: No
Best for: Beginner professionals and hobbyists
Main advantages
User friendly
Tons of features
Main Negatives
Not as powerful as some of the available tools
Not the fastest video editor
Adobe is again at the top of this list with their Premiere Elements; a great choice for both beginners and experienced editors. It's not as complex as the more heavyweight Premiere Pro video editor (listed at number one above), which is best suited for full-time video editing professionals.
But Premiere Elements is still packed with excellent features such as face detection, audio effects, and bundled soundtracks. And it is also easy to use.
Whether you're a newbie or a pro, automated features like motion tracking and smart toning make your life a whole lot easier.
The same can be said for the video stabilization option and the simplicity of editing. Premiere Elements comes with all the video effects you'd expect in a consumer video editor:
transitions
chroma keying
layering
transparency
etc
The media library is also intelligently organized, with smart searches making it easy to find finished and draft files.
Check the most current prices here online
Best video editing software for Android Smartphone: Kinemaster
Platform: Android, iOS
Key Features: Instant preview, smart effects
Free trial: even a completely free app
Best For: Beginners & Lightweight Professional Use
Main advantages
Surprising amount of features
Good enough for professionals
Cheap video editing app
Main negatives
Runs very slowly on not top-of-the-line smartphones
If you think trying to edit videos on your smartphone or tablet is a pointless exercise, KineMaster makes you rethink that again.
Available for Android devices, iPhones and iPads. We've marked this option as the best video editing software for Android because it goes way beyond what you'd expect from a mobile app.
It offers the ability to edit multiple layers, add handwriting and text annotations, experiment with up to four audio tracks, and edit accurately at a frame and subframe level.
We could go on with a long list of features, but perhaps the best rating is the average review score from both the App Store and Google Play. Perfect for those who want to create social videos and quickly share them on Instagram, Facebook or now even Pinterest.
Plus, it's free, so it's probably worth downloading this video editing app and giving it a try.
Check out the official website
Best video editing software for beginners: Corel Videostudio Ultimate
Platform: Windows
Key Features: Real-time Effects, Color Correction
Free trial: no
Best for: Beginners
Main advantages
Very easy to record
Nice selection of features
Relatively cheap
Main Negatives
Too basic (and unusual settings) for professionals
Corel VideoStudio Ultimate provides a great way to edit videos for beginners. A well-designed interface means it's very easy to get started right away, yet it's not short on features.
There's multi-cam editing, 4K video support, 360-degree VR video support, a music library and tons of effects, just to name a few. Not bad at all for the price.
The more you use VideoStudio Ultimate, the more you start to notice and use all the little features, and your videos will benefit from them.
It's a great option for beginners and still has more to offer experienced video editors as you grow in your craft. Though professionals will probably opt for one of the basic video editing software options due to convenience of rich features.
Check prices and availability here
Best video editing software for movies: CyberLink PowerDirector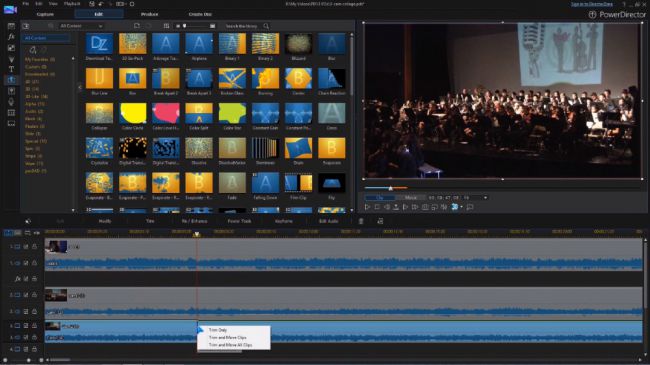 Platform: Windows
Key Features: Multi-camera editing, 360-degree video, motion tracking (and much more)
Free trial: 30 days
Best For: Filmmakers & Enthusiasts
Main advantages
Really powerful tool
A lot of features
Surprisingly affordable for what you get
Main Negatives
CyberLink PowerDirector is a serious piece of software for serious video editors: this is an excellent video editing software that delivers professional and high-quality features without a Hollywood budget.
Hit the 100-track timeline and you'll find yourself making the most of a host of tools for stabilization and video correction, professional effects, multi-camera editing, motion tracking, and surprisingly easy trimming.
There's also 360-degree video editing, along with support for every file standard and format you can think of. And if you find it all a bit difficult, there are many video tutorials to help you figure it out.
View the subscriptions here on the site
Most basic easy video editing software: Pinnacle Studio 22
Platform: Windows
Key Features: Multi-camera recording and editing, color buttons, stop motion animation
Free trial: no
Best for: Beginners
Main advantages
Super easy to use
Diverse range of functions
Attractive price
Main Negatives
It may be too simple for some
It's worth thinking about Pinnacle Studio 22 if you've never edited video before and want to delve deeper into it for the first time. The price is lower than the average of the above and you can always get out if within the first 30 days you feel it just isn't for you.
But frankly, we'd be surprised if we needed to. In the region of this price, you get more than 1,500 effects, titles and templates, 6-track HD video editing, handy color tools, a special stop-motion function, time adjustment and much more.
And most of the features are an absolute breeze to use. So it feels like a real step forward from several free options that are sometimes not at all simple to work with, without simply throwing money away on a tool.
Of course, it doesn't have the full suite of features that some of the others on this list offer, that's just the way it is. But you get convenience in return, which is also worth something for many beginners. After all, what good is an expensive tool that you can hardly use.
At Studio 22 it's all about convenience. And if you like the Pinnacle interface and tools, you can always upgrade to one of the company's more comprehensive packages.
Best free video editing programs
Amazingly, some of the best free video editing software is almost the same as those used by professionals working on major Hollywood productions.
However, in most cases there is a paid version with more features and in some cases the free version is so stripped down that you can hardly use it.
The free versions I'm showing you here have kept most of the key functionality intact. For example, in the case of Lightworks, the main limitation is the output format, but with VSDC and the amazing DaVinci Resolve, you can export your creations in a variety of formats.
The range and power of the features available in this free video editing software are remarkable. If you've got the talent, there's nothing stopping you putting together a technically finished production.
If your needs are simpler and you want to simply use that the software is somewhere between Windows Movie Maker and a top professional package, you can download a free video software here.
Best Free Video Editing Software: DaVinci Resolve
Professional color correction and audio mastering
Platform: Windows, Mac, Linux
Key Features: Great Color Correction, Fairlight Audio Tools, Compatible with Fairlight Consoles, Multi-User Collaboration
Good for: Specialized color and audio editing
Main advantages
Exceptional color correction
Powerful audio post-production
Good opportunities for collaboration with a team
Main Negatives
more suitable for finishing footage with the video already finished
DaVinci Resolve is a free video editing tool used for big budget movie and TV productions. It's especially powerful for color correction and audio capabilities, so if those are priorities, this could be the software for you.
In addition to traditional color features, such as curve editors and primary color wheels, there's also facial recognition and tracking so you can adjust skin tones, eye and lip color. For audio, DaVinci uses Resolve Fairlight, a suite of advanced editing tools that allow you to mix and master up to 1000 channels.
It is amazing that this software is available with almost all the features present in the free version. If you're looking for the best free video editing software for Windows or Mac, this might just be it for you.
Free video editing program for film: Lightworks
A Hollywood quality editor with just a few limitations
Platform: Windows, Linux, Mac OS X
Key Features: Virtually any format imported natively; output directly to YouTube / Vimeo; multicam editing; share project for groups
Good for: Slick-looking movies
Main advantages
Very powerful
Good set of tutorial videos
Main Negatives
Limited format output
Challenging to master
Lightworks is another professional video editing suite used for major Hollywood productions, including Shutter Island, Pulp Fiction, 28 Days Later, The Wolf of Wall Street, and Mission Impossible (in the paid version, of course).
So it's exciting that there is a free version that makes it accessible to everyone.
Amazingly, in the free version you get almost all the features. The main limitation for the free license version is the output formats. You can only export a web-compatible file at 720p. If you want to export a few projects to a different format fairly cheaply, you can buy a one-month license for $24.99.
Lightworks is undoubtedly one of the best free video editing software for Windows 10. Its beautifully designed timeline provides a high degree of control, so you can trim and mix your audio and video clips exactly the way you want them.
It is a powerful tool for a freebie that can handle video recording and advanced editing with ease.
On the other hand, being a slimmed-down version of a professional suite, you'll find that the interface isn't the easiest to navigate.
But there are lots of great tutorial videos to get you started — and you won't have to pay a dime, as long as your projects are non-commercial. Unfortunately, the 720p export will soon get in your way, even nowadays for Youtube and other web videos.
Free Video Editing Program for Business Presentations: VSDC
Add special effects and text displayed in different sizes
Platform: Windows
Key Features: Supports a wide variety of file formats, built-in DVD burner, graphics tool, video stabilizer
Suitable for: presentations
Main advantages
Lots of special effects
Wide range of output formats
Works well with GoPro footage
Main negatives
More suitable for presentations
If you're creating a presentation and want to add text, lines, charts, and other special effects, VSDC is the free video editor for you. It includes Instagram-esque filters, lots of special effects, including color correction and blur, and there's a mask tool that lets you apply effects to any part of the video (to obscure faces, for example).
There's also a video stabilizer to remove camera shake from footage shot with GoPros or drones (like these best choices for video) and a powerful graphing tool to add graphs to presentations.
The free version of VSDC exports to a variety of formats, including AVI and MPG. If you're not sure about the formats, you can even adjust the output so that it works well for display on specific devices.
It supports most video formats, so you shouldn't have any trouble importing your clips, and there's a built-in DVD burner.
View the product on the website
Best Expandable Free Video Editing Software: Hitfilm Express
A powerful editor with add-ons to suit your needs
Platform: Windows, Mac
Main features: more than 180 visual effects; 2D and 3D effects composing; Export MP4 H.264; good range of import formats
Easily expandable with separate paid functions
Main advantages
Great community and training
3D compositing
Main negatives
Tricky download process
Requires a powerful computer
No list of the best free video editors would be complete without a mention of Hitfilm Express. It is capable of producing feature films or music videos with 3D effects, but it is also good for creating videos for YouTube as instant uploading is built in.
The free version of Hitfilm Express includes everything you need to produce professional quality, but in some cases you will benefit from expanding its capabilities by purchasing some of the add-on features.
Add-on packs start at around $7/£6, so you can buy only the features you need and customize the software to suit your needs for a reasonable price. That's another advantage over packages where you pay for everything you might not use in one go.
Free 4K video editing software: Shotcut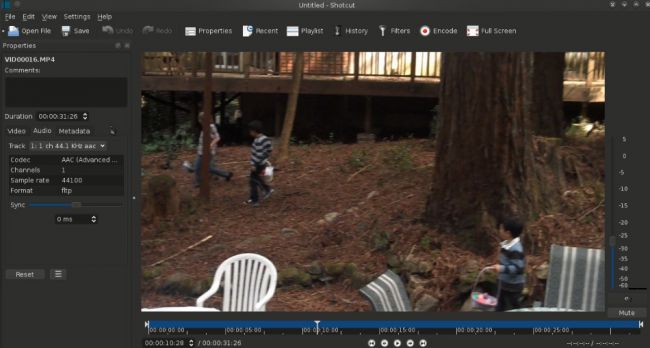 This amazing free tool offers powerful editing
Platform: Windows, Linux, Mac
Key Features: Support for a wide variety of formats; extensive video and audio editing; supports 4K resolutions; uses FFmpeg
Good for: Basic video editing
Main advantages
Lots of filters and effects
Customizable, intuitive interface
Great file format support
Main Negatives
Not good for more advanced projects
Shotcut is the tool for you if you've outgrown Movie Maker and want to take it to the next level, but don't need the complexity of some of the other packages on this list.
The interface is straight forward and approachable, and you can even customize it to your needs via lockable and flexible panels.
It supports a huge number of formats, so you're unlikely to run into trouble in that regard. Finally, there is an extensive range of filters and quite advanced special effects that are easy to manage and apply.
This is one of the best free video editors for 4K that will do everything you need for most projects.
Best Preinstalled Video Editing Software for Mac: Apple movie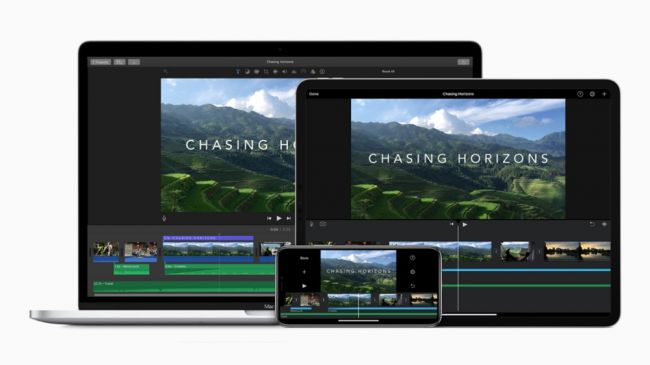 A Mac classic
Platform: Mac
Key Features: Supports 4K resolutions; effects and filters
Good for: Basic video editing
Main advantages
Easy to make something polished
Great for audio
Already present on your computer
Main Negatives
We couldn't really end this list without at least a mention of Apple iMovie, the classic free video editing software for Mac.
If you are a Mac owner, the program should already be loaded on your computer. But if you're an editing amateur, don't overlook this program. It is easy to use for the beginner.
So what results can Apple iMovie achieve? Well, "results" is the right word, because the finish and shine you get from iMovie-created videos is way better than you'd expect from a freebie.
It's really easy to make your footage sparkle, and you'll be amazed at how quick and easy it is to snap together a polished-looking (and sounding) edit.
If your laptop of choice is a recent MacBook Pro, this is one of the programs with fully functioning Touch Bar support. Although we'd love to see support for 360-degree video and multi-camera editing added in future iterations.
More information on the Apple website
Hi, I'm Kim, a mom and a stop-motion enthusiast with a background in media creation and web development. I've got a huge passion for drawing and animation, and now I'm diving headfirst into the stop-motion world. With my blog, I'm sharing my learnings with you guys.