Video editing on Chromebook | The best options at a glance
I love creating free content full of tips for my readers, you. I don't accept paid sponsorships, my opinion is my own, but if you find my recommendations helpful and you end up buying something you like through one of my links, I could earn a commission at no extra cost to you.
Chromebook is a notebook brand of Google designed with a full web application service based on the Google Chrome OS system.
A Chromebook is basically a cheaper alternative to a Windows laptop or a MacBook.
Most computer manufacturers such as Samsung, HP, Dell and Acer have launched Chromebook computers.
On the new Chromebooks – as well as on some older models – you can install the Google Play Store and download Android apps. There are several great video editors available for editing your favorite videos.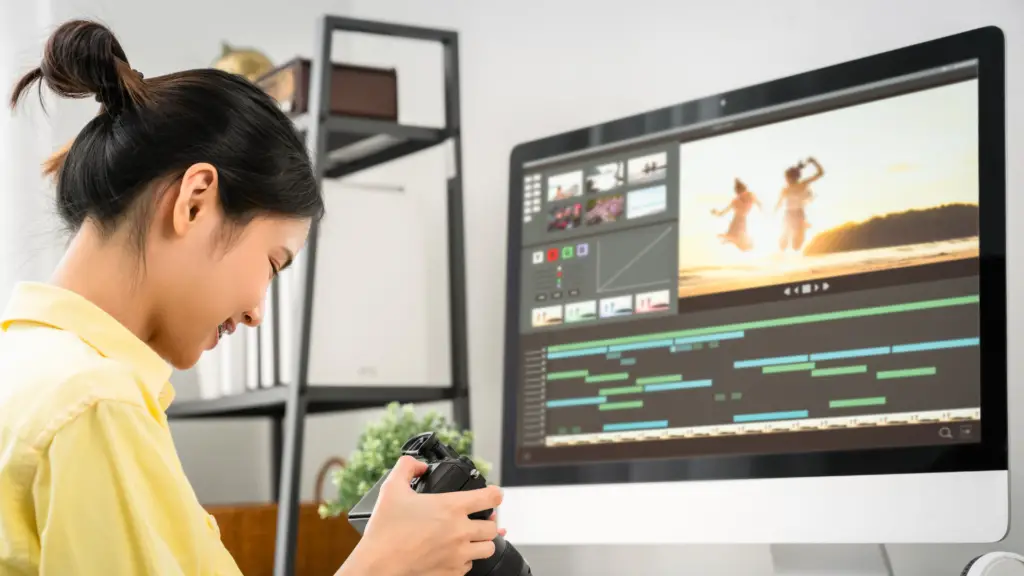 Video editing on a Chromebook can be done through Android apps or in the browser. Examples of free apps include PowerDirector, KineMaster, YouTube Video Editor, and Magisto. There are also paid video editors, such as Adobe Premiere Rush and in your browser you can use WeVideo for video editing.
Do you have such a Chromebook and are you looking for a suitable video editor? In this article you will find all information about the features of various top programs that you can use with your Chromebook.
Is it possible to edit video on a Chromebook?
Although a Chromebook looks like a laptop (here's our post about editing on a laptop), it has no software installed and does not require a hard drive.
It only has an efficient Chrome OS browser for your emails, editing documents, visiting social networking sites, video editing and using other web-based services.
A Chromebook is a laptop in the Cloud.
Video editing on Chromebooks is therefore certainly possible. If you're looking for the best video editors, you can do so via apps in the Google Play Store, or online in the browser.
Getting started with your own stop motion storyboards
Subscribe to our newsletter and get your free download with three storyboards. Get started with bringing your stories alive!
We'll only use your email address for our newsletter and respect your privacy
iMovie is a popular video editing app and unfortunately cannot be installed on a Chromebook. Fortunately, there are plenty of other powerful apps that you can use to create great videos.
In the Google Store on your Chromebook you can download Android apps, but also the best music, movies, e-books and TV programs.
Then there's the Chrome Web Store, where you can buy apps, extensions, and themes for your Chromebook's Google Chrome browser.
Best paid apps for video editing on a Chromebook
Adobe Premiere Rush
Adobe applications are among the best in the industry and trusted by users worldwide.
Premiere is one of the most popular desktop video editing programs. The mobile version of the program is also quite advanced.
From the timeline, you can insert and organize videos, audio, photos, and other files. You can then trim, mirror and crop these files, among other things. You can also use zoom effects.
This is all completely free and possible via the mobile app, however if you want to use the program on your Chromebook you have to pay $9.99 per month and you get more content and extra features.
Download the free version of Adobe Premiere Rush and take a look at this tutorial:
Edit video online with WeVideo
Would you rather get started editing your videos online? Then, in addition to YouTube, you can also edit your online video with WeVideo.
WeVideo also has an official Android app in the Chrome Web Store if you want to download it.
The program is very easy to use, and even beginners can make beautiful movie projects with it.
You have access to a huge library of transitions, video effects and sound effects. You can work with videos up to 5 GB in size. You can easily upload the video to the app or Dropbox and Google Drive.
One downside of the free version is that your videos will always be watermarked and you can only edit videos less than 5 minutes in length.
If you want more professional applications, it might be better to opt for the paid version of $4.99 per month.
Please note that if you use WeVideo in your browser, you will always need an internet connection to use the program.
Are you a fan of iMovie and looking for the perfect replacement, then WeVideo is a top choice.
Check out this free online video editor here
Best free apps for video editing on a Chromebook
Logically, many people always look for a free video editing app first.
Below I give you some examples of the best free apps for your Chromebook that make video editing a simple and fun activity.
These apps all have a free version, and some also have paid variants so that you have access to more editing tools.
There are users who are satisfied with the tools from the free version, but there are also professionals who prefer a more advanced video editor program.
In such a case, a paid package is often the best solution.
PowerDirector 365
PowerDirector has a number of professional video editing features and is available as both a mobile app (Android) and a desktop app.
Be aware that the desktop app has slightly more features, and so may be more suitable for the professional.
The app uses a timeline editor that allows you to add stunning effects, sound, animations, and slow-motion sequences.
In addition, you can use a blue or green screen (more on how to use one here) and other common video editing tools. You can edit and export the videos in 4K UHD resolution.
Then you can upload it on your social media channel, or on your website.
The program is free, but if you want to use all the functions, it will cost you $4.99 per month.
Here you can download the app, and you can also use this handy tutorial for beginners:
KineMaster
KineMaster is a professional app that supports multi-layered videos. The app has also been voted as an Editor's Choice app in the Google Play Store.
The app offers frame-by-frame trimming, speed calibration, slow motion, you can adjust brightness and saturation, add audio filters, choose royalty-free audio, use color filters and 3D transitions, and much more.
The app also supports videos in 4K quality and has a beautifully designed interface.
The free version is for everyone, however, a watermark will be added to your video. To avoid this, you can go for the pro version.
You also get access to the KineMaster Asset Store, where you can choose from an extensive database of visual effects, overlays, music and more.
Download the app for free and watch this tutorial for additional help and tips:
YouTube Studio
The Youtube Studio video editor is an incredibly powerful video editor where you can edit your video directly from YouTube.
So you don't have to install an app on your Chromebook. You do the video editing directly from your browser.
You can add a timeline, make transitions, add effects and cut the video as needed. The drag and paste function is also handy, and you can upload your edited video directly.
You can also add multiple (copyright-free) music files and even blur faces or names, so that certain information or images remain private.
One drawback is that music files cannot overlap, which can cause problems in your online audio.
And of course you need a YouTube account to use the editor.
You can use YouTube Studio for free here. Need a tutorial? Watch the tutorial with useful tips here:
Magisto
A top app that, just like KineMaster, has been named the Google Play Editor's Choice several times.
The app is mainly aimed at social media users, who want to be able to share their videos on the different platforms, and who are not necessarily pros at video editing.
Nevertheless, Magisto can make sure that all your videos look very professional.
You can add texts and effects, and you can share your videos directly from the app on Instagram, Facebook, Youtube, Whatsapp, Twitter, Vimeo and Google+, among others.
Video editing in this app will hardly cost you any time but will still give you good videos.
All you have to do is the following: upload your video and choose a suitable theme, Magisto will do the rest for you.
Editing your video is easy to understand. Watch this tutorial to get started right away:
Another advantage of the app is that the upload will never be interrupted by a bad internet connection.
With the free version you can create videos up to 1 minute long, have 720p HD unlimited downloads (with watermark) and you can use 10 images and 10 videos for every video you make.
If you go for one of the paid options, you obviously get more features.
Download this app for Chromebook here.
Also check out my review of the Palette Gear video editing tool, compatible with Chrome browsers
Video Editing Tips
Now that you know which video editors are good for video editing – and you may have already made up your own mind – it's time to learn how to edit videos like a pro.
Cut the video
Cut the video into small clips, remove the unwanted parts and trim the beginning and end of the video as well.
Clipping videos is recommended because editing long movies often takes longer.
Organize your clips
The next step is to organize your clips.
When organizing your clips, put all the content you want to use for your Chromebook video in a separate folder. That works clearly.
Check the rules
Read the rules for publishing videos on the different channels.
Keep in mind that the various social media channels have their own rules regarding length, format, file size, etc. of the videos you want to upload.
Apply Effects
Now is the time to give each clip the desired effects with the tools of the video editor.
Video editing works differently than editing photos. You can change various aspects of a video, such as resolution, camera position, speed, and other parameters.
Use annotations if necessary. It allows users to add links to their video.
When the link is clicked, it opens another web page without stopping the current video from playing.
Also read my tips for buying the best video camera
Hi, I'm Kim, a mom and a stop-motion enthusiast with a background in media creation and web development. I've got a huge passion for drawing and animation, and now I'm diving headfirst into the stop-motion world. With my blog, I'm sharing my learnings with you guys.