Adobe Premiere Pro: to buy or not? Comprehensive review
I love creating free content full of tips for my readers, you. I don't accept paid sponsorships, my opinion is my own, but if you find my recommendations helpful and you end up buying something you like through one of my links, I could earn a commission at no extra cost to you.
Editing video is difficult. It will take you hours to make something that doesn't look like a funniest home video.
Today I want to take a look with you at Premiere Pro, Adobe's tool that makes video editing easier, faster and more fun than ever before.
It's my go-to video editing tool (yes, even on my Mac!) when I'm working on my Youtube channels! It takes some learning, but they even offer free online training materials if you want help getting started.
Try the free trial download Adobe Premiere Pro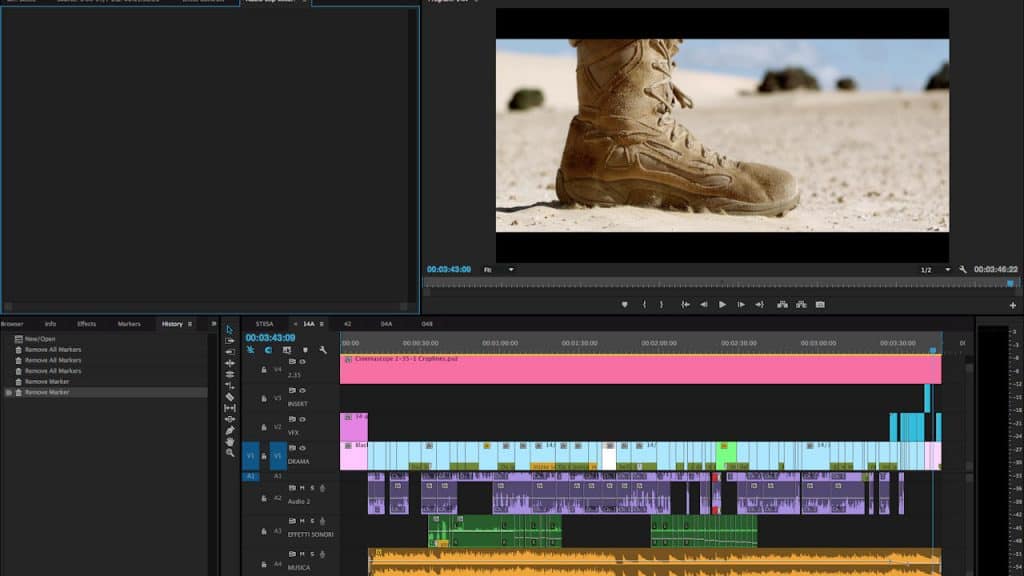 What are the strengths of Adobe Premiere Pro?
Nowadays many Hollywood films are even edited in the so-called 'pre-cut phase' with Premiere Pro. The software can be installed on both PC and Mac machines.
Adobe's editing software excels in accuracy and powerful capabilities to support virtually all platforms, cameras, and formats (RAW, HD, 4K, 8K, etc.). In addition, Premiere Pro offers a smooth workflow and an accommodating interface.
The program also has extensive tools to assist you with your project, whether it is a short 30-second clip or a full-length feature film.
You can open and work on multiple projects simultaneously, switch scenes, and transfer footage from one project to another.
Adobe Premiere is also loved for its detailed color correction, audio enhancement slider panels, and excellent basic video effects.
The program has undergone numerous improvements over the years based on the suggestions and needs of its many users.
Getting started with your own stop motion storyboards
Subscribe to our newsletter and get your free download with three storyboards. Get started with bringing your stories alive!
We'll only use your email address for our newsletter and respect your privacy
Hence, each new release or update brings new features and improvements.
For example, the current Premiere Pro CS4 version supports HDR media and decoding for Cinema RAW Light footage from Canon.
Useful Transitions
The great thing about Premiere Pro is that it is the standard in video editing. This brings a few handy advantages.
One is the plethora of tutorials on Youtube that you can use for free, but the other is the pre-made material that you can download or buy.
For transitions, for example, there are tons of creators who have already created a nice one for you (besides the few built into the software), which you can then use in your projects.
Final Cut Pro (the software I used for this) also has quite a few makers of effects that you can import like that, but a lot less than for Premiere, so I ran into that at one point.
You can apply your transition at the beginning of a clip, between two clips, or at the end of your video. You'll know when you've found it because it has an X next to it on both sides.
To add transitions like this, drag objects out of this area and drop them where you want to use that effect (for example, drag one over another).
For example, you can use the supplied transitions, but also super cool professional ones that you buy like that, for example from Storyblocks.
Slow motion effects in Premiere Pro
You can also easily apply Slow Motion effects (one of my favorite things!)
To create slow-motion effects: open the Speed/Duration dialog, set Speed ​​to 50%, and choose Time Interpolation > Optical Flow.
For better results, click Effect Controls > Time Remapping and Add Keyframes (optional). Set the desired speed for a cool effect that will amaze any audience!
Reverse video
Another cool effect that can add extra dynamism to your videos is reverse video, and Premiere makes it easy to do.
Reversing a video in Premiere Pro is as easy as one, two, three. Click the Speed ​​button on your timeline and then Duration to reverse the time.
Videos automatically include inverted audio – so you can easily override the "inverted" effect by replacing it with another sound clip or voiceover!
Seamless integration with Adobe After Effects and other Adobe apps
Premiere Pro works perfectly with Adobe After Effects, a professional special effects program.
After Effects uses a layer system (layers) in combination with a timeline. This gives you maximum control over setting, coordinating, testing and executing effects.
You can send projects back and forth between the two applications quickly and indefinitely, and any changes you make in Premiere Pro, such as color corrections, will automatically work through to your After Effects project.
Free Download Adobe Premiere Pro
Premiere Pro also integrates perfectly with a number of other apps from Adobe.
Including Adobe Audition (audio editing), Adobe Character Animator (drawing animation), Adobe Photoshop (photo editing) and Adobe Stock (stock photos and videos).
How user-friendly is Premiere Pro?
For novice editors, Premiere Pro is certainly not the easiest software. The program requires a certain amount of structure and consistency in your way of working.
Fortunately, there are plenty of online tutorials available these days that can help you get started.
Before you decide to purchase Premiere Pro, it is also good to check if your PC or laptop has the correct technical requirements to use the program for video editing.
Your processor, video card, working memory (RAM) and operating system must meet a few specifications, among other things.
Is it good for beginners?
Adobe Premiere Pro is a popular choice for video editing, and for good reason. The software includes all the tools fundamental to basic editing, as well as mixing sound, effects, transitions, moving images, and more.
Quite honestly, it does have quite a steep learning curve. Not the steepest of all tools, but certainly not the easiest either.
It is one that offers a lot of possibilities so definitely worth learning, and there are so many Youtube tutorials about every part, precisely because it is pretty much the standard for every video creator.
Adobe Premiere Elements
Adobe offers a simplified version of its video editing software called Adobe Premiere Elements.
With Premiere Elements, for example, the input screen for organizing clips is a lot simpler and you can have various actions performed automatically.
Elements also places less technical demands on your computer. It is therefore a very suitable entry-level video editing program.
Please note that Elements project files are not compatible with Premiere Pro project files.
If you decide to switch to the more professional version in the future, you won't be able to carry over your existing Elements projects.
Adobe premiere Pro system requirements
Requirements for Windows
Minimum specifications: Intel® 6th Gen or newer CPU – or AMD Ryzen™ 1000 series or newer CPU. Recommended specs: Intel 7th generation or new higher end CPUs, such as the Core i9 9900K and 9997 with a high-end graphics card.
Requirements for Mac
Minimum specifications: Intel® 6thGen or newer CPU. Recommended specifications: Intel® 6thGen or newer CPU, 16 GB RAM for HD media and 32 GB RAM for 4K video editing on Mac OS 10.15 (Catalina) ̶or later.; 8 GB hard disk space required; extra fast drive recommended if you will be working a lot with multimedia files in the future.
Is 4GB RAM enough for Premiere Pro?
In the past, 4GB of RAM was enough for video editing, but today you need at least 8GB of RAM to run Premiere Pro.
Can I run it without a graphics card?
I wouldn't recommend it.
Ok, for starters, Adobe Premiere Pro is a project or video editing program, not a video game. That said, I'll be honest with you: you're going to need some sort of graphics card if you want anything that looks like decent performance.
Even the best CPUs in the world struggle to put together frames without feeding them to your GPU first, because they're just not made for that kind of work. So yeah…don't do it unless you can at least afford a new motherboard and video card.
What is the cost for Adobe Premiere Pro?
Premiere Pro sets the bar high when it comes to professional editing software. You can imagine that this comes with a price tag.
Since 2013, Adobe Premiere is no longer sold as a standalone program that you can install on your computer and use indefinitely.
You can now only download and use the video editing software through Adobe's Creative Cloud platform. Individual users pay € 24 per month or € 290 per year.
For business users, students, teachers and schools, there are other pricing options with a monthly or annual subscription.
Is Premiere Pro a one-time cost?
No, Adobe comes as a subscription that you pay per month.
Adobe's Creative Cloud model gives you access to all the latest and greatest Adobe programs for monthly use, but with no long-term commitment, so you can cancel if you have a short-term movie project.
So if you're not happy with what Adobe offers at the start of a particular month, it doesn't matter because you can cancel at any time the next month without penalty.
Is Adobe Premiere Pro for Windows, Mac, or Android (Chromebook)?
Adobe Premiere Pro is a program that you need to install on your computer, and it is available for Windows and Mac. For video editing on Android, online video editing tools (so you don't need to install anything) or video editing apps for Chromebook from the Android Play Store will almost always get you the most, although they are a lot less powerful.
Try the free download of Adobe Premiere Pro
Adobe Premiere Pro vs Final Cut Pro
When Final Cut Pro X came out in 2011, it lacked some of the tools professionals needed. This caused a market share shift to Premiere, which had been around since its release 20 years ago.
But all those missing elements later reappeared and often improved what came before with new features such as 360-degree video editing and HDR support and others.
The application is well suited for any movie or TV production as they both have extensive plug-in ecosystems along with hardware support
Premiere Pro FAQ
Can Premiere Pro record your screen with screen capture?
There are many free and premium video recorders, but the in-app screen recording feature is not yet available in Adobe Premiere Pro. However, you can record your videos with Camtasia or Screenflow and then edit them in Premiere Pro.
Can Premiere Pro also edit photos?
No, you can't edit photos, but you can use the easy interface that allows you to work with photos, titles and graphics to make your video project come to life. You can also purchase Premiere together with the entire Creative Cloud so that you also get Photoshop.
Hi, I'm Kim, a mom and a stop-motion enthusiast with a background in media creation and web development. I've got a huge passion for drawing and animation, and now I'm diving headfirst into the stop-motion world. With my blog, I'm sharing my learnings with you guys.