Edit video on Mac | iMac, Macbook or iPad and which software?
I love creating free content full of tips for my readers, you. I don't accept paid sponsorships, my opinion is my own, but if you find my recommendations helpful and you end up buying something you like through one of my links, I could earn a commission at no extra cost to you.
If you're editing a lot of videos or photos, the one thing you want to avoid when buying equipment is those nasty surprises you could be in for.
A slow or poorly equipped PC, laptop or tablet will put a brake on your creative process.
A substandard monitor or laptop screen can produce videos that look shockingly different from what you saw during production.
And you can miss a deadline if your machine can't render the final product fast enough.
This goes for both PCs and Macs, but today I want to focus on the right equipment for editing videos on your Mac.
Whichever app or software you choose to go with, it's critical to conduct hardware research to make sure your equipment works well with the app rather than against it.
Luckily, I've already done a lot of the homework for you.
Which Mac computer should you choose for photo and video editing
After you install a photo or video program, this is the program that will probably demand the most from your Mac by far. So what do you need to handle all that power with your computer?
The professionals choose a Mac computer, and for good reason. With the beautiful screens, sharp design and good computing power, they are workhorses for video par excellence.
MacBooks don't have GPUs as fast as you can get on Windows 10 laptops (the 4GB Radeon Pro 560X is the best you can do) and they suffer from keyboard problems.
Getting started with your own stop motion storyboards
Subscribe to our newsletter and get your free download with three storyboards. Get started with bringing your stories alive!
We'll only use your email address for our newsletter and respect your privacy
They also lack the ports that come standard on PCs. They are still incredibly popular with graphics professionals because despite the flaws, macOS is simpler and more powerful than Windows 10.
MacBooks are also better designed than most PCs, and Apple offers better support than the lion's share of PC vendors.
Creators will want to get the 2018 MacBook Pro 15-inch model with the Iris Plus Graphics 655 and the Intel core i7 starting at $2,300, while photo editors can spend a little less and watch from $1,700 with at least a 2017 Intel core i5 for photo editing.
But the 2019 models are of course also available if you want the latest and have more money to spend:
Just make sure you get one with at least 16GB of RAM and not the 8GB. You won't be able to run your projects well with less, especially if you want to work in 4K:
Of course, if you have less to spend you can always go for a used i7 Macbook Pro which quickly saves hundreds of euros from about € 1570,- with Refurbished, and the service is always great so you don't go wrong (I would personally recommend market place).
Another option for photo professionals who really want to travel light is the two-pound MacBook Air, but it's barely powerful enough to run Photoshop or Lightroom CC properly, so I wouldn't recommend it for video.
If you're in the market for a desktop, an iMac with 16GB of RAM starting at $1,700 will do the job well, preferably if it has a discrete AMD-Radeon graphics card.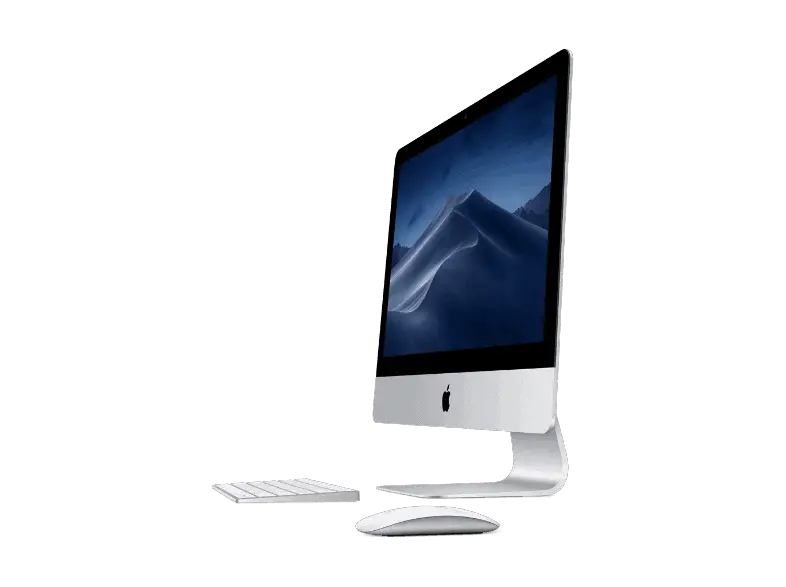 The iMac Pro is, of course, even more beautiful with its Radeon Pro graphics and 32GB of RAM, but we're talking $5,000 and up here.
Storage and Memory for Macs
If you're editing 4K videos or RAW 42-megapixel photos, storage space and RAM are paramount. A single RAW image file can be 100MB in size and 4K video files can be samples of several gigabytes.
Without enough RAM to handle such files, your computer will become slow. And a lack of storage and a non-SSD program drive will cause your PC to slow down and you'll be constantly deleting files, not working.
Sixteen gigabytes of RAM is really necessary on Macs for videos and photos, in my opinion. I would also recommend at least an SSD program drive, preferably an NVMe M.2 drive with speeds of 1500 MB/s or higher.
External hard drive
When editing videos on Mac or PC, the best speed and flexibility is to use a fast USB 3.1 or Thunderbolt external hard drive or SSD to have more storage capacity for your video projects, for example this LACIE Rugged Thunderbolt hard drive with 2TB.
Designed to give you the ultimate physical protection of your data against a variety of threats, the LaCie Rugged USB 3.0 Thunderbolt is perfect for the video professional on the go with their Macbook Pro.
Not only is it a Rugged beast of a device, it is arguably one of the more affordable drives in its class and even includes a standard USB 3.0 cable and a Thunderbolt cable.
The Rugged USB 3.0 2TB is also currently the largest capacity bus-powered storage solution on the market using Thunderbolt technology. The single connected cable can draw enough current to power the drive from the host computer.
Video editing with the iPad Pro
To compete with Apple's Surface lineup and other convertible Windows 10 laptops, Apple wants you to consider the iPad Pro when it comes to video editing.
Like competing models, you can get it with Apple's Pencil accessory, and the latest models have gorgeous 12-inch Retina displays, multitasking, and Apple's powerful A10X CPU and GPU.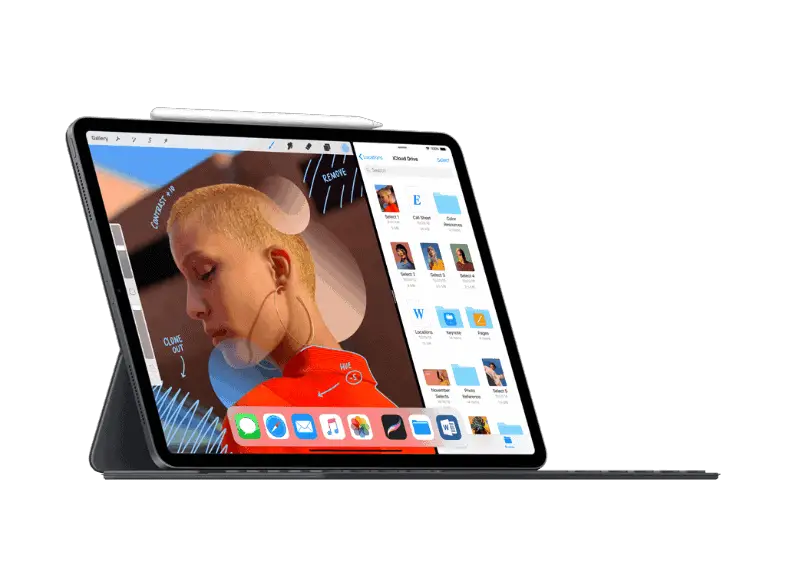 Apple even says you can "edit a 4K video on the go" or "display an expanded 3D model". It will take up to 10 hours of battery life on a charge.
That's all great, but the biggest challenge for video and photo editors is that productivity apps like Adobe's Photoshop and Premiere Pro CC aren't available on the iPad at all.
Fortunately, Adobe has promised to make a full version of both Premiere (via Project Rush) and Photoshop CC available for the iPad. So that will still be an option in the future.
Certainly for mobility it is an option and the best way to edit video on-the-go is by using the LumaFusion app, an affordable and professional video editing app.
Apple's most recent upgrade to the iPad Pro line has been impressive, with a processor exceeding the speed of many laptops in its lineup, it became clear during Keynote's launch that this is a sign of things to come.
The iPad was finally powerful enough to be the Pro machine they promised a year earlier. With one huge caveat: The lack of a proper file system and the incompatibility of consumer-oriented iOS with the professional Mac OS makes the "Pro" in iPad Pro nothing more than a superficial promise.
Until good apps came out for professional tasks, such as the LumaFusion on the iPad Pro. If you specialize in making short films for clients you shoot outdoors and want to edit quickly, then it's an excellent solution.
For example, there are short film makers and corporate presentations or even people who work for real estate agents with videos of houses filming outdoors with digital cameras, DJI Mavic drones with cameras and other stuff.
You can now edit it on the spot using the iPad Pro with the LumaFusion app.
Watch this video from cinema5D on the benefits:
Also, being able to show your work on an iPad to your customers while you are on location is a much more convenient option than passing the Macbook Pro around.
Now, of course, it's not ideal that there isn't yet a good video editing software like Adobe Premiere or Final Cut Pro for the iPad Pro, which means that until now it's impossible to move projects between your desktop and iPad.
However, the editing app on the iPad, from LumaFusion, is really impressive at what it can do: you can have up to three video layers at 4K 50 while playing simultaneously, without tilting.
And believe it or not, it also plays H.265 extremely smoothly thanks to the graphics chip in the iPad Pro, something that even the largest desktop computers today still find difficult.
At first glance, LumaFusion seems like a very capable editing app, with the right editing shortcuts, layers, the right typing action, and lots of advanced features. It's well worth a look and seems to work well for these fast turnaround times.
I personally can't wait until we can finally use an iPad Pro or any other laptop for professional editing because I think it will completely change the way we work.
Interacting directly with your images feels much more natural than the indirect way of working we're used to with keyboards and mice, and nothing has changed like that in the last 30 years. It's time for a revolution in professional interfaces.
Best video editing software on Mac
Here I would like to discuss the two best video editing programs on Mac, Final Cut Pro and Adobe Premiere Pro
Final Cut Pro for Mac
Will it be editing with Final Cut Pro on a Macbook Pro? Do they get stuck? What about connectivity? How is the Touch bar used? How will the integrated GPU on the 13 inch compare to a discrete GPU on the 15?
These are important things to know when choosing your Mac computer and choosing your Apple video editing software.
The force-click trackpad is super-sized on the 15-inch model. You can move the cursor from one side of the screen to the other without taking your finger off the pad.
Important to note that the pad features advanced 'palm rejection' to reduce false readings – especially 'useful' if you're transitioning to get to the Touch Bar.
Using the Touch ID to unlock the Mac is becoming second nature, and I found myself trying to do the same thing on my previous-generation model, a nice quick way to log in and speed up your workflow one notch.
Touch Bar in Final Cut Pro
And on that long-awaited Touch Bar. It's a nice addition and useful for a lot of applications, but it's a bit of a disappointment given how limited the use of the new control surface is with Final Cut Pro on the Macbook.
Check out how deep and intuitive the menus in Photos are, easy to learn. It's a shame that you can't call a clip from the browser up in the Touch Bar and still be able to scrub.
Chris Roberts did an extensive test of the Touch Bar and FCPX here at FCP.co.
Motion Rendering on Mac
Let's start with Motion rendering. We had a 10-second 1080p project with about 7 different 3D shapes and two lines of curved 3D text.
Although motion blur was turned off, the quality is otherwise set to the best and the Macbook Pro i7 was able to edit it very quickly.
Adobe Premiere vs Final Cut Pro, what's the difference?
If you're a professional video editor, chances are you're using Adobe Premiere Pro or Apple Final Cut Pro. Those aren't the only options — there's still some competition from the likes of Avid, Cyberlink, and Magix video editor, but most of the editorial world falls into the Apple and Adobe camps.
Both are notable pieces of video editing software, but there are important differences. I now want to focus on the many aspects of choosing advanced video editing software for editing on your Mac computer.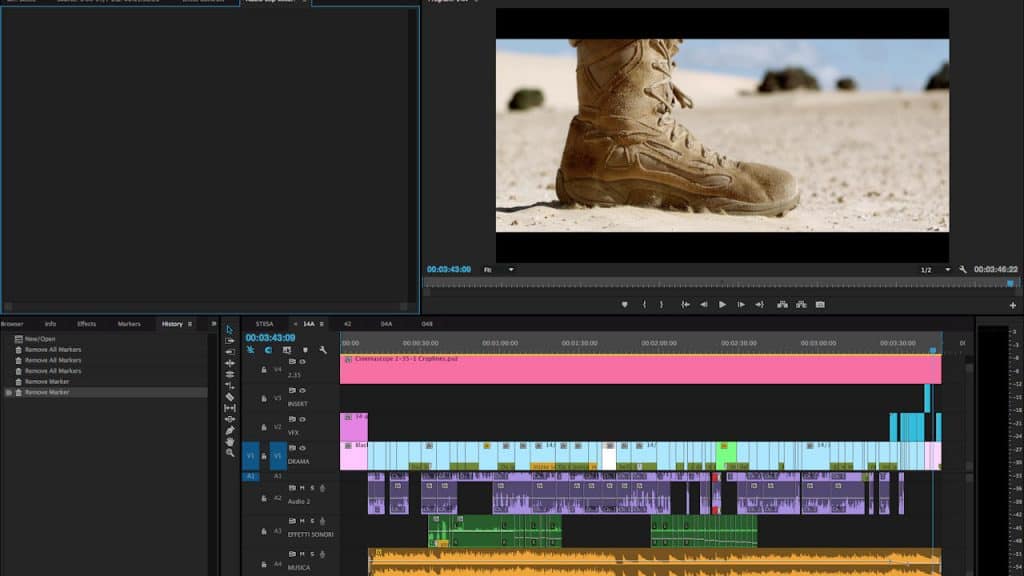 I compare features and ease of use. While the original 2011 release of Final Cut Pro X lacked some of the tools that pros needed, leading to a market share shift to Premiere, all the missing pro tools have long since made an appearance in subsequent Final Cut releases.
Often in ways that improved the standard and set the bar higher than ever before. If you've heard before that Final Cut Pro doesn't offer what you need, it's probably based on people's older experiences with the software.
Both applications are ideally suited for the highest level of film and TV production, each with extensive plug-in and hardware support ecosystems.
The intent of this comparison is not so much to point out a winner as to point out the differences and the strengths and weaknesses of each. The goal is to help you make a decision based on what's important in your professional or hobbyist video editing projects.
Prices Adobe Premiere and Apple Final Cut
Adobe Premiere Pro CC: Adobe's professional-level video editor requires an ongoing Creative Cloud subscription of $20.99 per month with an annual subscription, or $31.49 per month on a monthly basis.
The full amount of an annual subscription is $239.88, which works out to $19.99 per month. If you want the full Creative Cloud suite, including Photoshop, Illustrator, Audition, and a host of other Adobe advertising software, you'll need to pay $52.99 per month.
With this subscription, you get not only program updates, which Adobe provides semi-annually, but also 100GB of cloud storage for media syncing.
Apple's professional video editor Final Cut costs a flat, one-time price of $299.99. That's a huge discount from the price of its predecessor, Final Cut Pro 7, which had thousands of users.
It's also a much better deal than Premiere Pro, as you'd spend that much on Adobe's product in less than a year and a half and still have to keep paying, but it's a lump sum.
It also includes $299.99 for Final Cut feature updates. Note that Final Cut Pro X (often referred to by the acronym FCPX) is only available from the Mac App Store, which is good because it handles updates and lets you run the program.
Install on multiple computers when you're signed in to the same store account.
Award Winner: Apple Final Cut Pro X
Platform and System Requirements
Premiere Pro CC works on both Windows and macOS. Requirements are as follows: Microsoft Windows 10 (64-bit) version 1703 or later; Intel 6th generation or newer CPU or AMD equivalent; 8 GB RAM (16 GB or more is recommended); 8 GB of hard drive space; a display of 1280 by 800 (1920 by 1080 pixels or higher recommended); a sound card compatible with the ASIO protocol or Microsoft Windows Driver Model.
On macOS, you need version 10.12 or later; an Intel 6th generation or newer CPU; 8 GB RAM (16 GB or more recommended); 8 GB of hard drive space; a display of 1280 x 800 pixels (1920 by 1080 or higher recommended); a sound card that is compatible with Apple Core Audio.
Apple Final Cut Pro X: As you might expect, Apple's software only runs on Macintosh computers. It requires macOS 10.13.6 or later or later; 4 GB RAM (8 GB recommended for 4K editing, 3D titles and 360-degree video editing), OpenCL compatible graphics card or Intel HD Graphics 3000 or higher, 256 MB VRAM (1 GB recommended for 4K editing, 3D titles and 360°-dependent video editing) and a discrete graphics card. For VR headset support, you also need SteamVR.
Support Winner: Adobe Premiere Pro CC
Timelines and Editing
Premiere Pro uses a traditional NLE (non-linear editor) timeline, with tracks and trackheads. Your timeline content is called a sequence, and you can use nested sequences, subsequences, and subclips for organizational help.
The timeline also contains tabs for different series, which can be useful when working with nested series. Long-time video editors will probably be more comfortable here than with Apple's more inventive trackless magnetic timeline.
Adobe's system also fits into some pro workflows where the track layouts are in an expected order. It works differently from many video editing apps in that it separates the audio track of a video clip from the soundtrack.
The timeline is highly scalable and offers the usual ripple, roll, razor, slip and slide tools. The user interface is highly configurable, allowing you to disconnect all panels.
You can show or hide thumbnails, waveforms, keyframes, and FX badges. There are seven preconfigured workspaces for things like meeting, editing, color and titles, compared to Final Cut's only three.
Apple Final Cut Pro X: Apple's innovative continuous magnetic timeline is both easier on the eyes than the traditional timeline interface and offers several editing benefits, such as Connected Clips, Roles (descriptive labels such as Video, Titles, Dialog, Music and Effects), and auditions.
Instead of tracks, FCPX uses lanes, with a primary storyline to which everything else attaches. This makes syncing everything easier than in Premiere.
Auditions let you designate optional clips or takes for a place in your movie, and you can group clips into composite clips, roughly the equivalent of Premiere's nested sequences.
The FCPX interface is less configurable than Premiere's: you can't split panels into their own windows, except in the preview window. Speaking of the preview window, it's a very bold statement in the controls department. There is only a play and pause option.
Premiere offers a lot more here, with buttons for Step Back, Go to In, Go Previous, Lift, Extract and Export Frame. Final Cut only offers three pre-built workspaces (Standard, Arrange, Colors, and Effects) compared to Premiere's seven.
Winner: A tie between Premiere's many features and Apple's simple and intuitive user interface
Media organization
Adobe Premiere Pro CC: Like a traditional NLE, Premiere Pro lets you store related media in storage locations, which are similar to folders.
You can also apply color labels to items, but not to keyword tags. The newer Libraries panel allows you to share items between other Adobe applications such as Photoshop and After Effects.
Apple Final Cut Pro X: Apple's program provides libraries, keyword tagging, roles, and events for organizing your media. The library is the overarching container of your projects, events and clips and keeps track of all your edits and options. You can also manage save targets and rename batch clips.
Media Organization Winner: Apple Final Cut Pro X
Format Support
Adobe Premiere Pro CC: Premiere Pro supports 43 audio, video, and image formats – virtually any media of any level of professionalism you're looking for, and any media for which you have codecs installed on your computer.
That even includes Apple ProRes. The software also supports working with native (raw) camera formats, including those for ARRI, Canon, Panasonic, RED, and Sony.
There isn't a lot of video you can create or import that Premiere can't support. It even supports XML exported from Final Cut.
Apple Final Cut Pro X: Final Cut recently added support for the HEVC codec, which is used not only by many 4K video cameras (here are some great options), but also by Apple's latest iPhones, so it became a must, shall we say.
Like Premiere, Final Cut natively supports formats from all major video camera manufacturers, including ARRI, Canon, Panasonic, RED, and Sony, as well as a slew of video-compatible still cameras. It also supports XML import and export.
Winner: Clear Draw
Edit audio
Adobe Premiere Pro CC: Premiere Pro's Audio Mixer displays pan, balance, volume unit (VU) meters, clipping indicators, and mute/solo for all timeline tracks.
You can use it to make adjustments while the project is playing. New tracks are created automatically when you place an audio clip on the timeline, and you can specify types such as Standard (which can contain a combination of mono and stereo files), mono, stereo, 5.1, and adaptive.
Double clicking on the VU meters or panning dials returns their levels to zero. The sound meters next to Premiere's timeline are customizable and let you play each track solo.
The program also supports third-party hardware controllers and VSP plugins. With Adobe Audition installed, you can use your audio over it and Premiere back and forth for advanced techniques like Adaptive Noise Reduction, Parametric EQ, Automatic Click Removal, Studio Reverb, and Compression.
Apple Final Cut Pro X: Audio editing is a strength in Final Cut Pro X. It can fix hum, noise, and spikes automatically, or you can adjust it manually if you prefer.
Over 1,300 royalty-free sound effects are included, and there's plenty of plug-in support. An impressive trick is the ability to match individually recorded tracks. For example, if you're recording HD footage with a DSLR and recording sound on another recorder at the same time, Match Audio will align the sound source.
New support for Apple Logic Pro plugins gives you even more powerful sound editing options. Finally, you get a surround-sound mixer to localize or animate 5.1 audio and a 10-band or 31-band equalizer.
Audio Editing Winner: Final Cut Pro
Motion Graphics Companion Tool
Adobe Premiere Pro CC: After Effects, Premiere's stablemate in Adobe Creative Cloud, is the default graphics animation tool. Needless to say, it connects seamlessly with Premiere Pro.
That said, it's harder to master than Apple Motion, which has added a lot of AE capabilities in recent versions. It is the tool to learn if you are interested in a professional career in video editing.
Apple Final Cut Pro X: Apple Motion is also a powerful tool for creating titles, transitions, and effects. It also supports a rich plugin ecosystem, logic layers, and custom templates. Motion is also easier to learn and use and probably fits better if you use FCPX as your primary editor.
And if you don't, it's just a $50 one-time purchase.
Video Animation Winner: Adobe Premiere Pro CC
Export options
Adobe Premiere Pro CC: When you're done editing your movie, Premiere's Export option offers most of the formats you could ever want, and for more output options you can use the Adobe Encoder, which can target Facebook, Twitter , Vimeo, DVD, Blu races and lots of devices.
Encoder allows you to batch encode to target multiple devices in a single task, such as cell phones, iPads, and HDTVs. Premiere can also output media with H.265 and the Rec. 2020 color space.
Apple Final Cut Pro X: Final Cut's output options are comparatively limited unless you add its companion application, Apple Compressor.
However, the base app can export to XML and produce HDR output with wide color space, including Rec.2020 Hybrid Log Gamma and Rec. 2020 HDR10.
Compressor adds the ability to adjust output settings and run batch output commands. It also adds DVD and Blu-ray menu and chapter themes, and can package movies in the format required by the iTunes Store.
Winner in Export Opportunities: Tie
Performance and render time
Adobe Premiere Pro CC: Like most video editors these days, Premiere uses proxy views of your video content to speed up performance, and I haven't experienced any slowdown during normal editing operations.
The software also uses CUDA graphics and OpenCL hardware acceleration and multicore CPUs with its Adobe Mercury Playback Engine.
In my rendering tests, Premiere was beaten by Final Cut Pro X.
I used a 5 minute video made up of mixed clip types including some 4K content. I added standard cross-dissolve transitions between the clips and output to H.265 1080p 60fps at 20Mbps bitrate.
I tested on an iMac with 16 GB of RAM from €1,700 at Mediamarkt. Premiere took 6:50 (minutes: seconds) to complete rendering, compared to 4:10 for Final Cut Pro X.
Apple Final Cut Pro X: One of the main goals of Final Cut Pro X was to take advantage of the new 64-bit CPU and GPU capabilities, something previous versions of Final Cut couldn't do.
The work paid off: On a fairly powerful iMac, Final Cut surpassed Premiere Pro in my rendering test with a 5-minute video made up of mixed clip types, including some 4K content.
Another cool thing about exporting in Final Cut is that it happens in the background, meaning you can continue working in the program, unlike Premiere, which locks the app while exporting.
However, you can get around this in Premiere by using the companion Media Encoder app and choosing the queue in the Export dialog box.
Winner: Final Cut Pro X
Color tools
Adobe Premiere Pro CC: Premiere Pro includes the Lumetri Color tools. These are pro-level color-specific features that previously resided in the separate SpeedGrade application.
The Lumetri tools support 3D LUTs (Lookup Tables) for powerful and customizable looks. The tools offer a remarkable amount of color manipulation, along with a great selection of movies and HDR looks.
You can adjust white balance, exposure, contrast, highlights, shadows and black point, all of which can be activated with keyframes. Color saturation, vivid, faded film and sharpening are already available in no time.
However, it's the Curves and Color Wheel options that are really impressive. There's also a very cool Lumetri Scope view, which shows the proportional use of red, green, and blue in the current frame.
The program includes a workspace dedicated to color editing.
Apple Final Cut Pro X: In response to Adobe's impressive Lumetri Color tools, the latest Final Cut update added a color wheel tool that is stunningly impressive in its own right.
The new color wheels of the latest version show a puck in the center that allows you to move an image in the direction of green, blue or red and display the result on the side of the wheel.
You can also adjust brightness and saturation with the wheels and individually control everything (with the main wheel) or just shadows, midtones or highlights.
It is a remarkably powerful and intuitive set of tools. If wheels aren't to your liking, the Color Board option gives a simple linear view of your color settings.
The Color Curves tool lets you use multiple control points to adjust each of the three primary colors for very specific points on the brightness scale.
Luma, Vectorscope and RGB Parade monitors give you incredible insight into the use of color in your film. You can even edit a single color value using a dropper.
Final Cut now supports Color LUTs (lookup tables) from camera manufacturers such as ARRI, Canon, Red and Sony, as well as custom LUTs for effects.
These effects can be combined with others in a stacked arrangement. Color ranges adapt to HDR editing, as do the color editing tools. Supported formats include Rec. 2020 HLG and Rec. 2020 PQ for HDR10 output.
Winner: Draw
Edit titles in Video on your Mac
Adobe Premiere Pro CC: Premiere provides Photoshop-like details on the title text, with a wide range of fonts and customizations such as kerning, shading, lead, follow, stroke, and rotate, just to name a few.
But for 3D manipulation you have to go to After Effects.
Apple Final Cut Pro X: Final Cut includes powerful 3D title editing, with keyframe movement options. You get a lot of control over title overlays with 183 animation templates. You edit text and position, and the size of the titles on the right in the video preview; no external title editor is needed.
Final Cut's 3D titles offer eight basic templates and four more cinematic titles, including a cool 3D Earth pick, for your sci-fi projects. There are 20 font presets, but you can use any style and size you want.
Materials like concrete, fabric, plastic, etc. can give your titles any texture you want. You also get a ton of lighting options, such as Top, Diagonal Right, and so on.
For maximum control, you can edit the 3D titles in Motion, Apple's $49.99 supporting 3D animation editor. Divide 2D titles into 3D by tapping the 3D text option in the Text inspector, then position and rotate the text on three axes as desired.
Winner: Apple Final Cut Pro X
Additional apps
Adobe Premiere Pro CC: In addition to Creative Cloud apps that work smoothly with Premiere, such as Photoshop, After Effects, and Audition's sound editor, Adobe offers mobile apps that allow you to import projects, including Premiere Clip.
Another app, Adobe Capture CC, lets you create photos for use as textures, colors, and shapes for use in Premiere. For social creators and anyone looking to shoot a project on a mobile device, the recent Adobe Premiere Rush app smoothes the workflow between shooting and editing.
It syncs projects created on the mobile device with desktop Premiere Pro and simplifies sharing to social causes.
Perhaps most important for professional use are lesser-known Creative Cloud apps, Adobe Story CC (for script development), and Prelude (for metadata ingestion, logging, and rough cuts).
Character Animator is a new app that creates animations that you can bring into Premiere. It's quite nice that you can create animations based on the movements of the face and body of the actors.
Apple Final Cut Pro X: The Motion and Compressor sibling applications already mentioned, along with Apple's advanced sound editor, Logic Pro X, increase the program's capabilities, but they cannot be compared to the Photoshop and After Effects applications. integration of Premiere Pro, not to mention the more specific production tools from Adobe, Prelude and Story.
In the latest update to Final Cut Pro X, Apple has made it a breeze to import projects from iMovie on an iPhone into the pro editor.
Winner: Adobe Premiere Pro CC
360 degree editing support
Adobe Premiere Pro CC: Premiere lets you view 360-degree VR footage and change the field of view and angle. You can view this content in anaglyphic form, which is a fancy way of saying you can see it in 3D with standard red-and-blue glasses.
You can also display your video track in a view on the head. However, neither program can edit 360-degree footage unless it was already converted to equirectangular format.
Corel VideoStudio, CyberLink PowerDirector, and Pinnacle Studio can open the images without this conversion.
You can't see the spherical view in addition to the flattened view in Premiere in those apps either, but you can easily switch back and forth between these views if you add the VR button to the preview window.
Premiere lets you virtually tag a video as VR so that Facebook or YouTube can see its 360-degree content. A recent update adds support for Windows Mixed Reality headsets, such as Lenovo Explorer, Samsung HMD Odyssey, and of course the Microsoft HoloLens.
Apple Final Cut Pro X: Final Cut Pro X recently added some 360-degree support, although it only supports the HTC Vive in terms of VR headsets.
It offers 360-degree titling, some effects, and a handy patch tool that removes the camera and tripod from your film. Compressor lets you share 360-degree video directly to YouTube, Facebook, and Vimeo.
Winner: tie, although this CyberLink PowerDirector is ahead of both, with stabilization and motion tracking for 360-degree content.
Touch Screen Support
Adobe Premiere Pro CC: Premiere Pro fully supports touchscreen PCs and the iPad Pro.
Touch gestures let you scroll through media, mark points in and out, drag and drop clips onto a timeline, and make real edits.
You can also use pinch gestures to zoom in and out. There's even a touch-sensitive display with large buttons for your fingers.
Apple Final Cut Pro X: Final Cut Pro X provides rich support for the Touch Bar of the latest MacBook Pro, which allows you to scroll, adjust colors, trim, pick and extract points with your fingers.
There's also support for touching Apple Trackpads, but touching the screen you're editing isn't possible on current Macs.
Winner: Adobe Premiere Pro CC
Ease of use by non-professionals
Adobe Premiere Pro CC: This one is a tough sell. Premiere Pro has its roots in and is steeped in the tradition of advanced professional software.
Ease of use and simplicity of interface is not a top priority. That said, there's no reason a determined amateur with time to devote to learning the software wouldn't be able to use it.
Apple Final Cut Pro X: Apple has made the upgrade path of its consumer-level video editor, iMovie, very smooth. And not just from that app, the latest version of Final Cut makes it easier to import projects you've started on an iPhone or iPad, letting you take Final Cut's advanced tools right where you left off with the touch-and-easy iMovie for iOS app.
Winner: Apple Final Cut Pro X
The Verdict: Final Cut or Adobe Premium for Video Editing on Mac
Apple may have alienated some professionals from the creative thinking about video editing, but if nothing else, it was a boon to prosumers and home video enthusiasts.
Premiere Pro's only audience is professional editors, although dedicated amateurs can certainly use it as long as they aren't afraid of the learning curve.
Intense enthusiasts may want to bypass both for CyberLink PowerDirector, which is often the first to include new acceleration support, such as 360-degree VR content.
Both Final Cut Pro X and Premiere Pro CC are often at the top of the professional choice as both are remarkably deep and powerful software packages that present pleasing interfaces.
But for our two main professional uses discussed here, the final count is formed as follows:
Adobe Premiere Pro CC: 4
Apple Final Cut Pro X: 5
Apple has a very small advantage in terms of ease of use and because it integrates somewhat easily with Final Cut on the Mac, but that shouldn't stop you from the slightly more professional Adobe Premiere.
What additional accessories are useful for video editing on Mac?
Photo and video editors who want to be more hands-on now have some great options with external controllers. Microsoft's Surface Dial is perhaps the most famous right now, especially since Photoshop added support for it last year. But it is not available on the Mac.
For Lightroom and Photoshop, this Loupedeck + controller is relatively budget-friendly and perfect if you've chosen Adobe Premiere CC as your video editor as they recently added support.
It makes photo and video editing faster and more tactile.
The modular Palette Gear device is ideal for editing Premiere Pro, making it easier to jog and trim than with a keyboard and mouse.
The advantage of this one is that you can use it with Adobe Premiere, but also with Final Cut Pro because of its easy hotkey integration. This way, regardless of which software you choose for video editing on the Mac, you can still use an extra piece of hardware to speed up your work.
Also read my full Palette Gear review
Conclusion
Making photos and video look beautiful not only requires great apps, but also hardware that can handle them.
Mac offers a variety of options in this area with both iMac, Macbook Pro and iPad pro and you can run the best video editing software be it Adobe Premiere or Final Cut Pro.
Hi, I'm Kim, a mom and a stop-motion enthusiast with a background in media creation and web development. I've got a huge passion for drawing and animation, and now I'm diving headfirst into the stop-motion world. With my blog, I'm sharing my learnings with you guys.