Best video cameras for vlogging | Top 6 for vloggers reviewed
I love creating free content full of tips for my readers, you. I don't accept paid sponsorships, my opinion is my own, but if you find my recommendations helpful and you end up buying something you like through one of my links, I could earn a commission at no extra cost to you.
Want to start your own vlog? Here are the best cameras to buy for the perfect quality you've come to expect from a vlog these days.
Sure, there's a lot you can do with your phone's camera on a tripod (great stop motion options reviewed here), and I've even written a post about the phones you should buy for their video quality. But if you want to take your vlogging career one step further, you will probably be looking for a stand-alone camera for your video recordings.
Any camera that shoots videos can technically be used to create a vlog (which is short for video blog), but if you want the most control and the highest quality results, the Panasonic Lumix GH5 is the best vlogging camera that you can buy.
The Panasonic Lumix GH5 has all the necessary features of a good vlogging camera, including headphone and microphone ports, a fully hinged screen and body image stabilization to keep those walk-and-talk shots steady.
In my experience testing SLRs, mirrorless cameras, and even professional movie cameras, the GH5 has proven to be one of the best video cameras around.
However, it is not the cheapest and there are many other good choices for vloggers of different budgets, which you will find below.
Best cameras for vlogging reviewed
Best Overall Vlogging Camera: Panasonic Lumix GH5
Why you should buy this: Exceptional image quality, no shooting limits. The Panasonic Lumix GH5 is a powerful, versatile camera for recording video under all conditions.
Who it's for: Experienced vloggers who need complete control over the look and feel of their videos.
Why I chose the Panasonic Lumix GH5: With a 20.3-megapixel Micro Four Thirds, high-bitrate 4K video capture and internal five-axis image stabilization, the Panasonic GH5 is one of the best video cameras on the market (to say the least). not to mention a powerful still camera).
Getting started with your own stop motion storyboards
Subscribe to our newsletter and get your free download with three storyboards. Get started with bringing your stories alive!
We'll only use your email address for our newsletter and respect your privacy
But while all of these features are potentially important to vloggers, what makes the GH5 stand out most is the lack of a maximum recording time.
While many cameras strictly adjust the individual lengths of video clips, the GH5 lets you keep rolling until the memory cards (yes, it has dual slots) fill up or the battery dies.
Youtuber Ryan Harris reviewed it here:
This is a great advantage for long-winded monologues or interviews. The GH5 also has many other useful features for vloggers, such as
a fully articulating monitor that lets you watch yourself when you're on screen
a microphone jack for adding a high-quality external microphone
a headphone jack so you can check and adjust the sound quality before it's too late.
The electronic viewfinder is also useful when shooting B-roll outdoors, where bright sunlight could make it difficult to see the LCD screen. And thanks to the weatherproof body, you don't have to worry about rain or snow, assuming you also have a weatherproof lens.
Overall, the GH5 is simply one of the most versatile vlog production tools out there. Shifting to the professional end of the spectrum, it's also expensive and has a steep learning curve.
For these reasons, this camera is best reserved for experienced videographers or those who like to take the time to learn.
Check prices and availability here
If you're new to vlogging, be sure to read our post on the best video editing course platforms
Best for Seated Vlogs: Sony A7 III
The best vlog camera if you need great still images too
Why you should buy this: Full-frame sensor with internal image stabilization. The A7 III has everything you need for first-class stills and video.
Who it's good for: Anyone who needs to look good on both YouTube and Instagram.
Why I chose the Sony A7 III: Sony's mirrorless cameras have always been powerful hybrid machines, and the latest A7 III combines stunning image quality with great 4K video from its stabilized 24-megapixel full-frame sensor.
It doesn't offer all of the advanced video functionality of the Panasonic GH5, but it does include a microphone jack, dual SD card slots and Sony's flat S-Log color profile to stick with a more dynamic range if you don't mind spending some time on color grading. in post-production.
It also doesn't have a fully hinged screen, but Sony's excellent eye movement autofocus makes it easy to film yourself even if you can't see what you're shooting.
This Kai W who investigates the qualities of the A7 III in his Youtube video:
While the GH5 may be the best for video in some areas, the Sony still comes out on top when it comes to photography, and by a pretty wide margin. That's also important for making stills and for creating those all-important images for your Youtube videos so that people click on your video.
It produces one of the best image quality of any camera on the market. That's why it's a great option for one-person vlog teams that need to produce both video and still content that stands out from the crowd.
That full-frame sensor also gives the A7 III an advantage in low light. From your living room to a trade show floor, that can be a huge advantage in any poorly lit location.
For the price, it's the most expensive option on this list and it's not for everyone, but if you're looking to take your photo and video production to the next level, it's definitely worth considering.
Best Compact Camera for Travel Vloggers: Sony Cyber-shot RX100 IV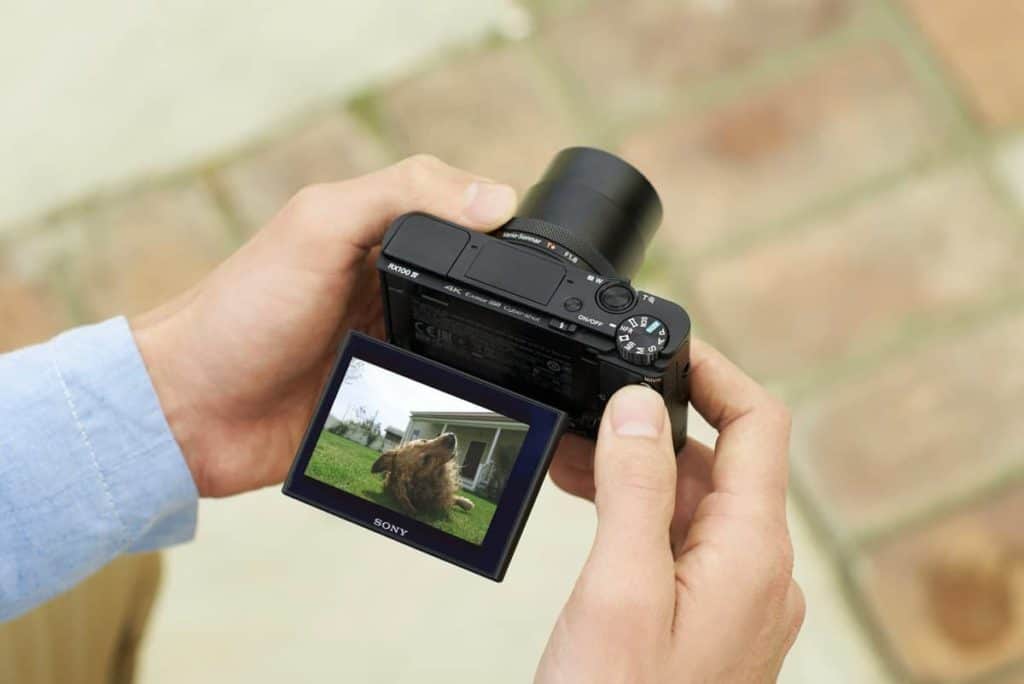 The best vlog camera for 4K video in your pocket.
Why should you buy this one? Great image quality, compact design. The RX100 IV offers high-end video features from Sony's professional cameras, but there's no microphone jack.
Who it's for: Travel and holiday vloggers.
Why I chose the Sony Cyber-shot RX100 IV: Sony's RX100 series has always been a favorite with amateur and professional photographers alike for its compact size and great 20-megapixel images.
It features a 1-inch-type sensor, smaller than what we find in the GH5 above, but still larger than what's commonly used in compact cameras. That means better details and less noise indoors or in low-light situations.
While Sony is now up and running with the RX100 VI, the IV is the one that has taken a big step forward for video by adding 4K resolution. It also introduced Sony's new stacked sensor design that increases speed and performance.
Combined with an excellent 24-70mm (full-frame equivalent) f/1.8-2.8 lens, this small camera can hold its own against much larger interchangeable-lens cameras.
It even offers some professional video quality settings, such as a logging profile for capturing a wider dynamic range, which is generally not found on consumer cameras.
Plus, you can take it anywhere as it can easily slip into a jacket pocket, purse or camera bag. The combined optical and electronic stabilization makes it easy to use in handheld mode, and the LCD flips up 180 degrees so you can keep yourself in the frame during those "walk-and-talk" shots so popular with vloggers .
Sony even managed to squeeze a viewfinder into the compact housing.
For all that the RX100 IV does well, it has one very serious drawback: no external microphone input. While the camera records audio through a built-in microphone, this simply isn't enough for environments with a lot of background noise or if you need to place the camera a reasonable distance from your subject (probably yourself) or audio source (probably yourself).
So perhaps consider adding an external recorder such as the compact Zoom H1, or simply use a primary camera for all critical audio recordings and rely on the RX100 IV as a secondary camera for B-roll only and outdoor recording. trip.
Yes, Sony now has two newer versions of the RX100 – the Mark V and VI – but the higher prices probably aren't worth it for most vloggers, as the video features haven't changed much.
The Mark VI introduces a longer 24-200mm lens (although, with a slower aperture that will be less good in low light), which can be an advantage in some situations.
Best budget camera for vlogging: Panasonic Lumix G7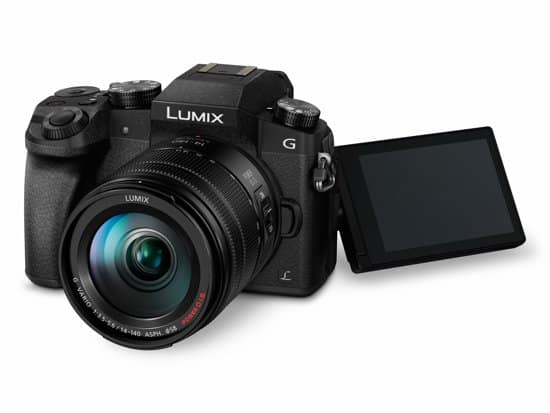 The best high quality vlog camera on a budget.
Why you should buy this one: Great picture quality, decent feature set. The Lumix G7 is almost 3 years old, but it's still one of the most versatile cameras for video at a low price.
Who it is suitable for: Suitable for everyone.
Why did I choose the Panasonic Lumix G7? Released in 2015, the Lumix G7 may not be the latest model, but it still scores very well when it comes to video, and can be bought at a bargain price for its age.
Like the higher-end GH5, the G7 shoots 4K video from a Micro Four Thirds sensor and is compatible with the full range of Micro Four Thirds lenses.
It also features a 180-degree tilting screen and a microphone jack. There is no headphone jack, but the microphone input is certainly the more important of these two features.
One possible red flag for vloggers is that the G7 does without the impressive body image stabilization in the GH5, meaning you'll have to rely on lens stabilization for your handheld shots, or just not want to get one.
Fortunately, the supplied kit's lens is stabilized, but as always you'll get the best results with a tripod, monopod or gimbal (we've reviewed the best here).
We should also draw attention to the G85, an upgrade of the G7 that is based on a similar sensor, but includes internal stabilization. The G85 will cost you a little more, but it's worth it for some who do want to record hand-held videos for their Youtube channel.
Most Ease of Use: Canon EOS M6
You will find the most ease of use on this Canon vlogging camera: the EOS M6.
Why you should buy it: Excellent autofocus, compact, easy to use. It has the best video autofocus system in a consumer camera.
Who it's for: Anyone who wants a straightforward camera and doesn't need 4K.
Why I chose the Canon EOS M6: Canon's mirrorless efforts may have gotten off to a slow start, but the company has really peaked with the EOS M5 and has continued with the M6.
Of the two, we're leaning slightly towards the M6 ​​for vlogging simply for its lower cost and slightly more compact design (it loses the M5's electronic viewfinder.
Otherwise, it's a nearly identical camera, built around the same 24-megapixel APS-C sensor, the largest of all the cameras on this list. While the sensor is capable of stills, the video resolution is limited to Full HD 1080p at 60 frames per second.
There's no 4K to be found here, but again, most of the content you watch on YouTube is probably still in 1080p. Plus, 1080p is easier to work with, takes up less space on a memory card, and requires less processing power to edit if you don't have the best laptop to work on your video files.
And at the end of the day, when it comes to any kind of documentary filming, it's the content that matters and the EOS M6 makes it easier to get that right.
Thanks to Canon's excellent Dual Pixel Autofocus (DPAF) technology, the M6 ​​focuses very quickly and smoothly, with virtually no fuss. We also found the face detection to work very well, meaning you can keep yourself in constant focus even as you move around the frame.
The LCD screen also flips up 180 degrees so you can track yourself as you sit in front of the camera, and – crucially – there's a microphone input.
I was almost tempted to include the cheaper EOS M100 in this list, but the lack of a mic jack kept it out. Otherwise, it offers nearly identical video features to the M6 ​​and may be worth shooting as a B-camera if you need a second angle with comparable video quality.
And if you like the EOS M system but want the option for 4K, the newer EOS M50 is also another option.
Best Action Vlogging Camera: GoPro Hero7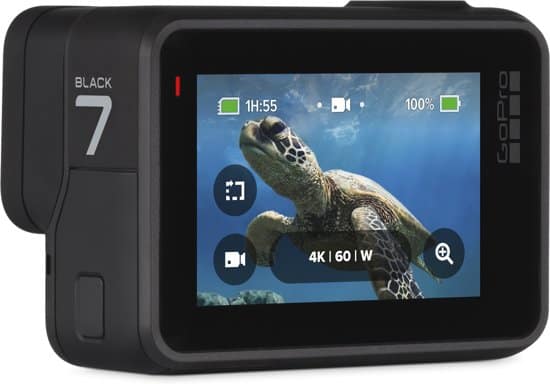 The best action vlogging camera for extreme adventures? The GoPro Hero7.
Why should you buy this? Great image stabilization and 4K/60p video.
The Hero7 Black proves that GoPro is still the pinnacle of action cameras.
Who it's for: Anyone with a love for POV videos or who needs a camera small enough to fit anywhere.
Why I chose the GoPro Hero7 Black: You can simply use it much more widely than just as an action camera for extreme sports shots. The Gopros are so good these days that you can record a lot with them, even more than just Point of View footage.
The GoPro Hero7 Black can handle pretty much anything you could ask of a small camera.
When it comes to vlogging, the Hero7 Black has one feature that gives it a huge advantage for any kind of handheld shooting: incredible electronic image stabilization, simply the best on the market right now.
Whether you're just walking and talking or bombing a narrow single-track trail on your mountain bike, the Hero7 Black keeps your footage impressively smooth.
The camera also has a new TimeWarp mode that provides smooth time-laps similar to Instagram's Hyperlapse app. Built around the same GP1 custom processor introduced in the Hero6, the Hero7 Black records 4K video at up to 60 frames per second or 1080p up to 240 for slow-motion playback.
It has also received a new and user-friendly interface that is even better than its predecessors. And completely perfect for vloggers is the native live streaming that is now on it so you can go Instagram Live, Facebook Live and now even YouTube.
What about the camcorders for vlogging?
If you are over 25 years old, you can remember a time when people were shooting videos on special devices called camcorders.
Maybe your parents had one and used it to record embarrassing memories of you at your birthday, Halloween, or your school performance.
Joking aside, such devices still exist. While they may be better than ever, camcorders have simply gone out of style as traditional cameras and phones have gotten better at video.
In camcorders, there are three things to look out for: sensor size, zoom range and a microphone jack. Cameras like the GH5 are true hybrid machines that excel at both video and still photography, leaving little reason for a dedicated video camera.
Film with large sensors – or "digital film" – cameras have also become cheaper, replacing professional camcorders at the high end of the market.
But camcorders still have some advantages, such as powerful lenses for smooth zooms and generally a better built-in zoom range. However, interest in camcorders is not where it used to be.
For that reason, I've decided to stick with mirrorless and compact point-and-shoot style cameras for this list.
Can't you just vlog with a phone?
Naturally. In fact, many people do. A phone is useful as it is always with you in your pocket and easy to set up and use, making it more accessible for a moment of vlogging.
And the best phones are adept at handling video, with many capable of recording 4K — some even at 60p.
Keep in mind, though, that the front-facing (selfie) cameras are often quite a bit less than the rear-facing ones (actually always), and while the mic may be able to record in stereo, you're still better off with an external mic.
And if you're walking around, something like a selfie stick may actually work better than hand-holding the phone, or using a phone stabilizer.
You'll get better quality images with a dedicated camera, but sometimes the convenience of a phone is the difference between getting a shot or not getting around to it, and you've probably already spent money on your phone so it's not another extra device.
Easy to work with, if you are going to get started with it more seriously, choose one of the video cameras from this list.
Also read: these are the best video editing software programs to try right now
Hi, I'm Kim, a mom and a stop-motion enthusiast with a background in media creation and web development. I've got a huge passion for drawing and animation, and now I'm diving headfirst into the stop-motion world. With my blog, I'm sharing my learnings with you guys.