Edit video from your drone like DJI: 12 best phone & computer software
I love creating free content full of tips for my readers, you. I don't accept paid sponsorships, my opinion is my own, but if you find my recommendations helpful and you end up buying something you like through one of my links, I could earn a commission at no extra cost to you.
Editing drone videos (and photos) is becoming more and more popular as drones are sold more and more.
Editing drone footage is similar to that of a regular camera, although you will notice that your footage is much more stable when recorded with a drone.
Using a DJI video editing app, you can convert videos shot with a drone into a high-quality professional clip.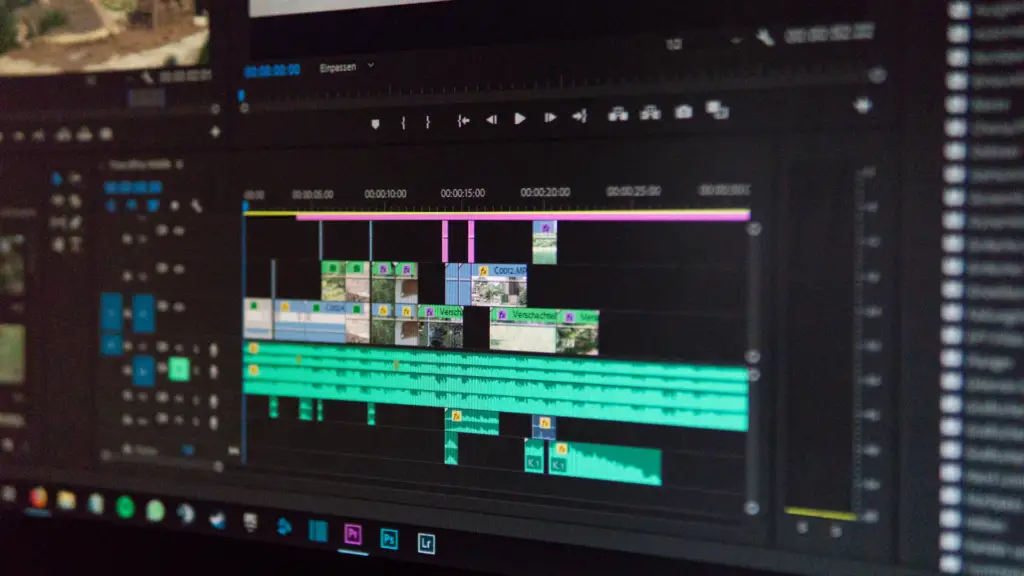 Such drone video editing apps are available for both beginners and professionals.
You can edit DJI videos with free apps such as DJI Mimo, DJI GO, iMovie and WeVideo. For more options, you can choose a paid app such as Muvee Action Studio. If you prefer computer software, go for Lightworks, OpenShot, VideoProc, Davinci Resolve or Adobe Premiere Pro.
In this article you will learn all about the different (free and paid) mobile apps for editing your DJI videos.
In addition, I would like to explain to you exactly what you should pay attention to when choosing the most suitable software if you prefer to edit video via your computer instead of via your phone.
In addition, I also give you a few examples of excellent computer software to use for editing all your DJI videos.
Still looking for a good drone? These are the top 6 best drones for video recording
Best free DJI video editing apps for your phone
Now that you've captured some excellent aerial footage, it's time to edit your DJI drone footage and share it on social media.
Getting started with your own stop motion storyboards
Subscribe to our newsletter and get your free download with three storyboards. Get started with bringing your stories alive!
We'll only use your email address for our newsletter and respect your privacy
This is exactly where a DJI video editing app or software can come to your rescue by turning the captured images into pure magic.
If you're looking for a free app for your phone to easily and instantly edit your DJI videos, you have a few options:
DJI Mimo for iOS and Android
The DJI Mimo app offers an HD live view while recording, intelligent features such as My Story for quick editing, and other tools not available with a hand stabilizer alone.
With Mimo you can capture, edit and share the best of your moments.
You can download the app here on both Android (7.0 or higher) and iOS (11.0 or higher).
In this tutorial you will learn how to edit a DJI Pocket 2 video on your phone:
The app supports HD live view and 4K video recording. Accurate facial recognition and real-time Beautify mode instantly enhance photos and videos.
Advanced video editing features include trimming and splitting clips and adjusting playback speed.
Also adjust the image quality to your needs: brightness, saturation, contrast, color temperature, vignetting and sharpness.
The unique filters, music templates and watermark stickers give your videos a unique flair.
DJI GO for iOS and Android
The DJI GO for iOS and Android comes with a very interesting feature known as the Editor Module. This application allows users to edit their drone images on the spot.
If you are an amateur and do not have much time or inclination to edit videos, then the Editor Module is for you.
You can easily add video templates and personal filters, adjust the sound and even import music of your choice.
You don't need to connect the memory card to your computer. You can easily cut videos, paste them together and add music with the app. And also hassle-free sharing on your social media.
Download the app here and watch this tutorial on how to edit your videos:
iMovie voor iOS
iMovie for iOS is a video editing program that works on both your Apple phone and Mac.
iMovie is a great editing program that makes it easy to create short videos, movies, and trailers.
If you have an iPhone 7, you can edit your videos in 4K resolution. The app contains all the editing tools you would expect from a professional editing software.
You can add an animated title, soundtrack, filters and stunning themes to any video and you can easily share the created video on a variety of social platforms.
Possible downsides are that the app isn't free, the manual editing tools can be complicated to use, you don't have a ton of themes to choose from, it's only available for iOS, and it's mainly suitable for professional editors.
Watch the tutorial here:
Best paid DJI video editing apps for your phone
If you are willing to pay a bit for a good app for editing your DJI videos, there is another great option.
Muvee Action Studio for iOS
Muvee Action Studio for iOS is a fast and simple app and is a must have for any drone and action camera enthusiast.
You can create custom and professionally edited music videos on any Apple device with this app.
In addition, it allows you to add a nice title and captions and it comes with lots of other useful features including nice transitions, fastmo and slomo, filters, adjust color and light and direct import over wifi.
The app supports high speed clips. Add a soundtrack from iTunes and you can share your videos on Facebook, YouTube and Instagram with just one click and in full HD 1080p.
You can download a free version of the app, but for more options you can also do a one-time in-app purchase.
Watch this tutorial to quickly get started with the app:
What do you look for when choosing computer video editing software for your DJI?
Editing videos on a laptop (here's how) or PC makes things a bit easier because you can work on a wider interface.
In addition, in many cases smartphones are not equipped with sufficient memory that is required to store large 4K DJI images.
So in case you prefer to use a software program for your computer to edit your DJI videos, I will first quickly explain what you should pay attention to when choosing the right video software.
Check the system requirements of the software
For example, if you have a 64-bit version of Windows 7 with limited memory, VSDC is the best choice because it works well even on low-end PCs.
On the other hand, if you have a powerful machine and want to master advanced video editing techniques, Davinci Resolve is a great choice (more on that later).
Know what format and resolution you will be working with
Know in advance what format and resolution you will be working with.
For example, some video editors – especially those that work on Mac – have trouble opening MP4 files, while others won't process .MOV or a 4K video.
In other words, if your software is not compatible with the format/codec/resolution of your drone videos, you will have to look for detours and convert videos before you can edit them.
Conversion takes time, effort, and sometimes even affects the quality of the video. Therefore, it is recommended to avoid unnecessary conversions where possible.
Learn from online tutorials no matter your level
Before diving deep into the world of drone video editing software, check YouTube and other resources for tutorials.
Best computer software for DJI video editing
So if you want to use a computer to edit your DJI videos, here are some suggestions for you:
What does Adobe Premiere Pro offer?
Finally, I also think it is worth discussing the Adobe Premiere Pro software in more detail.
This software offers plenty of unique features, although you have to pay a monthly fee to use the app through Adobe's cloud service.
The latest version of this software is made to give you a faster workflow while editing. Adobe Premiere Pro CC will appeal to professional editors and beginners alike.
Some of the new features of this app are:
The live text templates
New format support
Automatic backup to Adobe cloud
Improved tracking and masking capabilities
The power of exporting in many standard formats.
It supports 360 VR content
Has a handy layer functionality
Excellent stabilization
Infinite number of multi-cam angles
Adobe Premiere Pro is an attractive option for videographers and aerial video enthusiasts alike who want a familiar interface, 360 VR support, 4K, 8K, and HDR format compatibility.
If you like it, you can purchase the program for $20.99 per month. If you can't quite figure it out, check out this tutorial:
Just like in Photoshop, you can work with layers in the program. Premiere Pro offers its users 38 transitions and you can also use your own plugins.
You can choose from standard effects and even smooth out all uneven parts of the video using the Warp Stabilizer.
The software is suitable for macOS and Windows and you can use the free trial, which allows you to experiment with the program for free for seven days.
Want to know more, then read my extensive Adobe Premiere Pro Review here
Edit DJI videos online with WeVideo
You even have the option to edit DJI videos directly in your browser.
WeVideo is a free online video making software, and more than one person can work on the same video at any time.
Other benefits of WeVideo include the following:
Save files through your Google Drive account
Access to 1 million stock videos
4K support
Slow motion function
Some video editing tools
One of the coolest features of this software is the Google Drive app. You no longer have to worry about the shrinking space of your hard drive because with WeVideo you can save all your files directly to your Google Drive account.
WeVideo has some features that are typical of the best free stop-motion software.
You can use stock videos and images and edit the hues, brightness, contrast, and saturation in your videos.
Watch a super instructive tutorial here:
The software is free, but somewhat limited. You can use the program on Chromebook (not all editing software can), Mac, Windows, iOS and Android.
It's a free program, but if you want access to more features, you can get a paid plan starting at $4.99 per month.
Lightworks
The free version of Lightworks only allows you to save files in MP4, up to 720p.
This may not be a problem for those uploading videos to YouTube or Vimeo, but it can be a distraction if you're filming in 4K and really care about quality.
However, Lightworks has a unique approach to the trimming process and timeline. In fact, this might be the best tool for those who have a lot of footage that needs to be trimmed and organized into a shorter clip.
In addition to cutting and merging files, Lightworks allows you to perform color corrections using RGB, HSV, and Curves, apply speed settings, add credited titles, and adjust the video's sound.
This video editor works on Windows, Mac and Linux. You can download a 32-bit or a 64-bit version from the official website. Make sure you have at least 3 GB of RAM.
Create an account here, and watch this handy tutorial:
OpenShot
OpenShot is an award-winning and free video editor. It is an editor that works with the Windows, Mac and Linux operating systems.
You can easily crop your videos and integrate slow-motion and time effects.
It also offers unlimited tracks and countless video effects, animations, audio enhancers and filters to choose from. You can also add a watermark as a final addition to indicate your copyright.
The program works fluently with HD video and it can render video at a very fast speed (especially compared to Windows editing programs).
Possible drawbacks are the possible difficulties in adding subtitles and the not so extensive effects collection.
Download the software here and get started quickly with this tutorial:
VideoProc
VideoProc is the fastest and easiest 4K HEVC video editor for drones including the DJI Mavic Mini 2, one of the best drones for video recording.
This lightweight video editing software can help you cut videos and add beautiful filters.
You can edit 1080p, 4k and 8k videos with it without stuttering or high CPU usage. All common resolutions are supported.
You can also speed up or slow down videos and stabilize your video with an advanced 'deshake' algorithm.
In addition, you can adjust the brightness and color and add subtitles.
The unique technology can further speed up video transcoding and processing while optimizing file size and output video quality.
The software can be downloaded for free on iOS and Microsoft systems, but the full version is also available for purchase starting at $29.95.
DaVinci Resolve
The Davinci Resolve software is very popular among professional video editors who use it in the free post-production process.
Unique to this software is that you can adjust the colors and improve the quality.
It supports real-time video editing in 2K resolution, it offers powerful functions such as speed wrap and facial recognition, you can add effects and your final projects can be uploaded directly to Vimeo and YouTube.
You can process videos up to 8K resolution, but the export settings are limited to 3,840 x 2,160. If you upload directly to YouTube or Vimeo, the video will be exported in 1080p.
The app has color correction tools, and is supported by Windows and Mac. Recommended RAM is 16 GB.
There is both a free and a paid option ($299).
Download the software for free for Windows or for Apple and check out this helpful tutorial for additional tips:
Lees verder in mijn uitgebreide post over de 13 beste video bewerkings-programma's
Hi, I'm Kim, a mom and a stop-motion enthusiast with a background in media creation and web development. I've got a huge passion for drawing and animation, and now I'm diving headfirst into the stop-motion world. With my blog, I'm sharing my learnings with you guys.